Saturday, January 1, 2011
Cautionary tale

---
By Chris Forsberg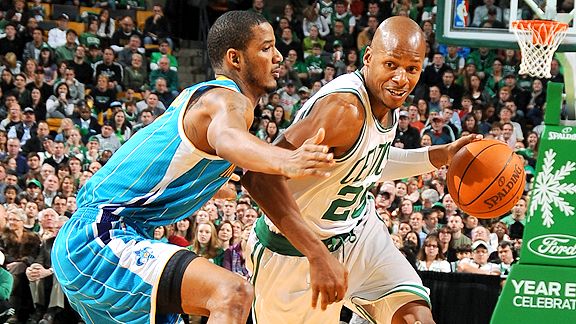 Steve Babineau/NBAE/Getty ImagesRay Allen and Boston's starters struggled at times Friday.

"[After Kevin Garnett's injury,] I heard a couple guys say we need guys to step up. I said, 'We don't need anyone to step up; we just need you to step into your role and do what you do.' I think what happens, guys do try to do more -- more than their ability -- and that's why you lose games." -- Celtics coach Doc Rivers before Friday's game against the Hornets

BOSTON -- Celtics coach Doc Rivers tried to warn his troops. It's almost as if he knew exactly how the script would play out three hours later. But despite repeated warnings to play within themselves, his players fell into the trap of trying to do too much down the stretch and fumbled away a winnable game, falling to the New Orleans Hornets 83-81 in a New Year's Eve matinee Friday at the TD Garden.

Fair or not, one play will stand out above the others.

After a feverish rally from a double-digit deficit put the Celtics up by seven midway through the fourth quarter, the Hornets rallied back and Trevor Ariza canned a crowd-silencing 3-pointer with 1:34 to play to break the final tie of the game.

Coming out of a timeout, Ray Allen missed a 3-pointer, but Jermaine O'Neal got an offensive rebound to keep the possession alive. Inexplicably, Glen Davis fired an off-the-mark 25-foot 3-pointer from the right wing with 13 seconds still showing on the shot clock.

New Orleans got the rebound, David West drilled a 19-foot jumper with less than a minute to play for a five-point cushion and the Celtics couldn't rally back.

Rivers barked at Davis for the ill-advised shot during a timeout after West's jumper, and Davis appeared to shout right back in the huddle. After the game, Rivers didn't hide his frustration when a reporter asked, in general, whether players had made mental miscues.

"Who are you talking about? I'm just curious; can you give me a name?" Rivers asked, before the Davis play was referenced.

"That's a very good observation. I'm going to let you just say that. It doesn't take a rocket scientist to see that," he said.

Click HERE to read the full story.



---