Friday, January 28, 2011
Rapid reaction (Part II): An ugly win

---
By Peter May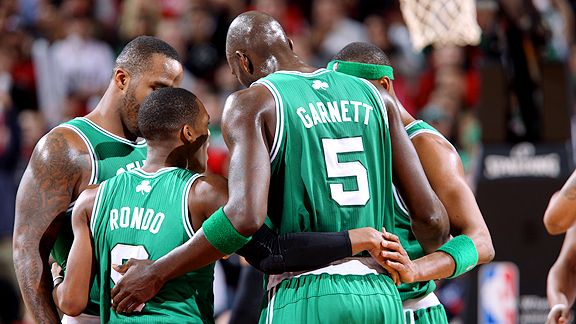 Sam Forencich/NBAE/Getty ImagesThe Celtics huddled together to win an ugly game in Portland.

More reaction and analysis after the Boston Celtics defeated the Portland Trail Blazers 88-78 Thursday night at the Rose Garden:

--LA VIE EN ROSE!--
The city of Portland -- and its NBA franchise, the Trail Blazers -- has been very, very good to the Celtics lately. Boston's victory Thursday night gave the Celtics another season sweep of the Blazers and was the team's 11th in its past 12 games. Boston has won five of its past six visits to the Rose City and the Celtics remain the only NBA team to have a winning record in Portland (27-23) since the Trail Blazers came of being in 1970.

This one was not a thing of beauty; can you imagine the Celtics winning comfortably and scoring only 88 points? The Celtics had too many turnovers (21) and were occasionally abused on the offensive glass (20 offensive rebounds for Portland.) But with Portland undermanned (no Brandon Roy, no Marcus Camby and losing Nicolas Batum), the Celtics managed to persevere and got their first West Coast swing off to a good start. By the way, this was not as close as the final score indicated. The Celtics worried about this one because of the travel involved and having played on Tuesday. But Portland proved once again to be a congenial host.

--DOC TO LOS ANGELES?--
It's not set in stone yet, but with the Celtics' win and the Miami Heat's loss to the Knicks, Celtics coach Doc Rivers is that much closer to another stint as the coach of the Eastern Conference All-Stars. The last time he did that, in the 2007-08 season, the Celtics won the NBA title. Boston has a four-game lead over Miami and Chicago in the loss column, and the team with the best record as of Feb. 6 will send its coach to Los Angeles to coach the conference elite. The Celtics have five games before that date, so Doc looks pretty secure. (Orlando coach Stan Van Gundy is ineligible; he was the coach last season.)

Doc appears to be in and so it seems will a few of his players. While none of the Celtics made the Eastern Conference starting lineup, announced Thursday night, it looks as though four of them -- Kevin Garnett, Rajon Rondo, Paul Pierce and Ray Allen -- could be chosen as reserves for the Feb. 20 game in Los Angeles. Conference reserves will be announced next week.

--NOT ANOTHER INJURY--
Paul Pierce left the game before it ended with an apparent knee injury. Doc Rivers wasn't all that forthcoming about the severity of the injury and the late word was that it was a bruised thigh. But, knowing Pierce, it would have to be something akin to an ACL tear for him to miss any time. The Celtics play Friday night at Phoenix and then meet the Lakers on Sunday in Los Angeles. For L.A.-native Pierce to miss the Lakers game, we're talking about possible amputation and nothing less.

"I think I'll be ready for [Phoenix],'' Pierce said after the game.

Pierce had 17 points in 35-plus minutes Thursday.

--PERKINS PART II--
Kendrick Perkins played in his second game and looked like he'd been in the lineup all season. Perk played less than 21 minutes and managed 10 points and 9 rebounds. Not only that, he was 4-of-4 from the line. This was a crucial submission on Perk's part because Shaquille O'Neal was unable to go due to a sore right hip. He is day-to-day. But with Shaq out, that left Semih Erden and Perk as the Celtics' men in the middle, and they both acquitted themselves well. Perkins might have been on the floor longer than the Celtics' wanted, but he seems to be quite comfortable out there. There was one sequence in which he was chasing Rudy Fernandez out at the 3-point line, which led to a 24-second violation.

"He was terrific,'' Doc Rivers said of Perkins. "But I have to do a better job monitoring his minutes."

--KG's COMPLETE GAME--
Kevin Garnett is known to be unselfish, sometimes to a fault. But until Thursday night, he had not had more than three assists in a game since Dec. 5. He had nine against the Blazers and came very close to a triple-double (10 points, 9 rebounds, 9 assists).

"His control of the game was flawless,'' said Bill Walton, who called the game with Mike Gorman on Comcast Sports New England.

Indeed, this was the KG the Celtics need to see a lot more if they are to hang another banner in TD Garden. His all-around game was terrific.

--NOTES, ETC.--
Ray Allen connected on three 3-pointers and now is 18 shy of passing Reggie Miller for the most 3-pointers made in NBA history. He finished with a team-high 18 points. … Former Celtic Bill Walton was equal parts hilarious and ridiculous in providing color commentary. After LaMarcus Aldridge went over Kevin Garnett for an alley-oop, Walton said, "Kevin Garnett wishes he was 25 years old again." And, in his most salient point of the night, Walton said, "the Celtics have outscored the Blazers in the first three quarters. If the trend continues, they will win the game." Big Bill is scheduled to call the Suns game, as well. … Marquis Daniels returned after missing the previous game due to a personal matter and played 19 minutes. … This is the Celtics' 12th back-to-back situation of the season. Boston is 11-1 in the first game and 6-5 in the second game.



---