Friday, March 11, 2011
Rapid reaction: 76ers 89, Celtics 86

---
By Chris Forsberg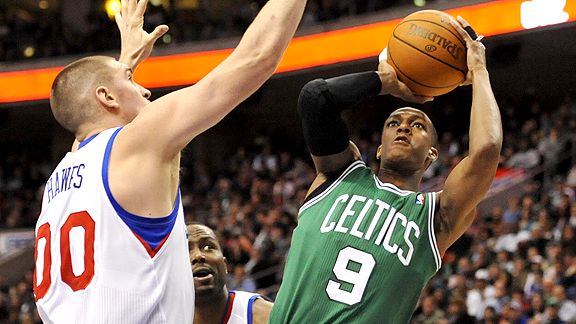 Howard Smith/US PresswireRajon Rondo and the Celtics couldn't complete their rally in Philly.

PHILADELPHIA -- Rapid reaction after the Philadelphia 76ers defeated the Boston Celtics 89-86 Friday night at the Wells Fargo Center:




HOW THE GAME WAS WON
The 76ers put five players in double figures as a front line of Elton Brand and Spencer Hawes chipped in 14 points apiece. Boston matched that number of double-digits scorers with Jeff Green tossing in a team-high 18 points over 24 minutes off the bench, but the Celtics went ice cold down the stretch when they needed that offense most.

TURNING POINT
The Celtics erased a 10-point third-quarter and pulled ahead twice in the fourth frame, a Ray Allen 3-pointer putting Boston out front, 81-79, with 6:26 to go. Philly responded with the game's next six points as Jrue Holiday and Lou Williams each made jumpers before Jodie Meeks made two freebies at the charity stripe. The Celtics didn't generate another field goal until the final seconds.

STAT OF THE GAME
The 76ers valued the ball, limiting their turnovers to a mere eight and Boston generated just four points off of those. By comparison, the Celtics gave the ball up 11 times -- a modest numbers by their sometimes-sloppy standards -- leading to 12 points.

UNSUNG HERO
Green provided a monster effort off the bench and looked real sharp offensively, but Boston desperately needed an offensive spark down the stretch and couldn't find it. Sasha Pavlovic logged nearly 20 minutes and provided solid defense in stretches, which at least kept minutes manageable.

WHAT IT MEANS
Add the 76ers to the list of teams the Celtics probably wouldn't mind avoiding in the postseason. Boston loses for the second time in three days and injuries are catching up with them a bit. Some healthy bodies will go a long way towards helping this team right the ship and that could start as early as Sunday when Glen Davis could be back in the lineup against the Bucks.



---