Thursday, March 31, 2011
Rapid reaction: Celtics 107, Spurs 97

---
By Chris Forsberg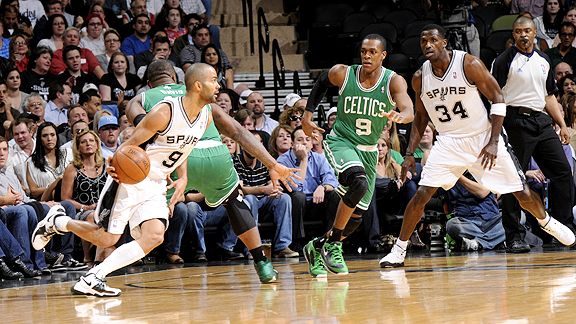 D. Clarke Evans/NBAE/Getty ImagesTony Parker provided the offensive spark for the Spurs, but Rajon Rondo lifted Boston.

SAN ANTONIO -- Rapid reaction after the Boston Celtics defeated the San Antonio Spurs 107-97 Thursday night at the AT&T Center:




HOW THE GAME WAS WON
Celtics point guard Rajon Rondo put together a brilliant all-around effort, scoring a team-high 22 points on 11-of-20 shooting (matching his regular-season career high for attempts), while adding 14 assists and not committing a single turnover in 41 minutes. Paul Pierce flirted with a triple-double (21 points, 11 rebounds, 7 rebounds), while Kevin Garnett added 20 points on 9-of-12 shooting with nine rebounds. Tony Parker scored a team-high 23 points for the Spurs.

TURNING POINT
Down four with little more than five minutes to play in the third quarter, the Celtics embarked on a 14-0 run highlighted by Jeff Green and Rondo. Green scored off a Rondo feed before Boston's All-Star point guard chipped in the next three buckets. Green hit a pair of jumpers to cap the spurt (both on Delonte West feeds) and Boston led, 77-67, with 1:15 to go in the frame. All this while often running with a second-unit lineup featuring the likes of Sasha Pavlovic and Von Wafer on the floor.

STAT OF THE GAME
The Celtics blistered the floor shooting 26-of-42 (62 percent) after halftime and motored away from the Spurs over the final 18 minutes.

UNSUNG HERO
Glen Davis chipped in 16 points on 8-of-12 shooting over 33 minutes and provided much-needed size after Nenad Krstic departed with a knee injury late in the first half.

WHAT IT MEANS
If not for Krstic's second-quarter knee injury, all would be well in Celtics Nation with one dominating second-half performance against the team with the best record in the NBA. Jermaine O'Neal provided 11 solid minutes in his first game back since Jan. 12, making both shots he took while chipping in five points and a rebound. Boston will hope it can bottle some of this late-game intensity and carry it over to Atlanta on the second night of a back-to-back Friday.


---