Tuesday, April 12, 2011
Rapid reaction: Good, bad, ugly vs. Wiz

---
By Chris Forsberg

Rapid reaction after the Washington Wizards defeated the Boston Celtics 95-94 in overtime Monday night at the Verizon Center in Washington, D.C.

The rundown: The Good | The Bad | And the Ugly vs. the Wizards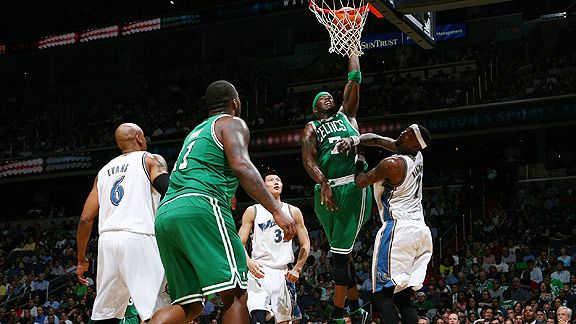 Ned Dishman/NBAE/Getty ImagesJermaine O'Neal with a left-handed jam against the Wizards.

--THE GOOD: HEAVY LIFTING FOR J.O'NEAL--

Celtics center Jermaine O'Neal admitted last week that he's been bugging coach Doc Rivers to ramp up his minutes. Even O'Neal probably didn't expect the workload he encountered Monday night in the nation's capital.

O'Neal didn't just register his first double-double while posting season-highs with 15 points and 13 rebounds, but logged a whopping 36 minutes 54 seconds of court time, the most action he's seen in a regular-season game since turning in 37:27 for the Heat against the Magic on March 18, 2010.

O'Neal has a balky left knee, one that caused him to squeeze in a maintenance day last Friday night against these same Wizards, this after sitting out 57 games due to injury this season. Monday's effort was an encouraging step for O'Neal and showed his potential to contribute for long stretches in the postseason (especially important given the uncertainty surrounding Shaquille O'Neal and his ability to stay healthy in the postseason).

Jermaine O'Neal was active around the basket Monday. Not only did he haul in 13 rebounds (five in the offensive end), he also blocked five shots. Then late in the third quarter, he found some space going toward the basket and delivered an emphatic (and unexpected) left-handed jam with Andray Blatche and Yi Jianlian only able to watch. Dare we say, it was as explosive as we've seen O'Neal since his 2004 MVP candidate years in Indiana (OK, maybe not that good, but you get the point).

More good news for Boston: Jeff Green earned a start and played 47:03, posting a team-high 20 points on 8-of-20 shooting. Green also matched a career-high with 15 rebounds ... The Celtics forced the Wizards into 18 turnovers leading to 26 points.

--THE BAD: WEST AGGRAVATES ANKLE INJURY--

Resting his entire Big Four, coach Doc Rivers' aim Monday clearly was on getting guys in the best position to contribute in the postseason. Alas, the Celtics endured another setback as reserve guard Delonte West sprained his right ankle, aggravating an existing injury.

In a season filled with starts and stops, West got steamrolled by JaVale McGee as Washington's big man raced down the center of the court in transition early in the third quarter. West crossed paths with McGee and crumpled beneath him, tweaking the ankle in the process. West needed help off the court before limping to the locker room.

In his second start of the season, West chipped in 11 points on 4-of-9 shooting with 5 rebounds, 5 assists, 2 blocks and a steal over 23 minutes before the injury. Now Boston has to cross its fingers.

West missed eight games after turning the ankle during an informal workout at the end of March. He's appeared in 16 games since coming back from the injury on March 16.

More bad news for Boston: Sure, the bench was a bit shorthanded with the Celtics leaning heavy on its top reserves to fill out the lineup, but the Celtics' five-man bench of Nenad Krstic, Troy Murphy, Avery Bradley, Carlos Arroyo and Sasha Pavlovic didn't provide much support. That group was a combined 4-of-15 shooting (26.7 percent) and no player generated more than one field goal ... Boston turned the ball over a staggering 21 times for 24 Washington points.

--THE UGLY: ROUGH FINISH FOR WAFER AND CO.--

The Celtics somehow managed to fumble away a six-point lead in the final minute of regulation and, fair or not, it was a particularly head-shaking finish for Von Wafer.

For roughly the first 47 minutes, Wafer made a strong push, hoping to land a spot on Boston's playoff roster. Wafer showed far more zest on the floor than fellow wing player Sasha Pavlovic, in fact, and it was Wafer's driving layup with 58 seconds to play in regulation that put Boston up 83-77.

But Wafer missed the front end of two free throws with 17 seconds left in regulation and Jordan Crawford made a 16-foot jumper to force extra basketball. But the most head-shaking scene happened a short time after. With three minutes to go in the extra session, Wafer found space to drive to the rim. As he rose up in the lane, he tried to tomahawk the ball through the cylinder, but instead found iron and the ball ricocheted hard off the inside of the rim.

Apparently thinking he completed the slam, Wafer seemed to exult on the baseline, his back turned to the action. As he backpedaled, he ran right into Jermaine O'Neal, who had fetched the offensive rebound. The collision forced O'Neal to double-dribble, causing a turnover. The Wizards scored the game's next four points and never trailed again.

More ugly news for Boston: The Celtics allowed John Wall to get to the charity stripe 15 times. That was nearly half of the 32 freebies the Wizards put up ... Carlos Arroyo missed four of the five shots he attempted, including a potential winner at the buzzer in overtime.


---