Tuesday, July 5, 2011
Planning ahead: Jordan a center of attention

---
By Chris Forsberg | @ESPNForsberg | Email

If this were a normal offseason, we'd be in the throes of free agency. Unfortunately, with a lockout, we're not even sure of the parameters the Celtics and the rest of the NBA will be operating under when a new collective bargaining agreement is achieved and the offseason actually begins. But instead of sitting around waiting for that to happen, all this summer we'll outline some offseason options that have potential -- new CBA willing -- to aid Boston in its quest for that elusive Banner 18.

First up, a look at center options, including the idea of making a run at DeAndre Jordan.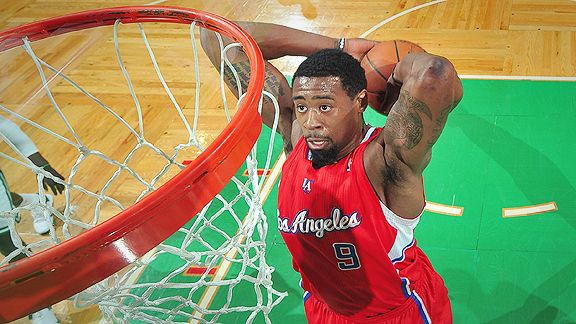 Brian Babineau/NBAE/Getty ImagesThe Celtics saw plenty of DeAndre Jordan's rim-rocking last season.

Let's start with the bad news: The Celtics are in need of some big-man help with 32-year-old Jermaine O'Neal and his balky knee currently the only true center inked for the 2011-12 campaign. What's more, Boston doesn't have a lot of money to spend on a position that typically commands big money and, unless you have money, there's not a lot of options on the open market.

So what's feasible? The Celtics can cross their fingers that the mid-level and bi-annual exceptions live on in the next CBA and that those might offer limited flexibility in targeting serviceable big men. But even if the mid-level stays around $5.8 million like last season, that's certainly not enough to lure prizes like Nene ($11.4 million last season) or Tyson Chandler ($12.6 million). Heck, it might not be enough to entice Samuel Dalembert ($13.4 million), who is in line for a hefty salary decrease, but is going to have plenty of interest from the mid-level crew (including the rival Heat who remain in similar pursuit of big-man help).

What's left? Go completely AARP with 39-year-old Kurt Thomas? Maybe another flirtation with Kwame Brown? Want to roll the dice with Joel Przybilla's knees? Prefer to just go bargain basement and see what happens (Go ahead and Google Alexis Ajinca, we'll give you a minute)?

It didn't have to be this hard. The Celtics were in decent position at season's end, boasting limited rights to Nenad Krstic as the team's own free agent. They could have overpaid a bit to keep him around and, as he proved last year when O'Neal was injured, Krstic was capable of thriving in a starter's role. Alas, the lockout enticed Krstic to bolt for a payday in Russia, signing with CSKA Moscow last month, and it's highly unlikely we'll see him stateside next season.

And here's the other conundrum: The Celtics are eager to maintain cap flexibility heading into next offseason, which will allow them to be major players in a free agent market that could include the likes of Dwight Howard. Any move Boston makes this offseason must be financially responsible enough to maintain that flexibility. Which means a short-term, minimum contract might ultimately be the team's preferred route.

But here's one unsolicited recommendation: Make a run at DeAndre Jordan.

The Clippers extended a $1.1 million qualifying offer last month to Jordan, the 6-11 center who started 66 games a year ago while averaging 7.1 points and 7.2 rebounds per contest. Jordan is in line for a nice raise and might just get it. Could Boston give it to him? If the next CBA afford the Celtics the assets to pursue, is it not worth spending, say, that mid-level money on a 22-year-old gushing with upside rather than the twilight types they've attracted the last two years (O'Neal, Rasheed Wallace)?

It might come down to market value. So what's a player like Jordan's value on the open market? A lot of that will depend on where the salary cap lands in the next CBA, but it's fair to assume it's far more than his qualifying offer.

For the sake of argument, say the mid-level exception sticks around and remains splittable, and the Celtics make a 3-year, $12 million offer. At the onset of free agency, the team can still explore minimum contracts, it can ink rookie deals, and it can still negotiate with its own free agents like Glen Davis. All this while taking a swing at Jordan, whose athleticism would be an enticing addition alongside Boston's Big Four.

The variables here: While restricted free agency has yielding limited pursuits, would other teams trump what Boston can offer? And, more importantly, will the Clippers match any sizable offer for Jordan?

After spending $52.7 million last season, the thrifty Clippers are already committed to $45.4 million next season for 10 players (including a whopping $12.7 million to Chris Kaman), which puts the onus on Donald Sterling and his well-guarded checkbook, particularly at the start of the offseason when the Clippers would undoubtedly be exploring ways to move Kaman and his expiring deal.

The difficulty with restricted free agency is that, even when a team makes an offer, the squad that made the qualifying offer boasts a full week before it must decide whether it wants to match. This ties up the pursuing team, particularly as it attempts to navigate those early days of free agency. The Celtics (or any other team) would be taking a risk at tying up key money in what could ultimately be a failed pursuit if the Clippers are willing to match.

But here's one more bit of motivation for Boston: The Celtics hold the Clippers' first-round pick next season. Pursuing Jordan, even if it only forces the Clippers to up his salary, would prevent them -- in some small way -- from adding additional talent, which could aid that pick in being more valuable should it come to Boston (it's top 10 protected, but every little bit helps considering next year's draft is expected to be chock full of talent).

As for Jordan, he slipped to a second-round pick (35th overall in 2008) after a less-than-stellar freshman season at Texas A&M. After two seasons in a bench role with Los Angeles, Jordan stepped in for an injured Kaman last season and thrived. In 66 starts (and 80 total games), he finished eight in the league in blocks (142). Jordan also shot a eyebrow-popping 68.6 percent from the field, with an incredible 73.7 percent of his shot attempts coming at the rim (The Celtics were on the wrong side of one particular Jordan dunkfest, when he connected on 9-of-10 shots, while scoring 21 points in Los Angeles' 108-103 triumph on March 9 at TD Garden).

Jordan's post-up game is mediocre at best and he doesn't even think about shooting beyond 10 feet (his dreadful free-throw percentage proof of why). But in a lineup where his offense would merely be a bonus alongside the Big Four, his ability to finish at the rim (forcing opposing defenses to keep track of him) and clean-up around the hoop is mighty intriguing. If Boston could get him to commit defensively every time down the court, he's got potential to be a force around the hoop with his shot-blocking talents and rebounding abilities (Jordan's average defensive rebounding percentage for the past three seasons is a decent 22.6, but his offensive rebounding percentage was 11.9 percent last season, eighth best in the league).

And if the Celtics ultimately decide he's not worth pursuing this season (or if the CBA prevents them from doing such), there's always the chance he's available next offseason.

Hop HERE for ESPN's team-by-team look at free agents. Below is a list of free agent centers, with status and last year's salary, as compiled by the fine folks at HoopsWorld:

Nene, Denver Nuggets - $11.4 million – Unrestricted
Marc Gasol, Memphis Grizzlies - $3.6 million – Restricted ($4.5 million Q.O.)
Tyson Chandler, Dallas Mavericks - $12.6 million – Unrestricted
Yao Ming, Houston Rockets - $17.7 million - Unrestricted
Joel Przybilla, Charlotte Bobcats - $7.4 million – Unrestricted
Samuel Dalembert, Sacramento Kings – $13.4 million - Unrestricted
Greg Oden, Portland Trail Blazers - $6.8 million – Restricted ($8.8 million Q.O.)
Spencer Hawes, Philadelphia 76ers - $3.0 million – Restricted ($4.1 million Q.O.)
Tony Battie, Philadelphia 76ers - $1.4 million – Unrestricted
Kyrylo Fesenko, Utah Jazz - $1.1 million - Unrestricted
Erick Dampier, Miami Heat - $1.1 million - Unrestricted
Jeff Foster, Indiana Pacers - $6.7 million - Unrestricted
DeAndre Jordan, L.A. Clippers - $0.9 million – Restricted ($1.1 million Q.O.)
Kurt Thomas, Chicago Bulls - $1.4 million – Unrestricted
Francisco Elson, Utah Jazz - $1.1 million – Unrestricted
Hilton Armstrong, Atlanta Hawks - $0.9 million - Unrestricted
Aaron Gray, New Orleans Hornets - $0.9 million – Unrestricted
Jamaal Magloire, Miami Heat - $1.4 million - Unrestricted
Dan Gadzuric, New Jersey Nets - $7.2 million - Unrestricted
Kwame Brown, Charlotte Bobcats - $1.3 million – Unrestricted
Theo Ratliff, L.A. Lakers - $1.4 million - Unrestricted
Etan Thomas, Atlanta Hawks - $1.2 million – Unrestricted
Jason Collins, Atlanta Hawks - $1.2 million – Unrestricted
Hamed Haddadi, Memphis Grizzlies - $1.8 million – Restricted ($2 million Q.O.)
Alexis Ajinca, Toronto Raptors - $1.5 million – Unrestricted
Eddy Curry - $11.3 million - Unrestricted



---