Sunday, August 21, 2011
Russell among legends in 2K12

---
By Chris Forsberg | @ESPNForsberg | Email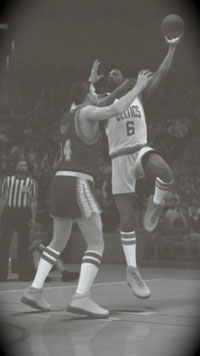 2KSports

On the heels of news that Larry Bird will grace the cover of 2K Sports' next installment of its wildly popular NBA video game, now Celtics legend Bill Russell has been unveiled as one of 15 legends highlighted in the game. And considering this might be one of the only way to see actual basketball this winter, here's the details:

ESPN'S "THE GAMER" BLOG: 15 LEGENDS OF 2K12

The Legend: Bill Russell

The Game: The 1964-65 Celtics vs. The 1964-65 Lakers

Why he's in the game: This is the oldest classic match-up in the game, complete with black and white graphics and announcers that sound like they're speaking into a tin can. "Russell is one of the most tenacious rebounders and defenders the league has ever seen," says Boenisch. "We researched him incredibly well in order to get all of his signature moves and that lanky look in there. We also made adjustments to the uniforms for these older teams, not only making the shorts shorter, but making the jerseys fit tighter and fitting them in the older style shoes. It really helps give you a different feel when you're playing."
---