Wednesday, April 11, 2012
Postgame notes: The 'unbelievable' KG

---
By Chris Forsberg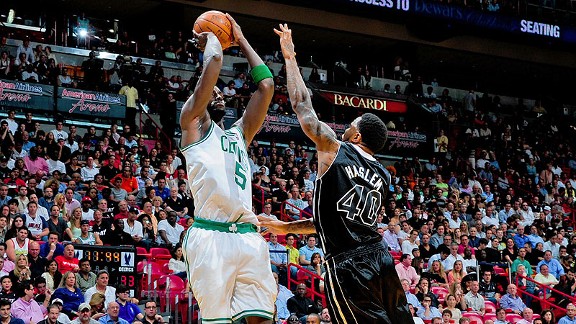 Scott Cunningham/NBAE/Getty ImagesThe Heat had no answer for stopping Kevin Garnett from the perimeter.

MIAMI -- Boston's resurgence this season has not-so-surprisingly coincided with Kevin Garnett's move to the center position. While Celtics coach Doc Rivers is quick to point out that Boston's turnaround is not based on a single alteration, it's hard not to notice just how inspired Garnett's play has been lately.

And while much of the focus has been on his hallmark defensive exploits, Garnett's offense has truly hopped into the time machine.

Garnett connected on 11 of 14 shots for 24 points during Tuesday's 115-107 triumph over the Miami Heat at American Airlines Arena. What's more, eight of those field goals came from beyond 10 feet. While Garnett entered the game shooting 47.6 percent on shots from 10-20 feet this season, he made 8 of 9 (88.9 percent) against Miami, including all four he took in catch-and-shoot situations, according to ESPN Stats and Info.

"He's on a wonderful stretch," Celtics captain Paul Pierce beamed. "The last 20 games, he's been playing just unbelievable."

Maybe most noteworthy on Tuesday were Garnett's fourth-quarter exploits. A short time after the Heat had rallied to within 1, Garnett connected on four consecutive midrange jumpers (knocking down shots from 16 and 18 feet before a pair from 20). Garnett could be seen barking at the Boston bench -- where he actually should have been sitting, according to Rivers, but he was absolutely in the zone and the Celtics couldn't afford to pull him from the game. Garnett hit all six shots he took in the fourth quarter for 12 points.

"That was huge," Rivers said. "It was funny because we were about to sub him. I used a timeout because his minutes were low, but he was going on that 12-minutes-in-a-row stretch, which we try to avoid with him. But we had to keep him out on the floor."

Right before KG's offensive eruption, the Celtics were in a little scoring rut as Miami made a charge and Garnett looked frustrated after picking up an offensive foul for setting a moving screen and turning the ball over with a bad pass. Even still, Garnett cleaned up the glass as the Heat missed multiple shots with a chance to tie or pull ahead. Then came the offense.

"That's what he does, that's KG all day," rookie center Greg Stiemsma said. "We will take those looks any time we can get them, and he can get them whenever he wants. It gets us fired up."


Doc on Dooling: 'He's been a pro'

When Ray Allen returned to action last week, Rivers tightened up his rotations again, leaving veteran shooting guard Keyon Dooling unable to get off the bench over the last three games. Rivers admits he's leaning on his eight-man core (which will expand to nine when Mickael Pietrus returns, though Sasha Pavlovic's minutes could get squeezed then) and Dooling is left waiting for an opportunity.

"It's game to game with Keyon and that's tough," Rivers admitted. "I think that's tough for the player, [but] that's where we are right now. When teams are big at the 2 or 3, then those are not Keyon nights. When teams are smaller -- playing two smaller guards -- those are nights that Keyon will probably play. I can tell you he's been a pro about it, he's been great. He's the first guy that talks in the locker room and on the bench, he's a fantastic guy to have on your basketball team."

Dooling missed 16 games earlier this season due to injury, but took advantage of minutes afforded to him when both Allen and Pietrus were ailing recently. Dooling showed he can provide some scoring punch off the bench, but with Avery Bradley and Allen each looking for big minutes at the 2, it's kept Dooling off the floor recently.

Dooling can take solace in the fact that Rivers has confidence in him now and he's just an injury away from being back into a key role.


Loose balls: Ready for the run

* Pierce admitted the team was ready for a Miami charge, even after building an 18-point first-half cushion, particularly against the team with the best home record (24-4) in the NBA. "It's a game of runs," Pierce said. "You've got a team that's the best team in the NBA at home, you know they are going to make a run eventually, they are too good. They are one of the top teams in the NBA, that's what makes them who they are. They know how to turn it around, they know how to get stops, know how to make runs. I thought we did a good job of holding their runs to a minimum and making runs of our own, then finally finishing off the game."

* The Heat tried to put a positive spin on losing their second game in 10 days against Boston. "This is probably the one silver lining out of it -- our group, staff and players, we're getting to know each other now, on the level that is needed for us to prepare for the playoffs," coach Eric Spoelstra said. "We all know that we have to take a real big step forward as a basketball team. From what I know about this group, when we're uncomfortable -- and we are uncomfortable about the way we are playing right now -- that pushes us to make the necessary steps to improve as a team."

* The Celtics shot 60.6 percent from the field, 64.3 percent from beyond the arc and 80 percent at the free throw line. According to the Heat's postgame notes, it was just the sixth time in team history that the Celtics have had a 60-60-80 game. The last one: March 4, 2009 vs. New Jersey (61.2-61.5-83.3). The previous four occurred between 1988 and 1990.

* Paul Pierce moved past Wilt Chamberlain into 14the place on the all-time list for free throws made (6,065).

---
Statistical support for this story from NBA.com.
---