Boston Celtics:

2010Game19
December, 4, 2010
12/04/10
10:00
AM ET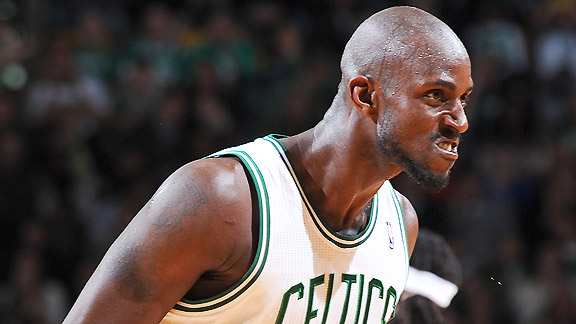 Brian Babineau/NBAE/Getty ImagesKevin Garnett: Old cat teaching young cats some respect.
BOSTON -- The stat line certainly impressed
Rajon Rondo
, but asked about
Kevin Garnett
's monster performance Friday night in Boston's 104-92 triumph over the
Chicago Bulls
, the Celtics' point guard pointed to a play that didn't show up in a box score highlighted by Garnett's 20-point, 17-rebound outburst.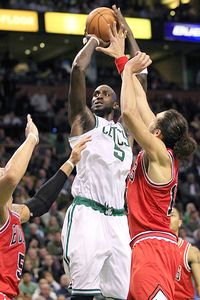 AP Photo/Charles KrupaBoston's Kevin Garnett let his play do the talking against Chicago's Joakim Noah.
With Boston boasting a 16-point cushion with 7:34 to play in the fourth quarter, Garnett got whistled for goaltending as he viciously swatted away a
Joakim Noah
layup attempt (the ball landing somewhere out by the 3-point stripe as if spiked by someone in a volleyball uniform).
The fact that it cost Boston two points didn't matter to Rondo. Watching Garnett elevate as explosively as he did was the latest sign of how good his body is feeling after being slowed the past 18 months by a balky right knee.
"Kevin looked great tonight. I think the blocked shot he had, he was jumping really well," said Rondo. "He's always had a knack for the ball, but right now he's explosive. He's jumping over people to get rebounds
"That's only a good thing for us, a bad thing for the rest of the teams."
While Garnett tries desperately to avoid talking about his health, he can't help but admit to feeling uninhibited for the first time since initially injuring his right knee in February of 2009 (ultimately missing the playoffs that year, then being slowed for much of last season).
His improved health has showed in games like Friday's. Due in part to
Glen Davis
' early foul trouble, Garnett played 19 minutes, 32 seconds in the first half, registering a double-double before the intermission with 16 points and 11 rebounds.
In addition to the 20 points and 17 rebounds he finished with, Garnett filled up his stat line with six assists, two steals and a block. And then there was that one goaltending where he looked particularly spry.
"I'm not even paying attention to what I'm doing out there," said Garnett. "I feel well. I'm out here giving everything I've got. I'm not paying attention to how high I'm jumping, or how I'm moving laterally. I just know I'm not in so much pain, and some of the defensive coverages, I can read them now, and I can get to my spots early. Nothing less than that. There's not some unwritten formula or something that I've got. I'm just out there hooping."
Click
HERE
to read the full story.
December, 4, 2010
12/04/10
2:05
AM ET
BOSTON -- A collection of news and notes after the
Boston Celtics
defeated the
Chicago Bulls
104-92 Friday night at TD Garden:
The rundown
(a quick look at postgame headlines)
* Rondo OK after ugly fall, says hamstring injury is lingering
* Loose balls: Need for 'Sheed?; Baby shakes off shot to the face
--
RONDO OK AFTER UGLY FALL, SAYS HAMSTRING INJURY IS LINGERING
--
Celtics point guard
Rajon Rondo
admitted his third-quarter plunge to the Garden parquet was "scary," but said his left knee was fine and noted he only received postgame treatment on his ailing left hamstring.
"It was a little scary, I came down wrong," said Rondo. "I was fine."
Rondo's left leg appeared to get snagged as he fell awkwardly near the free-throw line during a Boston possession with about five minutes remaining in the third quarter. He immediately grabbed his left knee, but soon popped up and walked off the pain, staying in the game and making a 22-foot fadeaway a short time later.
Rondo finished with 12 points and 19 assists over 34 minutes, 44 seconds of action.
Celtics coach Doc Rivers admitted it looked worse than it turned out to be.
"I thought he was actually hurt pretty bad, actually," said Rivers. "I thought he tweaked his knee, so when he bounced up, I was happy about it."
Added Rondo: "It was an awkward fall... A tricky fall, but I didn't put too much pressure on my leg, it just gave in."
Rondo initially asked if the fall looked bad to reporters and wondered if fans might have thought he was faking. Regardless, he's more concerned about his hamstring and feet than that his knee after the spill.
"Any time your point guard hits the ground, it's always a scary moment," said captain
Paul Pierce
. "He's the key to what we're doing. So, I'm just glad he's healthy; he was healthy enough to finish the game and we'll see how he feels [Saturday]. I know he's battling a lot of injuries right now; we just hope he gets through it."
Said Rondo: "[The knee is] not even an issue. I'll get treatment on my hamstring and feet [Saturday before a flight to New Jersey for Sunday's game against the Nets]... It's mostly my hamstring."
That hamstring, which became a concern again during Wednesday's win over the Trail Blazers, proved to be so stiff at the start of Friday's game that Rondo initially motioned to Rivers to sub in backup guard
Nate Robinson
. Rondo ultimately stayed in the game, waving Robinson off soon after, and played all but one minute in the frame.
"Rondo signaled to me that he wanted out," explained Rivers. "I didn't know if it was his foot, his hamstring. And then he said the next couple plays he got loose again, so he was just saying he was alright."
After a modest first half (2 points, 9 assists), Rondo exploded for 10 points on 5-of-7 shooting (nearly all layups) and six assists while fueling a furious third-quarter outburst that pushed Boston's lead as high as 17 and put the Celtics on cruise control the rest of the night.
Rondo didn't fight to stay in to get his 20th assist, noting that Chicago's
Derrick Rose
(a chief rival) was off the court late in the game and there was no need to risk further injury (especially given his recent luck).
Rondo missed three games last week with a sore left hamstring and has been battling a case of plantar fasciitis that surfaced after the first meeting with the Bulls last month.
--
LOOSE BALLS: NEED FOR 'SHEED?; BABY SHAKES OFF SHOT TO THE FACE
--
*
Need for 'Sheed?
: Old friend
Rasheed Wallace
visited the Garden for Friday's game and made a couple of appearances in the Chicago locker room to see old friends Tom Thibodeau and
Brian Scalabrine
. First Wallace crashed Thibodeau's postgame press conference, shouting, "I need a job!" Soon after, he peeked into the Bulls' locker room and mimicked the often-heard chant of "Scal-a-bri-ne!" to his former teammate.
Did Thibodeau think he was serious? "I don't know," he said with a chuckle. "He's a good player."
Wallace retired during the offseason after the Celtics bought out the final two years of his contract and waived him in August. Mounting injuries have left some wondering if Boston might give Wallace a ring to bolster its own frontcout down the road.
No motivational speech here
: Rivers said it wasn't anything he said at halftime that inspired his troops to kick the doors open in the second half of Friday's game. "Well, I didn't inspire them at all. I told them that it was my fault; I messed the rotations up. The bench lost the lead for us. But, you think about it, we didn't do anything different than we did in the first quarter. We played unbelievable the first eight minutes of the game, and then we got a sub and our bench gave up that lead. Our first unit started that third quarter and they wanted to get the lead back. You could see that they wanted to get that lead back and they did. But the layups and the passing was phenomenal, and the defense that stretch was awesome as well."
Boston embarked on a 16-2 run early in the third frame, turning a tenuous one-point lead into a 17-point cushion which ultimately led to Gino Time with the lead still at 16 with little more than two minutes to play.
*
Babyface
:
Glen Davis
took a shot to the face during Friday's game, but, like Rondo, appeared no worse for the wear. "It's just a hit to the face," said Davis. "It's alright. One of them nose hits, you're kind of like "Woah!" and your eyes get all watery."
December, 4, 2010
12/04/10
1:45
AM ET
BOSTON -- Celtics forward
Kevin Garnett
let his play serve as a response to comments made by Bulls forward
Joakim Noah
that called the 15th-year veteran "mean" and "ugly" after a dust-up between the two in the first meeting last month.
Garnett registered 20 points and 17 rebounds to highlight Boston's 104-92 triumph over Chicago Friday night at the TD Garden. He added six assists, two steals, and a blocked shot over 33 minutes, 11 seconds of action.
Noah sounded off about Garnett following the Celtics' overtime triumph here at the start of the 2010-11 season, then appeared on ESPN radio in Chicago soon after, where he suggested Garnett is "a very mean guy," and added that he was, "ugly, too."
Garnett tried his best to suggest the comments had no affect on him Friday.
"No, let me tell you something about people, man," said Garnett. "Everybody has an opinion and, obviously, he had one. I'm not entertaining nor addressing nobodies. I'm not even entertaining them. I'm focused on basketball -- winning and trying to make this team better. Other than that, I'm not on anything."
Asked twice if he considered Noah a "nobody" (he asked for the question to be repeated by a reporter the first time it came up), Garnett barked, "Next question," and gave a quick wink and smile, triggering reporter laughter.
Shaquille O'Neal
suggested Garnett did indeed know what was said about him.
"It's not that he's up for [Friday's game], it's that these young cats have no respect," said O'Neal. "So Kevin just has to teach them."
Garnett and Noah were whistled for double-technicals with 2:24 remaining in the first half after Noah gave a slight shove as Garnett danced by after registering one of five first-half field goals.
Asked about Garnett after the game, Noah said: "He played very well. He won again. So we'll get ready next time we play him."
And, as much as Noah tried to downplay it, Garnett's play clearly got into the 25-year-old's head.
"It doesn't matter. Who cares?" Noah said of all the hype around the two players. "At the end of the day, they won the game. We got our [butts] kicked and they won the game, so that's what's frustrating. I don't care about the other stuff. At the end of the day, it's talk. It's all talk. Nothing's going to happen. What's frustrating is they won the game and we didn't."
Noah finished with 14 points and 10 rebounds over 38:47.
Garnett recently dismissed Charlie Villanueva as a nobody after the Detroit forward went on Twitter to suggest Garnett called him a "cancer patient" during a game last month.
"[He's] a nobody," Garnett said in the aftermath of the incident. "I'm not paying attention to nobodies any more."
And maybe you can add Noah to that list.
December, 3, 2010
12/03/10
10:45
PM ET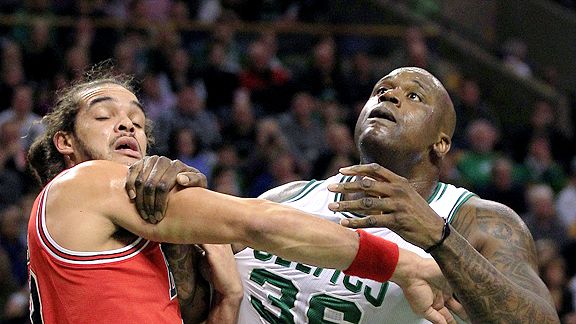 AP Photo/Charles KrupaShaquille O'Neal and Joakim Noah mix it up down low.
BOSTON -- First impressions after the
Boston Celtics
defeated the
Chicago Bulls
104-92 Friday night at TD Garden:
HOW THE GAME WAS WON
Kevin Garnett
registered a double-double in the first half alone, scoring 16 of his team-high 20 points and grabbing 11 of his game-high 17 rebounds before the intermission to help pace Boston to a lopsided win.
Rajon Rondo
added a double-double of his own (12 points, 19 assists) as all five Celtics starters landed in double figures for scoring as part of a balanced output.
Derrick Rose
scored a team-high 20 points with eight assists for the Bulls.
TURNING POINT
The Celtics kicked away a 14-point, first-quarter lead, but built it back up in the third frame while pulling away. It was a one-point game before Boston embarked on a 17-2 run, in which Boston produced eight baskets, all at the rim, in the span of four minutes to open a 70-54 cushion with 6:06 to play in the frame. Rondo produced three layups (one off a putback), Pierce added two more, and the three other starters chipped in a bucket apiece as part of a frenetic outburst.
STAT OF THE GAME
Hard to ignore when Rondo out-assists the opposing team. The Bulls finished with 18 dimes on the night. Boston also finished with a dominating 44-34 advantage on the glass.
UNSUNG HERO
With
Glen Davis
in early foul trouble,
Semih Erden
logged valuable minutes up front. The rookie center posted seven points on 3-of-3 shooting while grabbing four rebounds over 20 minutes.
WHAT IT MEANS
The Celtics have now won six straight and, for a change, it came a little easier than most of their other 14 wins. Yes, Boston fumbled away a double-digit lead early, but the starters pushed it right back up in the third quarter and the Celtics breezed to the finish line, trotting out Gino with 16-point cushion with 2:07 to go. It's only the second appearance for Boston's favorite American Bandstand dancer this season.
December, 3, 2010
12/03/10
7:50
PM ET
BOSTON -- Celtics guards
Rajon Rondo
and
Nate Robinson
remain dinged up with minor injuries, but both will play Friday night against the Bulls.
After saying Rondo's hamstring tightened up again in Wednesday's win over the Trail Blazers, Rivers reversed course Friday and said the plantar fasciitis in his feet remained the only real concern. He said Rondo got treatment Thursday and didn't make a big deal of the injuries, but Rivers noted he wants to get his point guard's minutes down moving forward.
Robinson's right foot has bothered him ever since landing awkwardly following a third-quarter 3-pointer in Atlanta last week. Robinson has played in four games since the injury, but logged little more than three minutes in Wednesday's game due in part to the ailing foot.
"We're the same really," said Rivers. "Rondo's getting better; Nate's foot is still bothering him, but he's going to play tonight; and [
Jermaine O'Neal
] I haven't really checked, so we're doing the same."
* Despite the injuries with his two of his primary ball-handlers, Rivers suggested the Celtics won't rush rookie
Avery Bradley
onto the court, particularly as he learns the system after sitting out much of training camp and the preseason while recovering from offseason left ankle surgery.
"He's getting there," said Rivers. "We haven't had a lot of practices, but he's getting better. Avery's going to get his time. I know how you guys love the backup quarterback, but Avery will get his shot, eventually, when he's ready."
* Rivers on the Bulls with the addition of
Carlos Boozer
(who returned Wednesday after missing the first 15 games due to injury): "They're not a lot different, they're just better, deeper. The fact that you have [Taj] Gibson coming off the bench makes you one heck of a basketball team. Gibson is a starter on most teams in the league. The fact that he's coming off the bench, that tells you how deep they are at that position. And it makes them really good."
* With a lot of chatter about
Kevin Garnett
and
Joakim Noah
, Rivers revealed how the Celtics worked out Noah before the 2007 draft and noted he was extremely high on him. After Boston slid to No. 5, it's not unfathomable to think that Noah was in heavy consideration from Boston. Of course, the Celtics ended up taking
Jeff Green
and swinging him to Seattle to start the process of assembling the Big Three by receiving
Ray Allen
in return.
* Bulls coach Tom Thibodeau talked about his squad's need to become a "48-minute team" during his pregame chat (something the Celtics obviously struggled with at times during Thibodeau's stay in Boston). The best moment of the confab might have come when Celtics president of basketball operations Danny Ainge crashed the festivities to get a fistpound (scrub to 27 seconds in on the video below):
December, 3, 2010
12/03/10
4:05
PM ET

(14-4, 8-1 home)
-- vs. --
(9-7, 4-5 away)

at TD Garden, 8 p.m. | ESPN, WEEI (850 AM)
GAME PREVIEW (via Stats Inc.)
The Chicago Bulls were hoping the addition of Carlos Boozer would help them develop into one of the elite teams in the Eastern Conference.

They evidently still have a long way to go before joining the ranks of the Boston Celtics.

The Bulls look to bounce back from an embarrassing loss in Boozer's debut Friday night when they visit the Atlantic Division-leading Celtics, winners of five in a row.

Returning home from a 4-3 circus trip -- its first winning record on the annual two-week journey since 1997 -- Chicago (9-7) was eager to face Southeast Division-leading Orlando on Wednesday with Boozer finally in the lineup. The Bulls were eager to show that they could stack up against one of the East's best teams, but were completely outplayed in a 107-78 loss.

Derrick Rose finished with a season-low 15 points -- 10.8 fewer than his team-leading average -- and Joakim Noah, second in the NBA with an average of 12.4 rebounds, failed to grab one in 25 minutes. Chicago was outrebounded by 23 and established a franchise low with 21 boards.

Boozer, who missed the preseason plus the start of the regular season because of a broken right hand, looked sluggish, finishing with five points and two rebounds in 22 minutes.

"I think our team (is) a lot better than we showed," said Boozer, Chicago's top summer free-agent acquisition. "We're going to move forward."

Chicago is hoping to move into the ranks of the conference's elite teams with the Magic and Celtics. Although the Bulls pushed Boston to overtime in 110-105 loss Nov. 5, defeats like Wednesday's makes it tougher for them to be considered a serious contender.

"We have to fight a lot harder," Thibodeau said.

Thibodeau knows what it takes to win a title. Before being named Chicago's coach over the summer, he was an assistant to Boston coach Doc Rivers for three seasons and was a part of the Celtics' 2007-08 championship.

Rivers' team is again playing at a championship level, tied atop the East with the Magic, and 8-1 at home.
Read the full preview
HERE
.
FORSBERG'S THREE THINGS TO WATCH
KG vs. Noah: No need to rehash the specifics (hop HERE if you need a refresher), Noah sounded off on Garnett twice after the first Bulls-Celtics matchup last month, calling him "ugly" in the process. We've talked about KG's list this season. Needless to say, Noah has a permanent spot there. This matchup should be fun to watch.
Will Boozer be better? The Bulls got Carlos Boozer back from injury this week, but he looked woeful against Orlando on Wednesday as the Magic won by 29 at the United Center. Watch Boozer in the paint, last year he averaged 12.1 points in the paint per game last year, which was fourth in the NBA.
Rondo vs. Rose: Rondo's foot ailment surfaced last month against Chicago, but he noted it would take a lot more to keep him out of premium matchups like one against Rose. Expect another fun battle between two of the league's top young point guards.
December, 3, 2010
12/03/10
2:05
PM ET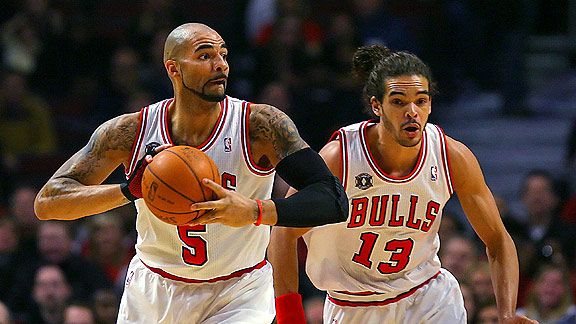 Dennis Wierzbicki/US PresswireThe Bulls will have Carlos Boozer in tow when they visit the Garden Friday.
For the fourth consecutive season, the Celtics are off to a fast start at 14-4 overall. But if you believe what
Shaquille O'Neal
and
Glen Davis
have said recently, Boston should be undefeated. Many in the Celtics locker room truly feel like no team has beaten them; Boston simply beat itself in those four defeats.
And while it's way too early to start dreaming about the playoffs, consider this nugget from ESPN researchers: Heading into Thursday's action, the Celtics boasted the second-easiest remaining schedule in the NBA with their opponent's combined winning percentage currently at 47 percent.
The one team in front of them? The
Chicago Bulls
(46.9 percent), who visit the TD Garden Friday night (ESPN, 8 ET) for another early season showdown of two teams that could find themselves near the top of the Eastern Conference by season's end.
The Bulls rallied to force overtime in their first visit to Boston last month, but
Kevin Garnett
forced
Joakim Noah
to commit a turnover late in the extra session allowing the Celtics to escape with a 110-105 triumph.
With the hoopla surrounding the return of both Tom Thibodeau and
Brian Scalabrine
having played out last visit, the focus Friday will be on two conference powers slugging it out. That's where we start his week's 'bag.
Click
HERE
to read this week's Celtics Mailbag.
December, 3, 2010
12/03/10
1:45
PM ET
Here are 10 facts and figures to keep in mind for Friday's Celtics vs. Bulls clash (ESPN, 8 p.m) at the TD Garden (information researched for ESPN by Elias Sports Bureau, Inc.):
1. Boston's Big Three has scored 50.8 percent of the Celtics' points this season. Ten NBA teams have a trio of players who have combined to score a higher percentage of their points than
Paul Pierce
,
Kevin Garnett
and
Ray Allen
have scored for the Celtics.

2. Included among those trios are
Derrick Rose
,
Luol Deng
and
Joakim Noah
, who have combined to score 58.3 percent of Chicago's points. The only threesome in the league to score a higher percentage of their team's points than the Bulls' trio is Miami's Big Three (61.4 percent).
3. Joakim Noah is the only player to score 25 or more points and grab at least a dozen rebounds in a game against the Celtics this season (26 points, 12 rebounds in overtime on Nov. 5). He was the first Bulls player to do that against Boston since
Elton Brand
in January 2000.

Noah
4. Joakim Noah played 25 minutes against the Magic on Wednesday and it was the first time in his NBA career that he played at least 10 minutes in a game and didn't pull down a rebound. Chicago's total of 21 rebounds in that contest was the lowest in franchise history (previous low was 25) and lowest for any NBA team this season. There have been 111 instances of one player gathering at least 21 rebounds in a game for the Bulls, including three such games for Noah.
5. The Bulls have won six games this season in which they were trailing at the end of the third quarter. That ties them with Utah for the most such wins in the NBA. The Bulls are shooting 49.8 percent from the floor in the fourth quarter this season, the second-highest such mark in the league. Only Utah (51.2 percent) has a higher fourth-quarter field-goal percentage than the Bulls.

Rose
6. Derrick Rose enters his 175th game in the NBA tonight with career per-game averages of 19.4 points and 6.3 assists. In the era of the modern draft (i.e., since 1966), only three players selected with the first overall pick have averaged at least 19 points and six or more assists per game through their first 175 NBA games: Magic Johnson (1979 draft; 19.1 ppg, 8.2 ast/g)
Allen Iverson
(1996; 23.4, 6.7) and
LeBron James
(2003; 24.5, 6.4).
7. Derrick Rose scored a career-high 39 points in the Bulls' 101–93 victory at United Center last season (April 13). Paul Pierce led Boston with 28 points in that game and Ray Allen added 25. It's one of six games in which both Pierce and Allen have scored at least 25 points for the Celtics, but it's the only such game that Boston lost.

8 . The most career points versus the Bulls among active NBA players? The Celtics have three of the top five: Paul Pierce (893),
Vince Carter
(886), Ray Allen (864), LeBron James (788) and Shaquille O'Neal (783).
9. Ray Allen has made 92.2 percent of his free throws since joining the Celtics. That's the highest free-throw percentage in franchise history (minimum: 600 free throws made); Larry Bird is second (88.6 percent). Allen shot 90 percent or higher from the free-throw line in each of the past five seasons, but he's made "only" 87.8 percent of his foul shots this season. The only qualifier in NBA history to shoot 90 percent or better from the line in each of six straight seasons was Rick Barry, who did it in his last six seasons in the league (1974–80 for the Warriors and Rockets).
10. The Celtics have had a different scoring leader in each of their last four games (Paul Pierce,
Rajon Rondo
, Kevin Garnett and Shaquille O'Neal).
Bonus nugget:
Brian Scalabrine
is one of three players who joined the Bulls after playing at least 250 games for the Celtics. The others were
Robert Parish
and
Joe Kleine
.