Boston Celtics:

2010Game2
October, 27, 2010
10/27/10
11:35
PM ET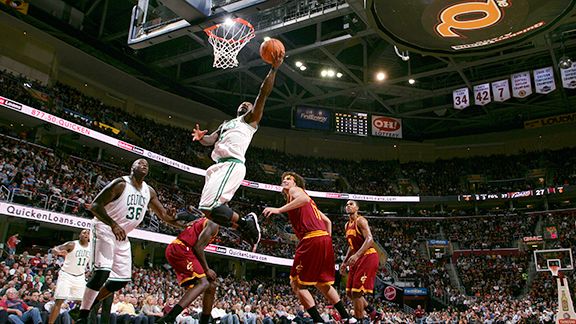 David Liam Kyle/NBAE/Getty ImagesCeltics guard Nate Robinson soars for a layup.
Five thoughts and observations after watching from afar as the
Cleveland Cavaliers
stunned the
Boston Celtics
, 95-87, Wednesday night at Quicken Loans Arena:
STRIKE 1: FOURTH-QUARTER TECHNICALS
Celtics coach Doc Rivers has a fairly short list of things his players absolutely cannot do during a game, and right near the top is committing fourth-quarter technical fouls. Warranted or not, both
Nate Robinson
and
Shaquille O'Neal
got tagged with T's with 8:32 remaining in a 1-point game. Cleveland's
Daniel Gibson
made both technical free throws, then
Antawn Jamison
produced an 8-foot runner to put the Cavaliers ahead 80-77 with 8:15 to go.
In his defense, Robinson didn't appear to do anything egregious (at least enough to warrant the technical as fast as it came). Driving from the wing, Robinson got called for traveling and, leaving his feet to shoot after the whistle, his
right leg flared out
as
Ryan Hollins
approached to defend, striking the Cleveland big man in a manner that might have led the officials to believe it was an intentional kick. During the timeout that followed, O'Neal got his technical for
yapping at veteran referee Bob Delaney
.
STRIKE 2: 19 TURNOVERS FOR THE CELTICS
Turnovers were a glaring problem last season and Boston has shown worrisome signs that they'll again be an issue this season with 39 giveaways through two games, including 19 against the Cavaliers. The good news? Cleveland only generated eight points off those turnovers Wednesday (this after the Heat generated 22 points off 20 turnovers Tuesday). The bad news? That's still way too many offensive possessions to give up in a close game, particularly as Boston struggled to score in the second half. The C's finished with a mere 14 fourth-quarter points, generating only two field goals away from the rim. Speaking of that ...
STRIKE 3: CELTICS ABANDON THEIR POST
One night after Boston
thrived in scoring around the basket
, the team seemingly abandoned its post game Wednesday, settling for outside looks and low-percentage shots instead of attacking the basket. Look no further than
Kevin Garnett
, who famously took advantage of a favorable matchup against Antawn Jamison in last year's playoff series against the Cavaliers, helping Boston advance to the Eastern Conference finals. Working against
J.J. Hickson
at the start of Wednesday's game, Garnett hit his first three shots, including a pair near the basket. He then missed his final five attempts from the floor, only one of which came inside of eight feet. That inability to generate easy buckets left Boston frustrated and might have spilled over to the defensive end, where players failed to maintain their typical intensity.
STRIKE 4: THE LONGEST SECOND
Rivers bit his tongue while talking to reporters after the game, but he didn't appear particularly thrilled with the officials, not only for the two fourth-quarter technicals issued to Boston, but over a questionable 3-pointer by Cleveland's
Anthony Parker
that helped the Cavaliers pull away late in the fourth quarter. With one second on the shot clock, Parker was able to corral an inbounds pass, swing his arms completely under a pursuing defender, elevate, and line drive a 3-pointer before the shot clock sounded. Rivers seemed incredulous that all of that could have unfolded in one tick and
voiced his displeasure to officials
. The play was reviewed, but according to Rivers, only to ensure it was a 3-point basket.
ON THE POSITIVE SIDE ...
It wasn't all doom and gloom for the Green despite a disappointing loss on the second night of a back-to-back.
Glen Davis
continues to play inspired ball, scoring 14 points on 7-of-11 shooting with five rebounds, an assist and a steal. Davis, who played a whopping 31 minutes, was the team's second-highest scorer behind
Rajon Rondo
. His performance also offset a disappointing outing for
Jermaine O'Neal
, who lasted only 12 minutes before
fouling out
with only two points and two rebounds ... Garnett hauled in 15 rebounds, a whopping number after averaging less than half that amount last season. He often said last year that his timing simply wasn't right, and this type of performance is a good indication he and his surgically repaired right knee are back on track ... Boston continues to shine on the glass (a weak spot during last year's regular season), grabbing 38 boards.
October, 27, 2010
10/27/10
9:50
PM ET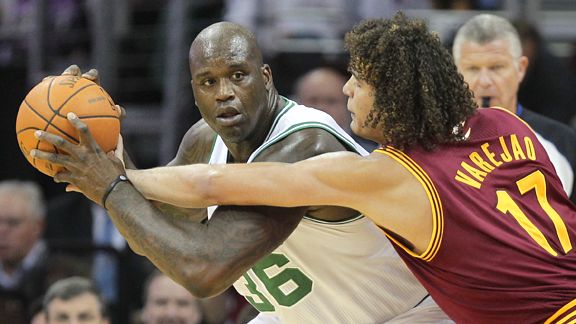 AP Photo/Mark DuncanAfter spending last year with the Cavaliers, Shaquille O'Neal returned to Cleveland Wednesday.
First impressions from afar after the
Cleveland Cavaliers
defeated the
Boston Celtics
95-87 Wednesday night at Quicken Loans Arena:
HOW THE GAME WAS WON
J.J. Hickson
scored a game-high 21 points for the Cavaliers and produced the go-ahead basket late in the game as Cleveland opened its season by stunning the defending Eastern Conference champs, taking advantage of Boston's weary legs one night after beating this city's old hero,
LeBron James
and the new-look
Miami Heat
.
Ramon Sessions
-- starting in place of
Mo Williams
-- chipped in 14 points for the hosts, while
Rajon Rondo
scored a team-high 18 points for Boston. The Celtics' Big Three, so instrumental in Tuesday's season-opening victory, disappeared in the fourth quarter as Cleveland rallied for the win.
TURNING POINT
The Celtics went more than three minutes without a bucket late in the fourth quarter, opening the door for Cleveland to steal the win. Hickson's layup with 3:09 to play put Cleveland ahead 86-84, and a short time later a controversial 3-pointer by
Anthony Parker
helped the Cavaliers create enough of a cushion to hold on. Cleveland had only one second on the shot clock, but Parker was able to catch an inbounds pass, swing his arms under a defender and drill the 3-pointer for a five-point lead with 2:27 to go.
STAT OF THE GAME
A familiar problem already, the Celtics committed 19 turnovers, giving the ball away too many times. It didn't hurt them too badly because Cleveland only generated eight points off those giveaways, but that's still a lot of offensive possessions to surrender.
UNSUNG HERO
For the second straight night,
Glen Davis
was absolutely magnificent for Boston, not only by chipping in 14 points on 7-of-11 shooting with five rebounds, but also defensively, taking multiple charges, especially late in the game to at least give Boston a chance, even as the offense disappeared.
WHAT IT MEANS
Maybe we shouldn't be surprised. This one had trap game written all over it and the Celtics stumbled right into it. The Cavaliers were amped to open their season -- without James -- and it showed in some inspired play. Meanwhile, Boston expended a lot of energy and emotion topping the Heat Tuesday night and, leaning on their veteran legs late in the game, the Celtics simply didn't have enough to hang. Boston didn't do itself any favors by not taking control early and some sloppy play helped Cleveland hang around. The Celtics will rest Thursday, then get back to work on the Garden floor Friday night against the Knicks.