Boston Celtics:

2010Game21
December, 9, 2010
12/09/10
12:25
AM ET
BOSTON -- A collection of news and notes after the
Boston Celtics
defeated the
Denver Nuggets
105-89 Wednesday night at the TD Garden:
The rundown
(a quick look at postgame headlines)
* Rondo's impact felt in return to lineup
* Daniels downplays thumb injury, says he's fine
* Loose balls: Shelden's return, Davis triple-charged
--
RONDO'S IMPACT FELT IN RETURN TO LINEUP
--
Boston guard
Rajon Rondo
might not have been 100 percent when he returned to the starting lineup Wednesday after sitting out Sunday's game in New Jersey, but the Celtics were shooting five percent better from the field this season with Rondo on the court, and that number was even higher in taking down the Nuggets.
According to ESPN Stats and Information, the Celtics were 27-of-42 (64.2 percent) from the field over the 30 minutes 6 seconds that Rondo was on the floor Wednesday, accumulating 20 assists (13 of which belonged to Rondo) and finishing at plus-20 in the plus/minus during that span. Without Rondo, Boston was a mere 11-of-26 (42.3 percent) with only six assists and a minus-4.
Paul Pierce
has been a
chief beneficiary
of Rondo's time on the court. That continued Wednesday with Pierce scoring 15 of his 17 points with Rondo on the floor.
"I thought Rondo was good, really good as a matter of fact," said Celtics coach Doc Rivers.
Rondo could be seen stretching at the end of the Boston bench in the second half, trying to loosen up as he battles a sore left hamstring and plantar fasciitis. He looked a half-step slow defensively, which the Nuggets exploited with dribble-drive penetration (particularly in the first half). Rivers said he was unaware of any injury that might have cropped up, noting that team trainer Ed Lacerte would alert him on the plane to Philadelphia if there was something to be concerned about.
Rondo's return certainly fueled the Celtics at the start as they posted their second-biggest, first-quarter outburst (35 points) of the season (topped only by 39 points in Atlanta).
"[Denver is] a running team, but we got stops," said Rivers. "We were able to run, get easy baskets, and then we were able to set our defense. And the other thing is our players, they're very unselfish. The ball just finds the open guy, no one's holding onto the ball."
Especially not Rondo, who clearly prefers to dish it.
--
DANIELS DOWNPLAYS THUMB INJURY, SAYS HE'S FINE
--
Celtics reserve guard/forward
Marquis Daniels
appeared to jam his right thumb fielding a hard pass from
Nate Robinson
in the second quarter of Wednesday's game, but said afterward that it's not a concern for him.
"It's just a little jam," said Daniels. Asked how it happened, he smiled and looked in the direction of Robinson before playfully announcing, "Nate threw me a bad pass. I'm cool though."
Daniels tore ligaments in his left thumb last season and didn't help the injury fielding a hard pass from Rondo during a practice session. Daniels ultimately underwent surgery and missed extended time. But this injury is on the opposite hand and, while it's his shooting hand this time, he eased any fears.
"A little swelling," he said, "but it's nothing a little ice can't heal."
--
LOOSE BALLS: SHELDEN'S RETURN, DAVIS TRIPLE-CHARGED
--
*
Not-so-seldom Shelden
: Old friend
Shelden Williams
returned to the Garden Wednesday as a member of the Nuggets. Williams has started each of the Nuggets' 22 games, averaging 5.6 points and 6.3 rebounds over 20.8 minute per game entering Wednesday's tilt. Williams chipped in 4 points, 5 rebounds and 2 steals over 14:46 against the Celtics, but was not on the court with the starters to open the second half.
"I'm glad to see Shelden do well," said Rivers. "He was great for us; him and [
Brian Scalabrine
] were our two utility guys last year. We lost both of them, and one of them is starting and playing well, so it's good. He does what he does, he's going to rebound, he's really going to offensive rebound. He's going to keep quiet and do his job. That's just Shelden Williams."
Williams averaged 3.7 points and 2.7 rebounds per game in 54 appearances for Boston last season. He filled in admirably at the start of the season for injured
Glen Davis
, but soon faded from the rotation (save for some cringe-worthy time late in the NBA Finals).
*
J.O'Neal braces for more activity
: Rivers didn't have an update on
Jermaine O'Neal
's on-court workouts this week (noting he's "got my own worries right now"), but did say that O'Neal got fitted for a new brace for his left knee Wednesday. O'Neal is working out individually in Waltham with the goal of being cleared by the medical staff this weekend, which could put him back in full-squad drills next week (and bring him another step closer to potential game action later this month).
*
Charge watch
: Just when it seemed like Davis couldn't outdo himself in regards to charges taken, he recorded his first three-charge night of the season (absorbing offensive fouls from
Al Harrington
,
J.R. Smith
and
Ty Lawson
). Davis now has drawn 25 charges for the season with eight multicharge games. The Celtics now have drawn 39 charges as a team.
December, 8, 2010
12/08/10
10:45
PM ET
ESPN ScreenshotKevin Garnett and George Karl chat after Wednesday's game.
BOSTON -- Celtics forward
Kevin Garnett
sought out Nuggets coach George Karl following Boston's 105-89 triumph Wednesday night at the TD Garden to clarify his use of "cancerous" to describe Detroit's
Charlie Villanueva
earlier this season.
After Boston's early November win in Detroit, Villanueva went on Twitter and accused Garnett of calling him a
"cancer patient"
during on-court trash talk. Garnett later released a statement saying he was merely calling Villanueva
"cancerous to your team and the league."
In the aftermath, Karl, a cancer survivor after battling throat and neck cancer last spring, expressed disappointment in Garnett's action,
telling the Denver Post
: "[I]f Kevin and I were close friends, I'd probably call him up and say, 'I don't think that's right.' But I also believe that competition makes us do things when we don't have our total mental morality in line."
On Wednesday, Garnett didn't give too many specifics about the exchange caught on ESPN's telecast.
"I just went over and, I know there's some speculation [about what Garnett sadi], and I'm not going to get into it, you all know what I'm talking about," said Garnett. "I went up to him as a man and what I said is that I had nothing personal toward him nor any other cancer patient that is out there struggling and dealing with life situations. I wanted to say that to him, man to man. I was going to do it before the game, when the [shot] clocks and stuff was messed up [delaying the opening tip-off], but I wanted to get the game out of the way, and then approach him."
The exchange was brief and Celtics coach Doc Rivers joined the duo.
"He just came over and we talked, man to man, I appreciated that," said Karl. "I thought it was a classy gesture."
December, 8, 2010
12/08/10
9:35
PM ET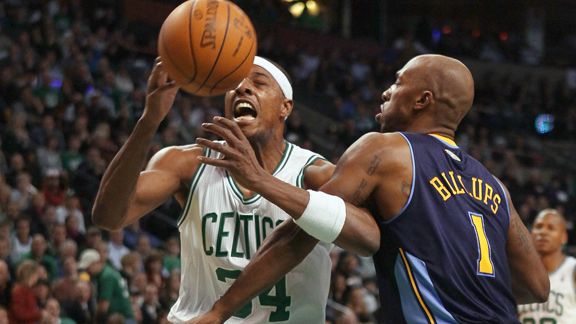 Elsa/Getty ImagesDespite a 19-point, first-quarter cushion, Paul Pierce and the Celtics nearly fumbled the game away.
BOSTON -- First impressions after the
Boston Celtics
defeated the
Denver Nuggets
105-89 Wednesday night at TD Garden:
HOW THE GAME WAS WON
Celtics guard
Ray Allen
scored a game-high 28 points on 9-of-14 shooting with five rebounds, four assists and a glossy plus-27 in the plus/minus category to pace his team.
Rajon Rondo
played 30 minutes and dished out 13 assists despite looking a step slow because of lingering soreness in his left hamstring, and
Kevin Garnett
barely missed another double-double (17 points, 9 rebounds).
Ty Lawson
scored a team-high 24 points off the bench for Denver.
TURNING POINT
Despite fumbling away a 19-point, first-quarter lead and allowing Denver to make it a one-point game in the second, the Celtics slowly stretched out their lead in the third quarter, embarking on a 10-2 run late in the period to pull away for good. Garnett,
Glen Davis
and
Semih Erden
each had buckets as Boston carried an 11-point cushion into the final quarter.
STAT OF THE GAME
The Celtics continued to scorch the field, shooting a sizzling 55.9 percent (38-of-68), despite struggling beyond the arc (4-of-15, 26.7 percent).
UNSUNG HERO
Davis, sidelined since Sunday with flu-like symptoms, chipped in 16 points, 3 steals and 3 charges taken over 27 minutes off the bench.
WHAT IT MEANS
The Celtics carry an eight-game winning streak into the second night of a back-to-back at Philadelphia on Thursday. Boston could have made things much easier on itself, but the bench's inability to hold a big first-quarter cushion forced the starters to log bigger minutes than they might have hoped. Fortunately, Boston had all 12 of its players available and didn't lean too heavily on its starting five (Pierce, who had an easy day Sunday in New Jersey, finished with a team-high 36:49).
December, 8, 2010
12/08/10
12:00
PM ET
Here are 10 facts and figures to keep in mind for Wednesday's Celtics vs. Nuggets clash (ESPN, 7 p.m) at the TD Garden (information researched for ESPN by Elias Sports Bureau, Inc.):
1. The Celtics are the only team in NBA history to have four players, each with at least 20,000 career points, play for them in one season: Shaquille O'Neal (28,425),
Kevin Garnett
(22,579),
Ray Allen
(21,280) and
Paul Pierce
(20,279). There are only three other current NBA players with that many points:
Kobe Bryant
(26,351),
Dirk Nowitzki
(21,634) and
Tim Duncan
(20,921).

2. Those four Celtics, paired with either
Nate Robinson
(4,221) or
Rajon Rondo
(3,561), have combined to score more than 96,000 points in the NBA. Only one other team in league history ever started a five-man unit that took the floor with as many combined career NBA points to their credit as Boston has this year.
Karl Malone
(36,889), Shaquille O'Neal (21,828),
Gary Payton
(19,915), Kobe Bryant (12,092) and
Rick Fox
(8,964) last started together for the Lakers on April 9, 2004; they entered that game with a total of 99,688 career points.
3. The Celtics haven't played since Sunday while Denver is playing for the second straight night (The Nuggets lost at Charlotte last night). During the 2010 calendar year, Boston is only 2–2 in home games in which it had the previous two days off against an opponent that played the day before. Under those circumstances, the Celtics lost to the Mavericks (January 18) and Hornets (March 31), and beat the Clippers (January 25) and Wizards (November 17).

Garnett
4. Kevin Garnett has averaged 12.0 rebounds over his last five games to rank third in the NBA during that time, behind
Kevin Love
(17.8) and
Blake Griffin
(13.2). Note that only one of Garnett's last 42 rebounds has come off the offensive glass.
5.
Chauncey Billups
, who played the first half of his first NBA season for the Celtics (51 games in 1997–98), has scored 13,747 points since then. It's the most points scored by any NBA player for other teams after playing for Boston. Two other former Celtics scored at least 10,000 points for other teams:
Joe Johnson
(12,319 and counting) and Paul Westphal (11,173).

6. Here are some other current players who are rarely remembered as part of the teams for which they debuted:
Elton Brand
, Bulls (1999–2000);
Corey Maggette
, Magic (1999–2000);
Stephen Jackson
, Nets (2000–01);
Caron Butler
, Heat (2002–03);
Mehmet Okur
, Pistons (2002–03).
7. George Karl can become the seventh coach to win 1,000 NBA games. Four of the six coaches with at least 1,000 NBA victories won their first attempt at 1000. Only Pat Riley and Jerry Sloan failed to do so. Karl lost his first try at 1,000 Tuesday night vs. Charlotte.

Karl
8. With a win tonight or in either of Denver's next two games (at Toronto and New York), Karl would become the first head coach to earn his 1,000th NBA victory in a road game... Players with the most career wins with Karl as their head coach: Gary Payton (398),
Ervin Johnson
(345),
Sam Perkins
(320),
Shawn Kemp
(314) and Nate McMillan (271).
9. George Karl hasn't posted a losing record as a head coach since he was let go by the
Golden State Warriors
with a 16–48 mark in the middle of the 1987–88 season. Since then, Karl has guided teams to a .500-or-better record in each of his 18 seasons as an NBA head coach (entering this season). The only other NBA coaches with streaks of 18 or more consecutive non-losing seasons are Phil Jackson (19 in a row entering this season) and Pat Riley (18, 1981–82 through 2000–01).
10.
Gary Forbes
, who played college ball at UMass-Amherst, 95 miles west of Boston, is one of two Minutemen currently active in the NBA. The other is former Nugget,
Marcus Camby
, who's the second-most famous player from the school that produced Julius Erving.
December, 8, 2010
12/08/10
9:30
AM ET

(16-4, 9-1 home)
-- vs. --
(13-7, 3-6 away)

at TD Garden, 7 p.m. | ESPN, WEEI (850 AM)
GAME PREVIEW (via Stats Inc.)
Rajon Rondo took himself out of the lineup just before the Boston Celtics' most recent victory. Despite the uncertainty surrounding their star point guard, the Celtics look to extend their winning streak while delaying a milestone for Denver Nuggets coach George Karl.

Boston hosts Denver on Wednesday night hoping Rondo can overcome the hamstring and foot injuries that kept him out Sunday.

Rondo sat out three straight games Nov. 21-24 with a strained hamstring, but he returned for the following four games and had at least 10 assists in each -- including 19 on Friday in a 104-92 win against Chicago.

He warmed up Sunday at New Jersey, but decided he couldn't play.

"It was literally about two seconds before the game was going to start," coach Doc Rivers said. "I usually don't like that. It was really a last-second cancellation."

Rondo's absence didn't seem to bother the Celtics (16-4), who extended their season-high winning streak to seven games with a 100-75 victory.

Nate Robinson made his fourth start in Rondo's place and scored a game-high 21 points with six assists. If Rondo is forced to rest Wednesday, Robinson likely will get the nod again.

"I just go about things the same way," Robinson said. "I just play the same way as if I was coming off the bench."

Shaquille O'Neal's status is also uncertain for the Celtics after he left Sunday's game with a sore right calf.

Paul Pierce scored eight points against the Nets, marking only the second time in his last 41 games he hasn't scored in double figures. However, Pierce has averaged 25.7 points in 22 career games against Denver, which hopes to earn Karl his 1,000th NBA head coaching victory.

The Nuggets (13-7) failed in their first attempt Tuesday in a 100-98 loss at Charlotte, which snapped Denver's seven-game winning streak. Chauncey Billups scored 25 points, but he missed the potential game-tying shot as time expired.

"It would have been something I'd have remembered if I won my 1,000th here," said Karl, who played his college basketball at North Carolina. "But hopefully we'll get it on this trip."

Boston is the second stop on a four-game road trip the Nuggets hope doesn't resemble their previous contests away from home. Denver is 3-6 on the road -- including five losses in the last six -- compared to 10-1 at the Pepsi Center.
Read the full preview
HERE
.
FORSBERG'S THREE THINGS TO WATCH (NON-INJURY EDITION)
Brian Babineau/NBAE/GettyCarmelo Anthony drives on Paul Pierce.

Pierce vs. Melo: This matchup needs no introduction, so we'll just let Pierce break it down: "I put [Carmelo Anthony] in that same class with people who put me in the ice tub after the game, with Ron Artest and LeBron [James], he's right there in that same class. He's strong up top, so you've really got to body in him, he likes to get layups. So it's a constant battle every time on offense because they look for him 90 percent of the time, so I know I've got my work cut out. A lot of screens for him, a lot of isolations for him. He likes to duck his head, get to the rim a lot. So it's definitely a challenge and you've gotta definitely stand your ground with Carmelo or he'll make you look bad."
Offense vs. Defense: The Nuggets are averaging 105.8 points per game this season, fifth best in the NBA. The Celtics have thrived on defense during their own seven-game winning streak and that must continue Wednesday night. "They're just tough, a great offensive team," said Celtics coach Doc Rivers. "They're so versatile. They put guys in different spots, they go small, they go big, they have the 'Ty Lawson/Chauncey Billups' lineup, they got the 'Carmelo at the 4' lineup. All of them are scorers, and not just catch-and-shoot scorers, they have four or five guys that can create offense off the dribble. You don't see a lot of teams built that way, that's what makes it so difficult."
Defending the 3's, forcing long 2's: The Celtics pride themselves on their 3-point defense and it will be tested versus Denver, which is fifth in the league making 38.5 percent of their trifectas while hoisting 21.2 triples per game. The Celtics want to make them settle for the mid-range jumper. "We defend the three. Our whole thing is no 3's and no paint, so basically you're left with contested 2's. Earlier in the year, we were getting that, but we weren't contesting the 2's, we were giving them their shots. Now I think our guys have focused on getting a hand in the guys face when they are shooting, since it may affect them."
December, 8, 2010
12/08/10
1:05
AM ET
ESPN Boston IllustrationA slip of the tongue suggested jail time awaited for Ray Allen.
WALTHAM, Mass. -- Celtics guard
Ray Allen
provided one of the lighter moments of Tuesday's practice session with a slight slip of the tongue that suggested jail time was in his future.
Asked in advance of Wednesday's Celtics-Nuggets showdown about the ability of Denver's
Carmelo Anthony
to play through recent trade rumors, Allen tried to suggest that it wasn't like Anthony was about to be sent to the slammer, but Allen inadvertently suggested he was headed there himself.
"You still get to play," said Allen. "Your address may change, but you still get to play. I'd worry if someone told me I was about to be shipped away to prison, then I might have a little pressure on me. I don't know when that's going to happen..."
Reporters quickly interjected, saying, "Wait, when?" as Celtics media relations czar Jeff Twiss, standing nearby, added to the laughter by asking, "Is there something I don't know about here, Ray?"
Back on the serious side, Celtics captain
Paul Pierce
suggested that great players like Anthony can battle through those rumors.
"I think it's easy for guys, once they step on the court, because you don't really think about that stuff," said Pierce. "Most guys who are in his position just go out there and play the game, not worrying about the trade here, the trade there. You see it in a lot of cases where guys tend to forget that that's what's going on once they step onto the court, and they're playing one of their best games or they're having their best year ever, and you see that in Melo. He's not really worried about that, but he's still out there having a fantastic year, an MVP candidate."
Celtics coach Doc Rivers said trade rumors wouldn't change Anthony's impact on the court.
"He's a professional scorer," said Rivers. "He's like Paul. There are not a lot of professional scorers in our league. Carmelo and Paul are two of them. They can score in any situation and nothing fazes those guys. They know how to score. They do it on their own tempo and time. Carmelo is going to be Carmelo, whether he is in Denver or anywhere else."