PHILADELPHIA -- A collection of news and notes after the Boston Celtics defeated the Philadelphia 76ers 102-101 Thursday night at the Wells Fargo Center:
--SHAQ VS. FATHER TIME --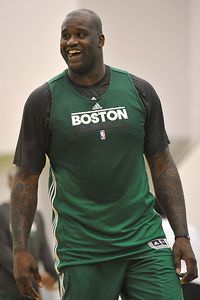 Brian Babineau/NBAE/Getty
Shaquille O'Neal is battling lingering soreness near his right knee.In his advanced NBA age, Shaquille O'Neal is (slowly) coming to grips with his body's (in)ability to bounce back from injury. That doesn't mean he's accepting the limitations.
The area around his right knee still tender from a late-October collision with New York's Amare Stoudemire, O'Neal asked the Boston medical staff to administer a pain killer that would allow him to play in Thursday's tilt against the Philadelphia 76ers. When they refused, with his long-term health in mind, Shaq reluctantly accepted to sit out his sixth game of the season after being limited over the last two contests.
O'Neal knows the goal is to win down the road and that means swallowing some of his toughness after 18 seasons in the league.
"I never thought this day would come," O'Neal admitted before Thursday's game. "Especially for me. When I was young, I thought I could play through anything... I could get stabbed, go to the hospital, and come back ready to play. Sometimes nick-knack injuries don't go away.
"The thing about this team, this staff, they don't want you to rush back. I'm from the old school, so I'm like, 'Shoot it up,' give me some drugs. But the focus is on 1825."
That year references is Shaq shorthand for winning another title this season which would mean 18 world titles for Boston; 2 for the Big Three and coach Doc Rivers; and 5 for Shaq's cumulative total.
With 1825 in mind, the Celtics have exercised extreme caution with injuries, even when it's left them shorthanded as it did Thursday when, playing without both O'Neals -- Shaq and Jermaine -- for the first time this season, Boston leaned on rookie Semih Erden in a starting role.
While Shaq expressed hope that he might be able to return to the lineup on Saturday in Charlotte, it's clear the Celtics will not rush him.
"We want him to be healthy, it's very important for him to be healthy," said Rivers. "We want him to play as many minutes as he can, we need him to, for a lot of reasons, because we have J.O. and [Kendrick Perkins] out, but at the end of the day, we need him healthy. So we're not going to do anything that possibly could take him out for long haul.
"I don't know what line to walk with Shaq. He's 38 years old, he has a lot of mileage, and we want to keep him in playing shape, and in rhythm with our offense and defense, so he knows our schemes. It's a fine line to walk and I have no idea if we're waking it right or not, and so we're going to listen to him and [team trainer] Eddie [Lacerte]. That's what I'm going by, Eddie is the guy, he'll say: 'Maybe we should give him this day off,' then that's how we'll do it."
O'Neal is averaging 11.2 points and 6.4 rebounds over 22 minutes per game in 16 appearances this season. For all the consternation about him being a defensive liability, the Celtics clearly missed him at both ends of the court Thursday. Because every time he turns back the clock, like a 25-point, 11-rebound effort against New Jersey in late November, it's hard to remind O'Neal that he's 38 now.
"It's not easy [to sit out]," said O'Neal. "I only know one way."
Then again, O'Neal knows there's only one way he'll be happy with how this season ends, so he stayed off the court Thursday, hoping he'll be standing on it in June.
--LOOSE BALLS: STEALING A WIN ... A VERY SATISFYING WIN--
* Stealing a win ...Whenever the Celtics lose a winnable game, Rivers often notes that his team needs to make it up somewhere down the road. Thursday's win over the 76ers certainly felt like a game Boston stole. "]The 76ers] played their butts off-- they played so hard, reall. We didn't play great, but we shot the ball great, so in some ways, we stole a win. The players all know and coaches, too, when you get away with one and we got away with one tonight."
* ... A very satisfying win: Even if Boston needed a little help from the so-called basketball gods to escape Philadelphia with a win on the second night of a back-to-back, captain Paul Pierce (gutting out nearly 40 minutes despite flu-like symptoms) certainly savored the gritty triumph. "Truthfully, I think this is one of our biggest wins of the year... With injuries and mental and physical fatigue, some of our guys came in here and didn't have it tonight. And we were wondering how we were going to get through, but we found a way. This is the most satisfying win for us, I think, this year."
* Daniels gives a thumbs up: Celtics reserve swingman Marquis Daniels logged 16 minutes of action despite a sore right thumb that swelled up a bit after being jammed on a hard pass from Nate Robinson in Wednesday's win over Denver. Daniels simply shrugged when asked how much the tape could help the injury before Thursday's game, but said it didn't affect his shot. Daniels didn't attempt a field goal, going scoreless while posting a rebound, an assist, and two turnovers.
* Short rotation: Even on a night that Shaq couldn't suit up, Rivers maintained a tight rotation with rookies Avery Bradley and Luke Harangody earning DNPs. Even Von Wafer only played five minutes (providing key defense and a 3-pointer in the second quarter). O'Neal was listed as active, but did not dress.
* Stat check: Shooting 90.5 percent (19 of 21 overall) at the charity stripe certainly didn't hurt Boston's cause on a night the 76ers missed five freebies ... Going with a small lineup for much of the night, the Celtics were outrebounded by Philadelphia, 39-33... Glen Davis picked up his 26th charge of the year, drawing contact from Thaddeus Young early in the second quarter. It was Boston's 40th charge taken of the season... Sore feet and hamstring? Rajon Rondo played all but the final 46 seconds of the first quarter. Rondo wore a wrap around his sore left hamstring and, after the game, iced his feet in the locker room to prevent any flareup of plantar fasciitis.
* Doc on Jasner: Rivers concluded his pregame confab with the media by acknowledging the death of longtime Philadelphia Daily News reporter Phil Jasner, who maintains a seat in the media area at the Wells Fargo Center as a tribute to his coverage of the 76ers. "From my side of it, Phil was as professional; He was fair and honest," said Rivers. "Phil did a good job and I hope everybody follows his lead. He was absolutely terrific. He'll be missed by the coaches in the league. I'm sure he'll be missed by you guys, but he'll be missed by us as well."