Boston Celtics:

2010Game25
December, 17, 2010
12/17/10
9:15
AM ET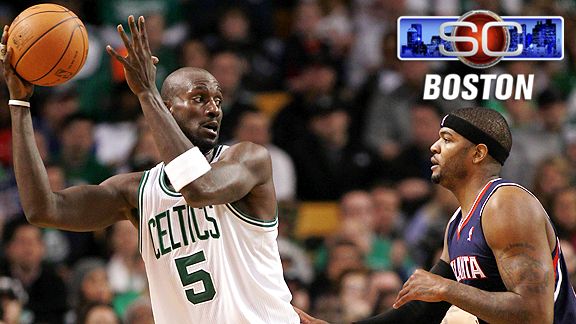 Greg M. Cooper/US PresswireKevin Garnett's work on Josh Smith helped Boston's cause Thursday.
BOSTON --
Boston Celtics
coach Doc Rivers is notorious for keeping his youngest players glued to the bench, save for in certain cruise-control situations. That's why it was somewhat jarring to see rookies
Avery Bradley
and
Luke Harangody
at the scorer's table in a one-possession game late in the first quarter Thursday night.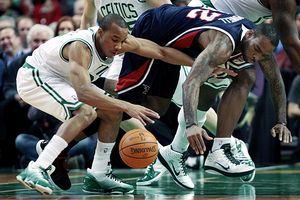 AP Photo/Charles KrupaCeltics rookie Avery Bradley got in four minutes of play in Thursday's win over the Hawks.
This is what it's come to for Rivers. With his team decimated by injuries, but hell-bent on limiting minutes for his most veteran players, Rivers sent the Bradley/Harangody combo onto the floor -- just 63 minutes of court time between them previously -- while fetching spot starters
Semih Erden
(another rookie) and
Nate Robinson
from Thursday's tilt with the
Atlanta Hawks
.
On a night when Rivers informed his squad that it would be without
Rajon Rondo
(ankle) for "one or two" weeks, the Celtics leaned on a 19-year-old (Bradley) to fill the void of an All-Star floor general. On a night when
Shaquille O'Neal
needed a third straight game off to rest a sore right calf, Boston asked a rookie who was 4 years old when O'Neal made his 1992 NBA debut (Harangody) to help fill his size 22 shoes.
"We were playing with Semih, two [rookies], and then Von [Wafer] went down [before] halftime,"
Kevin Garnett
said when asked if this was Boston's gutsiest win of the season. Wafer's injury -- a sore back that has hobbled him in recent days -- left Boston with only nine available bodies since Rondo and Shaq were technically on the active roster with the team already deactivating
Delonte West
(wrist),
Jermaine O'Neal
(knee) and
Kendrick Perkins
(knee). "I mean, [captain
Paul Pierce
] said it before the game: 'This is going to be more mental than anything.' I think everybody is playing; everybody is giving everything they have. And in order for us to win these games, we're just going to have to grind it out until we get the guys back."
Added Garnett: "We just got the news about Rondo, and Shaq wasn't available today. So what are you going to do? You can quit … but that is not the way we do things around here. We work. So 'gutsy' is an understatement."
Click
HERE
to read the full story.
December, 17, 2010
12/17/10
1:40
AM ET
BOSTON -- A collection of news and notes after the Boston Celtics defeated the Atlanta Hawks 102-90 Thursday night at TD Garden:
The rundown
(a quick look at postgame headlines)
* Celtics keep Smith quiet for second consecutive meeting
* Harangody makes impression in extended first-half appearance
* Loose balls: Wafer's back tightens up; Davis: Flagrant 1, Charge 1
--
CELTICS KEEP SMITH QUIET FOR SECOND CONSECUTIVE MEETING
--
Josh Smith isn't on Kevin Garnett's so-called redemption list this season. In fact, Garnett went out of his way Thursday to stress the respect he has for Smith. But Smith's anemic offensive numbers Thursday show yet again how a healthy Garnett is dominating his competition this season and helping Boston thrive on the defensive end.
For the second consecutive meeting, Smith did not register a single field goal against Boston. As the Hawks played without Joe Johnson and Jamal Crawford, Garnett helped harass Smith into 0-for-8 shooting (this after an 0-for-3 effort in the first meeting). Smith finished with one point, three assists, and four rebounds over 34 minutes, 11 seconds on Thursday.
"I didn't even know that stat," said Garnett. "Young fella, he's a gifted player; Don't let the stats fool you. He's asked to do a lot with Joe Johnson out.... He does most of the things, he's very active on defense, blocking shots; Scoring is just one of the many things he can do. I have a lot of respect for Josh. I didn't know that stat before you told me, I have a lot of respect for young fella."
Celtics coach Doc Rivers was likewise taken aback by the stat, but said he'd be OK if that trend continued.
"He's just missing shots," said Rivers. "I don't know why, but let's hope it continues whenever we play them. We were not doing anything different. We don't have any Jordan Rules or anything like that. That's good, that means someone's playing good defense."
And as Celtics captain Paul Pierce was quick to note, much of that credit belonged to Garnett. For his part, Smith admitted he was off.
"I was into it on the defensive end," said Smith. "I just couldn't help out offensively. The good thing about it, I got a chance to redeem myself [Friday], playing Charlotte. Get in get some rest. You just can't stop believing yourself. I think I got down on myself too early in the game because things weren't falling. I think from a team standpoint I think guys did a really good job contributing."
Hawks coach Larry Drew said his player just wasn't in the game mentally.
"Josh wasn't Josh today," said Hawks coach Larry Drew. "His energy was low. What we've seen... this definitely was his worst [game]. Not even from a point standpoint. The energy he has given us in the past, he did not have it tonight at all. Talking to him at halftime, just trying to pump him up and encourage him to just play through it. He'll get it going, but it didn't happen. He'll bounce back, he'll bounce back. The one thing I don't want anyone to get discouraged about night like tonight. They don't shoot the ball well, if things don't go well because its too long of a season to allow a snowball affect to happen. He struggled tonight, he recognizes it. We have a game [Friday] night, we'll just bounce back tomorrow night."
--
HARANGODY MAKES AN IMPRESSION IN SHORT APPEARANCE
--
Rivers joked before Thursday's game that Rajon Rondo's absence could lead him to stick rookie forward Luke Harangody at backup point guard due to a lack of depth. That didn't happen, but Harangody got extended minutes due to a thinned bench.
Harangody responded by scoring four points on 2-of-4 shooting and grabbed a rebound over 7:25 spanning into the second quarter. At a time Rivers was desperate to rest his frontcourt starters in Semih Erden and Garnett, Harangody ate up minutes.
"Let me tell you, Luke in the first half was terrific," said Rivers. "He kept balls alive, made some shots, and that's what he does."
--
LOOSE BALLS: WAFER'S BACK TIGHTENS UP; DAVIS: FLAGRANT 1, CHARGE 1
--
* Von Wafer logged only 2:06 of action before departing with a sore lower back in the second quarter and did not return. That left Boston, already carrying two injured players (Shaquille O'Neal and Rajon Rondo) on the active roster, with nine available bodies.
Wafer, who had received extra treatment the past few days, said he think it's an issue with getting loose and suggested he might need to alter his pregame stretching to prevent his back from tightening up. It wasn't anything he did in the game, which Rivers playfully noted.
"It had to be quick," Rivers said when asked if it was something Wafer did during the game. "That was too easy. That's too easy a question because Von played 2:05. So, no, his back was bothering him before the game. The last three days, he's come in for treatment on his back."
* Celtics forward Glen Davis picked up a flagrant 1 midway through the second quarter for grabbing Atlanta's Zaza Pachulia around the collar while trying to prevent an easy layup. Davis atoned by chipping in a game-high 18 points on 8-of-15 shooting with 10 rebounds over 32:50. He also picked up charge No. 28 of the season in the second quarter.
* During TNT's halftime segment, Charles Barkley suggested that Rondo is the MVP of the league, noting, "He's the engine that stirs the drink." No, really, that's what he said.
* The Celtics weren't the only ones on a back-to-back. Halftime act extraordinaire,
Red Panda Acrobat
, pulled double duty, making her 2010-11 TD Garden debut. After an often lackluster first half, she got the biggest cheers of the night during the intermission.
December, 16, 2010
12/16/10
10:35
PM ET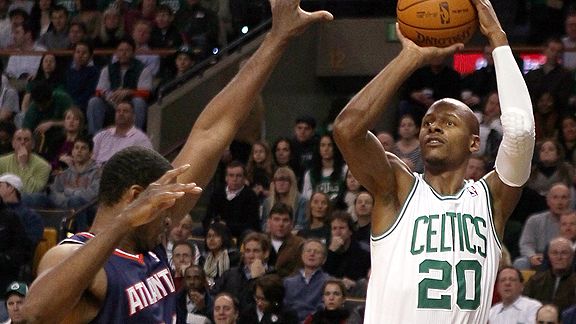 Elsa/Getty ImagesRay Allen launches a 3-pointer Thursday against the Hawks.
BOSTON -- First impressions after the
Boston Celtics
defeated the
Atlanta Hawks
102-90 Thursday night at TD Garden:
HOW THE GAME WAS WON
It lacked all the glitz and glamor of Wednesday's barnburner in New York, but the Celtics, playing with a mere nine healthy bodies after
Von Wafer
(sore back) departed in the second quarter, gutted out the latest triumph on a 12-game winning streak that lacks all style points.
Kevin Garnett
(17 points, 14 rebounds) and
Paul Pierce
(15 points, 10 assists) produced double-doubles, while
Ray Allen
and
Glen Davis
both produced a team-high 18 points. Atlanta hung around for a while on the play of
Marvin Williams
, who scored a game-high 26 points on 9-of-15 shooting, while
Jeff Teague
filled the void of
Jamal Crawford
, scoring 18 points on 8-of-11 shooting off the pine.
TURNING POINT
The Celtics were clinging to a one-point lead midway through the third quarter, but erupted for seven points in 52 seconds, highlighted by an emphatic dunk by
Semih Erden
while running the floor in transition and an off-balanced 3-pointer from Paul Pierce for a 64-56 advantage with 5:11 to play in the frame. The burst injected life into a sleepy Garden and Boston kept the Hawks at arm's length the rest of the way.
STAT OF THE GAME
The Celtics were outworked on the glass, the Hawks finishing with an 37-33 advantage overall, but Boston overcame that -- and a mere four fastbreak points for the night (Atlanta had 14) -- to scrape together the win.
UNSUNG HERO
Semih Erden joined a total of six Celtics in double figures (including all five starters), putting up 10 points on 5-of-6 shooting over 24 minutes in his third consecutive start. The only negative: Erden pulled a "
Mark Blount
," failing to grab a single rebound during his time on the court, no easy task for a near 7-footer with extended court time.
WHAT IT MEANS
The Celtics extended their winning streak to 12 games, matching the
Dallas Mavericks
and
San Antonio Spurs
for the longest streak in the NBA this year. With only Indiana and Philadelphia looming before a Christmas showdown in Orlando, Boston will look to extend their streak in the face of mounting injuries.
December, 16, 2010
12/16/10
8:00
PM ET
BOSTON -- A collection of news and notes before the
Boston Celtics
hosted the
Atlanta Hawks
Thursday night at TD Garden:
Celtics coach Doc Rivers estimated a 'one or two' week absence for
Rajon Rondo
after Boston's All-Star point guard suffered a left ankle sprain in the fourth quarter of Wednesday's win over the
New York Knicks
.
Echoing the sentiments of Celtics president of basketball operations Danny Ainge, Rivers said they'll give Rondo time to heal, particularly after battling a cocktail of maladies including a sore left hamstring and plantar fasciitis, but also noted that Boston is desperate for bodies.
Even still, Rivers kept his typical sense of humor amidst a thinning roster.
"I told [rookie forward] Luke [Harangody] to get ready," Rivers joked about his backup point guard situation with
Nate Robinson
set to join the starting lineup in Rondo's absence. "Harangody's debut at the backup point. No, really, [rookie] Avery [Bradley] and Marquis [Daniels will be the backups]. That's where, someone was asking me, 'Could you lose Rondo?' and I said, 'Yeah, we're 3-1 and should be 4-0 without him.' But what we can't lose is Rondo and
Delonte West
. The numbers are starting to add up now, to where we just can't sustain another one.
"I actually said that [Wednesday] night and that went over well. But that's where we are at. Right now, Nate is going to have to play a ton of minutes. If he gets into foul trouble or anything, that's where we struggle, each position is getting thinner and thinner right now with this group."
The Celtics are already playing without what Rivers affectionately dubbed "21 feet of centers" with
Shaquille O'Neal
(calf),
Jermaine O'Neal
(knee), and
Kendrick Perkins
(knee) all sidelined. That's left rookie center
Semih Erden
logging spot starts, but Boston is still riding an 11-game winning streak amidst that. The Celtics previously lost Delonte West (wrist) indefinitely last month and that leaves little depth at backup point guard.
"We'll use Paul [Pierce], Ray [Allen] and Marquis [at point guard], whoever [the opposition] is not pressuring," said Rivers. "Every team, you have one guy who pressures the ball, maybe two. Rarely do all three guys go up pressuring the ball. We did it one game, whoever was the guy, we don't know who that guy is going into the game and that clearly changes your offense, when you can't decide who's bringing the ball up... but whoever [doesn't get pressured], that's who will bring the ball up the floor."
Meanwhle, Bradley has played a mere 28 minutes in five appearances after he started his rookie campaign on the shelf after offseaosn ankle surgery. Rivers stressed that he'd continue to protect the young guard.
"He's going to be a good player and everyone wants to see the young guy play because they think they're ready now, because you don't see him," said Rivers. "I 'm going to try to protect his minutes, where he's out with the better players, the starters. Listen, he's just going to have to play some for sure."
As for Robinson, who has thrived as a starter, averaging 16.5 points, 5.5 assists, and shooting 62.5 percent from the floor in four starts (as opposed to 5.5 points, 1.6 assists, and a 39.1 shooting percentage in non-starts), Rivers simply wants him to continue to be himself.
"Offensively, we're going to be fine," said Rivers. "Hell, in the four games we've actually scored more when Nate is in lineup. Defensively, that's where you're more concerned because of Nate's size -- not the effort, that's been great -- but his size has an impact on you. Then the bench part of it. Before, you had Delonte, that could come in, for that little stretch [after his season-opening 10-game suspension]. So you had another guy.
"All the injuries are more of a problem than just one guys' injuries."
A couple other quick hits:
* Rivers suggested Shaquille O'Neal could be back in the lineup for Sunday's matinee against the
Indiana Pacers
. "Shaq is slated [to play Sunday] and that's what we're hoping for. Again, I don't know the answer [for certain]."
* Jermaine O'Neal is also closer to getting back on the floor, but Rivers said not close enough to be ready for Sunday's game. "I've seen him in clothes, walking by, he dresses nice," joked Rivers. "No, I haven't seen him play yet. I'm going by what [strength and conditioning coach Bryan Doo] tells me and [Celtics director of basketball development] Ty Lue was out there with him [during individual workouts] and he said [O'Neal is] looking a lot better. There's not as much pain, a lot of the pain is gone, which is very important."
* Rivers did stress that it wouldn't even take a day of practice to throw Jermaine O'Neal back to the wolves, not given the current injury situation.
"Just get him into the game at this point," said Rivers. "Right now, we can't even worry. If guys says they can play, we're throwing them in. It's not like we have a choice, practice or not. The day J.O. says I think I can play, I'm playing him that night. We need minutes right now."
December, 16, 2010
12/16/10
12:30
PM ET

(20-4, 10-1 home)
-- vs. --
(16-10, 8-5 away)

at TD Garden, 8 p.m. | TNT, WEEI (850 AM)
GAME PREVIEW (via Stats Inc.)
Paul Pierce helped the Boston Celtics survive a close to call to extend their season-high winning streak. Now, they'll look to keep it going against the same team they beat to start their run.

Boston can win its 12th straight game for the first time since Jan. 11-Feb. 3, 2009, when it hosts the Atlanta Hawks.

This is the fifth winning streak of 10 or more games for the Celtics (20-4) since Kevin Garnett and Ray Allen joined Paul Pierce on the team for the start of 2007-08. Last season, Boston won 11 straight at nearly the exact same time -- Nov. 22-Dec. 14 -- before falling short of a 12th consecutive victory.

The current streak reached 11 on Wednesday -- barely. Pierce's jumper with 0.4 seconds remaining capped a come-from-behind 118-116 victory over New York. The Knicks' Amar'e Stoudemire then made a 3-point attempt, but it was ruled to have come after the buzzer.

"When I seen that shot, it was like [Pierce] went to a natural shooting rhythm and just seemed like he took a little bit more time," Allen said. "And that goes back to our possession when (Pierce) hit the shot, taking as much time off the clock that we could, because imagine if they had .8 on the clock or .9 on the clock, that would have been a different story."

Pierce finished with a season-high 32 points to lead Boston, which also got 20 points and 13 rebounds from Kevin Garnett and 26 points from Allen to become the first Eastern Conference team to 20 wins.
Read the full preview
HERE
.
FORSBERG'S THREE THINGS TO WATCH
Don't expect a repeat: Sure, the Celtics put a 23-point thumping on Atlanta the last time the two teams met in November and, yes, it came on the tail end of a back-to-back. But Boston expended a lot of energy Wednesday in New York and they won't have the motivation that a head-shaking loss in Toronto provided before the first meeting with Atlanta. This could be a night the Celtics desperately need their bench to provide a spark if the starters come out of the gates sluggish, especially after Rivers leaned on a tight eight-man rotation Wednesday.
Rondo out: Of course, the Celtics will have to use their entire roster out of necessity. Rajon Rondo will miss "a couple of weeks" after spraining his left ankle Wednesday night, vice president of basketball operations Danny Ainge told WEEI on Thursday. That means Nate Robinson will be thrust back into the starting lineup -- a starting lineup that already features rookie Semih Erden pinch-hitting at center with Shaquille O'Neal, Jermaine O'Neal, and Kendrick Perkins all sidelined (or as Celtics coach Doc Rivers joked, "21 feet of centers."
No Joe, No Jamal: The Celtics do catch a break as both Jamal Crawford (Atlanta's sixth man who slayed Boston last season) and Joe Johnson won't suit up for the Hawks. Still, winners of eight of their last 11, the Hawks will get no sympathy from Boston, especially with Atlanta having enjoyed three of the last four days off (the Hawks lost in Detroit on Tuesday).