Boston Celtics:

2010Game26
December, 20, 2010
12/20/10
12:05
AM ET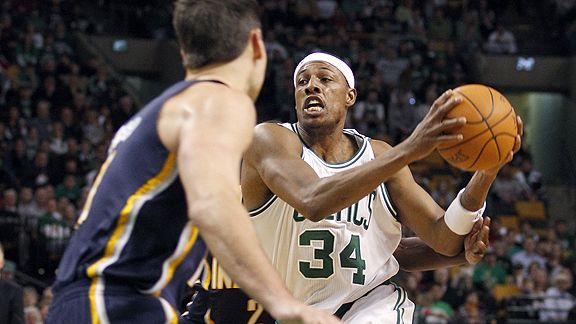 AP Photo/Mary SchwalmPaul Pierce showed he's more than a scorer Sunday vs. the Pacers.
BOSTON -- The compliment gets thrown in his direction fairly often and it's almost always sincere, especially when delivered by those who have observed all the greats:
Paul Pierce
is the best scorer in
Boston Celtics
history. And that's saying something considering the likes of John Havlicek and Larry Bird have worn the jersey.
But Pierce wouldn't mind someday being regarded as one of the most complete players in Celtics history. On Sunday against the
Indiana Pacers
, he gave the latest example of why he deserves to be in the conversation.
With Boston again playing without All-Star point guard
Rajon Rondo
(sprained left ankle), Pierce produced his second consecutive double-digit assist game, handing out a game-high 12 dimes. Pierce added 18 points and 10 rebounds for his seventh career triple-double in a 99-88 triumph over the Pacers at TD Garden.
"He's the chameleon," said Celtics coach Doc Rivers, a fitting description of a player who has spent his entire 13-year career in green, but found ways to adapt to those around him. "We would rather, honestly, have him in scoring mode all the time. But with this team, especially with the injuries, he's been a phenomenal utility player for us."
Pierce didn't just play the "point forward" role Sunday, he produced one of the most efficient efforts of his career. While logging nearly 37 minutes, he took only eight shots, hitting everything he put up inside of the 3-point arc.
For his career, Pierce has had only five games in which he's logged more than 35 minutes and taken only eight shots, and three of those games have come this season. Normally such a stat line would come when Pierce's shot isn't falling and he has to contribute in other areas, typically on the glass.
But Sunday, the Celtics needed a distributor, and Pierce was happy to play the role.
Click
HERE
to read the full story.
December, 19, 2010
12/19/10
6:25
PM ET
BOSTON -- A collection of news and notes after the
Boston Celtics
defeated the
Indiana Pacers
99-88 in a Sunday matinee at TD Garden:
The rundown
(a quick look at postgame headlines)
* Shaq makes immediate impact in return to lineup
* Celtics keeping an eye on Orlando's roster overhaul
* Loose balls: Baby's back is sore; technical difficulties
--
SHAQ MAKES IMMEDIATE IMPACT IN RETURN TO LINEUP
--
Celtics center
Shaquille O'Neal
wasted little time making an impact after sitting out four straight games because of soreness in his right calf.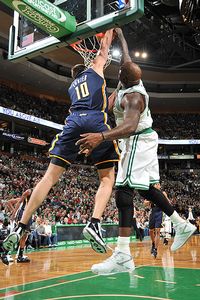 Brian Babineau/NBAE/GettyShaq produces another monster jam, slamming home a first-quarter alley-oop.
Less than 90 seconds into Sunday's tilt with the Pacers, O'Neal caught a perfect lob from
Paul Pierce
and produced an emphatic one-handed jam over
Jeff Foster
that proved that, even at age 38, Shaq is still capable of producing poster moments.
O'Neal connected on 4-of-5 shots for 11 first-quarter points, helping Boston open an early nine-point cushion. O'Neal finished with those 11 points -- missing his final three shots -- and five rebounds over 20 minutes 46 seconds of action.
"He was great; he had great energy," Celtics coach Doc Rivers said. "I think that alley-oop probably sent him back five years. It was terrific. I've got to tell you, when Paul threw the pass, I thought no, there was just no way. And he not only caught it, but he finished it. So that was nice.
"But Shaq, you could see he had great energy. And him and Kevin, they're both great passing bigs. When you have them both on the floor, our passing is off the charts."
O'Neal admitted to some postgame soreness, but credited team trainer Eddie Lacerte with getting him back on the floor and the Celtics staff with not rushing him despite a need for bodies.
"I'm good," said O'Neal. "[The calf is] kind of sore, but I'll just take it easy and just try to strengthen the area. Like I said, Eddie Lacerte did a great job in getting me back.
"I wanted to play that Knicks game, but I one little spot still bothering me. Doc said to wait until I was close to 100 percent. I had a couple of days off and I felt pretty good. I wanted to give it a shot today."
O'Neal's minutes were crucial on a night that rookie
Semih Erden
, who filled the starting role admirably in the absence of a veteran big the last four games, logged only 6:38 while battling a groin pull. But after the game, it was the first-quarter alley-oop that everyone wanted to talk about.
"Shaq can play as long as he wants if he's making plays like that,"
Ray Allen
said with a smile. "I'm just glad he's on my team."
O'Neal gave a little shake after the emphatic and-one jam brought the Garden crowd to its feet. He dubbed it "The Diesel Walk," much to the delight of teammate
Nate Robinson
.
"I thought he was going to do the Merton Hanks -- break his neck, oh man, I hoping for that one," Robinson said, referencing the former 49ers defensive back and his trademark celebration. "He's got that shimmy."
--
CELTICS KEEPING AN EYE ON ORLANDO'S ROSTER OVERHAUL
--
The Celtics took their scouting reports on the
Orlando Magic
and tossed them in the trash Saturday. Any work that advance scout Jamie Young did for this year's Christmas Day showdown became fodder for the shredder after the Magic overhauled their roster with a pair of blockbuster deals.
The Magic shipped
Vince Carter
,
Marcin Gortat
,
Mickael Pietrus
, a 2011 first-round pick and cash considerations to the
Phoenix Suns
for
Hedo Turkoglu
,
Jason Richardson
and
Earl Clark
. Orlando then moved
Rashard Lewis
to the
Washington Wizards
in exchange for
Gilbert Arenas
.
The Celtics certainly took notice of the activity, well in advance of February's trade deadline.
"They let go of a lot of talent, but they brought in a lot of talent, too," said Pierce. "The guys they brought in, Turkoglu already knows the system and understands what they're trying to do. Richardson is having an All-Star season. Those are guys that are more than capable rotation players -- it's three more guys and [
Dwight Howard
], it makes them dangerous. It's about how they get the chemistry down, how they fit in with Dwight."
Echoed Allen: "Orlando is trying to do what they need do to better themselves. For us, we have to stay aware, and in some ways, we have to readjust. We play them in two games and we have to adjust to their personnel and be prepared to play. The film that we watch will only be a game old.
"It makes [Christmas] even more interesting. They won't even know what they're putting out there on the table. They know what they're getting, when those guys step on the floor, but you've got to build up chemistry. Sometimes with trades, guys hit the ground running, don't miss a beat, sometimes it takes a while."
Rivers didn't think it would aid the Celtics much to see the Magic so soon after the deals.
"Oh, I don't think it matters," said Rivers. "Hell, sometimes we all screw it up as coaches. Usually, when you first get [new players], the group of guys go out and play well, they just don't know any plays. Who knows whether that will be an advantage or a disadvantage."
Rivers did think the Magic will benefit by bringing back Turkoglu, a thorn in Boston's side during the 2008-09 Eastern Conference semifinals in which Orlando dashed Boston's hopes of defending its 17th world championship.
"It's a good fit," Rivers said. "I thought it was when he was there and I was surprised when they let him go, quite honestly. I thought he was perfect for that team because he didn't need to be the star. He was a great complimentary player to Dwight and everyone else, and that was a good fit for him. Sometimes ... you think you can move guys around, move guys out, and I think they missed him."
--
LOOSE BALLS: BABY'S BACK IS SORE; TECHNICAL DIFFICULTIES
--
*
Glen Davis
scored a game-high 18 points (matching the output of Pierce and Robinson) while logging nearly 35 minutes off the bench, but said after the game his back is sore and that he planned to be examined by Lacerte to ensure it's nothing serious.
Davis didn't think he'd miss any time, but sported a big bandage while sitting on the bench and again in the locker room.
"I'm not sitting out," Davis said. "I don't know what happened. I just woke up this morning and my back was hurting. I've got to find out from Ed. They're going to examine me and make sure I'm OK, but I can play. It's another bruise, something like a hangnail."
Told injuries are seemingly contagious on this team lately, Davis kept it light, noting he doesn't get injured and knocking on the wood paneling in his locker. Reminded he was hurt last season, a fractured right thumb that forced him to miss 27 games, Davis deadpanned, "I punched somebody in the face. Sorry about that."
* The Celtics and Pacers combined for four technical fouls: Pierce and
Dahntay Jones
got double technicals for jawing at one another near the Indiana bench midway through the second quarter ... Rivers got tagged for barking at an official early in the third quarter after several fouls went against Boston (including what appeared to be Davis absorbing a charge from Foster) ... Mike Dunleavy got one for arguing a non-call in the fourth frame. "I got fouled right in front of the ref," Dunleavy said. "He heard it, he saw it, he didn't call it. So you've got to let him know that he made a mistake when they make a mistake."
* Sunday marked the 54th anniversary of Bill Russell signing his first contract with the Celtics. Russell had just returned to the states after leading USA Basketball to Olympic gold in Melbourne, Australia.
December, 19, 2010
12/19/10
3:30
PM ET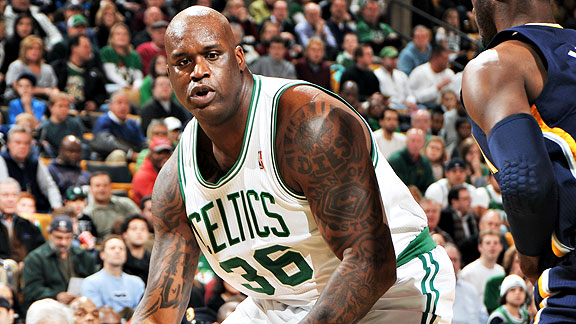 Brian Babineau/NBAE/Getty ImagesShaquille O'Neal returned to Boston's starting lineup Sunday.
BOSTON -- First impressions after the
Boston Celtics
defeated the
Indiana Pacers
99-88 in a Sunday matinee at the TD Garden:
HOW THE GAME WAS WON
Paul Pierce
produced his sixth career regular-season triple-double and first since March 8, 2006, as he registered 18 points, 10 rebounds and 12 assists over 37 minutes to pace the Celtics to their 13th consecutive victory. Boston leaned on balanced scoring, putting five players in double figures with
Nate Robinson
and
Glen Davis
chipping in 18 points apiece.
Shaquille O'Neal
added 11 points and five rebounds over 22 minutes in his first start after missing four games with a sore right calf.
TURNING POINT
The Celtics, who couldn't produce a double-digit lead until the final moments, were clinging to a six-point cushion with less than five minutes to play when Robinson got scrappy chasing a
Kevin Garnett
miss, keeping a ball alive and dishing to Pierce, who fed
Ray Allen
on a 9-foot bank shot to put the Green out front 89-81 with 4:31 to play. The Celtics' defense had four straight stops around the same time, holding Indiana at bay when Boston couldn't quite produce the dagger.
STAT OF THE GAME
The Pacers shot a mere 36.5 percent from the floor, but hoisted a ridiculous 96 shots (Boston only took 76) and utilized 16 offensive rebounds to generate 19 second-chance points.
UNSUNG HERO
Robinson played a
Rajon Rondo
-like 42 minutes, hitting 7-of-15 shots, and his scrappy play over the final two quarters aided Boston in keeping the Pacers' at arm's length.
WHAT IT MEANS
Just another gritty win for Boston, which is leaning on Pierce to drive the offense in the absence of Rondo. Boston extends its winning streak to 13 games -- the longest in the NBA this season -- with only a visit from the
Philadelphia 76ers
looming before a Christmas showdown against the overhauled
Orlando Magic
.
December, 19, 2010
12/19/10
12:40
PM ET
BOSTON -- A collection of pregame news and notes before the
Boston Celtics
host the
Indiana Pacers
Sunday afternoon at the TD Garden:
After missing four games due to soreness in his right calf,
Shaquille O'Neal
returns to the Celtics' starting lineup Sunday. It couldn't come at a better time as rookie
Semih Erden
, who pinch hit as a starter in Shaq's absence, is nursing a groin pull and won't be 100 percent against the Pacers.
Meanwhile,
Jermaine O'Neal
remains inactive, but Celtics coach Doc Rivers acknowledged that he could be back on the floor as early as Wednesday's game against the
Philadelphia 76ers
.
"Shaq's going to play today, no Jermaine," said Rivers. "Semih is not doing well, he has a groin pull now. He is going to play, but I don't know how much he can play."
The Celtics have been thin up front for more than a month with Shaq missing a total of nine games since bumping knees with New York's
Amare Stoudemire
in late November, while a sore left knee has kept Jermaine O'Neal out of action for 17 straight games dating back to his exit in the second half of a loss to the
Dallas Mavericks
on Nov. 8.
The Celtics are sure to be cautious with Erden on Sunday. They weren't expecting him to be able to play at all after he sat out Saturday's practice.
"At this point [Saturday], we thought he wasn't playing," Rivers said. "Then today he said he was fine, so we'll see."
Rivers acknowledged that Jermaine O'Neal "looked great" Saturday and expressed optimism he'd be able to play Wednesday.
Elsewhere on the injury front, Rivers said he had no update on point guard
Rajon Rondo
and his sprained left ankle.
"I have no idea, I really don't," said Rivers. "Honestly, I haven't even asked [Celtics trainer] Eddie [Lacerte]."
Rivers also spent time talking about the
Orlando Magic
's wheeling and dealing Saturday, joking that the team would have to rip up its Christmas Day scouting reports ("It sucks," Rivers joked) and said the team would send advance scout Jamie Young back to Orlando for new intel. ("[Young] was going to be home for the holiday, now he has to go right back out on the road," Rivers joked.)
The Magic shipped
Vince Carter
,
Marcin Gortat
,
Mickael Pietrus
, a 2011 first-round pick and cash considerations to the
Phoenix Suns
for
Hedo Turkoglu
,
Jason Richardson
and
Earl Clark
. Orlando then moved
Rashard Lewis
to the
Washington Wizards
in exchange for
Gilbert Arenas
.
Rivers said he'd hold off before passing judgment on whether the moves make the Magic better.
"Oh, I don't know," Rivers said. "Only they know that, they know what they were looking for. I heard they were looking for guys who could create off the dribble, and I think they have added that. They lost some size, we'll see later. I don't think we'll know on Christmas whether they're better or worse, or hell, we may not have half our guys. But we'll know that answer later."
December, 19, 2010
12/19/10
9:25
AM ET

(21-4, 11-1 home)
-- vs. --
(12-13, 5-7 away)

at TD Garden, 1 p.m. | CSN, WEEI (850 AM)
GAME PREVIEW (via Stats Inc.)
The Boston Celtics are already missing NBA assist leader Rajon Rondo and might be ready to add a fourth center to their list of walking wounded.

Those who remain in the lineup are making the slew of injuries easy to forget.

Boston's Big Three and one of the league's stingiest defenses have kept the Celtics thriving during 12 straight wins, a run they'll look to extend to an NBA season-high 13 on Sunday afternoon against the visiting Indiana Pacers.

Boston (21-4) hasn't had Rondo for four games during its streak and has been without Shaquille O'Neal for the past four contests, while Jermaine O'Neal has been out since early November and Kendrick Perkins likely won't make his season debut until after the All-Star break.

The Celtics certainly haven't let those absences slow them down. Boston has won by an average of 13.4 points while allowing 88.9 points per game during its streak, which it pushed to 12 with a 102-90 win over Atlanta on Thursday.

"What are you going to do? Quit? Put your clothes on and go home?" Kevin Garnett said after finishing with 17 points and 14 rebounds -- his third straight double-double. "That's not what we do here.

"We are just out here grinding. There's nothing else to say. Every player is giving everything they have. In order for us to win these games, we just have to give everything we have until we get guys back."
Read the full preview
HERE
.
FORSBERG'S THREE THINGS TO WATCH
Defend the 3-point line: The Celtics weren't happy with the way the Knicks blitzed them from downtown in Wednesday's nail-biter in NYC. The Pacers are second in the NBA behind only the Knicks, averaging 24.2 3-point attempts per game (and connecting on a healthy 35.9 percent of those, or 8.7 made per game).
Paint in focus: While the Pacers like to shoot from the perimeter, they don't generate a lot of shots near the basket and, in turn, don't get to the charity stripe very often. Indiana averages only 18.7 shots per game at the rim -- more than three shots less than the NBA average -- and is second to last in the NBA, averaging only 21.7 free throw attempts per game. That means the Celtics shouldn't fret too much if Shaquille O'Neal (calf) or Semih Erden (groin) can't suit up. On the flip side, the Pacers excel at defending the rim, with opponents shooting only 59.3 percent around the basket (fifth best in Boston, one spot behind Boston).
Eyes on Granger: In Indiana's lone win over Boston last season, Danny Granger poured in 29 points on 8-of-16 shooting, including six trifectas. Celtics coach Doc Rivers described how Granger floats below the radar, but can't be forgotten by Boston. "I guarantee if you ask somebody to name the players on [this year's Team USA], they'd probably forget Granger. If you ask them who one of the best small forward in the East, they'd forget Granger. I don't think he cares, really, he's a very good young basketball player."