Boston Celtics:

2010Game30
December, 29, 2010
12/29/10
11:27
PM ET
Initial reaction from the
Boston Celtics
' 104-92 loss to the
Detroit Pistons
on Wednesday night at The Palace of Auburn Hills.
KEVIN GARNETT
This was the ONLY reaction coming out of the disappointing, dispiriting result in Michigan: A loss? It happens. A serious injury to Garnett? It cannot happen, not if the Celtics are to have any realistic chance of bringing an 18th NBA title to Boston.
[+] Enlarge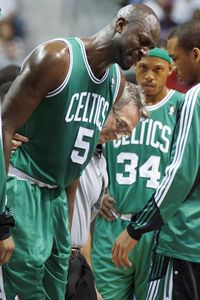 Rick Osentoski/US PresswireKevin Garnett hurt his lower right leg while going up for a dunk in the first quarter against the Pistons on Wednesday.
We still don't know the extent of Garnett's injury. X-rays were negative and it appears to be muscular in nature. But two things immediately jump out, and neither is good for Celtics Nation.
First, the injury was to the right leg -- the same leg Garnett hurt in the 2008-09 season, which eventually required surgery. The Celtics said Wednesday's injury was a lower leg injury, which may not technically mean the knee; for KG's sake, let's hope that is the case. The other more unnerving thing about the incident was that there was no contact. Garnett did it to himself. Just like he did in Utah a couple of years ago.
There was no landing awkwardly on another player's foot. There was no shoving or pushing. KG went up unmolested for a dunk and appeared to hurt the knee on the takeoff. No one was near him. That is not a good sign. And, let's not forget, there are a lot of miles on the Garnett body, so any injury is cause for concern.
We may know in the next day or two whether this injury is short-term. The Celtics cannot be serious championship contenders without Garnett. He anchors their defense. He holds others accountable. And when the Celtics are at their best, they are playing stifling, smothering defense.
"When Kevin is not on the floor, it doesn't just affect his man -- it affects our entire defense,'' coach Doc Rivers said.
KEVIN GARNETT II
What made this injury so depressing was that it came out of nowhere. Literally. Not only was Garnett hurt on a play where no one touched him, he had been the paradigm of health all season. He had not missed a game in the first 29 games (along with
Paul Pierce
and
Ray Allen
, as well.) He had looked frisky, active -- more like the Garnett of three years ago than the one last year who hobbled through the regular season before finding his legs (sort of) in the playoffs. He was among the top 15 in the NBA in rebounding and was once again leading the Celtics' defense, which is among the best in the NBA.
It may be just a coincidence that the Pistons shot well above 50 percent in this one. And that they collected 27 assists. Or it may be that they sensed what all of us sensed what KG went down -- that the Celtics aren't the same team when he's not on the floor.
KEVIN GARNETT III
Garnett's injury, coming in the first quarter, put an end to one of the pregame storyline of the night: the rematch with
Charlie Villanueva
. The two had had words the last time the Celtics came through Auburn Hills (the word "cancer" was tossed around, stupidly, by both players) and there was one scene Wednesday night when Villanueva bumped into Garnett when he didn't have to.
Villanueva finished with 14 points and nailed four three-pointers, many of them back-breakers as the Celtics tried, futilely, to get back into the game. Villanueva was the winner of the ex-UConn star of the night. Teammates
Ben Gordon
and Rip Hamilton played supporting roles in the victory, scoring 12 and 9 respectively. The Celtics' Ray Allen scored 12, but he had six turnovers. He was one of two Celtics in double figures. Paul Pierce led Boston with 33, a season high.
MORE BABY TIME? (OR KEVIN GARNETT IV)
Glen Davis
already was playing more minutes than he might have envisioned coming into the season. (Remember during training camp when he wondered what his role would be?) Now, he may be thrust into the starting lineup, which means even more time on the floor. By extension, if Baby gets KG's minutes, that means Jermaine O'Neal is going to have to move out of his inert phase and start being a meaningful, day-to-day contributor. He looked better against the Pistons than he did against the Pacers, when he was a virtual cipher.
This assumes, of course, that Shaq can continue to start and absorb minutes and fouls the way he usually does. It also means
Semih Erden
has to re-enter the picture. He was a big part of the Celtics' fast start, giving Boston valuable minutes off the bench. But he hasn't played since Dec. 22 against the
Philadelphia 76ers
, and the report from the Pistons game was that he had an upper respiratory infection.
BAD LOSS, BAD TEAM, BEEN THERE, DONE THAT
Three of the Celtics' six losses this season have been to bad teams: Cleveland, Toronto and now Detroit. The 12-point spread to the Pistons represented the largest margin of defeat for the Celtics this season. (Consider that the Lakers entered Wednesday coming off three straight losses of 15 points or more.) That indicates how competitive Boston has been all season.
Yes, the Celtics have thrown away some games in the course of their terrific start. But they had been in every game they've played until the Pistons contest. They can look into the mirror in this one. They turned it over 21 times. They allowed Detroit to shoot 55.7 percent, including 66.7 percent from 3-point territory. Teams don't do that against the Celtics, who unquestionably were affected by Garnett's injury.
"When Kevin went out, I didn't think anyone picked up their games,'' Doc Rivers said. "It took a little steam out of us. ... Their minds were somewhere else. I understand that."
Of course, we've gone this far and not mentioned that the team also did not have
Rajon Rondo
again. He has missed 10 games, including the past six, but might play Friday against New Orleans.
T-MACK BACK TO THE FUTURE
In a "where did this come from?" performance,
Tracy McGrady
had one of his best games of the season. TMac finished with 21 points, 8 assists and 4 rebounds in 30-plus minutes. At times, he looked sort of like the TMac of yore. The 21 points were a season high for McGrady, who picked up for the unavailable
Rodney Stuckey
. His previous best was 17 against Toronto on Dec. 22. The Pistons are McGrady's fifth NBA team following stops in Toronto, Orlando, Houston and New York. Rivers coached McGrady in Orlando, where TMac was an All-Star Game regular. But he hasn't been in an All-Star Game since 2007 and hasn't been in the playoffs since 2008. Neither of those streaks appears to be in jeopardy at this point of the season.
December, 29, 2010
12/29/10
10:45
PM ET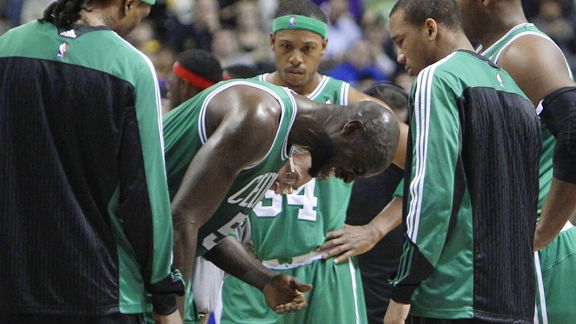 AP Photo/Paul SancyaKevin Garnett's injury might not be as severe as it appeared Wednesday.
Celtics coach Doc Rivers told reporters after Wednesday's game that he's "not that concerned" about
Kevin Garnett
's lower leg injury, describing it as a muscle ailment that will sideline him, but maybe not for as long as might have been expected at first glance.
Garnett
departed Wednesday's tilt with the Pistons
with what the team termed a right "lower leg injury," but Rivers seemed to indicate it wasn't the surgically repaired knee and might instead be a muscle issue around Garnett's right calf.
"I don't think it's bad," said Rivers. "I'm not that concerned. He's going to miss games probably -- I don't know how many -- but I don't think it'll be that long. Listen, it happens."
Like his players, Rivers did think the worst when the injury first occurred.
"The way he did it, I thought the knee or Achilles," said Rivers. "You've heard me say it before, an injury when no one is around, that's usually a severe one. I was thinking it was a bad one, but let's hope not. I don't think it is, but we'll find out later."
Rivers didn't get specific, but did note that the injury was pretty clear cut when trainer Eddie Lacerte briefed him at halftime. Rivers said his team can win games without Garnett, but admitted he's irreplaceable on the defensive end, evidenced on a night when the Celtics gave up 104 points to the Pistons and lost for the second time on a three-game holiday road trip.
December, 29, 2010
12/29/10
10:05
PM ET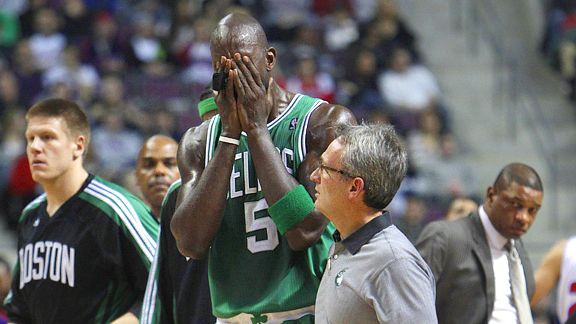 AP Photo/Paul SancyaKevin Garnett covers his face in pain while leaving the floor after injuring his right leg.
First impressions from afar after the
Detroit Pistons
defeated the
Boston Celtics
104-92 Wednesday night at The Place of Auburn Hills.
HOW THE GAME WAS WON
The Celtics committed a season-high 21 turnovers, giving away 23 points off their sloppy play while dropping their second game on a three-game holiday road trip.
Paul Pierce
tried to rally the Celtics by putting the team on his back in the final frame, but couldn't do it alone. He finished with a game-high 33 points on 11-of-16 shooting (3-of-4 beyond the arc) with eight assists, five rebounds, and four steals.
Ray Allen
and
Glen Davis
kicked in 12 points apiece for Boston. The Pistons put five players in double figures, including veteran guard
Tracy McGrady
, who scored 21 points and dished out eight assists while starting in place of
Rodney Stuckey
.
TURNING POINT
The Celtics were playing poorly out of the gates, but
Kevin Garnett
suffered what the team later dubbed a "right lower leg" injury late in the first quarter and that didn't help matters. The team looked a bit shellshocked as the Pistons stretched out what was a seven-point cushion at that point. Even as X-rays suggested no fracture, the Celtics couldn't help but be worried about the status of Garnett, who had looked so spry this season.
STAT OF THE GAME
The Celtics entered the game allowing the fewest points per game in the NBA, then allowed Detroit to drop 104 points while shooting 55.7 percent (39 of 70) from the floor and 66.7 percent (10 of 15) beyond the arc. Playing without Stuckey, the Pistons still generated 27 assists.
UNSUNG HERO
The Pistons boast the best scoring bench in the league and
Austin Daye
chipped in 12 points on an efficient 5-of-7 shooting over 11 minutes, giving the sort of second-unit offense that kept Boston at arm's length.
WHAT IT MEANS
The Celtics won't want to watch tape of this one, because it was ugly and the officials didn't aid their cause at all.
But the biggest concern is Kevin Garnett's injury and what the MRIs will show on Thursday. As Boston hopes to get point guard
Rajon Rondo
(sprained left ankle) back in the lineup Friday against the
New Orleans Hornets
, it could be preparing to navigate without Garnett for some time depending on what those tests show.
December, 29, 2010
12/29/10
8:20
PM ET
Comcast SportsNet ScreenshotKevin Garnett grabs at his right leg on the Boston bench.
Celtics forward
Kevin Garnett
suffered what the team dubbed a "lower right leg injury" while leaping for a first-quarter slam dunk Wednesday night against the
Detroit Pistons
.
Garnett underwent X-rays, which were negatives for fractures. According to the team, he will wait until Thursday to undergo an MRI back in Boston to check for ligament damage.
It initially appeared the injury occurred near his surgically repaired right knee, but the team stressed it was a "lower leg" issue.
Garnett's leg bent awkwardly as he planted to leap. He hung on the rim, his face displaying obvious pain, and Garnett limped up the court before committing an intentional foul at midcourt to stop the game. He bent to the ground in pain before hobbling to the bench where Celtics trainer Ed Lacerte examined his knee.
Under his own power, Garnett soon hobbled to the locker room.
Garnett underwent right knee arthroscopy and removal of posterior knee bone spurs in May of 2008 after initially suffering the knee injury in March of that year. He missed the postseason, where the Celtics' hopes of defending their 17th world title were thwarted by the
Orlando Magic
in the Eastern Conference semifinals.
Despite returning for the start of the 2009-10 season, Garnett looked like a player still recovering from knee surgery. Two games after Christmas, in a game against Golden State, Garnett was kicked in the right knee, suffering a hyperextension that forced him to sit out 10 games. It wasn't until the playoffs that he returned to form.
Looking spry again this season, Garnett entered Wednesday's game averaging 15.4 points and 9.8 rebounds per game.
Garnett was in the spotlight entering Wednesday's game for his war of words with Detroit's
Charlie Villanueva
, who accused Garnett of calling him a "cancer patient," during in-game trash talk during Boston's win over the Pistons in early November.
Garnett fist-bumped every other Detroit player except Villanueva before the game, then Villanueva picked up two quick fouls for being overly physical towards Garnett. While leaving the court, Villanueva appeared to bump Garnett. But the rivalry took a backseat to Garnett's injury, which left Boston rattled late in the first quarter.
Comcast SportsNet ScreenshotKevin Garnett's right leg bends at an odd angle going up for a dunk.
December, 29, 2010
12/29/10
11:30
AM ET

(24-5, 11-4 away)
-- vs. --
(10-21, 7-8 home)

at The Palace of Auburn Hills, 7:30 p.m. | CSN, WEEI (850 AM)
GAME PREVIEW (via Stats Inc.)
Kevin Garnett has been enjoying a nice revival for the Eastern Conference-leading Boston Celtics, looking healthier -- and posting better numbers -- than he did last season.

The last time he faced the Detroit Pistons, it was his prolific trash-talking that got most of the attention.

The Celtics finish their three-game road trip Wednesday night with their first matchup against the Pistons since Garnett's public spat with Charlie Villanueva.

After battling knee problems for parts of the last two years, Garnett is averaging 15.4 points and 9.8 rebounds -- up from 14.3 and 7.3 last season -- and his 14 double-doubles are already more than the 10 he had in 69 games in 2009-10.

He had a game-high 22 points to help Boston (24-5) win 109-86 in Detroit on Nov. 2, but his on-court comments to Villanueva made bigger headlines. Villanueva, who has no hair due to a medical condition known as alopecia universalis, said on Twitter that Garnett called him a "cancer patient."

Garnett responded in a statement, saying he told Villanueva he was "cancerous to your team and our league." Celtics coach Doc Rivers, meanwhile, said players shouldn't reveal what is said on the court.

"I actually heard what Kevin said. I was right there, what he really said is in the statement," Rivers said. "I don't like the whole tweeting thing. I'm going to state that as well. Guys talk on the court. It doesn't mean they should or shouldn't. The fact that we're talking about this, it's just silly. ... We had a hell of a game (Nov. 2) and we should be talking about basketball."

Garnett has provided a distinct basketball advantage for Boston against the Pistons lately. The Celtics have won the last eight meetings in which the power forward has suited up by an average of 14.5 points, losing the two he missed due to injury in that stretch.

The Celtics have other health concerns -- especially involving star point guard Rajon Rondo, who missed his fifth straight game due to a sprained left ankle Tuesday in Indiana.

Thanks to a 29-16 fourth-quarter edge, Boston still bounced back after its 14-game winning streak was snapped on Christmas in Orlando. In the 95-83 win over the Pacers, Paul Pierce had 21 points and seven assists, leading seven Celtics who scored at least eight points.

"The winning track is always a good track to be on," Pierce said. "You don't want to be on that train when you're losing and you're going downhill fast. I don't think we've been playing great. We can play a lot better."
Read the full preview
HERE
.
FORSBERG'S THREE THINGS TO WATCH
KG vs. Villanueva: Garnett is likely to say there's no extra motivation here going up against a "nobody" like Villanueva, but you can't help but expect his emotions to be in full throttle for this one. Garnett isn't one to get into a war or words, but he can let his play do the talking. Will his added motivation lead to a big game for Garnett, or simply leave him overzealous?
Two hands on the ball: The Pistons don't do a whole lot well -- their overall record, as well as their placement in the bottom third of the league in most major stat categories, proves that. But one thing Detroit actually thrives in is limiting turnovers. The Pistons are fourth in the league, allowing only 12.8 turnovers per game (only Utah, Miami, and Cleveland are better). The Celtics have a propensity to turn the ball over and, playing their sixth straight game without point guard Rajon Rondo, won't aid that cause. Boston can't let Detroit take advantage of one of its few strengths.
Stopping Stuckey: Without Rondo, the Celtics' biggest matchup problem is Rodney Stuckey, who is averaging team bests at 16.1 points and 5.2 assists per game. Stuckey is struggling with is perimeter shooting this year and Boston forced him to go 6-of-15 shooting for 15 points and three assists in the first meeting. Stuckey is also coming off a tough performance in a loss to Charlotte (1-for-6, six points, three turnovers) and Boston needs to keep him from getting back on track.
December, 29, 2010
12/29/10
10:30
AM ET
PODCASTS
Baseball Tonight - Lester Moving?
Play Podcast Buster Olney and Jayson Stark talk about the chances that Jon Lester and David Price will be moved before the deadline. Plus, Roch Kubatko on the Orioles' momentum.
Tedy Bruschi, NFL
Play Podcast ESPN NFL analyst Tedy Bruschi weighs in on the responsibility Tom Brady shoulders for the Patriots, Rob Gronkowski's physicality and how New England will use Darrelle Revis.
Baseball Tonight
Play Podcast Buster Olney talks to Alex Speier, Karl Ravech and Justin Havens about whether the Red Sox will move Jon Lester before the trade deadline, pace of play and much more.