Boston Celtics:

2010Game32
January, 2, 2011
1/02/11
10:30
PM ET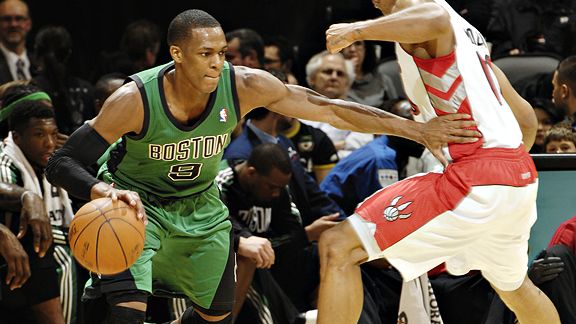 Ron Turenne/Getty ImagesCeltics point guard Rajon Rondo returned to the court Sunday after a seven-game absence.
A handful of thoughts and analysis after the
Boston Celtics
defeated the
Toronto Raptors
93-79 Sunday evening at the Air Canada Centre in Toronto:
--
THE TICKET STUB ARRIVES
--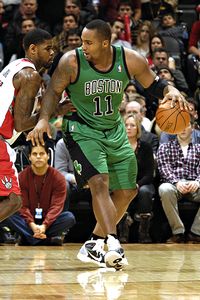 Ron Turenne/Getty ImagesGlen Davis flirted with a triple-double, including a team-high eight assists.
On a night
Rajon Rondo
returned from a seven-game absence to hand out a team-high eight assists, allow us to be mesmerized by the playmaking talents of one of his teammates who matched that total.
Starting his second game in place of the injured
Kevin Garnett
, Celtics forward/center
Glen Davis
quietly flirted with a triple-double, posting 15 points, 11 rebounds and 8 assists over 39 minutes of action. The fact that he was even in striking distance of a triple-double that included assists is astounding.
Consider this: In 231 career regular-season games, Davis' high for assists was four, something he's only done twice. In fact, he's only registered three assists or more in
five games for his career
(add in the playoffs and he doubles that total). His previous career high for assists was
six in a playoff win
over the Bulls in 2009.
Or look at it this way: Entering Sunday's game, Davis had 166 career assists in three-plus NBA seasons. Rondo picked up his 166th assist of the 2010-11 campaign in Game 12 on Nov. 19 against Oklahoma City. What's more,
Marquis Daniels
had logged nearly 300 fewer minutes than Davis this season and entered Sunday's game with one more assist (35).
Now, Davis isn't paid to be a distributor and he's never met a shot he hasn't liked. He's averaging 10.3 shots per game, nearly twice as many as last season (5.2 per game). That sometimes gets him in trouble, as in Friday's loss to the
New Orleans Hornets
, when he hoisted an ill-advised 3-pointer trying to tie the game in the final minutes.
Celtics coach Doc Rivers voiced his displeasure on (and again off) the court with Davis' decision, this after warning his troops before the game to play within themselves. Davis didn't hang around the Boston locker room to talk with reporters Friday, but seemed to have learned his lesson.
Sure, Davis still put up 14 shots Sunday in Toronto, but he was clearly looking for the extra pass. That aided him in handing out the eight assists as Boston generated 30 assists on 38 field goals.
"He kind of forced shots last game," Rivers told reporters in a mild understatement. "Tonight, he kept the game simple."
The Celtics don't need Davis to be Garnett. And they don't need eight assists per night from him. But, one day after his 25th birthday, Davis showed great maturity by bouncing back strong. That's a mental toughness that might not have existed in seasons past. Davis could have felt sorry for himself and let it linger. Instead, he produced one of his best all-around efforts, picking up charge No. 30 of the season along the way.
It's all the more impressive because his shot wasn't falling early -- Davis missed six of his seven attempts in the first half. Unfazed, he made four of five shots in the third quarter, scoring nine of his points in that period.
Still, that assist total is the best part of Davis' box score. Garnett is regarded as one of the finer passing big men in the league, dishing out eight assists or more a whopping 101 times in his career. With his assist total Sunday, Davis truly was The Ticket Stub.
--
THE RONDO EFFECT
--
After some truly gruesome offensive efforts in his absence (from shooting 34.6 percent on Christmas Day vs. Orlando to turning the ball over a whopping 39 times combined in losses to Detroit and New Orleans), Boston celebrated the return of Rondo by getting back to what's made it successful all season.
Its field goal percentage in danger of dipping below 50 percent, Boston connected on 38-of-70 attempts (54.3 percent) Sunday while generating assists on 78.9 percent of its field goals.
On a night Boston did all it could to keep Toronto in the game, it was Rondo and an efficient offense that made a 14-point triumph and a breezy finish possible.
January, 2, 2011
1/02/11
8:35
PM ET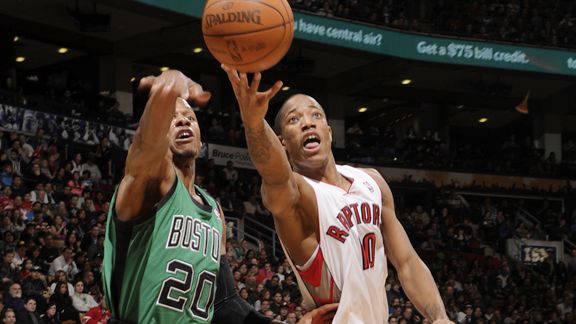 Ron Turenne/NBAE/Getty ImagesRay Allen and the Celtics got Rajon Rondo back ... and they got back on the winning track.
First impressions from afar after the
Boston Celtics
defeated the
Toronto Raptors
93-79 Sunday evening at the Air Canada Centre:
HOW THE GAME WAS WON
Even with
Rajon Rondo
back in the lineup,
Paul Pierce
continued to be Mr. Do-It-All for the Celtics, but his typical scoring punch will stand out most. Pierce poured in a game-high 30 points on 10-of-15 shooting (3-of-3 beyond the arc) with seven rebounds and four assists over 36 minutes. One game after coming under fire for some a poor late-game decision,
Glen Davis
flirted with a triple-double, most notably handing out eight assists to go along with 15 points and 11 rebounds. Rondo kicked in four points and eight assists over 34 minutes for the Celtics.
TURNING POINT
In a game in which the Celtics couldn't pull away, it was Pierce's emphatic, poster-ready, one-handed jam over two Toronto defenders late in the fourth quarter that essentially sealed the deal.
Ray Allen
followed with a pair of jumpers as Boston's lead ballooned to 12 with three minutes to play.
STAT OF THE GAME
The Celtics lost the rebound battle (49-37) and gave up 19 offensive boards leading to 19 second-chance Raptors points, but still found a way to cruise at the finish line.
UNSUNG HERO
Davis deserves as much credit as anyone. One day after his 25th birthday, he showed incredible maturity bouncing back from a tough night against New Orleans to put up a near triple-double. The Ticket Stub (his favorite nickname as he replaces
Kevin Garnett
) is back.
WHAT IT MEANS
Rondo returns, the Celtics win. He finished a team-best plus-22 in the plus/minus, showing his impact in this game while not necessarily filling the stat sheet. Boston gets back on the winning track after dropping three of its last four. The second end of a back-to-back looms Monday when the
Minnesota Timberwolves
visit the TD Garden to continue a grueling stretch of six games in eight days.
January, 2, 2011
1/02/11
11:30
AM ET

(24-7, 11-5 away)
-- vs. --
(11-21, 7-9 home)

at Air Canda Centre | CSN, WEEI (850 AM)
GAME PREVIEW (via Stats Inc.)
Having lost nearly as many games this past week as they did the first two months of the season, the injuries appear to be starting to catch up with the Boston Celtics.

The Atlantic Division leaders are unlikely to receive any sympathy from the Toronto Raptors.

The Celtics, who again might be without star point guard Rajon Rondo, try to avoid losing three straight games for the first time this season Sunday night against a banged-up Raptors team that only had eight healthy players its last time out.

Rondo has missed Boston's last seven games after spraining his left ankle in New York on Dec. 15. The NBA leader with 13.8 assists per game went through a workout before Friday's game against New Orleans and was sitting on the bench during pregame warmups, but coach Doc Rivers said he wasn't ready yet.

The Celtics (24-7) were also without forward Kevin Garnett after he strained a right calf in Wednesday's disappointing 104-92 loss to Detroit, and ended up losing to the Hornets 83-81. Garnett is expected to be out two weeks, but Rondo's return could be imminent.

Despite injuries to two of the team's best players, Boston nearly beat New Orleans but Ray Allen's 3-point bid missed in the closing seconds.

A near victory means little to Rivers, who saw his team lose for the third time in four contests following a 14-game winning streak.

"I told the guys after the game that I'm not happy, we should have won the game," Rivers said.

"I heard guys saying somebody needs to step up. Nobody needs to step up. The guys just need to do what they can do."

Allen led Boston with 18 points Friday, but Paul Pierce didn't have one of his better games, finishing with 12 points and a season-high six turnovers.

"Regardless of the injuries, we've still got to show up and play," Pierce said. "There's no moral victories."

The Raptors (11-21) are fully aware of how difficult it is to win with injuries.

Toronto was without Andrea Bargnani (strained left calf), Peja Stojakovic (swollen left knee), Reggie Evans (broken foot) and Sonny Weems (back spasms) in Friday's 115-105 loss to Houston, and Jerryd Bayless played only eight minutes in the first half before re-aggravating a left ankle sprain.

Stojakovic, Evans, Weems and Bayless are likely to be out again, but Bargnani's status is uncertain for the Raptors, losers of 10 of 13. Bargnani, Toronto's leading scorer at 21.2 points, has missed three straight and five of the last seven games.
Read the full preview
HERE
.
FORSBERG'S THREE THINGS TO WATCH
Bounce back for Baby? Glen Davis drew much of the ire for Friday's loss to New Orleans after his ill-advised late-game 3-point attempt and coach Doc Rivers wasn't exactly bashful about calling him out on it (both on the floor and off). On Saturday, Davis celebrated his 25th birthday. A new year and a year older, can Davis turn the page and get back to being "The Ticket Stub" we're used to seeing in Kevin Garnett's absence?
Remember last time: The last time Boston ventured north of the border, they were without Rondo on the first game of a back-to-back and watched Paul Pierce's game-winning attempt find iron as the Raptors emerged with a head-shaking 102-101 triumph on Nov. 21. The Celtics are 7-1 on the first games of back-to-backs this season, that lone loss coming against the Raptors.
Focus on the glass: In two meetings this year, Toronto has dominated the rebound category (averaging seven more rebounds per game than Boston). A KG-less Celtics will need to find a way to remain competitive on the boards. Boston also needs to limit second-chance points, with Toronto averaging 15 per game in the two previous meetings.