Boston Celtics:

2010Game34
January, 6, 2011
1/06/11
10:15
AM ET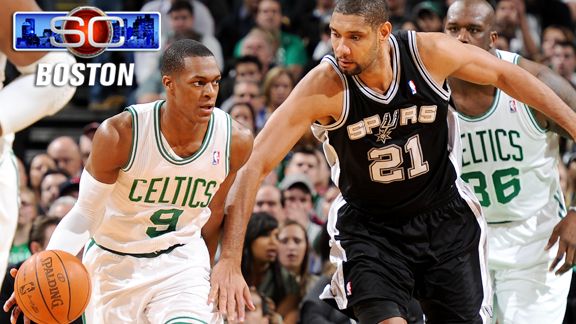 Brian Babineau/NBAE/Getty ImagesTim Duncan and the Spurs couldn't slow down Rajon Rondo.
BOSTON -- Point guard
Rajon Rondo
thrives on his ability to see things before they happen. The 22 assists he handed out as part of his latest eyebrow-raising triple-double Wednesday night in the
Boston Celtics
' 105-103 triumph over the
San Antonio Spurs
are evidence of that.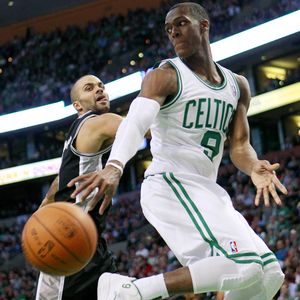 AP Photo/Michael DwyerRajon Rondo not only sliced the Spurs' defense with 22 assists, he burned them with some key jumpers in the fourth quarter of the Celtics' 105-103 win.
But Rondo's power of clairvoyance began long before he stepped onto the TD Garden court for a 43-minute shift. Rondo had fully anticipated another night of working against a sagging defense, players gleefully running under screens to prevent him from doing any damage by driving to the basket.
So following the Celtics' morning walkthrough, Rondo spent extra time working on his mid-range jumper, spraying shots over invisible Manu Ginobilis.
"We watched film today while working out, but I was upstairs and I watched Rondo take shot after shot after shot after shot," Celtics coach Doc Rivers said. "You could see himself mentally getting ready for what he thought was going to happen, and it did. They went under [screens on the pick-and-roll] and he stepped up and made shots."
After handing out nine third-quarter assists to fuel Boston's feverish second-half shooting, Rondo was essentially challenged by the Spurs to make shots of his own. San Antonio apparently decided it had had enough of being burned by Rondo's ability to kick to an open man.
After putting up only five shots over the first three quarters, Rondo connected on 4-of-5 fourth-quarter shots, including a pair of mid-range jumpers as San Antonio tried to rally. He scored eight of his 12 points in the quarter, keying the Celtics in what amounted to a race to triple digits.
Click
HERE
to read the full story.
More from the Celtics-Spurs clash
*
Peter May: Near-perfect not enough for Allen
: Gregg Popovich had just watched
Ray Allen
fillet his San Antonio Spurs on Wednesday night to the tune of 31 points, connecting on 13 of 16 shots. "I think Ray needs to work on his shooting a little,'' Popovich said. This was Popovich at his dripping, sarcastic best. But the Boston Celtics guard was 100 percent in agreement with the Spurs coach. "Right now, I want to go to the gym and shoot free throws,'' Allen said after the Celtics held off the Spurs 105-103 at TD Garden. That's because Allen inexplicably bricked a pair of freebies with 8.1 seconds left, giving the Spurs one final possession to tie or win the game.
*
John Hollinger: Dreaming of Spurs-Celtics in Finals
: We know Lakers-Heat is the NBA Finals everyone at the TV networks wants. But after Wednesday night, one has to think Celtics-Spurs wouldn't be such a shabby alternative... It was hard for either side to be too upset about the outcome. Both teams played at a high level, and in the end it took an epic shooting performance from Boston to topple the Spurs. The big takeaway was that this was a showdown that lived up to the hype, even in Garnett's absence. Lakers vs. Heat may capture the imagination of more fans, but in the wake of this thriller, one has to wonder if Celtics vs. Spurs would give us a better Finals.
*
Postgame Notes: An unconventional win
: The Celtics shot better than 60 percent earlier this season and emerged with a lopsided 31-point thrashing of the
Washington Wizards
in mid-November, producing one of only two Gino moments this season, Boston's favorite "American Bandstand" dancer gyrating on the JumboTron during the final minutes of an easy triumph. On Wednesday night, the Celtics shot 61.3 percent, and the in-house staff not only didn't consider Gino, Boston almost lost the game. It took a defensive stand on the final play,
Paul Pierce
blocking Manu Ginobli's 22-foot attempt in the final second, to secure a gravelly two-point triumph against an opponent with the best record in basketball. "Two great defensive teams tonight, huh?" Celtics coach Doc Rivers shrugged.
January, 6, 2011
1/06/11
1:11
AM ET
BOSTON -- A collection of postgame news and notes after the
Boston Celtics
defeated the
San Antonio Spurs
105-103 Wednesday night at TD Garden:
The Celtics shot better than 60 percent earlier this season and emerged with a lopsided 31-point thrashing of the
Washington Wizards
in mid-November, producing one of only two Gino moments this season, Boston's favorite "American Bandstand" dancer gyrating on the JumboTron during the final minutes of an easy triumph.
On Wednesday night, the Celtics shot 61.3 percent, and the in-house staff not only didn't consider Gino, Boston almost lost the game.
It took a defensive stand on the final play,
Paul Pierce
blocking Manu Ginobli's 22-foot attempt in the final second, to secure a gravelly two-point triumph against an opponent with the best record in basketball.
"Two great defensive teams tonight, huh?" Celtics coach Doc Rivers shrugged. "One scores 103, the other one scores 105. The fact that we shot 61 percent and won by two is a scary number, when you think about it. That tells you how good [the Spurs] are, how well they're coached, and all of that. It took a 61-percent effort from us tonight to win a basketball game at home. That tells you how good that team is."
It also shows how good Boston's offense can be, the team shooting a scorching 70.6 percent in the third quarter (12-of-17) and 66.7 percent for the second half (24-of-36).
"You knew it was going to be a nip-and-tuck game pretty much all night," Celtics captain Paul Pierce said. "You look up and it was hard to pull away from them. You could tell when, down the stretch, we put a nice little defensive run on them and they come right back. You've got two heavyweights battling and it was fun for me to be part of, I'm just glad that we won."
It probably shouldn't have been so close. The Celtics turned the ball over 18 times, leading to a staggering 31 points, and allowed nine trifectas by the visitors. Even still, it took a series of miscues and two missed free throws by
Ray Allen
to make it a game again at the end.
'We had so many things go wrong in a row, I just thought [Allen's missed free throws were] part of that process, honestly," said Rivers. "It's great to get the win. We did it in an unconventional way."
--
WITH NO RULES AGAINST CARDS, THEY'RE GAMBLING ON GOOD BEHAVIOR
--
As the
Memphis Grizzlies
imposed a ban on in-flight gambling
following an in-air scuffle between former Celtics guard
Tony Allen
and
O.J. Mayo
earlier this week, Rivers dismissed any such consideration for his team.
"No, I tell them to play cards, enjoy it," said Rivers. "They're grown men. At some point, if they're going to get into a fight over a card game, then that's silly and and then we'd have do something about it. But they're grown men. If you cancel the card game on the plane and they really want to play bad enough, they'll just go play in the [hotel] rooms. I'm not going to babysit adults. They're grown men. You just hope they act the right way. It doesn't have to be NBA players, that's just human beings."
Spurs coach Gregg Popovich took a less serious approaching, joking, "We don't allow any gambling during practice."
Asked about games, he quipped, "Games, [only] if we're ahead by 15 or more, usually."
--
LOOSE BALLS: CELTICS GO SMALL; PIERCE'S TECHNICAL
--
* In part out of necessity, in part due to the fact that
Matt Bonner
was eating up his defense, Rivers made the decision to go with a small lineup at halftime, leaning on three-guard units as Boston emerged in the second half.
"At halftime, I decided to go small, which I thought helped us," said Rivers. "I thought, obviously, Ray [Allen] and Paul and [Rajon] Rondo were phenomenal. But I thought Jermaine O'Neal, honestly, was just absolutely huge for us. We left him out there, he defended Tim [Duncan] one-on-one for the most part and he got blocks, he gave us defensive energy. He was absolutely sensational."
So why go small?
"Because Bonner was killing us," said Rivers. "And I thought the way they were guarding Paul in the first half, with the overplays and using the other big, I thought if we put another small on the floor, especially a shooting small like Nate [Robinson], then they could no longer overplay Paul. And then, defensively, we could match up with Bonner and take his shots away. So that's why we did it."
Bonner, 10 points on 4-of-9 shooting over 18 first-half minutes, finished with no points and missed the only shot he took over 12 second-half minutes.
* Pierce picked up his team-leading fifth technical foul of the season with 4:55 to play for barking at the officials after a no-call when he drew contact while getting his defender off his feet with an upfake. It helped the Spurs temporarily surge ahead, but Pierce atoned with his saving block in the closing seconds.
*
Glen Davis
finished a point shy of his regular-season career high, scoring 23 points on 10-of-18 shooting over 33 minutes. His reaction? "They were playing off me and I was shocked," said Davis. "I was like, 'Oh my God, they are just going to let me shoot.' So I just kept shooting and got into a rhythm." To be fair, with three future Hall of Famers on the court (and maybe a fourth in Rondo),
someone
has to be open. Davis made the Spurs pay with one of his finer efforts in place of
Kevin Garnett
.
* The minimum-salary contracts of
Von Wafer
and
Delonte West
became guaranteed for the rest of the season as they made it through Wednesday's deadline. Read more
HERE
.
January, 5, 2011
1/05/11
10:00
PM ET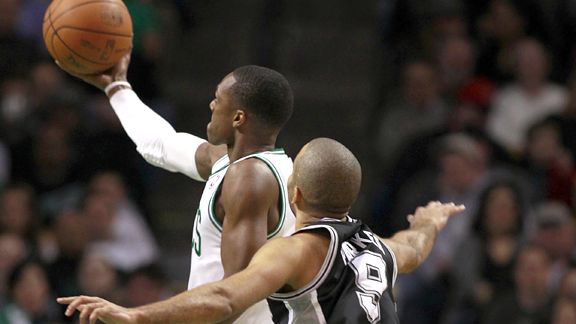 Greg M. Cooper/US PresswireRajon Rondo drives to the basket Wednesday night against the Spurs.
BOSTON -- Rapid reaction after the
Boston Celtics
defeated the
San Antonio Spurs
105-103 on Wednesday night at TD Garden:
HOW THE GAME WAS WON
Ray Allen
poured in a game-high 31 points on 13-of-16 shooting, adding six assists and two rebounds over 39 minutes. About the only thing he did wrong was miss two free throws in the final seconds, forcing Boston to rely on
Paul Pierce
's clinching block of
Manu Ginobili
to lock up the win.
Rajon Rondo
registered another ridiculous triple-double with 12 points, 10 rebounds and 22 assists over 43 minutes. Ginobili paced San Antonio with 24 points.
TURNING POINT
The Celtics were down three with a little more than three minutes to go in the third quarter before embarking on a Rondo-fueled run. He assisted on a pair of triples by Pierce and Allen, then converted a driving layup.
Nate Robinson
's steal and feed to Pierce for a breakaway slam nearly tore the roof off the Garden, putting Boston in front 77-70. The only negative: Boston endured a 24-second violation trying to generate another bucket before the end of the quarter, and
George Hill
made a 21-foot buzzer-beater to take away some of the momentum heading to the fourth period. ... With the game tied at 96 in the fourth,
Marquis Daniels
converted a layup, Allen drilled a 3-pointer and Rondo made a 7-foot jumper as Boston pulled away (then nearly fumbled away the game late).
STAT OF THE GAME
The Celtics shot a sizzling 70.6 percent in the third quarter (12-of-17) with Rondo handing out nine assists in the frame (all but one of the buckets came with an assist). Allen was the biggest beneficiary, making all four shots he took for nine points, while Pierce (3-of-4, 9 points) and
Glen Davis
(4-of-6, 8 points) got in on the action, too.
UNSUNG HERO
Slightly masked by the efforts of Allen and Rondo, Davis quietly approached his regular-season scoring high (24 points versus Memphis on March 21, 2009). He connected on 10 of 18 shots for 23 points over 34 minutes.
WHAT IT MEANS
A battle of the two teams with the best records in the NBA, this one lived up to the hype with a playoff-like atmosphere. The Garden crowd spent much of the second half on its feet (particularly at the end of the third and fourth quarters). The Celtics have won three in a row to start a busy week after pulling out a huge win without
Kevin Garnett
.
January, 5, 2011
1/05/11
7:35
PM ET
BOSTON --
Von Wafer
's cell phone didn't ring before Wednesday's game against the
San Antonio Spurs
. And with other bench players around the league being phoned to pick up their pink slips on the day contracts went guaranteed, that was a good thing.
Or as Wafer deadpanned: "Any time I've been called to go to the gym, it hasn't been good."
It's been a tumultuous three months in Boston, with Wafer fending off charges for his roster spot in the preseason, then getting into a locker-room tussle with
Delonte West
early in the regular season and enduring plenty of bench time while coach Doc Rivers waited for him to buy into Boston's defense-first system.
But now Wafer (and West, whose contract was also non-guaranteed) can get comfortable. Maybe even unpack the rest of his moving boxes.
Wafer said he was unaware of Wednesday's deadline until a reporter informed him of his good fortune before tip-off.
John Lucas III,
Rodney Carney
,
Sundiata Gaines
,
Lester Hudson
,
Brian Skinner
,
Ronald Dupree
,
Damien Wilkins
,
Ime Udoka
and
Pops Mensah-Bonsu
-- all waived over the last 24 hours -- weren't so lucky.
"It's good, he earned it," Rivers said of Wafer's minimum deal being guaranteed. "He earned the right to be here. He's contributed to our wins. Even before he was playing, he's been working on being a better player each day in practice. He's been good."
A couple other pregame quick hits:
* Rivers confirmed that
Kevin Garnett
resumed basketball activities with some light shooting and said he's been working with strength coach Bryan Doo, doing some running to maintain his cardio. Rivers did not, however, have any sort of update on the original two-week window the team offered for Garnett's absence.
"No, I don't know," Rivers said. "I haven't even checked on Kevin. I know he's shooting now, so that's good. I don't think that the time frame -- two weeks -- I don't even know when that is. Next Wednesday? OK, hopefully he's back in two weeks. That's really all I know. We have so many games right now, that's the last thing I'm thinking about."
The Celtics play six games in eight days, including Wednesday's showdown between the two best teams (record-wise) in the NBA.
* Spurs coach Gregg Popovich didn't sound like the coach of a team that's a league-best 29-5, not on the heels of a loss to the
New York Knicks
in which he pulled his starters late in the game. "We're a significant notch below the big boys, and, of course, Boston being one of the big boys. Boston is third in defensive field goal percentage. Those are the kind of stats we used to have defensively. Right now, I think we're a good basketball team. We have to step up defensively. Luckily, it's early. Maybe I can get these things across."
January, 5, 2011
1/05/11
10:30
AM ET

(26-7, 14-2 home)
-- vs. --
(29-5, 10-3 away)

at TD Garden, 7:30 p.m. | CSN, WEEI (850 AM)
GAME PREVIEW (via Stats Inc.)
Doc Rivers insisted Paul Pierce shoot more in Boston's most recent victory. San Antonio coach Gregg Popovich didn't seem to have the same confidence in his stars down the stretch of a tough loss.

The NBA's two top teams, the Celtics and Spurs meet Wednesday night in a matchup that should present a contrast in styles.

Popovich has guided San Antonio to four NBA championships focusing mainly on defense. However, the Spurs (29-5) are scoring 105.6 points per game this season, good for fourth in the league. Their high-scoring offense sometimes causes opponents to play a more fast-paced game, which New York took advantage of Tuesday in a 129-115 home victory over San Antonio.

The 129 points allowed were a season high for the Spurs, who allowed New York to shoot 55 percent.

"If we score 115 points, I expect to win," Popovich sad. "Our defense was pathetic. It was our worst defense of the year. Nothing else tricky about it."

The coach yanked Tim Duncan, Manu Ginobili and Tony Parker from the game with the Knicks leading by 10 and three minutes remaining -- possibly still enough time for a comeback. Parker scored 26 points, Ginobili finished with 15 and Duncan had 14 while shooting 5 of 14 from the field.

"I asked them if they wouldn't mind maybe playing a little bit better (Wednesday). They said they'd think about it," Popovich said. "We'll see what happens."
Read the full preview
HERE
.
FORSBERG'S THREE THINGS TO WATCH
Top offense vs. top defense: Forget the fact that this is a matchup of the teams with the best record in their respective conferences, this is a battle of the team with the best offensive efficiency in the league (San Antonio, 110.5 points per 100 possessions) vs. the team with the best defensive efficiency (Boston, 97 points per 100 possessions). Not that these teams are one dimensional as both rank in the top 10 on the other side of the ball, but it's easy to see why both are successful. The key for Boston is going to be the ability to push the pace -- get the possession total up -- and keep that field goal percentage on the Boston side of 50 percent (the Celtics shoot a league-best 50 percent).
Value the ball: One key for San Antonio: Limiting turnovers. The Spurs are tops in the league in turnover rate (12.58 percent of possessions) and that's part of what's fueling that league-best offensive efficiency. The Celtics were woeful with the ball in the latter stages of Rajon Rondo's absence, but committed a mere 11 turnovers against the Timberwolves, part of the reason they were able to escape with that win.
Getting some charity: The Spurs also rank top in the league in opponent's free throw rate, allowing a mere 20.5 free throws per game. That's troublesome news for a Celtics team that doesn't get to the line much as it is. This is a night it might be key to get the ball to Shaquille O'Neal in the post and hope to get the opposition in foul trouble. Free throws are key against good teams (remember the Celtics only shot seven in a loss to the Mavericks earlier this year).
January, 5, 2011
1/05/11
7:35
AM ET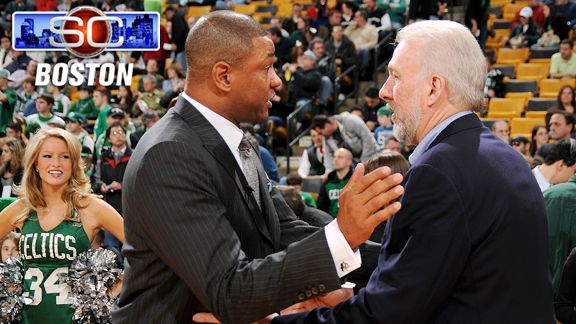 Brian Babineau/NBAE/Getty ImagesDoc Rivers and Gregg Popovich put friendship aside when their teams clash Wednesday night.
The Spurs' visit to Boston should be fun, but coaches Gregg Popovich and Doc Rivers figure bigger games are to come down the road, writes Peter May:
BOSTON -- The Miami Heat stopped by on opening night. But, as we've seen the past month or so, that was miami, as opposed to the current MIAMI that is terrorizing the league. As for the rest of the NBA elite, the Orlando Magic, Dallas Mavericks, Utah Jazz and Los Angeles Lakers have yet to grace the TD Garden floor this season.

Their time will come. On Wednesday night, Celtics fans are in for a treat. The teams with the two best records in the league (as opposed to the two best teams, which covers the rampaging Heat) will meet when the San Antonio Spurs make their annual visit to Boston.

The teams have a combined 12 losses -- and it's the first week of January. (Twenty-three teams already have 12 losses apiece.) San Antonio has blown away the competition in the Western Conference in the first 30-plus games to the point where Gregg Popovich has been the only winner of the conference's coach of the month honors this season. The Spurs are on a ridiculous pace that even Popovich doesn't expect to last, but he's enjoying it while it does.

"You know us. We never talk about what our record is," Popovich said before the Spurs lost to the Knicks 128-115 on Tuesday night in New York. "It is whatever it is. But we know full well that this won't continue for 82 games. We're not the Chicago Bulls [who won 72 games in 1995-96]. That's not us. We'll come back to the center eventually, but our hope is that we're still a good team when it matters most."

Those four last words -- "when it matters most" -- have been the Spurs' mantra for the past number of years. Ditto with the Celtics of the new Big Three era. Doc Rivers, like Popovich, couldn't care less what his team's record is at this point. He probably couldn't even tell you. Same for Popovich.

They both want the same thing when it matters most (as do the other championship contenders): health and momentum in the springtime. But winning along the way sure doesn't hurt, especially when the playoffs come around and the seeds are parceled out. The Spurs' four NBA titles all were won with them having home-court advantage in the Finals. They've never been in the Finals without having home court (which makes Popovich 4-0 in the big dance). The Celtics had the advantage in 2008 and won Banner No. 17. They didn't in 2010, which they came to realize might have cost them Banner No. 18.
Click
HERE
to read the full story.