Boston Celtics:

2010Game35
January, 8, 2011
1/08/11
3:45
AM ET
BOSTON -- Fresh off his finest night as a pro,
Luke Harangody
was quickly reminded of his rookie status by his
Boston Celtics
teammates following Friday's 122-102 thrashing of the
Toronto Raptors
at TD Garden.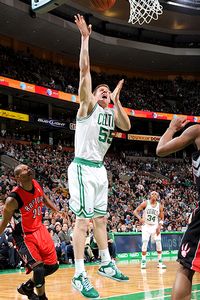 Brian Babineau/NBAE/GettyLuke Harangody showed skill on both offense and defense Friday with 17 points and 11 rebounds.
Harangody, a postgame guest on the Celtics' radio network, was dishing about a night of firsts -- his first career double-double (17 points, 11 rebounds), his first NBA 3-pointer and hitting his first five shots to pace Boston to a lopsided halftime lead -- when he was dragged back to the locker room.
Unfortunately for Harangody, no one was waiting there with a game ball.
Instead, Harangody joined fellow rookies
Avery Bradley
and
Semih Erden
in the latest not-so-enthusiastic rendition of "Happy Birthday," this performance in honor of teammate
Marquis Daniels
turning 30.
"This is just one game; nothing's changed," Harangody said later while drawing the biggest media crowd of the night (much to the delight of captain
Paul Pierce
, who gleefully passed his typical postgame media chores to the rookie). "My role is always defense and to go out there and rebound. I'm going to do that first and foremost."
To be sure, Harangody did both of those things Friday night. Caught defensively in a third-quarter pick-and-roll, he produced one of the highlights of a somewhat perfunctory second half by chasing down Toronto's
Ed Davis
from behind and swatting a layup attempt.
The 6-foot-8 Harangody was also active on the glass, leading his team in rebounding against an opponent that had dominated Boston in three previous regular-season meetings. Harangody mixed four offensive rebounds with seven defensive caroms while hauling in nearly a quarter of the Celtics' 43 boards.
But don't be fooled. It was his offense that ultimately allowed him to thrive, a couple early buckets letting him simply play his game for the first time all season.
"The one thing he is not is shy; I think he was [shy] in all of a half a second and [then] he took a shot," joked Celtics coach Doc Rivers. "The whole bench started laughing because that's who he is. And we want him to stay that way."
Click
HERE
to read the full story.
January, 8, 2011
1/08/11
12:12
AM ET
BOSTON -- A collection of postgame news and notes after the
Boston Celtics
defeated the
Toronto Raptors
122-102 Friday night at TD Garden:
Celtics reserve center
Jermaine O'Neal
sat out the second half of Friday's game with left knee soreness, an injury that has already sidelined him for 20 games this season.
"His knee was sore, so I knew in the second half I wasn't going to go with him," said Celtics coach Doc Rivers. "And we had a lead, so we just looked at it and, if we could get him through this game and maybe play him tomorrow, it would be great."
O'Neal's status for Saturday's game in Chicago is uncertain. He sat out the second half of a loss to the
Dallas Mavericks
on Nov. 8, then missed the next 19 games as he rehabbed a surgically repaired knee that's hindered him in the latter stages of his career.
"[The knee] was a little sore before the game, but at halftime he came to me and said, 'Man, my knee's sore,'" said Rivers. "I think his knee's sore for the rest of his life. But there's going to be different degrees of pain."
O'Neal, who had shined defensively over the last four games, finished with four points and two rebounds over 8:39. Rookie
Semih Erden
, who hasn't been on the court for the last seven games in part due to a stomach bug, played 6:14 in the second half, scoring two points and grabbing a rebound.
--
HELP IS ON THE WAY FOR STREAKING C'S
--
The "injury-depleted" Celtics scorched the field for the second straight game, shooting 57.5 percent (46 of 80) while scoring a season-high 122 points (aiding only the third appearance of Gino, the JumboTron dancer, this season). It makes you wonder what Boston is capable of should it ever get healthy. Which could happen sooner than previously thought.
Rivers suggested Friday that
Kevin Garnett
(strained right calf) could be back on the floor as early as Monday's visit from the
Houston Rockets
, while
Kendrick Perkins
dropped a bit of a bombshell by suggesting he could be back in game action before month's end.
Meanwhile,
Delonte West
, who had targeted a mid-January return after fracturing his right wrist in mid-November, is cautiously pushing that date backwards, but still sounds optimistic about his chances to return to action before the All-Star break.
For a Boston team that was fighting the war of attrition to close out 2010, the prospects of 2011 are getting brighter.
"It probably does [give Boston a boost]," Rivers said of Perkins' impending return. "Right now, it gives us energy when
anyone
comes back on the floor. It'll help him out, it'll help our team. It'll allow me to manage minutes better Shaq and Jermaine, so it'll do a lot of things."
But Rivers thinks West's return might be the key moving forward.
"It'll mean a lot more for Nate and the second unit," said Rivers. "The tough part with Delonte is he was just starting to get our stuff again then -- bam -- he's out. Now we have to re-do that. Even though he's been here, there are different things and it'll take some time. The sooner we can get him back, he may be even more important than Perk in some ways."
--
LOOSE BALLS: TRIANO CALLS C'S BEST IN EAST; LIMITING MINUTES
--
* After seeing the Celtics' six times over the past 89 days, Toronto coach Jay Triano offered lofty praise: "When you look at that team, there's a reason they're the best team in the East right now. They're physically stronger than us and quicker than us at all five positions. They go where they want to go offensively, they know how to use screens, set screens, and for some of our young guys, and our guys battling injuries, we can't match up with that, that physical play, it makes for a long night."
* A comfortable lead -- even thought it dipped to uncomfortable levels at times during the second half -- allowed the Celtics to limit minutes for their starters, particularly with the second night of a back-to-back looming Saturday in Chicago.
"It was great," said Rivers. "One of the things we decided was, when we had the lead, I thought, 'I'm going to sub [Rajon] Rondo out early in the third.' And that way Nate can play with all the starters and so when we bring all the other guys in, Rondo could go back in and run that club. And that's why we did that. Because we had the lead to do it."
Glen Davis
logged a high of 33 minutes for the starters, while the other four all stayed below 30.
* Former Celtics forward
Leon Powe
, a member of the 2008 championship team, will
miss six weeks to repair a torn meniscus
. It's the latest setback for a player who has endured numerous knee ailments during his career. Powe has appeared in 14 games for the Cavaliers this season, averaging 5 points and 2.7 rebounds per game.
January, 7, 2011
1/07/11
9:55
PM ET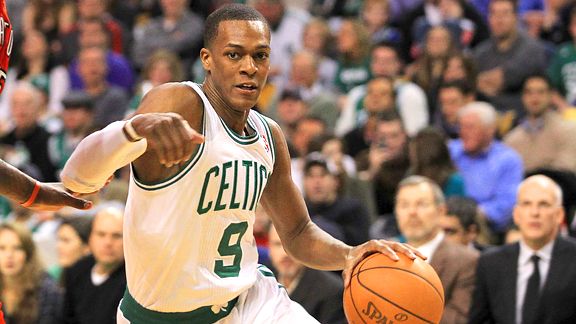 Mark L. Baer/US PresswireCeltics guard Rajon Rondo drives to the hoop against the Raptors.
BOSTON -- Rapid reaction after the
Boston Celtics
defeated the
Toronto Raptors
122-102 Friday night at the TD Garden:
HOW THE GAME WAS WON
The Celtics scorched the field yet again, shooting 66 percent in the first half and posting a season-high 67 points before the intermission before putting the car on cruise control.
Paul Pierce
scored a team-high 20 points to pace six Boston players in double figures, including bench-mobbers
Luke Harangody
(17) and
Nate Robinson
(15). Boston finished shooting 57.5 percent (46 of 80 overall).
TURNING POINT
The Celtics boasted a five-point cushion when Harangody hit the floor with four minutes to play in the first quarter. The rookie forward proceeded to double his previous career high in scoring (four points) by making all four shots he put up to stake Boston to a 12-point cushion at the end of one frame. Harangody then splashed his first career 3-point early in the second frame, finishing the first half with 11 points on 5-of-5 shooting with four rebounds. He finished with 17 points over 27 minutes.
STAT OF THE GAME
After being dominated on the glass in three previous regular-season meetings with the Raptors, the Celtics finished the night with a 43-31 advantage on the glass. Harangody chipping in a team-high 11 boards.
UNSUNG HERO
Birthday boy
Marquis Daniels
kicked in six points, four assists, and two rebounds in another steady bench effort, finishing a solid plus-16 in the plus/minus category.
WHAT IT MEANS
Even while waiting for bodies to get healthy, the Celtics have won four in a row and got as breezy a victory as you can ask for on the first night of a back-to-back (particularly having to trek to Chicago Saturday). Friday's win was also the 3,000th win in franchise history.
January, 7, 2011
1/07/11
5:35
PM ET
BOSTON -- Celtics center
Kendrick Perkins
expressed optimism that he'd be able to return to game action in as little as three weeks, while coach Doc Rivers indicated that forward
Kevin Garnett
could return to Boston's starting lineup as early as Monday in a bonanza of positive injury news before Friday's tilt with the
Toronto Raptors
.
Perkins, who tore his right ACL in Game 6 of the NBA Finals in June, got clearance to begin contact activities earlier this week and has participated in 3-on-3 games with teammates the past two days. Perkins said he plans to resume full-team practice activities next week and a three-week window suggests he could be back in time for Boston's west coast road trip, including the first meeting this season with the
Los Angeles Lakers
on January 30.
Neither Perkins nor Rivers would establish a definitive timeline, but Perkins gushed with optimism about his progress, noting he's had no setbacks and hasn't even experienced any swelling since increasing his activity this week. Perkins knows the biggest hurdle with be the mental aspect of trusting his right knee again and not worrying about a re-injury, but said he's not concerned about that.
"I just figure, if it happens it happens," said Perkins. "If it doesn't, that's a good thing. It's nothing I'm worried about. I literally have it in my mind that Dr. [Brian] McKeon fixed it better than my other leg. So that's how I go at it. And if something happens, I'm going to put it all on him."
Perkins resumed on-court, non-contact activity in late December, but the 3-on-3 games under the eye of director of basketball development
Tyronn Lue
are the latest leap in his recovery. A late January/early February return would mean he has still been able to get back from the ACL tear little more than six months after surgery.
It's still not fast enough for him.
"It feel like these three weeks are not going by fast enough," said Perkins. "But I guess the six months went by pretty fast. I'm trying to wait it out, see how it goes."
Perkins also reiterated his preseason proclamation that he expects to resume his starting role when he returns (though he did note that he wouldn't be opposed to a game or two off the bench as he eases back in). But the mere fact that he's able to start worrying about that process is just another sign of how far along his recovery is.
A couple other pregame notes:
* While Rivers didn't have any formal update on Garnett, he did suggest the Big Ticket could be back on the court as early as Monday's visit from the
Houston Rockets
. "He's shooting, doing everything," said Rivers. "I think he'll be back early next week. What's the date again?" Informed by reporters that two weeks would have him back on Wednesday, Rivers smiled and added, "Thank you very much. I think he'll be back Monday or Wednesday. I think he could play by then."
Asked if Garnett might need a practice to shake any rust, Rivers smiled again and said: "We're just going to throw him in. If he can't remember the stuff, we're in trouble."
* Rivers confirmed that rookie center
Semih Erden
is back at full health after battling a stomach bug that sidelined him for three games around the Christmas holiday. The team is simply leaning on rookie
Luke Harangody
now.
"We've gone in another direction," said Rivers. "We're just playing Luke in front of him. One reason is Kevin is out. We need a 4 and we have two 5s. Another reason is that, Luke in practice, the ones we have had, I like his energy."
January, 7, 2011
1/07/11
11:45
AM ET

(27-7, 15-2)
-- vs. --
(12-23, 5-13)

at TD Garden, 7:30 p.m. | CSN, WEEI (850 AM)
GAME PREVIEW (via Stats Inc.)
Rajon Rondo has clearly overcome a recent injury. The All-Star point guard is also helping the Boston Celtics withstand Kevin Garnett's continued absence.

Coming off a triple-double, Rondo will try to assist the Celtics in continuing their dominance of the Toronto Raptors as the Atlantic Division rivals conclude their season series Friday night.

It took three games, but Rondo appears to have shaken off any effects of a sprained left ankle that sidelined him for seven contests last month. He turned in one of his most impressive performances of the season Wednesday, compiling 22 assists with 12 points and 10 rebounds in a 105-103 win over NBA-leading San Antonio.

Rondo's triple-double was the sixth of his career and first since a win over New York on Oct. 29 while giving Eastern Conference-leading Boston (27-7) a three-game winning streak. His performance was also a vast improvement from his first two games back from injury, as he totaled 24 assists, 10 points and five boards. That includes four points, eight assists and one rebound in his return during Sunday's 93-79 win at Toronto (12-23).

"I felt a lot better in the past couple of games," said Rondo, who leads the league with 14.0 assists per game. "I'm in a little better rhythm, and I'm able to push off push off a little bit more on my ankle."

Another big effort from Rondo would go a long way in continuing to soften the blow left by Garnett's right leg injury, which has sidelined him for four games and is expected to keep him out for at least one more week.

Rondo is averaging 12.3 points, 10.3 assists and 4.7 rebounds in his last seven games against the Raptors with Boston winning all of them.

The Celtics have taken 14 of the last 16 meetings with Toronto, including two of three this season. They've dominated the Raptors at home, going 15-3 in the last 18 matchups while winning five in a row.

Ray Allen and Paul Pierce have excelled versus the Raptors. Allen is averaging 22.2 points on 52.2 percent shooting in his last 17 games against them, while Pierce has 21.8 points per game in 19 contests. They combined for 53 points Sunday.

The Raptors are trying to win consecutive games for the first time since the start of last month. They won for just the fourth time in 16 games after beating Cleveland 120-105 on Wednesday to snap a three-game skid.
Read the full preview
HERE
.
FORSBERG'S THREE THINGS TO WATCH
The Raptors again!? For the sixth time in 89 days, the Celtics and Raptors will lock horns. The Atlantic Division foes played each other twice in the preseason and this will be the final of four regular-season meetings. The Celtics have to hope that familiarity doesn't breed overconfidence as, coming off a Wednesday night showdown against a Spurs team with the best record in basketball, Boston must find a way to motivate itself against a team that's already 15 1/2 games back in the division standings.
On the rebound: The Raptors hung around early in Sunday's tilt in Toronto thanks in part to 19 offensive rebounds (which led to 19 second-chance points). For the three regular-season games this season, Toronto boasts a whopping 44.7-36 advantage in rebounds per game. It's about the only category Boston is losing the battle in and they'll once again be challenged with a Kevin Garnett-less lineup.
On the rise: The Celtics' field goal percentage has improved each game this series, climbing from 47.9 percent in a November loss to 54.3 percent in Sunday's win (and hitting 53.9 percent in between). Coming off a game in which they shot 61.4 percent, can the Celtics stay hot from the field and continue the upward trend? Considering Toronto is 27th in the league in defensive efficiency, allowing 108.1 points per 100 possessions, it's not unfeasible.