Boston Celtics:

2010Game37
January, 11, 2011
1/11/11
9:45
AM ET
BOSTON -- Everything you need to know after the
Houston Rockets
defeated the
Boston Celtics
108-102 Monday night at the TD Garden:

Rapid Reaction | Game Recap | Box Score
--
FORSBERG: DOC SOUNDS OFF ON DEFENSELESS EFFORT
--
Elsa/Getty ImagesVon Wafer provided the highlight of Boston's night with this emphatic one-handed jam.

But Celtics coach Doc Rivers couldn't remember a game like this, a game in which his team failed to generate a single stop for nearly 10 minutes. And it happened in the fourth quarter, a transgression so disturbing that one has to believe Kevin Garnett was tied down while watching the game because the locker room was still in one piece when reporters were allowed in later.
--
MAY: POST-HOLIDAY BLUES BACK AGAIN
--
The Boston Celtics have pretty much owned the East since their opening-night win over the Miami Heat way back in October, but my, how things have changed since then. With their utterly uninspiring performance Monday night, resulting in a 108-102 loss to the undermanned Houston Rockets, the Celtics now trail the rampaging Heat by one game. And the way things are going, it could be a lot more than one game when those teams meet again next month.
January, 11, 2011
1/11/11
1:45
AM ET
By
Greg Payne
| ESPNBoston.com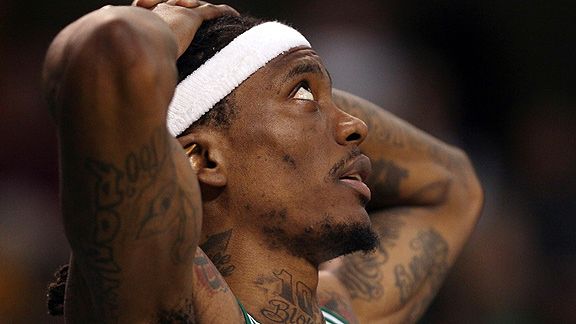 Elsa/Getty ImagesMarquis Daniels checks out the scoreboard during Monday's loss to the Rockets.
BOSTON -- With their defense failing them in the fourth quarter of Monday's tilt with the
Houston Rockets
, the
Boston Celtics
needed an offensive spark to keep them within shouting distance and bolster their chances of stealing the game in the final minutes. With the usual suspects --
Paul Pierce
and
Ray Allen
-- resting on the bench,
Marquis Daniels
stepped in to fill that void and scored eight of the Celtics' first 14 fourth-quarter points.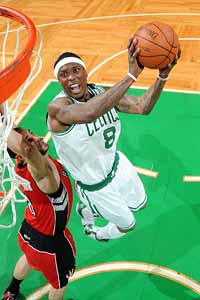 Brian Babineau/NBAE/GettyMarquis Daniels chipped in a team-high 19 points on 7-of-8 shooting vs. the Rockets.
Daniels finished with a team-high 19 points (matching Allen's output) on 7-of-8 shooting with seven rebounds and three steals over 24:15. His offensive efforts weren't enough as the Celtics fell to the Rockets, 108-102, at TD Garden.
The crafty Daniels, often at his best when slashing to the rim, converting layups, or getting to the free throw line, relied on his jump shot to start his fourth-quarter scoring spree. He buried back-to-back jumpers over Houston forward
Chase Budinger
to keep the Rockets' lead manageable. Soon after, the 6-foot-6 Daniels found himself matched up with 6-foot guard
Aaron Brooks
and exploited the mismatch by driving by him and converting an easy right-handed layup.
"I just tried to be aggressive and take whatever they gave me," said Daniels. "I tried to use my size and get to the basket."
Unfortunately, Daniels' efforts couldn't make up for Boston's poor defensive showing in the final frame. The Rockets converted 10 of 15 field goal attempts in the fourth quarter and, as a team, were able to answer all of Daniels' baskets with buckets of their own.
When Daniels scored his final points of the game -- a short jumper in the paint with 2:55 to play -- the Celtics had yet to make any true headway, still trailing by double digits at that point, 106-96. Even still, without Daniels' offensive exploits, Boston's late comeback attempt (the Celtics pulled within four with 27 seconds to play) wouldn't have been possible.
"I thought [Daniels] was the one silver lining tonight," said Allen. "He kept us in the game for the most part."
January, 11, 2011
1/11/11
1:35
AM ET
BOSTON -- A collection of news and notes after the
Houston Rockets
defeated the
Boston Celtics
108-102 Monday night at TD Garden:
Celtics guard
Ray Allen
admitted to soreness in his left shoulder and left side after stepping into a blindside fourth-quarter screen set by Houston's
Jared Jeffries
, but was waiting until morning to see how much pain lingered from the incident that briefly chased him from Monday's game.
Allen was defending ball-handler
Courtney Lee
on the left wing when Jeffries approached and set a pick that Allen couldn't avoid as he turned to chase Lee on a drive. Allen crumpled to the floor and soon departed the game, getting a brief examination from trainer Ed Lacerte before returning after five minutes on the bench.
Allen hit a 3-pointer with little more than two minutes to go, the final of his team-high 19 points on the night, but figured adrenaline was propelling him at that point.
"I just took a hard hit and kind of collapsed on [the left] side," said Allen. "I'm sore. I'll see how it feels [Tuesday]."
Asked what hurts, Allen said, "My shoulder, but kind of my side. You get so much adrenaline running that you don't really feel it. Once I got in the [locker room], it got sore."
Celtics coach Doc Rivers suggested a foul should have been called, but Allen just shrugged at the question of whether it was an illegal screen.
"I don't even know; I was on the ground," Allen said. "The rule states that if there's a screen set, you have to give the person a chance to see the screen and then move out the way. I didn't even know the screen was there and when I went to step, I just hit the screen, and it caught me like on the side of my hip. That's basketball."
Allen seemed more concerned about Boston's defensive effort than his own ailment, lamenting how the Celtics let a winnable game slip away because of preventable lapses.
"I don't want to have regret, I'd rather work 10 times harder than what we're doing than have regrets," Allen said. "Looking back on what we could have done, putting ourselves in bad situations, each team we play they are formidable opponents and all they need is a little confidence. Our job is to take it away from them, and I thought we did a poor job of that."
--
ADELMAN OFFERS HIGH PRAISE FOR WAFER
--
Celtics guard
Von Wafer
spent his finest NBA season with the Rockets in 2008-09, but any mention of that season seems to include a public confrontation with Houston coach Rick Adelman that sent Wafer to the locker room in the fourth quarter of a playoff game.
Adelman suggested before Monday's game that Wafer's tenure in Houston had far more ups than downs.
"He had a lot of ups for us. Everyone remembers the one incident, but that wasn't that big of a deal, personally," Adelman said. "He played very well for us, gave us a real spark off the bench. He won a lot of games for us. He's a guy that, once he gets comfortable, he's a real threat. I think he's going to help [the Celtics] eventually. Obviously, they have a lot of veterans and he hasn't seen the time that we needed him to play when we had him."
Wafer averaged a career-best 9.7 points over 19.4 minutes per game in Houston. This season, he's averaging 2.2 points over 7 minutes per game in 30 appearances for the Celtics. Wafer, who admitted to being a little extra excited to see old friends Monday, scored six points over nine minutes, providing a highlight-worthy, one-handed jam in the first half.
Adelman did admit that Wafer's defense might have been a bit lacking in Houston.
"Hit and miss -- more of a gambler," Adelman said. "Not a great defender, more of an offensive player. He's with a team now that's very good defensively and that should rub off on him. He could be a factor. He's got the quickness and athletic ability. The concentration wasn't always there."
Rivers said Wafer has made great strides defensively, realizing that's the key to playing time in Boston.
"He's improved," Rivers said. "He wasn't [a defensive player], wasn't when he first got here. He's working on it, and it's a focus. Von viewed himself, probably throughout his career so far, as an offensive player. I give him a lot of credit, he's doing -- or trying to do -- what he needs to play and that's defend. He's getting there."
--
LOOSE BALLS: NOT KG'S FAULT; BABY'S MINUTES; LONG OVERNIGHT TRIP
--
* Rivers immediately dismissed the notion that Monday's loss could be blamed on the absence of defensive quarterback
Kevin Garnett
.
"No, it's mental -- it had nothing to do with him," Rivers said. "This game had nothing to do with Kevin Garnett. Kevin Garnett didn't play, and it had nothing to do with it."
* Rivers reiterated a need to drive down minutes for Garnett's power forward fill-in,
Glen Davis
, who is averaging 35.6 minutes per contest during Garnett's seven-game absence.
"He's getting too many minutes, quite honestly," Rivers said. "Thirty-eight minutes is too many for Baby. We don't have a lot of options right now. [Rookie] Luke [Harangody] is playing OK, but we may have to go small. But that's too many minutes and that's on me. Baby shouldn't play more than in the 30-range because I think the fatigue is bothering him."
Davis again led the team in field goal attempts, connecting on 6-of-14 shots for 12 points over 37:49. He added five rebounds, four steals and a block.
* His team playing its sixth game in nine nights, Adelman wasn't thrilled with having to travel to Boston for a one-game road trip. "It's very odd," he said. "We'll have to send the league a geographic map of the United States. I don't know how they make the schedule, but you've got to play it. Everyone has quirks like that. It seems strange, but that's the way it is."
January, 10, 2011
1/10/11
10:05
PM ET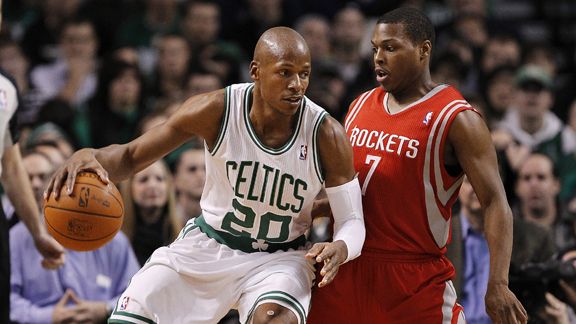 Mark L. Baer/US PresswireRay Allen backs down Kyle Lowry Monday night. But the Rockets wouldn't back down.
BOSTON -- Rapid reaction after the
Houston Rockets
defeated the
Boston Celtics
108-102 Monday night at the TD Garden:


HOW THE GAME WAS WON
Aaron Brooks
returned from injury to score a game-high 24 points on 8-of-15 shooting, hitting five 3-pointers while handing out five assists over 36 minutes as the Rockets snapped a five-game losing streak.
Ray Allen
and
Marquis Daniels
each scored 19 points for the Celtics, while
Paul Pierce
added 16 points. Boston shot 50.7 percent (38-of-75), but the Celtics' defense struggled, allowing the Rockets to shoot 52.7 percent (39-of-74).
TURNING POINT
The Celtics trailed by six entering the fourth quarter and were unable to generate stops over the first nine-plus minutes. The Rockets connected on eight of their first nine attempts in the quarter, the lone miss being tipped back in. Pierce missed a layup that would have cut Boston's deficit to six and Brooks drilled a monster 3-pointer at the other end to push Houston's lead to 101-90 with 4:26 to go. Boston's first honest-to-goodness stop (no second-chance bucket or free throw attempts) of the quarter didn't come until 2:31 remained in the game.
STAT OF THE GAME
The Rockets lit up the 3-point line, connecting on 10 of 20 attempts beyond the arc, putting Boston in a double-digit hole in the second half and preventing any sort of rally.
UNSUNG HERO
After dropping 24 points here in Houston's win last April (connecting on 6 of 8 3-pointers),
Chase Budinger
produced another fine outing as he hit 5 of 6 shots, including 3 of 4 triples, while scoring 13 points in 18 minutes off the bench.
WHAT IT MEANS
Another post-Christmas swoon? The Celtics dropped their fourth game in nine tries, including their second home loss in 11 days. Not exactly the way to kick off a six-game homestand that only gets more challenging down the road (Orlando and Utah loom next week). Boston's typically stout defense clearly misses
Kevin Garnett
, but the silver lining is that he could be back as early as Wednesday's game against Sacramento.
January, 10, 2011
1/10/11
7:15
PM ET
BOSTON -- Celtics forward
Kevin Garnett
will miss his seventh consecutive game Monday night with a sprained right calf, but coach Doc Rivers said the team is hopeful he'll be back for Wednesday's tilt with the
Sacramento Kings
.
Garnett did not participate in Monday's morning shootaround and, while he's experienced no setbacks in his recovery, Rivers suggested he's simply not ready to resume game activity.
"Not tonight, maybe Wednesday," said Rivers. "I didn't even ask [about his status] -- him and [team trainer] Eddie [Lacerte], the way we left it, we had a little morning shootaround and he didn't participate, so that meant he wasn't ready. Honest to God, I didn't even ask. He'll tell us and so will Eddie. It's not a pressing issue for me.
"He's moving good. It'll be very soon."
Rivers said he's not sure if Garnett will participate in Tuesday's scheduled practice (the first one for Boston since its holiday road trip), but said he could be back Wednesday, which would be the exact end of the two-week time frame the team offered after the initial injury, suffered in Detroit on Dec. 28.
The Celtics are 4-2 without Garnett, coming off a week in which they played five games in seven days. The Rockets, losers of five straight games, are so dinged up themselves that there wasn't a need to rush Garnett back. Regardless, it's been the Celtics' practice this season to allow injured players to get to full strength before putting them back on the court.
Rivers said Garnett's injury hasn't drastically affected the team's game preparation.
"We're going to do what we do," Rivers said. "[Injuries affected] the one little stretch where we didn't know if [
Jermaine O'Neal
] would play, or if [Rajon] Rondo would play. That affected us a little bit. Right now, it's not as bad. It's really just Kevin. For the most part, J.O. and [
Shaquille O'Neal
] seem to be OK, so they're playing."
A few more pregame notes:
* Celtics center
Kendrick Perkins
is battling the flu, which might slightly detour his plan to resume full-team, full-contact practice sessions for the first time since tearing his right ACL in Game 6 of the NBA Finals in June. After waiting six months for his knee to heal so he could get back on the court, it might be hard for a viral infection to detour him Tuesday.
* Rivers admitted that losses like Saturday's offensive dud are inevitable over the course of an 82-game season, but wants his team to find ways to still emerge with Ws. "I want to win those games. It all frustrated us, and you could see it in our play. We got in the way of our ourselves and didn't allow us to win the game. You can play poorly and still win a game. But mentally, we couldn't get past playing poorly and still try to win the game the other night."
* Celtics guard
Delonte West
got up some shots on the Garden floor before Monday's game, another encouraging sign in his recovery from a fractured right wrist.
January, 10, 2011
1/10/11
1:00
PM ET

(28-8, 16-2 home)
-- vs. --
(16-21, 6-14 away)

at TD Garden, 7:30 p.m. | CSN, WEEI (850 AM)
GAME PREVIEW (via Stats Inc.)
The Boston Celtics are trying to rebound from one of their worst performances of the season. Kevin Garnett might be back to help them do just that.

The Celtics could be in for a major lift if Garnett is able to return to the court as they open a six-game homestand against the sputtering Houston Rockets on Monday night.

Boston (28-8) saw its four-game winning streak end with a 37.8-percent shooting performance in Saturday's 90-79 loss at Chicago.

"We had a lot of one-pass shooting," said Paul Pierce, who had 21 points and three of Boston's season-low 12 assists against the Bulls. "There's really no explanation. That's really not the way we play."

The Celtics may feel much more comfortable at TD Garden, where they're an Eastern Conference-best 16-2 and have won three in a row.

They may also find comfort in Garnett's impending return as they begin a stretch of seven games in 13 days. Garnett is due back this week after missing six games with a right leg injury -- suffered on a dunk late in the first quarter of a 104-92 loss at Detroit on Dec. 29.

Garnett is averaging 15.0 points and a team-leading 9.5 rebounds on the season. He's averaging 22.1 points and 11.8 boards in his last 18 games against Houston (16-21).

Boston has dropped seven of its last nine home meetings with the Rockets, including a 119-114 overtime defeat April 2 as the teams split last season's two-game series.

Paul Pierce, the Celtics' leader with 19.1 points per game, is averaging 26.3 on 59.5-percent shooting over the last three matchups against Houston.

The Rockets, 6-14 on the road, are trying to avoid their first six-game overall losing streak since Nov. 13-23, 2007.

They appeared ready to end their current slide Saturday, but wasted a 14-point halftime lead and lost 103-99 in overtime to Utah.

"Same problems we were having early in the season, we have now," said Luis Scola, who had 24 points and 10 rebounds against the Jazz. "It's frustrating. We deserved to win this game, but we didn't know how to close it out."

Houston shot a season-low 37.8 percent from the field, including a 3-for-25 effort from 3-point range. The Rockets are giving up an average of 108.4 points over their last seven games.
Read the full preview
HERE
.
FORSBERG'S THREE THINGS TO WATCH
Garnett

To KG or not KG: That is the question Doc Rivers and his staff will have to consider this evening. Rivers suggested last week that Garnett could be back as early as Monday's tilt, but there seems little reason to rush him (even if the Celtics are coming off a loss in Chicago). Exercising the same caution they've operated with in regards to all injured players this season, Boston should wait until Garnett is deemed 100 percent by the training staff before launching him back into action. The start of a six-game homestand seems as good a time as any to be cautious. All that said, if he's indeed healthy after sitting out the past 11 days with a strained right calf, Rivers suggested they won't hesitate to just toss him back in the fire.
Join the movement: The Celtics abandoned the style of play that made their offense so efficient during four wins last week, most notably setting screens and generating easy looks through ball movement (read more HERE). After a stagnant performance against the Bulls, expect the Celtics to operate with renewed vigor against a Rockets team that gives up 104.6 points per game and has lost five in a row.

Wafer

Eyes on Wafer: Celtics reserve guard Von Wafer enjoyed his best NBA days with the Rockets and, while he's been a bit of a journeyman during the early stages of his career, it would seem Monday's game would certainly have some extra meaning to him. Need a reminder of his exploits with Houston, check out THIS video. Wafer averaged a career-best 9.7 points over 19.4 minutes per game as a key reserve with Houston's 2008-09 squad.