Boston Celtics:

2010Game42
January, 23, 2011
1/23/11
2:00
PM ET
By
Greg Payne
| ESPNBoston.com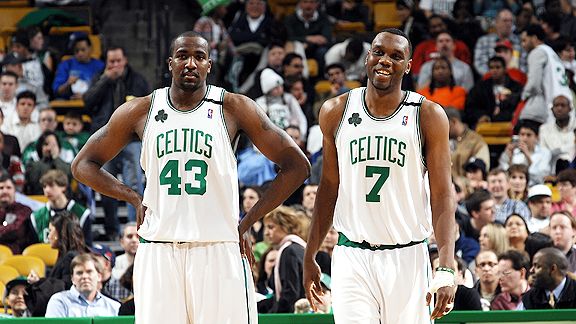 Brian Babineau/NBAE/GettyKendrick Perkins and Al Jefferson remain friends after playing together in the Boston frontcourt.
Kendrick Perkins
and
Al Jefferson
haven't played on the same NBA team in almost four years, but time and distance apart haven't hindered the bond that developed between the two while Jefferson played for the Celtics for three seasons.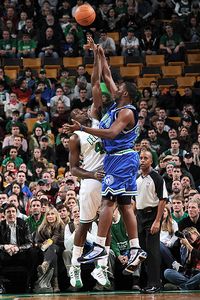 Steve Babineau/NBAE/GettyKendrick Perkins and Al Jefferson battle last season.
Their strong friendship, in some ways, should have been expected, given the similarities that existed between the two: Both were big men who play in the post, both were from the south (Perkins is from Texas, while Jefferson hails from Mississippi), and both entered the NBA straight out of high school in back-to-back years.
The only glaring difference between the two appeared to be their respective games. Perkins was a hulking, physical defender whose offensive game still needed a decent amount of polishing. Jefferson, meanwhile, was an offensive stud, a natural scorer with an arsenal of slick post moves and a soft touch at his disposal, whose defense still left something to be desired.
Apart, their respective games could not have been more different, yet when placed together, they forged a unique pairing along the front line for the Celtics - two young big men filled with potential, each boasting key strengths on opposite sides of the ball.
It didn't take long for the pair to realize they could actually learn from one another, and their contrasting games soon gave way to intense competition that ultimately brought them closer together.
"We competed against each other, we competed all the time in practice," Jefferson said prior to Friday night's game between the Celtics and his latest team, the
Utah Jazz
. "We always competed, you would think at times we hated each other, but it's just how it is on the court, we compete. Perk was known for defense and I was known for offense, so we kind of helped each other off that. He would give me tips on the defensive end, I would give him [tips] on the offensive end."
January, 22, 2011
1/22/11
9:35
AM ET
By
Greg Payne
| ESPNBoston.com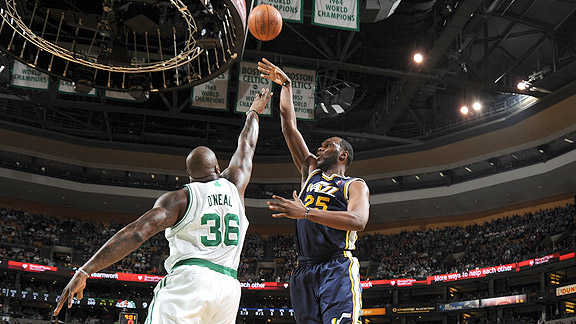 Brian Babineau/NBAE/Getty ImagesOld friend Al Jefferson puts up a shot over new friend Shaquille O'Neal.
BOSTON -- Utah's visit to the TD Garden Friday night marked the fourth time
Al Jefferson
has played in Boston since the Celtics traded him to the
Minnesota Timberwolves
, along with four other players and two draft picks, in exchange for
Kevin Garnett
during the summer of 2007. But unlike his previous three visits, it was largely a forgettable performance for the Jazz center.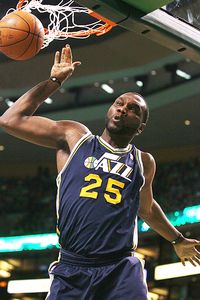 Elsa/Getty ImagesAl Jefferson made his first shot ... then went ice cold.
Jefferson, who entered the game averaging 16.9 points and 8.8 rebounds, was limited to just seven points on 1-of-11 shooting to go along with five rebounds, four assists, and two blocks over 25 minutes in Utah's 110-86 loss.
Friday's results were drastically different from his previous three visits to Boston as a member of the Timberwolves, in which Jefferson averaged 23 points, nine rebounds and two blocks while shooting 56.6 percent from the field. After Friday's tilt, Jefferson downplayed the idea that nerves played a role in his poor offensive performance.
"It's my fourth time playing back in Boston. There [weren't any] nerves," he said. "I just missed shots. It's just one of these nights. I had good looks. I had my shots and I missed them."
The Celtics selected Jefferson with the 15th pick in the 2004 NBA draft after the 6-foot-10 big man averaged over 40 points per game during his senior season at Prentiss High School in Mississippi. He went on to play three seasons in Boston before he was traded to the Minnesota Timberwolves along with
Ryan Gomes
,
Sebastian Telfair
,
Gerald Green
,
Theo Ratliff
, and two draft picks for Garnett. He spent three more seasons in Minnesota, the second of which was cut short when he tore the ACL in his right knee in February of 2009. During the offseason after the 2009-2010 campaign, when it was clear Minnesota would still be in a rebuilding phase for some time, the Timberwolves sent Jefferson to Utah, in exchange for two first-round draft picks and center
Kosta Koufos
.
January, 22, 2011
1/22/11
5:00
AM ET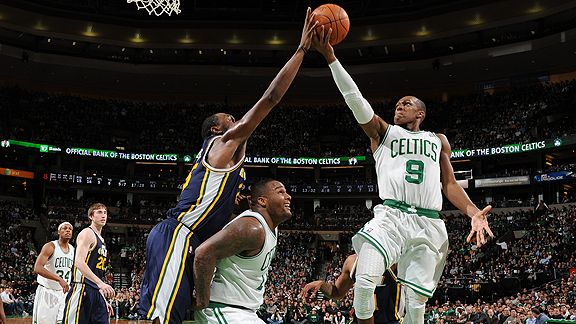 Brian Babineau/NBAE/Getty ImagesRajon Rondo paced the Celtics' offensive exploits.
BOSTON -- Everything you need to know after the
Boston Celtics
defeated the
Utah Jazz
110-86 Friday night at the TD Garden:

Rapid Reaction | Game Recap | Box Score
--
CELTICS JAZZ UP THEIR OFFENSE WITH BALL MOVEMENT
--
The Utah Jazz know a thing or two about ball movement. They entered Friday's game ranked second in the NBA in assists per game (24.0), second only to the Boston Celtics (24.6) team they were visiting. Boston proceeded to put on a passing clinic as the Celtics assisted on 31 of 37 field goals -- a whopping 83.8 percent of their total buckets, their best percentage of the season -- while racing to a lopsided 110-86 triumph at TD Garden. Jerry Sloan, head coach of the Jazz since Rajon Rondo was 2 years old, and someone who presided over nearly the entire John Stockton era, could only shake his head as he said with a sigh afterward, "Well, they showed us what basketball is like tonight."
--
POSTGAME NOTES: ERDEN READY WHEN CALLED
--
When Jermaine O'Neal returned to the Celtics' lineup on Christmas Day, coach Doc Rivers gave rookie Semih Erden a bit of coal in the form of seven straight DNPs. Even when Kevin Garnett went down four days later in a game Erden missed due to an upper respiratory infection, Rivers leaned on fellow rookie Luke Harangody to fill the void in the frontcourt while noting his intensity in game and practice situations was simply more inspired than what Erden was producing. But Rivers also reminded Erden to stay ready because Boston's brittle frontcourt was going to need him again at some point.
--
SHAQ INJURES HIP; MIGHT MISS COUPLE OF GAMES
--
Boston Celtics center Shaquille O'Neal left Friday night's 110-86 win against the Utah Jazz with a sore right hip, and Celtics coach Doc Rivers suggested he might need to sit out a couple games to heal. O'Neal played six minutes in the first quarter, with one basket, one assist and one steal. He told Rivers early on that his hip wasn't feeling well and appeared to motion to the bench to be subbed out after converting a breakaway dunk with 6:01 to play in the frame.
--
VIDEO: THE ASSOCIATION: BOSTON CELTICS, EPISODE 2
--
For those that missed Friday's second installment of "The Association: Boston Celtics," here's the full episode.
January, 22, 2011
1/22/11
12:40
AM ET
BOSTON -- A collection of postgame news and notes after the
Boston Celtics
defeated the
Utah Jazz
110-86 Friday night at the TD Garden:
When
Jermaine O'Neal
returned to the Celtics' lineup on Christmas Day, coach Doc Rivers gave rookie
Semih Erden
a bit of coal in the form of seven straight DNPs. Even when
Kevin Garnett
went down four days later in a game Erden missed due to an upper respiratory infection, Rivers leaned on fellow rookie
Luke Harangody
to fill the void in the frontcourt while noting his intensity in game and practice situations was simply more inspired than what Erden was producing.
But Rivers also reminded Erden to stay ready because Boston's brittle frontcourt was going to need him again at some point.
Even after logging quality minutes with Jermaine O'Neal again sidelined in recent days, Erden got thrust into an even greater role Friday when
Shaquille O'Neal
departed in the first quarter with a
sore right hip
, Erden responded by making all five shots he attempted (most of the dunk variety) in an energy-filled 30 minutes that saw him score a career-high 14 points, while adding seven rebounds, three steals, and a block.
"[Erden] played great," said Rivers. "He was just -– he was physical, he played hard. Again, when Semih just plays hard and does his job, he helps us. And, you know, sometimes sitting down a little bit reminds him of that -- reminds you that you want to play. And he's doing that. We're going to need him probably in the next couple games."
With Rivers hinting Shaq could be sidelined for a bit with the hip injury, Erden has the potential to rejoin the starting lineup, a spot he held down in the absence of both O'Neals during a four-game stretch in early December. By starting Erden, the Celtics can keep top reserve
Glen Davis
in a sixth-man role he's thrived in this season and further protect Erden by keeping him on the court with Boston's best players.
"Playing with the starters helps, too," said Rivers. "That's why we started Semih in the second half instead of Baby. Because it gives him protection in some ways. So that always helps. I think it forces you to play harder when you play with that group because [Kevin Garnett is] out there and he demands it."
For his part, Erden, who said after the game he's as healthy as he's been after battling shoulder and groin ailments, admitted the extended time glued to the bench helped remind him of what Rivers expects out of the rookie. By playing with energy, he masks some of the deficiencies in his still-raw game. But with every emphatic dunk, he reminds Rivers what the potential is for the 24-year-old center.
Pep talks from Shaq, like one he received during Wednesday's win over the
Detroit Pistons
, have Erden playing inspired ball.
After Friday's game, Erden spent time having a more friendly chat with countrymate
Mehmet Okur
, who went scoreless in 6:30 off the Utah bench. While noting that the two are great friends, Erden also took great pride in beating his Turkish brethren.
"Of course," said Erden. "I'm Boston. I'm Celtics."
Just another indication that Erden is starting to get how things work around here. Now players like Garnett simply wants him to build off Friday's effort.
"Semih was aggressive tonight," said Garnett. "One of the things we have been trying to make sure Semih does is to be aggressive. I think he understands the plays we just have to get him to continue to play good basketball in games and continue to play through plays. NBA games are tough, man. It's not something that you pick up in one or two days. It is a work in progress and he is doing a good job of it.
"He has come a long way. He's very good. I don't think you guys understand how methodical he is with both hands. He plays against Shaq and all the bigs that he does so he has no choice but to get better. He's starting to get some time to play so that's a good thing."
--
POINT GUARD MATCHUP FIZZLES WITH WILLIAMS IN FOUL TROUBLE
--
With much of the pregame hype centered on the battle between all-world point guards
Deron Williams
and
Rajon Rondo
, the matchup ultimately fizzled when Williams picked up two fouls in under four minutes and could only watch as Boston opened a double-digit lead.
Rondo drew both foul calls against Williams, forcing him out of the game with 8:18 remaining in the first frame. After spending much of the pregame in the locker room watching game film from Williams' dominating effort in Boston's loss last season in Utah, Rondo clearly came out with a game plan.
"That's typical Rondo," said Garnett. "Rondo is one of the biggest students of the game on our team. Everybody watches film, I know I catch Paul watching film on his own. When you are playing against players that can take game over and are the leaders of other teams, tonight he just [defensed it] up. You tend to know the other guy, especially Rondo.
"We have a lot of guys that are prideful around here and when we play that player, whoever it is, we all have them. He was a little focused in tonight. That's typical [Rondo] though, he's going to watch film, he's going to know their sets, their calls and he was more than ready tonight."
Rondo finished with four points and 12 assists (10 of which came before the intermission as Boston built an 18-point cushion) over 31 minutes. Williams registered five points, making only 1 of 4 shots, with six assists over 23 minutes.
Utah coach Jerry Sloan didn't make excuses despite not having his point guard at a key juncture of the game.
"Well, the game still has to be played, I mean, we hate to lose him of course, but can't do anything about that," said Sloan. "You still got to compete and I didn't think we competed that hard."
For his part, Williams wasn't pleased with the early foul trouble, hinting he didn't agree with the whistles.
"I was excited, I was ready to get out there and play today," he said. "If I could of just got a chance maybe I could of done something but I didn't have a rhythm early, two quick fouls -- two quick calls I should say -- took me out of the game, and couldn't really recover."
--
LOOSE BALLS: TECHNICAL DIFFICULTIES FOR DANIELS, ROBINSON
--
*
Marquis Daniels
played through the pain of a sprained left ankle suffered in Wednesday's win over the Pistons. He still chipped in eight points, six assists, and four rebounds over 25:41. He noted he was "fine" after the game, an ice bucket next to his locker to ease the pain. The mild-mannered Daniels also picked up his first technical of the season after air-punching when he didn't get a call driving to the basket early in the fourth quarter.
*
Nate Robinson
also picked up a technical foul, his third of the season, when both he and Utah's
Earl Watson
drew double technicals with 2:59 to play.
January, 21, 2011
1/21/11
10:00
PM ET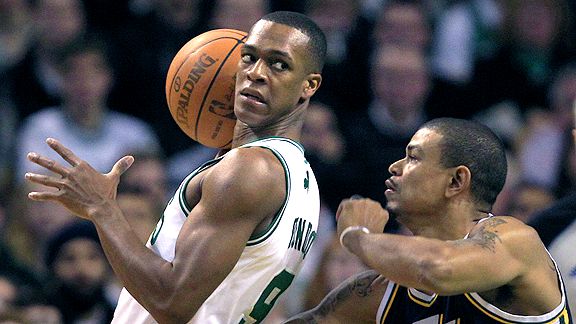 AP Photo/Charles KrupaRajon Rondo keyed Boston's breezy win over the Utah Jazz.
BOSTON -- Rapid reaction after the
Boston Celtics
defeated the
Utah Jazz
110-86 Friday night at the TD Garden:
HOW THE GAME WAS WON
Kevin Garnett
scored a team-high 21 points on 7-of-10 shooting, while
Paul Pierce
kicked in 20 points on 5-of-8 shooting (making the trio of 3-pointers he attempted) to pace five Celtics players in double figures in a rare cakewalk. The much ballyhooed point guard battle between
Rajon Rondo
and
Deron Williams
fizzled when Utah's star found himself in early foul trouble and Rondo helped the assist-happy Celtics open a double-digit lead little more than eight minutes in and the Celtics never looked back.
TURNING POINT
The Celtics embarked on a 14-2 run five minutes into the first quarter to turn a one-possession game into a comfortable stroll thanks to a 15-point cushion that would only soar higher. Six different players scored during the pivotal burst, Pierce and
Nate Robinson
hitting back-to-back 3-pointers to push the lead to 27-12 with 3:20 to play in the frame.
STAT OF THE GAME
The Celtics registered 31 assists on 37 field goals, including 18 of the 20 field goals in the first half (10 of those assists belonged to Rondo) and Boston led by 18 at the intermission. Rondo finished with 12 assists as Boston turned the game over to its bench for much of the second half.
UNSUNG HERO
Pressed into heightened action after
Shaquille O'Neal
played the first six minutes and
did not return due to a sore right leg
,
Semih Erden
responded by making all five shots he took (including a few dunks) while putting up 14 points and six rebounds over 29 minutes. He finished plus-11 in the plus/minus category.
WHAT IT MEANS
The Celtics started off this six-game homestand on the wrong foot falling to the
Houston Rockets
, but responded with five straight wins, including this lopsided beauty on the first night of a back-to-back. Rondo logged a team-high 31 minutes, but Pierce and Garnett checked in at a mere 26. About the only downside was the right leg injury to O'Neal, but a large lead might have contributed to him merely resting in the second half. Boston treks to Washington Saturday and a well-deserved two-day rest looms after.
January, 21, 2011
1/21/11
9:15
PM ET
Comcast SportsNet ScreenshotCeltics center Shaquille O'Neal departed Friday's game with a right leg injury.
BOSTON -- Celtics center
Shaquille O'Neal
suffered what the team termed a "sore right leg" and will not return to Friday's game against the
Utah Jazz
.
O'Neal started at center and logged a mere 6:19 of court time before being replaced by
Glen Davis
at the first timeout. That's not exactly an usual shift for O'Neal, but after completing a breakaway slam with 6:01 to play in the frame, he appeared to point at the bench as if asking to be subbed out. He did not return.
Semih Erden
took O'Neal's place with the starters at the start of the second half. Boston is already playing without
Jermaine O'Neal
(sore left knee) and
Kendrick Perkins
(right ACL tear).
O'Neal made the only shot he took -- that breakaway dunk off a feed from
Rajon Rondo
-- while adding an assist during his brief time on the court.
O'Neal has missed a total of nine games with right leg ailments, including five games due to a sore right calf and four games due to a bruised right knee (or "fibula head" as he termed it).
Before Friday's injury, O'Neal put together three turn-back-the-clock performances in a row, single-handedly sparking the Celtics in Wednesday's win over the
Charlotte Bobcats
.
O'Neal entered Friday's game averaging 10.2 points and 5.1 rebounds over 21.8 minutes per game.
January, 21, 2011
1/21/11
7:25
PM ET


BOSTON -- Celtics reserve swingman Marquis Daniels said the left ankle he sprained in Wednesday's win over the Detroit Pistons remains sore and a little swollen, but he planned to play in Friday's game against the Utah Jazz.

Daniels rolled the ankle after missing a driving layup early in the second quarter Wednesday. He sat out the final 34 minutes of action and did not participate in Thursday's practice. After plenty of ice and elevation, he deemed himself fit to play Friday and Celtics coach Doc Rivers said he planned to utilize Daniels in his typical role.

"If he's playing, he's playing," said Rivers. "That's always the way we look at it."

Daniels is one of only five Boston players to participate in all 41 games so far this season. For an oft-injured player during his career, it might mean a little more to Daniels to be on the court than most and it was unlikely a tweaked ankle would be enough to keep him out of uniform for the first time this season.

The Celtics, already playing without recuperating Kendrick Perkins (knee), Delonte West (wrist), and Jermaine O'Neal (knee), as well as rookie Avery Bradley (D-League assignment in Maine), have only 11 healthy bodies as it is, so Daniels was going to be active regardless of his ability to play, but it's a good sign for Boston that he's also available in that role.



Two prevalent themes before Friday's game: Al Jefferson's latest return to Boston and the Rajon Rondo-Deron Williams point guard showdown.

Rondo appeared locked in while watching Jazz game film in the Celtics' locker room, including tape of last year's meeting in Utah that Williams dominated. Rivers thought that might give his point guard a little motivation Friday.

"Look, I'm not in [the locker room], so I don't see what he's doing [during media access portion of pregame]," Rivers said of Rondo. "But he's human. Last year, we had a game here where Rondo was terrific. Then we had a game there where Deron Williams dominated our whole team. Everyone has a memory. And if not, we try to [jog] it a little bit."

Asked again to compare the Rondo-Williams matchup, Rivers said the key is really the other four guys on the court.

"They're so different, it's not a game of chicken, but it almost becomes that," said Rivers. "If we can get Rondo in the open court and turn it into a speed game, that's to our advantage. If they can get Deron in the open court and turn it into a power game, that's to their advantage. For both teams, it comes down to team defense. It really doesn't come down to those guys, it's up to the other four guys to take that other guy out of it. It's difficult for either one to keep the other in front of them."

Asked about the differences he's seen in Jefferson, Rivers deapanned: "He's older," before heaping praise on his former big man dealt to Minnesota as the centerpiece in the package that brought Kevin Garnett to Boston.

"I don't know, I don't watch Al as much now," said Rivers. "He's still growing as a player and he's one of the better post players in the league. We thought he would become that and he has. He's still improving defensively. The knee injury set him back a bit, but he's back to form now."

Utah coach Jerry Sloan said Jefferson's conditioning might have contributed to his slow start this season in Utah after being traded from Minnesota in the offseason.

"He wasn't in as great of condition as we would have liked him to have been when he first came out," said Sloan. "That happens with a lot of guys, but conditioning gives you a chance to get off to really good start, so that probably hampered him a little bit early. He's worked hard to overcome that."

The 26-year-old Jefferson, now in his seventh season, is averaging 16.9 points, 8.8 rebounds, and 1.9 blocks over 35.3 minutes per game in 42 appearances this season.

January, 21, 2011
1/21/11
12:12
PM ET

(32-9, 20-3 home)
-- vs. --
(27-15, 12-8 away)

at TD Garden, 7:30 p.m. | CSN, WEEI (850 AM)
GAME PREVIEW (via Stats Inc.)
Utah Jazz coach Jerry Sloan was unhappy with his team's effort in back-to-back road losses against last-place competition this week.

The Jazz surely need to raise their game to have a chance against the top team in the Eastern Conference.

Ending their struggles away from home Friday night will be a tall order against the Boston Celtics, particularly now that Kevin Garnett is back.

This is the halfway point of a five-game road trip for Utah, and the first two stops resulted in losses to the teams closest to Cleveland for the East's worst record.

Following a 108-101 loss Monday in Washington, the Jazz (27-15) allowed seven New Jersey Nets to score in double figures in a 103-95 defeat Wednesday.

It was the fourth loss in five road games for Utah, which hasn't beaten a team with a winning record away from home since defeating Portland on Nov. 20.

"We look like we were lacking effort and our energy doesn't look good to me, even more so in the last couple of games," Sloan said. "Just doesn't seem like great enthusiasm to play."

Deron Williams had 20 points and 10 assists against New Jersey. He's averaging 24.5 points and 10.5 assists over his last four, but had trouble describing the recent struggles for the Jazz, who are tied with Oklahoma City atop the Northwest Division.

"It's just another bad loss," Williams said after Wednesday's defeat. "What else can I say?"

It could be very tough to get things turned around against the Celtics (32-9), who have a three-game lead atop the East and the conference's best home record at 20-3. Their record in Boston is 15-1 when Garnett plays.
Read the full preview
HERE
.
FORSBERG'S THREE THINGS TO WATCH
Williams

Rondo vs. Williams: Needs no real hype, right? Two of the best point guards in the league and two very different styles. In eight career games against Utah, Rondo boasts a 3-5 record (3-3 as a starter) and, as he goes, so go the Celtics. In last year's visit to Boston, Rondo connected on 7-of-11 shots for 14 points and 11 assists in the Celtics' 105-86 triumph. Out in Utah, he labored through 2-of-7 shooting for six points with six assists and four turnovers in a 110-97 loss. We all know Rondo loves these matchups and it should be fun to see what type of game he produces Friday.
Eyes on free throws: Talk about contrasting styles: The Celtics are one of the worst teams in the league at getting to the charity stripe; The Jazz are the team most likely to put an opponent on the line. Something's gotta give. Boston is 14-2 when it shoots 25 free throws or more in a game and Utah allows 28.3 free throw attempts per game.

Jefferson

Don't forget about the frontcourt: Old friend Al Jefferson returns for the first time in a Jazz uniform and he's averaging a modest 16.9 points and 8.8 rebounds per game this season. But don't forget about Paul Millsap, who put together a heck of a night on his last visit to Boston, connecting on 13-of-20 shots for 32 points with 10 rebounds, two blocks, and two steals over 40 minutes.