Boston Celtics:

2010Game43
January, 25, 2011
1/25/11
2:15
PM ET

(33-10, 21-3 home)
-- vs. --
(8-36, 3-22 away)

at TD Garden, 7:30 p.m. | CSN, WEEI (850 AM)
GAME PREVIEW (via Stats Inc.)
The Boston Celtics were embarrassed about blowing a double-digit lead in losing to a beatable team their last time out. Losing in any kind of fashion to their next opponent would be far worse.

The Celtics, who again expect to be without Shaquille O'Neal, look to get back on track Tuesday night against a Cleveland Cavaliers team that has just one victory since the end of November.

Boston (33-10) looked poised to win its sixth in a row Saturday, leading Washington by 16 points in the first quarter, but slowly fell apart and lost 85-83. Things got particularly ugly in the fourth quarter, as the Celtics missed 18 of 23 shots and finished with 11 points, a season low for any period.

"Let's just say that was the basketball gods punishing us for the way we played," coach Doc Rivers said.

They certainly shouldn't lose to Cleveland (8-36), which has dropped 17 straight and 27 of 28 since beating Memphis on Nov. 27. Despite the Cavaliers' epic struggles, the Celtics aren't about to overlook them, especially after losing in Cleveland 95-87 on Oct. 27.

"If we do (overlook them), then we'll lose," Rivers said.

The Celtics avenged their loss to the Cavaliers with a 106-87 victory Nov. 30, which started Cleveland's disastrous stretch. This will be the first -- and only -- meeting of the season in Boston, and that doesn't bode well for the Cavs. The Celtics are an East-best 21-3 at home, while Cleveland has dropped a team-record-tying 21 consecutive road games since winning at New Jersey on Nov. 9.

The Cavs returned to New Jersey on Monday, but fell 103-101. Cleveland led by as many as 12 points and had a chance for the win after Brook Lopez's go-ahead jumper with 1.4 seconds remaining, but Daniel Gibson's 3-point attempt missed at the buzzer.

"We have to keep playing hard and applying all the things we talked about at both ends of the floor," coach Byron Scott said. "We have to know it's going to work out for us, we're going to have a breakout game. Right now we're losing some of these battles but in the long run we'll hopefully win the war."
Read the full preview
HERE
.
FORSBERG'S THREE THINGS TO WATCH
Jamison

Poor Cleveland: Boston's letdown Saturday in Washington, combined with two days off, simply doesn't bode well for a battered and bruised Cleveland squad. We don't condone gambling, but the Las Vegas line on this game is Celtics by 17 points (seventeen!?). That's one point for each of the Cavaliers' consecutive losses (or each of Boston's championship banners). Yes, Boston typically plays down to competition, but it's hard to imagine them doing it again after the wakeup call they got in the nation's capital. If it goes as the oddsmakers suggest, the only question is how early Gino will be gyrating on the JumboTron.
Caution: Wet Paint: Celtics coach Doc Rivers scolded his team for being so jump-shot happy during the final three quarters of Saturday's loss to the Wizards. Even without Shaquille O'Neal (sore right hip), expect Boston to live in the paint Tuesday, putting an emphasis on passing up good-not-great looks on the perimeter for more high-percentage shots inside.

Rondo

Run, run, Rondo: The last time the Celtics played the Cavaliers, Rondo put up a season-high 17 shots, finishing with a season-high 23 points to go along with 12 assists and five rebounds over 38 minutes. In that game, 10 of Rondo's attempts came at the rim (and three more within 10 feet). Expect him to push the tempo and attack the rim when able.
January, 23, 2011
1/23/11
11:25
AM ET
By
Greg Payne
| ESPNBoston.com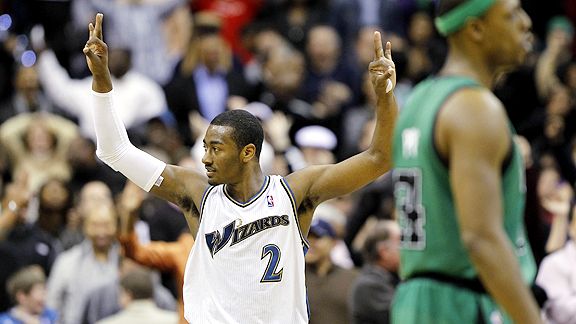 AP Photo/Alex BrandonJohn Wall and the Wizards toppled the East-leading Celtics on Saturday.
Maybe
Shaquille O'Neal
knew what was coming. After helping the Celtics to a closer-than-it-should-have-been 86-82 triumph over the
Detroit Pistons
on Wednesday, O'Neal spoke at length about the team's struggles against weaker opponents.
"[We] can't keep playing with people," O'Neal said. "Great teams stay dominant at home, really beat the teams they're supposed to beat, and stay above .500 on the road. We're supposed to beat [the Pistons] every time, but not by three, not by five, but [by double digits]. We can't keep playing with people. However, we're still learning each other, we're getting better every game.
"We just have to learn to put our foot on people's necks and kill 'em right away. We can't keep playing with people."
On Saturday night in the nation's capital, the Celtics played with people. Despite building a 15-point first-quarter lead against the host Wizards, Boston went cold from the floor, lost its aggressiveness and watched rookie
John Wall
bank in a key late-game 3-pointer to lift his 13-win team to an 85-83 triumph.
The Celtics' loss on Saturday marked the fifth time this season they've fallen to a club with a record below .500, which suggests they've had difficulty maintaining a high level of play for a full 48-minute span against inferior opponents.
January, 22, 2011
1/22/11
11:45
PM ET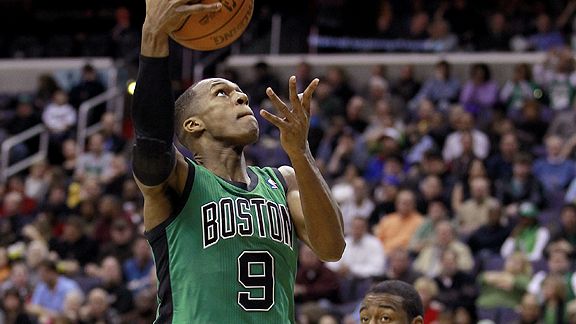 AP Photo/Alex BrandonRajon Rondo and the Celtics started strong, then faded quickly.
Rapid reaction after the
Washington Wizards
defeated the
Boston Celtics
85-83 Saturday night at the Verizon Center:
--
IN NEED OF A LITTLE CHARITY (STRIPE)
--
Forget for a moment Boston's putrid second-half shooting (12 of 41, 29.3 percent from the floor), the number that should absolutely leap off the stat sheet is how Boston attempted a mere two free throws over the final 24 minutes of Saturday's loss.
After
Paul Pierce
missed one of two freebies with 10:29 to play in the game, the Celtics didn't step to the stripe the rest of the night. Somehow, even while collecting four fourth-quarter offensive rebounds, and generating eight of their measly 11 fourth-quarter points in the paint, Boston couldn't draw another shooting foul.
Oh sure, Pierce probably deserved at least two more freebies (
Andray Blatche
clearly fell for Pierce's upfake
HERE
with 45 seconds to go and Boston down three). Regardless, the inability to get the free throw line -- a problem for Boston all season long -- suggested an unwillingness to drive or get dirty around the cylinder, something Boston needed in a jump-shot happy game.
For the season, Boston is averaging a mere 22.4 free throws per game, which ranks 26th in the NBA (by comparison, the league-leading Nuggets average 30.8 free throw attempts per game and those extra shots add up). Boston is 15-2 when it shoots 25 free throws or more this season. The fact that they've been held below 20 free throws in 13 games this season is mildly concerning and a 9-4 record in those games shows the impact of not generating easy points.
Celtic teams in the new Big Three era have never been big on free throw attempts, with the 2007-08 championship team averaging the most of the past four seasons at 26.5 free throw attempts per game. But that number is down to 22.4 this year and Boston could surely benefit from more free throw attempts.
Boston didn't help its cause Saturday by missing seven of the 18 free throws it attempted. The Celtics are shooting 75.5 percent from the free throw line this season, slightly below the NBA average (76.1 percent).
How rare is a team shooting just two second-half free throws?
According to ESPN Stats and Info, since the 1996-97 season, the Celtics have attempted just two second-half free throws on 11 occasions. It also occurred on Jan. 12, a win over the Kings, but Boston connected on 52.1 percent of its shots that night and a monster third quarter meant the Celtics could overcome the fact that they put up only 11 free throws total.
Boston couldn't overcome the lack of charity Saturday in D.C.
--
THE BASKETBALL GODS WERE ANGRY AT BOSTON'S EFFORT
--
Rivers and his players didn't hesitate to invoke the name of the basketball gods when discussing the team's uninspired play over the final 36 minutes of Saturday's loss. Boston blistered the field in the first quarter, shooting a sizzling 68.2 percent (15 of 22) to open a 15-point lead after 12 minutes. But unlike Friday night when Boston opened a similar 15-point, first-quarter cushion against the
Utah Jazz
, the Celtics never got to kick on the cruise control Saturday.
"I thought [our demise] started in the second quarter," Rivers told reporters in Washington. "We came out and played hard, got a big lead, then went showtime and I thought we deserved to lose.
January, 22, 2011
1/22/11
7:05
PM ET
As expected,
Shaquille O'Neal
did not travel to Washington for Saturday's game against the Wizards
due to a right hip injury
that forced him to sit out much of Friday's win over the
Utah Jazz
. Rookie
Semih Erden
, who made four starts last month in place of O'Neal, will rejoin the starting lineup for Saturday's game.
Rivers told reporters in Washington that, if the injury were something to be concerned about, he probably would have been told by the team's training staff. The coach said he's "just assuming that it's nothing that bad."
Rivers said he'll find out more when the team resumes practice Monday. The Celtics' next game is home against Cleveland on Tuesday. The Celtics are 8-1 in games that O'Neal has missed this season.
(Materials from the Associated Press were used).
January, 22, 2011
1/22/11
3:00
PM ET

(33-9, 12-6 away)
-- vs. --
(12-29, 12-9 home)

at Verizon Center, Washington D.C., 7 p.m. | CSN, WEEI (850 AM)
GAME PREVIEW (via Stats Inc.)
Just when the Boston Celtics feel they're getting healthy, they have another starter go down before opening a road-heavy stretch. A visit to the lowly Washington Wizards might soften the blow of being without Shaquille O'Neal.

With O'Neal out, the Celtics look to continue their dominance of the Wizards and extend their winning streak to six Saturday night. Boston (33-9) has overcome numerous injuries to key personnel to lead the Eastern Conference. The latest blow has O'Neal sidelined for at least one game with a sore right leg.

The 38-year-old center has already missed nine games this season with calf and knee injuries while coach Doc Rivers manages his playing time in an effort to preserve him for the playoffs. The Celtics are already without Kendrick Perkins and Jermaine O'Neal. Perkins hasn't returned after tearing knee ligaments during the NBA finals, and Jermaine O'Neal is out another month with an injured left knee.

"It's like a soap opera," said forward Kevin Garnett, who's averaging 17.0 points in three games after missing nine with a leg injury. "You've got to be ready on this team. You never know who's going to go down."

The Celtics, who are 8-1 without Shaquille O'Neal, lost him early Friday before easing to a 110-86 win over Utah, maintaining at least a 17-point lead the entire second half.

Semih Erden will likely start in place of the three-time NBA finals MVP after scoring a season-high 14 points while making all five field goals and adding seven rebounds and three steals against the Jazz.

Paul Pierce had 23 points and seven boards in a 114-83 rout of the Wizards (12-29) on Nov. 17, Boston's seventh win in the last eight meetings. The Celtics have won three in a row at the Verizon Center by an average of 15.6 points.

Rivers' team, however, has dropped three of five on the road after winning six in a row. Boston will get a chance to re-establish its success away from home by playing five of the next six as visitors.

The Wizards are looking to bounce back from Friday's 109-91 loss to Phoenix, halting their four-game home winning streak. They're 12-9 at home compared to 0-20 on the road and guard John Wall felt the latest effort was more accustomed to being the visitor.

"Oh, yeah, it felt like a road game. We didn't have no heart. We didn't have no fight. We just gave up pretty quickly," he said.

Wall has struggled in consecutive losses for Washington, making 7 of 24 shots to total 21 points. He missed the last meeting with Boston due to a foot injury.

While Wall has struggled, Nick Young has been red hot. The swingman is averaging 26.3 points while hitting 20 of 40 3-pointers the last six games, and scored 20 against the Celtics in November.
Read the full preview
HERE
.
FORSBERG'S THREE THINGS TO WATCH
Wall

Hitting the Wall: The Celtics get their first look at John Wall after the rookie guard sat out Washington's visit to Boston earlier this season. In his last three games, Wall is averaging 13.3 points and 14 assists per game. One night after the Rajon Rondo vs. Deron Williams matchup fizzled due to early foul trouble for Utah's star guard, will this point guard battle live up to the hype?
Give it away, now: The Celtics thrive when they value the ball and they'll need to do that Saturday night against a Wizards team that forces 16.4 turnovers (third best in the NBA) and 8.5 steals per game (also third best in the NBA). Ironically, Boston is 13-3 in games with 15 turnovers or more, though they did lose two of three games in which the turnover total was 19 or more.

Lewis

Stick with what works: The Celtics shot a staggering 65.8 percent from the floor in the first meeting, a 31-point triumph. The Wizards allow opponents to shoot an average of 47 percent (sixth worst in the league) and a Boston team that's lived above the 50-percent mark has a chance for more big numbers. That said, Boston doesn't want a track meet. It simply wants to take advantage of every possession. It should be interesting to see if Washington's blockbuster trade with Orlando, bringing in Rashard Lewis alters this matchup at all.