Boston Celtics:

2010Game46
January, 30, 2011
1/30/11
10:45
AM ET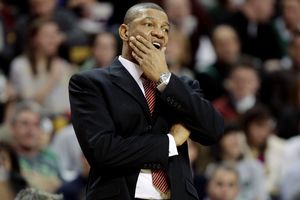 AP Photo/Stephan SavoiaDoc Rivers is $15,000 lighter in the wallet Sunday.
LOS ANGELES -- The NBA announced Sunday morning that Celtics coach Doc Rivers has been fined $15,000 for failing to leave the court in a timely manner following his ejection from Boston's 88-71 loss to the
Phoenix Suns
Friday.
With the Celtics trailing 40-25, Rivers was ejected late in the second quarter after arguing with referee Steve Javie during a timeout. Rivers was hit with one technical foul and kept arguing with Javie, pointing to the official and his head as he yelled across the court.
January, 29, 2011
1/29/11
8:05
PM ET
By
Greg Payne
| ESPNBoston.com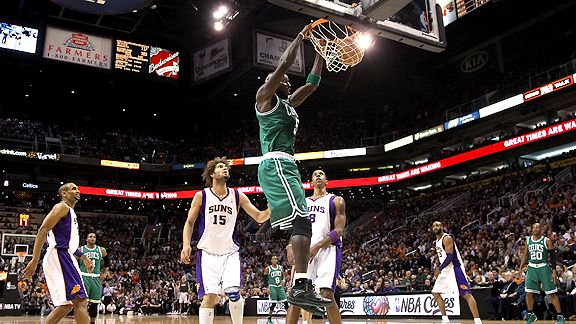 Christian Petersen/Getty ImagesThe Celtics needed a little bit more of this on Friday night ...
The circumstances certainly didn't favor the Celtics as they trekked to the US Airways Center for Friday's tilt with the high-octane
Phoenix Suns
. It was the second night of a back-to-back, and Boston had just vanquished a
Portland Trail Blazers
squad that had seemed more interested in delivering a beatdown than winning a basketball game. On top of that, the travel schedule wasn't ideal, as the Celtics had to change time zones as they embarked on a southeast trek to the desert, and didn't arrive until the wee hours of the morning.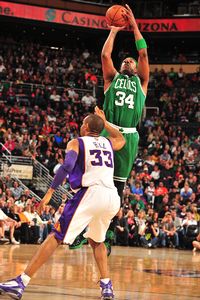 Barry Gossage/Getty Images... and a little less of this.
A fast start certainly would have been ideal for Boston. Instead, it stumbled out of the gate, dug itself a 14-point first-quarter hole, and never fully recovered, falling 88-71.
Sure, it was a tough situation, and coach Doc Rivers was understanding afterwards -- "We're human," he told reporters -- but he was also critical of his team's offense in the first quarter, as it became clear early on that his club was content to settle for jump shots, as opposed to making the somewhat porous Suns' defense work a little bit by attacking the basket.
The Celtics attempted 18 first-quarter field goals, and, according to ESPN's shot chart, only six of those 18 shots were attempted in the paint. Of the 12 field goals taken outside of the paint, Boston converted a mere three. For the quarter, the Celtics shot 7 of 18 (38.9 percent) and before the second quarter could even begin, the damage was done, as Boston found itself staring at a 30-16 deficit that it would not overcome for the remainder of the contest.
January, 29, 2011
1/29/11
7:25
PM ET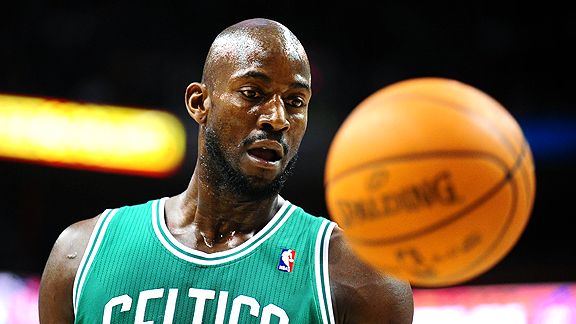 Mark J. Rebilas/US PresswireKevin Garnett will face no further punishment for Friday's dust-up vs. the Suns.
LOS ANGELES -- An NBA spokesman said Saturday night that only Doc Rivers' two technical fouls from the Celtics' loss to the
Phoenix Suns
on Friday night remain under review by the league, confirming that no further punishment will be issued to Boston as it prepares to visit the
Los Angeles Lakers
Sunday.
The Celtics were tagged with six technical fouls during Friday's 88-71 loss to the Suns and both Rivers and forward
Kevin Garnett
were ejected.
Nate Robinson
and
Kendrick Perkins
also registered technicals after a fourth-quarter dust-up between Garnett and Phoenix's
Channing Frye
.
Frye took exception to a low (but seemingly unintentional) blow from Garnett as he followed through on a 3-point attempt and, after landing on Garnett's foot and tumbling to the ground, Frye sprang back up and got into Garnett's face as Boston players and fill-in coach Lawrence Frank rushed to separate the players.
Garnett could have faced stiffer punishment, including suspension, if the league had deemed his actions intentional or harmful, but upon review, it appears the two technicals will simply stand. Garnett now has six technical fouls on the season.
January, 29, 2011
1/29/11
2:10
AM ET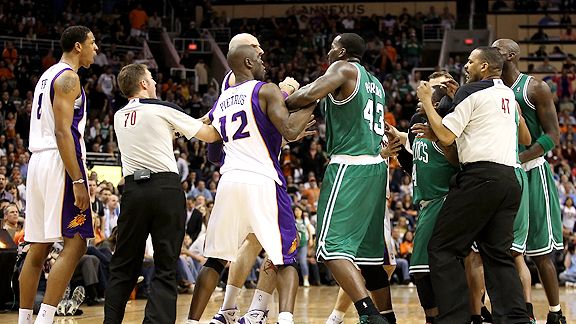 Christian Petersen/Getty ImagesTempers flared Friday night between the Celtics and Suns.
Rapid reaction after the
Phoenix Suns
defeated the
Boston Celtics
88-71 Friday night at the US Airways Center:
--
BURN THE GAME FILM, THEN BURY IT
--
If the Celtics had to do it all over again, they might just have steered the team plane directly to Los Angeles after Thursday's game in Portland, and forfeited Friday's debacle in Phoenix. Not only did Boston play awful, scoring a season-low 71 points on 34.2 percent shooting against one of the worst defenses in the league, but (in no particular order)...
Both coach Doc Rivers and
Kevin Garnett
were ejected; Boston earned a staggering six technical fouls overall;
Glen Davis
tweaked a hamstring and sat out the second half;
Shaquille O'Neal
picked up two fouls within the first 93 seconds and was limited in his first game back after sitting out three in a row with a sore hip; and
Marcin Gortat
(of all people) erupted for 11 of his career-high 19 points in the first quarter to stake Phoenix to an early 14-point cushion.
The Celtics did make a valiant charge in the fourth quarter, slicing an 18-point deficit in half before two dreadful possessions sucked the life out of the rally and a dust-up between Garnett and
Channing Frye
left the Suns shooting six consecutive free throws and fill-in coach Lawrence Frank emptying the Boston bench.
--
STEVE JAVIE IS NOT ON C'S CHRISTMAS CARD LIST
--
Rivers earned his first ejection of the season after referee Steve Javie tagged him with consecutive technical fouls late in the second quarter. After the game, Rivers used measured words to keep money in his wallet, but express his exasperation with the situation.
"Not sure," Rivers told reporters in Phoenix when asked what led to his first technical. "I didn't earn it. So you'll have to ask Mr. Javie."
Pressed, Rivers added, "[Javie] actually came into our huddle. We were standing there, he came up to us. I'll tell you exactly what was said. He said, 'You guys are complaining way too much.' And I said, 'Well, let's make the right calls.' And his answer back was, 'I'll make a call for you.' And that's how I got the tech."
Rivers could be seen on the broadcast chastising Javie, repeating, "It's all about you," and his mock clapping after the first technical led to Rivers' second infraction and his departure with Boston trailing 40-25 with 4:33 to play in the second quarter.
"I didn't have any choice words for him," Rivers told reporters. "I didn't say a word. I didn't even swear then. You know what I said? 'It's about the game. It's not about one individual.' That's all I said, over and over again. Whatever, it wasn't about that -- why we lost the game. We didn't play well, I thought they played well. It happens."
January, 29, 2011
1/29/11
1:05
AM ET
ESPN ScreenshotKevin Garnett reacts in disbelief after being ejected vs. Phoenix.
Like Celtics coach Doc Rivers before him, forward Kevin Garnett earned an early exit after being tagged with a pair of technical fouls and earning an automatic ejection with 4:07 remaining in regulation.
Tempers flared after Garnett caught Phoenix's Channing Frye with a low-blow trying to box out after an errant 3-pointer. Frye took exception and a scrum ensued as the two were separated (Boston players, including fill-in coach Lawrence Frank spilling off the bench to defuse the situation).
Garnett and Frye were hit with double technicals, but Garnett earned another technical and was ejected. Teammates Nate Robinson and Kendrick Perkins also got tagged with technicals after referees used video replay to assess the dust-up.
January, 28, 2011
1/28/11
11:35
PM ET
ESPN ScreenshotReferee Steve Javie ejects Doc Rivers from Friday's game.
Boston Celtics coach Doc Rivers earned consecutive technical fouls and was ejected from Friday's game against the Phoenix Suns.
With the Celtics down 15 with 4:33 remaining in the second quarter, Rivers appeared to voiced frustration about fouls called against his team and Javie assessed a technical during a timeout. When Rivers mockingly applauded the call and continued to bark, Javie tossed him from the game.
Rivers could be seen on the broadcast shouting, "It's all about you, it's all about you" at Javie.
Rivers might have simply been trying to light a fire under his listless team. Boston, playing the tail end of a back-to-back, came out sluggish and finished with a season-low 35 first-half points.
ESPN ScreenshotDoc Rivers returns to the locker room after being ejected.
January, 28, 2011
1/28/11
10:35
PM ET


Forward
Paul Pierce
and center
Shaquille O'Neal
were both in the starting lineup for the
Boston Celtics
Friday night against the
Phoenix Suns
.
Pierce suffered a right leg bruise in Thursday's win over the
Portland Trail Blazers
and was a gametime decision, but appears to have responded well overnight. O'Neal sat out the last three games with a sore right hip.
ESPN Screenshot
January, 28, 2011
1/28/11
3:05
PM ET

(35-10, 13-7 away)
-- vs. --
(20-24, 11-10 home)

US Airways Center, Phoenix, 10:30 p.m. | ESPN, WEEI (850 AM)
GAME PREVIEW (via Stats Inc.)
Rajon Rondo and Steve Nash are the top two assist leaders in the NBA. It's only Rondo and the Boston Celtics, though, who are among the top teams in the league. Nash and the Phoenix Suns aren't close.

Rondo looks to help the Celtics win consecutive road games for the first time in over a month when they face the struggling Suns in the continuation of this West Coast trip Friday night. Rondo leads the league with 12.7 assists per game, while Nash is second with 11.0 after finishing atop the NBA with the same average last season.

Nash, though, also leads the Suns (20-24) with a qualifying average of 17.3 points compared to Rondo's 10.6. However, Rondo's contributions are a big reason why the Celtics (35-10) lead the Eastern Conference by four games over Chicago and Miami. Phoenix is 11th in the West, 3 1/2 games back of Portland for the final playoff position.

The Celtics dropped both meetings to the Suns last season, losing 116-98 at Phoenix on Dec. 30, 2009, while Paul Pierce was sidelined with a knee injury. Pierce, Boston's leader with 19.0 points per game, is averaging 25.3 over his last 10 games at US Airways Center, but it's unclear if he'll play Friday. The swingman claims he's been bothered by a sore ankle hurt during Tuesday's win over Cleveland, and said he suffered a sore knee against the Blazers.

"We'll check it out and see how it feels," he said. "Hopefully by then it won't be too bad."

The Suns are trying to avoid matching their season-high four-game slide from last month. They lost their third in a row Wednesday, failing to score in the final 3:02 to fall 114-107 to Charlotte in the opener of this five-game homestand.

"We have to do better at finishing games," coach Alvin Gentry said. "The bottom line is that there was 1:17 to go and we never got possession of the ball on three missed shots."
Read the full preview
HERE
.
FORSBERG'S THREE THINGS TO WATCH
What's in the tank?: The Celtics are coming off an ultra-physical battle with the Blazers Thursday night. Captain Paul Pierce will see if his bruised leg responds well enough to play, while teammate Shaquille O'Neal could return to action after sitting out the last three games with a sore right hip. Even with Sunday's showdown against the Lakers looming, Boston can't get caught looking past a Suns team that's struggling, but not exactly downshifting their pace of play because of it.
Suns' alphabet: A,B,C, E: ... Because Phoenix doesn't play much D. In fact, the Suns are second only to the lowly Minnesota Timberwolves, allowing 107.9 points per game this season. That's a whopping 16.4 points per game more than Boston allows (91.5, 2nd in the NBA). Opponents are shooting 48 percent against the Suns (second worst in the NBA, behind only Toronto at 48.3 percent).
Pad those rebounding numbers: While the Suns are second only to Boston in field goal percentage (47.3), the frenetic pace means there's a lot of rebound opportunities for opponents and Phoenix gives up an average of 44 caroms per game. The Celtics must capitalize, particularly against a team that isn't great on the glass either (Phoenix ranks second to last in the NBA in total rebounds, ahead of only the Celtics).