Boston Celtics:

2010Game48
February, 2, 2011
2/02/11
12:00
PM ET
By
Greg Payne
| ESPNBoston.com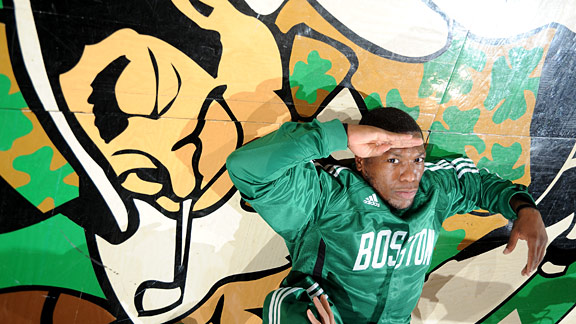 Brian Babineau/NBAE/Getty ImagesWatching Nate Robinson can be like riding a roller coaster, but he's had some ups on this road trip.
At this point,
Nate Robinson
serves as the ultimate test of patience for Celtics coach Doc Rivers.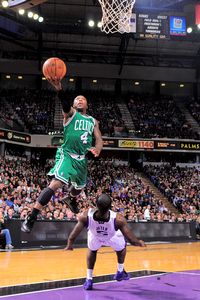 Rocky Widner/Getty ImagesNate Robinson drives, but Pooh Jeter is there to draw the foul.
Rivers watched as Robinson shot a mere 2 of 11 (0 of 7 on 3-pointers) in the Celtics' first two games of their just-concluded four-game Western Conference road swing, before seriously considering benching him Sunday against the
Los Angeles Lakers
. In the end, he elected to give Robinson a go, and his patience was rewarded, as the reserve guard broke out of his self-admitted shooting slump and rattled off 11 key points on 4-of-7 shooting in Boston's 109-96 victory.
Given Robinson's positive turnaround, it only made sense for Rivers to stick with him Tuesday night in the finale of the road trip against the
Sacramento Kings
. Yet leave it to Robinson to compartmentalize the woes and wonders of an entire trip into a single game. In the first half of the Celtics' eventual 95-90 victory over the Kings, Robinson very much resembled the helter-skelter guard who came up mostly empty against the Portland Trailblazers and the
Phoenix Suns
in back-to-back games last week.
Post-halftime Robinson, though, was very much like the one that took the Staples Center floor in Los Angeles on Sunday -- full of energy, and, at times, a critical game-changer.
February, 2, 2011
2/02/11
2:05
AM ET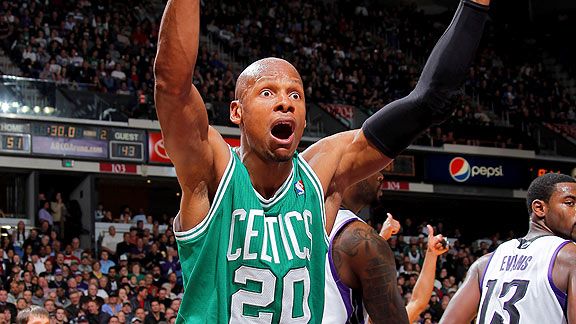 Rocky Widner/NBAE/Getty ImagesRay Allen is as surprised as anyone to find out the C's thrive when he scores 20 points or more.
Thoughts and analysis after the Boston Celtics defeated the Sacramento Kings 95-90 Tuesday night at ARCO Arena:
--
20 FOR 20 = A CELTICS WIN
--
The Celtics have all sorts of fun stats about when this team is successful. For instance, Boston is 10-1 this season when it scores between 90-99 points and it is 21-3 when it outrebounds an opponent (both of which it accomplished Tuesday).
But there is only one true stat this season that guarantees success: When
Ray Allen
scores 20 points or more
, the Celtics are 14-0.
On Tuesday, Allen connected on four 3-pointers while pouring in a team-high 22 points. He made 5-of-8 shots inside the arc, scoring 17 of his points in the odd quarters. Allen's 3-pointer off a hustle play that saw
Kevin Garnett
strip a ball-handler in the backcourt,
Rajon Rondo
chase down the loose ball, and Allen spot up for the key triple that put Boston out front, 65-64, with 3:54 to play in the third frame.
Allen's only points of the fourth quarter came on another trifecta, this one highlighted a 9-0 burst over less than a three-minute span and turned a tenuous one-point lead into a double-digit cushion with 5:49 to play.
--
PACK YOUR BAGS, CELTICS' COACHING STAFF
--
Comcast SportsNet ScreenshotDoc Rivers is headed to Los Angeles in late February.
After the final buzzer Tuesday, Celtics captain
Paul Pierce
walked over and embraced coach Doc Rivers. While Pierce was probably happy to have emerged from this four-game west coast trip with a 3-1 record, his sly smile also suggested he used the moment to remind Rivers that he's Los Angeles-bound for the NBA's 60th annual All-Star game.
With Tuesday's win, Boston improved to 37-11 and ensured it will have the best winning percentage in the East by the All-Star cutoff date of Feb. 6. Rivers, who utilizes much of his free time to jet around the country to watch his kids' athletic endeavors, probably didn't want to spend four days in Los Angeles for what amounts to a star-studded exhibition, but his star-laden roster could include as many as four Celtics reserves (non-starters are selected by coach's vote and will be unveiled later this week).
What's more, good friend and Spurs coach Gregg Popovich will coach the West All-Stars. Rivers also coached the East All-Stars during the 2008 game in New Orleans, before Boston went on to claim Banner 17.
February, 2, 2011
2/02/11
12:40
AM ET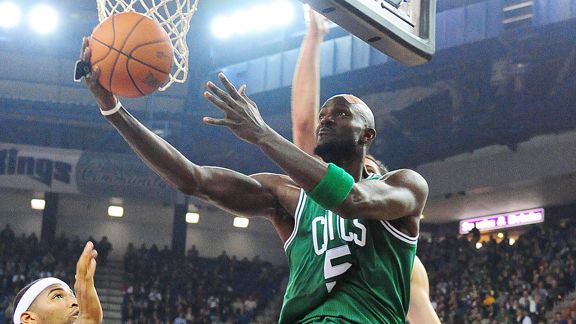 Kyle Terada/US PresswireKevin Garnett helped the Celtics crank up their intensity in Tuesday's win over Sacramento.
Rapid reaction after the
Boston Celtics
defeated the
Sacramento Kings
95-90 Tuesday night at ARCO Arena:


HOW THE GAME WAS WON
Ray Allen
splashed 4-of-7 trifectas, trimming his chase of
Reggie Miller
's career 3-point record to nine, while also spurring the Celtics with a game-high 22 points. Allen finished 9-of-15 shooting from the field overall, adding six rebounds and two assists over 36:56. An attack-mode
Rajon Rondo
added 17 points, 10 assists, and four steals in a game in which Boston leaned heavy on its starters.
DeMarcus Cousins
and
Tyreke Evans
chipped in 20 points apiece for Sacramento.
TURNING POINT
The Celtics trailed by nine coming out of halftime, but leaned on their starting unit's defense while erasing that deficit in the third quarter. Boston limited Sacramento to a mere two field goals over the first 7:38 of the frame, embarking on a 17-7 run during that span and a pair of
Kevin Garnett
free throws with 4:52 remaining in the quarter put the Celtics out front, 62-61.
STAT OF THE GAME
Kendrick Perkins
hauled in a game-high 10 rebounds over 24 minutes off the bench as the Celtics continued their recent trend of dominating the glass, finishing with a 43-36 edge over Sacramento.
UNSUNG HERO
Reserve guard
Nate Robinson
, equal parts frustrating and tantalizing, registered five steals, including three in the final frame as Boston's defense tightened up. Robinson took some ill-advised shots early on, but redeemed himself enough to play the entire fourth quarter and finish out the game as the team's primary ball-handler.
WHAT IT MEANS
The Celtics wrapped up a fairly daunting four-game road trip at 3-1. Considering the challenging scheduling and some quality opponents (even the Kings were playing inspired ball), to come away with three wins is quite the feat. The Celtics now get two days off (they'll need it given the weather woes that will prevent them from flying home after Tuesday's tilt) before Dallas visits to kick off a grueling home slate in the month of February.
February, 1, 2011
2/01/11
12:00
PM ET

(36-11, 14-8 away)
-- vs. --
(12-33, 7-17 home)

at ARCO Arena, Sacramento, 10 p.m. | CSN, WEEI (850 AM)
GAME PREVIEW (via Stats Inc.)
With Sacramento playing without star guard Tyreke Evans (sprained ankle), the Kings didn't have much luck guarding Boston's shooters when it visited TD Garden on Jan. 12. The Celtics shot 52.1 percent overall -- hitting a season-high 12 of 20 3-pointers -- in a 119-95 rout, their seventh consecutive win in the series.

Nate Robinson and Ray Allen hit four 3s apiece in that win. When Allen has hit three or more from beyond the arc -- as he did in scoring 21 against the Lakers on Sunday -- Boston is 19-1.

The Kings, however, seem to be making some defensive adjustments that weren't there when they saw the Celtics three weeks ago. They've allowed an average of 96.9 points in going 4-5 in their last nine games, 6.3 points fewer than they allowed in their first 36 games.

That improved defense has paid off as Sacramento has won consecutive games for the first time since Oct. 30-Nov. 1. The Kings held the Lakers to 41.3 percent shooting in a 100-95 road win Friday, then limited New Orleans to 43.2 percent in a 102-96 home victory Saturday.

"We've shown great strides in both focus and poise," coach Paul Westphal said. "We had some hard knocks early in the season, helping us deal with the bumps in the road."

If Sacramento plans on knocking off a third straight stellar opponent, it'll likely need DeMarcus Cousins to keep producing. The rookie center had 27 points against the Lakers, then had 25 points, 12 boards and a season-high seven assists versus the Hornets.

"[Cousins] is intelligent, he learns," Westphal said. "He's learning what works and what doesn't. He's changed some habits offensively."

The Kings will have Evans back to deal with Rajon Rondo in this meeting, but Cousins might have to do some extra work in the paint. Power forward Jason Thompson left Saturday's win with a sprained ankle and was in a walking boot after the game, leaving his status for Tuesday in doubt.
Read the full preview
HERE
.
FORSBERG'S THREE THINGS TO WATCH
Groundhog Day: It'll be Feb. 2 on the East Coast by the time the Celtics and Kings wrap up and Boston would be well served to avoid an all-too-familiar letdown against a sub-.500 team. Fortunately for the visitors, they had a day off following Sunday's emotional triumph over the Lakers and, with another two-day break looming after Tuesday's game, there's no real excuse for not bringing high energy. Need more motivation? Rapping up this four-game road trip at 3-1 simply sounds better than 2-2, and a daunting February home slate awaits.
Bow to the Kings: With back-to-back wins over the Hornets and Lakers, the Kings enter with a little momentum of their own that ought to have the Celtics' antennae up. Here's one thing the Celtics need to exploit: Even in those wins, the Kings remain dreadful in the mid-range game and are shooting a mere 36.3 percent there this season (second worst in the NBA, ahead of only the Clippers). Boston thrives on forcing teams to settle for those 16- to 23-foot jumpers.
Which Rondo appears?: Will the Celtics get the Rajon Rondo that struggled through the first 10 quarters of this road trip, or the Rondo that produced 15 assists and spearheaded the Boston offense in the second half of Sunday's win over L.A.? The Kings actually rank in the top 10 in the NBA in opponent's assist rate (a measure of possessions that end in an assist) and one of their keys will surely be limiting the damage that Rondo does as a distributor.