Boston Celtics:

2010Game5
November, 4, 2010
11/04/10
1:45
AM ET
BOSTON -- A collection of postgame notes after the
Boston Celtics
defeated the
Milwaukee Bucks
105-102 Wednesday night at TD Garden:
The rundown
(a quick look at postgame headlines)
* Rivers breaks his own rule, expects grief from players
* Fouls limit J.O'Neal, but he leaves his mark on win
* Loose balls: KG flips switches; Bogut on technical rules
--
RIVERS BREAKS HIS OWN RULE, EXPECTS GRIEF FROM PLAYERS
--
Celtics coach Doc Rivers broke his own rule about fourth-quarter technicals, getting T'd up by referee Ed Malloy with 11:40 to play in the fourth quarter of a one-point game.
You could make the case that the lone free throw that
Corey Maggette
made for the infraction added five extra minutes to his team's slate and nearly cost Boston a win, but the Celtics made far too many mental miscues to pinpoint one play. Regardless, Rivers expects grief when his team watches tape of the triumph.
Asked afterward if any players had called him out yet, Rivers smiled and said, "Not yet, but they will."
Jermaine O'Neal
picked up a questionable foul as
Andrew Bogut
buried a forearm into his chest trying to fight for position in the lane. Rivers got the technical soon after for yapping at Malloy and, making matters worse for Boston, the referee quickly tagged O'Neal with another foul -- his fifth of the game -- just six seconds after play resumed.
Semih Erden
checked in and needed just 11 seconds to get hit with a foul of his own. That made three fouls and one technical in the span of 17 seconds. Fortunately for Boston, its next defensive infraction didn't come until there was 6:24 to play in the frame, preventing Milwaukee from doing much damage in the bonus, and allowing Boston to rally out of a seven-point hole.
Despite the fouls (Boston finished with 29 infractions compared to Milwaukee's 24), poor defensive execution out of late timeouts, and even worse clock management in the final seconds of regulation, the Celtics still found a way to win the game.
"It was a lot of stuff," admitted Rivers. "Turnover, bad shot, supposed to call a timeout [but] didn't call a timeout. Came out of a timeout, two guys were on the wrong side of the floor. We had two bad switches where they scored one time, I thought, within like a half a second. I mean, we really worked at getting it to overtime, and we did. But we won the game, so we'll take the win. It gives coaches an opportunity to point stuff out, and so that's what I'll do."
And when his players see that fourth-quarter technical, they'll also point stuff out.
--
FOULS LIMIT J. O'NEAL, BUT HE LEAVES HIS MARK ON WIN
--
With
Shaquille O'Neal
(right knee bruise) sidelined for the second consecutive game, Jermaine O'Neal got another spin with the starting unit and, despite foul trouble, turned in another step-forward effort.
Jermaine O'Neal registered five points, seven rebounds, three blocked shots and an assist over 25:16 before fouling out early in the overtime session (this after replacing
Glen Davis
, who had already fouled out).
"I'm feeling OK," said O'Neal. "The role is kind of different every night and one thing I really concentrate on, no matter what, is defending, blocking shots and rebounding. Just adjusting into that role."
O'Neal's biggest contribution, at least offensively, came with 1:49 to play in the extra session, when he registered a tip-in to put Boston out front, 97-95. The Celtics never trailed again, leaning on
Paul Pierce
's free throws to emerge with the win.
What was Rivers thinking when two of his bigs fouled out and he was forced to go small by inserting
Marquis Daniels
into the lineup?
"Well, they're going to foul out. The way the game was going, it was going to happen," said Rivers. "I told our coaches that with two minutes left in the fourth quarter. I didn't think we were going to make it through that. And we had already decided to go with Marquis and put Paul at the four. I was actually going to do that at another point in the game, anyway. And it worked."
--
LOOSE BALLS: KG FLIPS SWITCHES; BOGUT ON TECHNICAL RULES
--
* Remember all that flipping of switches talk from last season. Did
Kevin Garnett
find a switch late in the fourth quarter Wednesday?
"I wouldn't say a switch, but it was a disgruntled game," explained Garnett. "The game had all kinds of valleys and peaks to it, advantages you are looking for, you take them, and I thought I had a couple advantages. ... Like last night when the bigs had an advantage, tonight I felt like Paul and Ray [Allen] had an advantage, and our job was to get them open, and I just saw a seam and took it, got a lot more aggressive in the fourth. I tend to try to take the pressure off those guys from a post standpoint, and that is all there was."
* Bogut and Garnett got tagged with double technicals late in regulation for a scuffle after Garnett produced one of two three-point plays. What does Bogut think of the new technical rules?
"It hasn't really affected me," he said. "Obviously, there are some quick triggers, but they're trying to be lenient and they talked to us about it. They've told us that they don't want to T guys up, but I think the fine line is when it has to be the same with everybody. That's when players respect the league more.
"I think that the frustrating thing is that guys are waiting to see if 'big dogs' will get the same call as the 'little dogs' as far as reactions go. So far, it looks OK, but when it's a playoff game and it's sold out … one guy already has a technical and it's late in the game … that's when you push what happens. For the most part I have no problem with it. It is a lot of money so I'll learn to keep my mouth shut, but it's my first one of the year. Hopefully I won't get any more."
November, 3, 2010
11/03/10
11:13
PM ET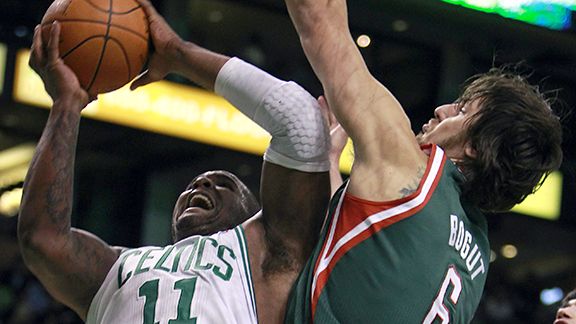 AP Photo/ Michael DwyerBoston's Glen Davis goes up for a layup against Milwaukee's Andrew Bogut.
BOSTON -- First impressions after the
Boston Celtics
defeated the
Milwaukee Bucks
105-102 in overtime Wednesday night at TD Garden:
HOW THE GAME WAS WON
Celtics captain
Paul Pierce
scored 12 of his team's 14 overtime points, including the 20,000th of his career, carrying a weary Celtics squad in the extra session. Looking tired on the second night of a back-to-back (though their opponent was playing its second game in as many nights as well), the Celtics sleepwalked through much of the first 45 minutes, but stuck close enough to make a charge late in regulation.
Kevin Garnett
scored six of his 13 points in the final three minutes of the fourth quarter, producing a pair of spirited and-1 buckets around the rim as Boston forced overtime, where Pierce took over.
TURNING POINT
The Celtics were down five with less than three minutes to play when Garnett put a turn-back-the-clock spin move on
Andrew Bogut
and delivered an emphatic one-handed jam (picking up the foul in the process). Tempers flared between the players with an amped Garnett slipping Bogut an elbow in the post-dunk fray and Bogut responding with a forearm shove to the chest. Double technicals were issued, but it only seemed to fire up Boston. Garnett produced another and-1 bucket, producing a layup with 1:50 to go, building a small cushion that the Celtics needed as Milwaukee rallied to force overtime.
STAT OF THE GAME
Pierce made all 11 of his free throw attempts on the night, including eight in the extra session.
UNSUNG HERO
Despite a somewhat sluggish start (three first-quarter turnovers; only one first-quarter assist),
Rajon Rondo
sparked Boston's offense throughout the night. His dashes to the rim were just about the only thing that kept the Celtics in the game early on and while he missed a potential winner at the end of regulation, he flirted with a triple-double finishing with 17 points, 15 assists and eight rebounds over 47 minutes.
WHAT IT MEANS
Overtime was the last thing the wobbly-legged Celtics needed, but a win is a win is a win. The Celtics didn't make it easy on themselves with poor game-management decisions or a lack of defensive stops in the fourth quarter, but they found a way to sneak one out, riding their captain when it mattered most.
November, 3, 2010
11/03/10
2:35
PM ET
Here are 10 facts and figures to keep in mind for Wednesday's Celtics vs. Bucks clash (ESPN, 8 p.m) at the TD Garden (information researched for ESPN by Elias Sports Bureau, Inc.):
1.
Rajon Rondo
had 17 assists in the Celtics' victory Tuesday in Detroit. It was the third time in four games this season that he's been credited with at least that many assists. Rondo's 67 assists are an NBA record by one player through his first four games of a season. He broke the mark of 65 assists previously shared by Magic Johnson (in the fall of 1988) and
John Stockton
(the following year). Johnson and Stockton still share the NBA record for most assists through the first five games of a season (81 each).

Rondo
2. It's not only Rondo who's piling up the assists for Boston. The Celtics have registered assists on 76 percent of their field goals this season, compared to an NBA average of 57 percent. Boston has been credited with assists on all but one of its 3-point field goals (22 of 23).
Paul Pierce
had an unassisted 3-pointer vs. Detroit.
3. Rajon Rondo has led the Celtics in assists (tied or outright) in each of Boston's last eight games against the Bucks. That ties him with Dennis Johnson (1986-88) for the longest such streak by Boston player in the history of this rivalry.

4. The Bucks jumped off to a 14–2 lead against the Trail Blazers at Bradley Center Tuesday night before dropping a 90–76 decision. With that defeat, the Bucks matched the number of home losses they had all last season in games they led by 12 or more points. (Last Nov. 28, Orlando overcame a 17-point deficit to win at Milwaukee, 100–98.)
5.
Brandon Jennings
leads NBA sophomores in minutes played this season, but three second-year players have higher scoring averages than Jennings, who is averaging 14.3 points per game.
Tyreke Evans
(20.7),
Stephen Curry
(20.5) and
DeMar DeRozan
(15.7) have higher averages.

Delfino
6.
Carlos Delfino
scored 11 points in the first quarter of Tuesday's game. It was two points shy of Delfino's single-game high for first-period points (13 first-quarter points twice in his career).
7.
Andrew Bogut
has four go-ahead baskets this season (either from the floor or from the free-throw line). The only starting center with more go-ahead buckets this season than Bogut is
Roy Hibbert
(seven).

8. The all-time series between the Celtics and Bucks is tied at 91 wins apiece. Only two other pairs of current NBA franchises that have faced each other as often as these two teams are deadlocked in their all-time series against each other: the Royals/Kings vs. the Warriors (179 wins each), and the SuperSonics/Thunder vs. the Trail Blazers (100 wins each).
9. The Celtics won their first five games against Milwaukee (all in 1968) but the Bucks evened their all-time series against Boston at 6–6 before the end of the 1969–70 season (Lew Alcindor's rookie campaign). The all-time series has been tied 18 times.
10. Both the Bucks (at home against the Trail Blazers) and Celtics (at Detroit) played Tuesday night. The Bucks are scheduled to play 23 pairs of games on consecutive days this season, tying them with the Hawks and Bulls for the most sets of back-to-back games in the NBA. There's a wide discrepancy between the teams with the most and fewest pairs of games on consecutive days. The Lakers are scheduled to play on back-to-back days only 15 times this season (NBA low). Last season, the Bucks posted the NBA's third-best record in the second of "back-to-back" games (14–8, .636). The only teams with better marks in such games than Milwaukee were the Trail Blazers (15–4, .789) and Lakers (13–7, .650). The Celtics' 11–7 (.611) record tied them with the Cavaliers for fourth-best in the league.
November, 3, 2010
11/03/10
10:00
AM ET

(3-1)
-- vs. --
(1-3)

at TD Garden, 8 p.m. | ESPN, WEEI (850 AM)
GAME PREVIEW (via Stats Inc.)
Rajon Rondo elects to set up his teammates for scoring chances instead of himself. It's providing the Boston Celtics with another strong start.
The All-Star point guard seeks an encore for a near-flawless performance when the Celtics host the sputtering Milwaukee Bucks on Wednesday night.
Through four games, Rondo is averaging 16.8 assists and has an assist-to-turnover ratio of better than 4 to 1.
"He just knows the game, knows the spots and knows how to get guys the ball and where to get them," Paul Pierce told the Celtics' official website. "He is just being a great floor general out there."
Rondo was superb in a 109-86 win over Detroit on Tuesday, finishing with 17 assists and no turnovers while scoring nine points with four steals. That effort came after he put up a triple-double with a career-high 24 assists, 10 points and 10 rebounds in a 105-101 win over New York on Friday.
"He's unbelievable. He played the perfect floor game," Pierce said after scoring 21 points Tuesday night. "He had 17 assists and no turnovers. You can't get any better than that."
Pierce and Rondo have the Celtics (3-1) off to another hot start. They're 45-9 during the first two months of the four seasons.
Rondo could be in for another big night against the Bucks (1-3). He averaged 16.8 points and 11.0 assists as the teams split four meetings last season.
Read the full preview
HERE
.
FORSBERG'S THREE THINGS TO WATCH
Young Bucks: The Celtics played their starters longer minutes than they might have liked Tuesday in Detroit, but Boston catches a slight break as the Bucks will also be coming off a back-to-back after losing to visiting Portland Tuesday. What's more, Milwaukee has come out of the gates slow, averaging a mere 87.5 points per game and Boston can lean on its defense should it find its legs weary. Yet again, the bench will be crucial in Boston's success and must not only eat minutes, but help stretch the game open when on the floor.
Pierce & the 20,000-point plateau: Pierce is seeking to become the 36th player in NBA history (40th if you sprinkle in the ABA numbers) to reach 20,000 points. He needs 23 points to reach the mark and would, ironically, become merely the fourth player on this Celtics' roster to reach the milestone as Shaquille O'Neal (5th all-time; 28,281 points), Kevin Garnett (22nd; 22,332), and Ray Allen (28th; 21,025) are already there. Larry Bird (25th; 21,791), Gary Payton (24th; 21,813), Robert Parish (19th; 23,334), John Havlicek (11th; 26,395), and Dominique Wilkins (10th, 26,668) are among former Celtics to reach the plateau.
Can J.O'Neal keep it going?: Limited by injuries and with the potential for the Celtics to again be without Shaquille O'Neal (day-to-day; right knee bruise), Jermaine O'Neal will once again be leaned on to sturdy that center position. He started to find his rhythm in Detroit, but how will his body -- deprived of full conditioning by missing parts of training camp and the regular season due to injuries -- handle the grind of back-to-back nights?
Coverage plan
: Joined by colleague Peter May, we'll be live at the Garden, providing updates throughout the night.