Boston Celtics:

2010Game51
February, 10, 2011
2/10/11
8:40
PM ET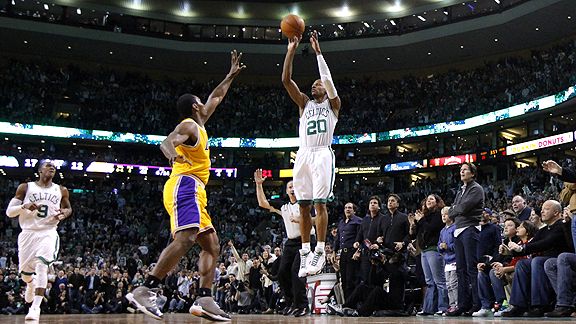 David Butler II/US PresswireIt was a record night for Ray Allen.
BOSTON -- With a pair of first-quarter 3-pointers,
Boston Celtics
guard
Ray Allen
matched and eclipsed
Reggie Miller
's NBA record of 2,560 career 3-pointers Thursday night against the
Los Angeles Lakers
.
Allen took a feed from Garnett and got off the record-tying shot before
Derek Fisher
could rush out to defend with 4:13 remaining in the first frame. Allen nearly assumed sole possession of the record a moment later in transition, but a 3-point from the left side of the arc wouldn't fall.
A short time later, he buried No. 2,561 from nearly the same spot as the tying shot. Allen got a wide-open look and buried the triple to establish the new NBA mark with 1:48 to go in the first quarter.
Between the quarters, the moment was recognized in the arena and the crowd serenaded Allen with a prolonged standing ovation. After acknowledging the crowd, Allen went over to greet Miller, sitting courtside as an analyst for TNT, before greeting his mother, Flo, and his wife and children.
Allen entered Thursday's tilt one triple shy of catching Miller. His first 3-point attempt -- a bomb from the corner opposite the Celtics' bench -- rattled out as the crowd groaned in anticipation of the moment.
Before the game, Allen admitted he didn't sleep well on the eve of the milestone moment.
"I didn't sleep extremely well last night, and I didn't expect it," said Allen "I got into trying to talk about shoes, just dealing with everything that was going on today and making sure that everything was together. I didn't sleep extremely well, but during the day I slept well. But, last night, it's just like a little kid. The game itself is big enough. Being on the precipice of breaking this record takes you to another level. I saw Reggie earlier and it's like so surreal because I know Reggie and he's been here many games, but now, being here, in this moment, and being able to say this moment is before us, it seems pretty overwhelming."
For his part, Miller offered nothing but kind words towards Allen before tip-off.
"He just told me he was proud of me and he was excited for me," said Allen. "He said he was glad that he could be here for this moment and it's just so serendipitous that it happened the way it happened. For us to be sitting here, Reggie's in the building, and he's in the building able to work the game."
Lakers superstar
Kobe Bryant
, part of the same draft class at Allen, marveled at the accomplishment.
"I think it's pretty awesome that he and I have been in the league so long and we're still playing at a high level," said Bryant. "I take a lot of pride and honor in watching him perform, being that we came [into the league] in '96 and probably me, him and -- who else? [Steve] Nash -- are really the only ones that are still going at a high level.
"[Allen's jump shot is] right at the top [of the all-time best]. It's pure, it's pure. In the game today, you got to put [Dirk] Nowitzki up there in terms of just having a beautiful stroke, but Ray's is water, man. It's water."
On the cusp of the milestone Monday in Charlotte, Allen admitted to being aware of how monumental the moment would be. That the clinching 3-pointer -- and the one that pushed him ahead of Miller -- would be encapsulated maybe more so than the 2,558 others that got him to that point.
"It's one shot of many," Allen said of the record-breaker. "But it ends up being one shot that stands alone."
Allen entered the 2010-11 season 116 3-pointers shy of the record and, given his that he only hit 145 while struggling at times last season, he didn't even consider it a lock that he'd get the record this season. But Allen is shooting a career bests at 50.7 percent from the floor and 46.2 percent from beyond the 3-point arc and suddenly he was on the cusp of the record.
"It just seems like it happened so fast," Allen said. "When I got to the start of the season, it was somewhat painstaking because I had -- I don't know what it was, 120, 130 3's away -- and I was like, 'I could do it this season, or I could do it next season.' And it just went by so fast. You look up and I'm at 90, then 50, then 30. You look up, it's February and the season's gone by pretty quick. But it's just happened. I'm sitting here thinking I'm right at four now, it just happened. It's like I blinked. It didn't seem like anything, just play regular basketball, do your job and -- 'Voila!' -- you're sitting here. That's pretty much how my whole career has been."
February, 10, 2011
2/10/11
12:45
AM ET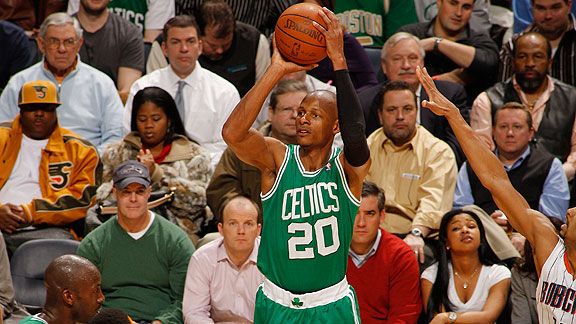 Kent Smith/NBAE/Getty ImagesDid Ray Allen purposely wait for Thursday's game to break Reggie Miller's record?
After the Bobcats topped the Celtics on Monday night in Charlotte, a local reporter asked
Ray Allen
about what the hosts did to neutralize his 3-point shot. Allen thought for a moment before deadpanning, "I was 2 for 2."
For a player that is averaging nearly five 3-point attempts per game this season (and six 3-point attempts for his career), it was that low number of attempts that raised some eyebrows. Not since 1998 had Allen had a game in which he attempted 17 field goals or more and only two were 3-pointers. During Monday's loss, Allen pulled within one triple of tying
Reggie Miller
's career record of 2,560 3-pointers, but never seemingly got a quality chance to reach the milestone in Charlotte.
Here's what we know: Allen hoisted 11 jumpers in the mid-range (16-to-23 feet), most coming a step or two inside the arc. It was the most shots he's attempted in the mid-range this season (and only once has he taken more than six shots there in a game, shooting 10 in a win over San Antonio in early January).
The Bobcats had said before the game that they didn't want Allen to break the record against them, so it stands to reason they were trying to take away the 3-point line, particularly after he splashed his second of the night in the third quarter. But the lack of attempts is still curious.
Even casual observers couldn't help but admit that Thursday was the perfect stage for the milestone moment given a nationally televised game against the
Los Angeles Lakers
. What's more, Miller is set to be present as a TV analyst for TNT.
Before Monday's game, Allen talked about how that one shot that breaks the record is forever frozen in time and becomes the signature highlight. Clearly, it would mean more to have that moment occur on his home turf, in front of his family and friends, and against a chief rival.
"It's one shot of many," said Allen. "But it ends up being one shot that stands alone."
In fairness to Allen, the Celtics drew up a late-game screen play designed to get him a 3-point look with Charlotte on top 90-87 with little more than 30 seconds to go. A missed screen by
Glen Davis
prevented Allen from getting an open look and the play broke down (
Paul Pierce
's layup attempt rolling out as the Bobcats all but secured the win). If he was trying to save the record for Boston, it wasn't going to come at the expense of losing a game.
Regardless, the stage is now set and Allen admitted at Wednesday's practice, it all worked out well.
"It seems like it doesn't matter, but I think about baseball when the guy says, 'Well, he didn't hit a home run off of me,'" explained Allen. "But the guy, whoever gave up the home run in the World Series or whatever it is, you always think, 'You don't want to be that guy that gave it up.' When it happens, so many people come into play because it's the guy who's announcing the game, whose voice is going to be heard forever. You've got the person who makes the pass, so I'm sure I'll be getting the ball passed to me a lot [Thursday]. It's not like I haven't been, but it definitely makes it special to be against the Lakers."
February, 8, 2011
2/08/11
8:15
AM ET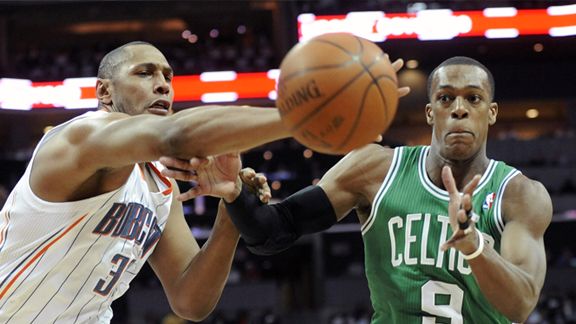 Sam Sharpe/US PresswireRajon Rondo and the Celtics were frustrated by a pesky Charlotte squad.
CHARLOTTE, N.C. -- Everything you need to know after the Charlotte Bobcats defeated the Boston Celtics 94-89 Monday night at Time Warner Cable Arena:

Rapid Reaction | Game Recap | Box Score
--
CELTICS LACK FINISH IN BACK-TO-BACKS
--
The good news for the Boston Celtics: They don't play back-to-backs in the postseason. The bad news: To get the lofty seed they covet in the second season, Boston has to figure out how to reverse its fortunes when the schedule calls for games on consecutive nights. Playing their 13th back-to-back of the season, the Celtics dropped to 6-7 on the back ends, including a head-shaking 2-7 record on the road.
--
POSTGAME NOTES: DOC DEFENDS KG FROM CRITICS
--
With Spike Lee the latest to stand up on his soap box and publicly condemn Kevin Garnett for his on-court behavior, joining a line that grows deeper each day with opposing coaches, players and a slew of national pundits, Celtics coach Doc Rivers jumped to the defense of his star forward before Monday's game against the Bobcats. "That means he's on their mind, that's fine by me," Rivers said. "Kevin does nothing wrong, he plays the game the right way. I think all these people that call him out would take him on their team right now. Other than that, I could care less about that stuff."
--
PREGAME NOTES: ERDEN THE LATEST BITTEN BY INJURY BUG
--
Another day, another injury for the Celtics. Reserve center Semih Erden sat out Monday's game with a right adductor strain, which means the Celtics are down a total of five players, including Marquis Daniels (bruised spinal cord), Jermaine O'Neal (left knee surgery), Shaquille O'Neal (sore right leg) and Delonte West (fractured right wrist).
February, 7, 2011
2/07/11
11:25
PM ET
CHARLOTTE -- A collection of postgame news and notes after the
Charlotte Bobcats
defeated the
Boston Celtics
94-89 Monday night at Time Warner Cable Arena:
With Spike Lee the latest to
stand up on his soap box
and publicly condemn
Kevin Garnett
for his on-court behavior, joining a line that grows deeper each day with opposing coaches, players and a slew of national pundits, Celtics coach Doc Rivers jumped to the defense of his star forward before Monday's game against the Bobcats.
"That means he's on their mind, that's fine by me," Rivers said. "Kevin does nothing wrong, he plays the game the right way. I think all these people that call him out would take him on their team right now. Other than that, I could care less about that stuff."
Lee, a Knicks superfan,
told ESPNNewYork.com
that Garnett cursed him out "for no reason" during Boston's visit to Madison Square Garden on Dec. 15 and suggested that Garnett "needs to calm the [expletive] down."
Suns coach Alvin Gentry went on the radio last week and suggested he's lost respect for Garnett due to his antics, which included tapping
Channing Frye
below the belt as he released a 3-pointer (Garnett was ejected amidst the ensuing dust-up). Lakers coach Phil Jackson jabbed Garnett about the low blow soon after.
Rivers said he was unaware of Gentry's comments, but also brushed them off.
"Actually, I didn't know Alvin said anything," Rivers said. "I'll just let Alvin talk. He seems to do that well."
Garnett picked up his team-leading eighth technical foul of the season Monday night for shoving Charlotte's
Gerald Henderson
less than a minute into the second half.
Eduardo Najera
told reporters that Garnett elbowed him in the face near the end of the game, but said he told Garnett "he hits like my grandma."
Rivers noted that the anger directed at Garnett could be traced to Boston's success.
"[The criticism] says that our team is pretty good," Rivers said. "When they were bad in Minnesota, you heard nothing. So that's all it is. Kevin's not going to change. Kevin's a terrific player, he plays the right way. I think all coaches would love their players to play like Kevin Garnett, to be like Kevin Garnett, and act like Kevin Garnett. I don't worry about it."
February, 7, 2011
2/07/11
9:34
PM ET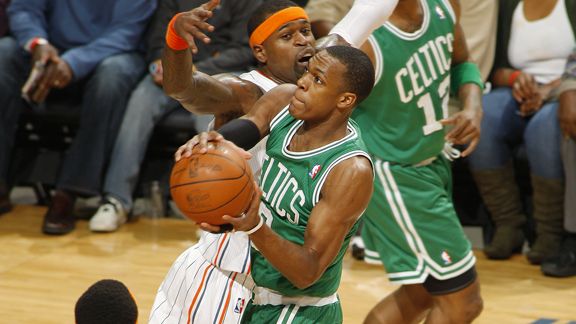 Kent Smith/NBAE/Getty ImagesRajon Rondo kept up his aggression driving to the rim vs. the Bobcats.
CHARLOTTE -- Rapid reaction after the Charlotte Bobcats defeated the Boston Celtics 94-89 Monday night at Time Warner Cable Arena:


HOW THE GAME WAS WON
Playing much of the night without star Stephen Jackson (ejected after receiving two technicals for barking at officials during the second quarter), Charlotte got 44 points from its bench, highlighted by 15 points from Gerald Henderson and 18 more from Shaun Livingston. For Boston, Ray Allen scored a team-high 25 points on 9-of-17 shooting, hitting a pair of 3-pointers to move within one triple of tying Reggie Miller's NBA record of 2,560 career 3-pointers.
TURNING POINT
Livingston's 13-foot jumper with 4:26 to play put the Bobcats out front by a pair and, at the other end of the floor, Eduardo Najera knocked the ball from Kevin Garnett's hands. Paul Pierce then was forced to foul Gerald Wallace in transition (a hard foul that the home crowd thought was a flagrant). Wallace missed the second of a pair of freebies, keeping it a one-possession game, but the Bobcats continued to keep Boston at arm's length and Najera drilled a monster 3-pointer with 1:57 to go to make it a six-point cushion.
STAT OF THE GAME
The undermanned Celtics were manhandled on the glass, Charlotte finishing with a 50-36 edge in rebounds.
UNSUNG HERO
Najera proved to be a real thorn in Boston's side, providing key defense late in the game and adding the timely 3-pointer. He finished plus-9 in the plus/minus category.
WHAT IT MEANS
In theory, the Celtics' tilt with the Bobcats on Monday was supposed to be the easiest game of a grueling two-week stretch that features four of the NBA's top teams visiting Boston (Lakers, Heat, Magic and Mavericks). The Bobcats, who entered eight games under .500, were supposed to be a respite from the league's iron. But a shorthanded Celtics squad, coming off a nationally televised battle with the rival Magic on Sunday, simply didn't have enough gas to get through. This is the 13th back-to-back for Boston this season and the Celtics are a near-flawless 12-1 on the front end (falling only in Toronto on Nov. 21). But with Monday's loss, the Celtics are a mere 2-7 on the back end of games played on the road (falling to Cleveland, Dallas, Chicago, Washington, Phoenix and Charlotte). What's more, one of those tail end road wins came in Philadelphia, where the Celtics needed a last-second alley-oop from Rajon Rondo to Garnett to escape with the win.
February, 7, 2011
2/07/11
4:30
PM ET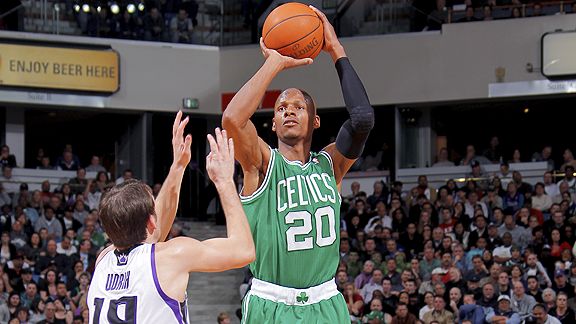 Rocky Widner/NBAE/Getty ImagesRay Allen needs three 3-pointers Monday to tie Reggie Miller's record.
CHARLOTTE -- Celtics guard
Ray Allen
needs a trio of 3-pointers Monday night against the Bobcats to tie
Reggie Miller
's NBA record of 2,560 career 3-pointers. Will the record be matched (or even fall) in Charlotte? Past history suggest Allen is going to at least give himself a chance.
In eight career games here, Allen is averaging 20.9 points and chucking an average of 7.3 triples per game. He's made 2.8 trifectas per game in Charlotte, which means an average night is likely to at least etch his name on the same line as Miller in the record books Monday.
There's a sentiment among some fans that it would add to the moment if Allen breaks the record Thursday night in Boston when the
Los Angeles Lakers
visit the TD Garden. But Allen isn't the type to alter his routine in order to steer the moment toward a certain date.
"I think everybody knows, but there's a sense of me getting sidetracked if you worry about it, because you feel like you've got to shoot it from beyond the arc," Allen said last week. "I don't want to press, I don't want to step outside of what we're trying to do here, and just continue to be who I am and do what I've been doing this whole time. I know it. I know it's in the back of my mind. I know it's there, but this is me being here, being where I am, I'm here because of the preparation I've put in my whole career, so I just stick to that and let it carry me the rest of the way."
Even with that pressure, Allen said he's savoring the pursuit of a new NBA milestone.
"No, I truly am enjoying it," Allen said. "This is a moment that I've never experienced before. I don't know how many people can experience this type of moment. We're playing a team sport, but there's the individual element that is associated with me right now [and] as much as I've always been very into the team, it's something that everybody is pointing at me, like, 'You need to keep doing this, you need to do that.' It's all a testimony to the guys that can stay around for a long time, because, you get 20,000 points, however many minutes, whatever it may be, but longevity produces greatness in any sport."
February, 7, 2011
2/07/11
3:55
PM ET
By
Greg Payne
| ESPNBoston.com

(38-12, 15-8 away)
-- vs. --
(21-29, 12-13 home)

at Time Warner Cable Arena, 7 p.m. | CSN, WEEI (850 AM)
PAYNE'S THREE THINGS TO WATCH
Beware the trap game: The Celtics have struggled at times this season maintaining the right level of intensity against sub .500 teams on the road. With tonight's game against the 21-29 Bobcats sandwiched in between yesterday's showdown with the Orlando Magic and Thursday's rematch with the Los Angeles Lakers, will the Celtics have the right amount of focus to avoid another uninspiring loss like the ones they suffered earlier in the season to the Cleveland Cavaliers and the Washington Wizards?
Ray closing in: After knocking down two 3-pointers against the Orlando Magic on Sunday, Ray Allen finds himself three triples away from tying (and four from surpassing) Reggie Miller's record for most career 3-pointers made. Allen has made three or more trifectas 22 times this season and has made at least four or more seven times. In 16 games against Charlotte in his career, Allen has shot 42.6 percent from three-point nation. Since he's been a member of the Celtics, Allen's shot 43.6 percent from distance against the Bobcats. In two games against Charlotte this season, Allen's made six of the 10 3-pointers he's attempted (60 percent).
Containing Jackson: The Bobcats are just 1-4 in their last five games overall, despite Stephen Jackson's increased scoring output. Jackson's led the Bobcats in scoring all season with an average of 18.9 points per game, but he's upped that figure to 23.8 points per game over his last five games -- a stretch that includes a 39-point outing against the Detroit Pistons on February 2. With Ray Allen so close to the three-point record, most of the attention being paid to him will come on the offensive end tonight, but he needs to be conscious of Jackson on the defensive end, in order to stop him from going off and giving the Bobcats a chance to steal a victory. The good news: In two games against the Celtics this season, Jackson's averaged a pedestrian 13 points per game on 37.9 percent shooting from the field.
GAME PREVIEW (via Stats Inc.)
Boston's Ray Allen has made a living off the 3-point shot since his professional career began 15 years ago. With just four more made 3-pointers, he'll be the NBA's all-time leader.

Allen looks to move to the top of the all-time list and help the Eastern Conference-leading Celtics defeat the Bobcats for a seventh straight time when the teams meet in Charlotte on Monday night. Allen made 2 of 4 3-point attempts in Sunday's 91-80 win over Orlando to move within three of the NBA record. Reggie Miller, who retired in 2005, holds the mark with 2,560.

"This is a moment that I've never experienced before," Allen said after Friday's 101-97 loss to Dallas. "I don't know how many people can experience this type of moment."