Boston Celtics:

2010Game55
February, 23, 2011
2/23/11
4:30
PM ET
By
Greg Payne
| ESPNBoston.com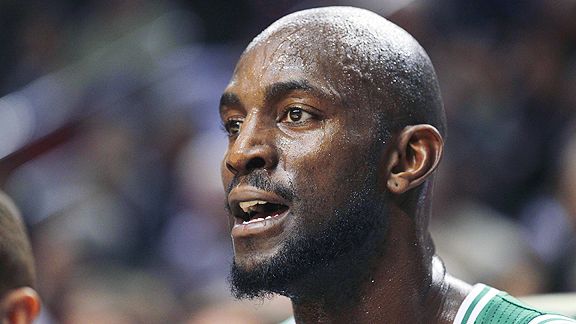 AP Photo/Rick BowmerKevin Garnett is aware that he needs to be more selfish with the ball.
Kevin Garnett
is most often lauded for his value to the Celtics on the defensive end of the floor, and for good reason. Without Garnett anchoring the middle, Boston will not win another championship.
What gets lost in the shuffle of that praise, though, is just how valuable Garnett can be to the Celtics at the other end of the court. The man who took home the Defensive Player of the Year award during his first season as a Celtic is also a member of the NBA's exclusive 20,000 career point club. But Garnett is a self-proclaimed team guy, and despite his obvious talents on the offensive end of the floor, he's always been willing to defer to his teammates over the course of his career.
That mindset still exists for Garnett today, but in an interesting twist, his current teammates simply aren't as interested in his willingness to share the ball. Instead, the likes of
Rajon Rondo
,
Paul Pierce
, and
Ray Allen
have all demanded that Garnett be more selfish with the rock, since an aggressive Garnett on offense typically spells out good things for Boston. Take Tuesday night for example, when Garnett posted a team-high 24 points on 11-of-16 shooting as the Celtics defeated the
Golden State Warriors
, 115-93, marking their first victory in Oracle Arena in seven tries.
"We told [Garnett] before the game, 'Early offense and we're going to you every single time we can,'" said Celtics coach Doc Rivers told reporters after the victory. "We thought that was an advantage for us. It was funny, our guys, they were on him. They kept telling him to shoot. You know Kevin, he takes two in a row, he'll pass the next three times, and so they just kept saying, 'Go. Keep going,' and it was great to see him do that."
February, 23, 2011
2/23/11
11:00
AM ET
Comcast SportsNet ScreenshotKendrick Perkins injured his left knee during this collision with Stephen Curry Tuesday.
A quick update on Kendrick Perkins' knee injury after watching the tape again this morning (and with the keen eyes of Brian Robb of our TrueHoop partner,
CelticsHub
): Perkins appeared to injure the knee when he collided with Golden State's Stephen Curry trying to set a screen to spring Ray Allen early in the third quarter.
Perkins' left knee bumps with Curry's leg as he tries to force the speedy defender to go wide to catch up with Allen. Perkins immediately grabbed at the knee, but stayed in the game until a timeout following a Boston made basket.
Click
HERE
to read more on Perkins' injury.
Comcast SportsNet ScreenshotKendrick Perkins grabs at his left knee after a collision with Stephen Curry.
February, 23, 2011
2/23/11
2:05
AM ET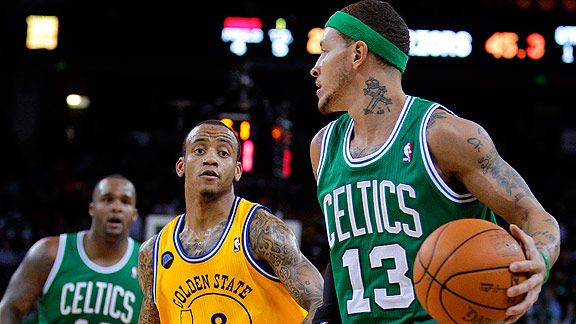 AP Photo/Ben MargotAfter a 39-game absence, Delonte West returned to action Tuesday vs. the Warriors.
Rapid reaction after the
Boston Celtics
defeated the
Golden State Warriors
115-93 Tuesday night at Oracle Arena:
--
RONDO THROWS HIMSELF A BIRTHDAY BASH
--
Celebrating his 25th birthday, Celtics All-Star point guard
Rajon Rondo
made the Warriors his personal pinata, scoring 19 points on 9-of-12 shooting and dishing out 15 assists over 35 minutes. Not only did Rondo fuel a Boston team that generated a whopping 35 assists, he created offense for himself and in a variety of ways, pulling up for jumpers, driving fearlessly to the rim, and hitting the only 3-pointer he attempted.
Even when his play didn't land him on the stat sheet, Rondo stood tall as Boston's quarterback, dictating the pace on a night the Celtics put up glossy offensive numbers with a willingness to run against the young-legged Warriors.
"Rondo, leadership-wise, throughout the game, I thought he was getting on guys for taking bad shots," Celtics coach Doc Rivers told reporters. "I just thought he was a coach on the floor tonight. He was terrific."
Rondo added six rebounds, two steals and a whopping plus-24 in the plus/minus category. Golden State wanted to crank the intensity and Rondo was more than happy to oblige, eventually helping Boston break through with a dizzying 18-2 run over less than six minutes in the fourth quarter to rip this game apart at the seams.
"I thought early on we got kind of caught up into [the Warriors'] pace and one of the things we told our guys, the mistake against them is not to run," Rivers told reporters. "We wanted to run. We wanted to push it up and see if we can beat them down the floor. But what we didn't want to do is once we didn't have that quick layup or quick open shot, we wanted to set up and execute and go to the post. I thought we did a better job of that offensively in the second half and I thought that allowed us to set our defense."
--
PERKINS INJURES HIS OTHER KNEE
--
Comcast SportsNet ScreenshotKendrick Perkins sat out much of the second half after bruising his left knee against the Warriors.
Celtics center
Kendrick Perkins
bruised his left knee going up to defend a
David Lee
layup attempt early in the second half and sat out the final 22:30.
Perkins' status for Thursday's game against Denver is uncertain, but he deemed himself likely to play after Tuesday's game.
February, 22, 2011
2/22/11
11:15
PM ET
Comcast SportsNet ScreenshotDelonte West returned to game action Tuesday against the Golden State Warriors.
After missing 39 games with a fractured right wrist,
Boston Celtics
reserve guard
Delonte West
returned to game action Tuesday night against the
Golden State Warriors
.
West, who sat out the first 10 games of the season due to suspension, had appeared in only five games this season when he injured the wrist falling hard to the parquet in Boston's win over New Jersey at the TD Garden on Nov. 24. He wore a brace over the right wrist and a large sleeve over much of his right arm.
West checked in with 2:40 to go in the first quarter, replacing point guard
Rajon Rondo
.
February, 22, 2011
2/22/11
3:05
PM ET
By
Greg Payne
| ESPNBoston.com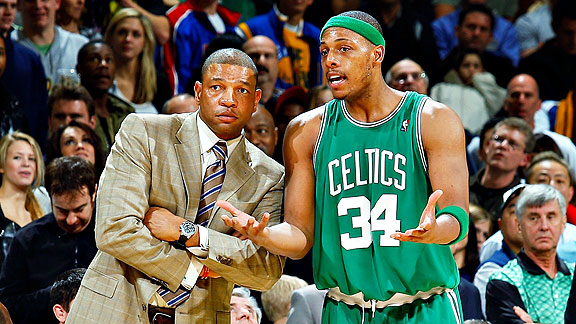 Rocky Widner/NBAE/Getty ImagesPaul Pierce searches for answers for Boston's struggles while visiting the Warriors.
In
previewing Boston's four-game road trip
to open the second half of the season, Peter May pointed out a peculiar absence on Doc Rivers' resume as head coach of the
Boston Celtics
: He has yet to win a game in Oracle Arena, home of the
Golden State Warriors
.
Not even the additions of
Kevin Garnett
and
Ray Allen
in the summer of 2007 have been enough for the Celtics to win in Oakland, as the current core boasts an 0-3 record against Golden State during their annual visit. It's a strange trend, considering there are far more successful Western Conference franchises in existence -- such as the Lakers, Mavericks, and Spurs -- that one might normally think would give the Celtics far more trouble on the road than the, err, Warriors.
Despite the fact that the Celtics have consistently been one of the top defensive teams in the NBA ever since the 2008 championship season, the Warriors have been nearly as productive on the offensive end. Over the last three seasons, Golden State has ranked in the top 10 in offensive efficiency twice, and was situated at 14th in the NBA last season.
In addition, the Celtics typically play the Warriors in Oakland in either December (usually immediately after Christmas), January, or February, right around the time when teams hit the "dog days" or "doldrums" of the NBA season, which can result in a lack of focus for some of the superior clubs. For a team like the Celtics, a lack of focus against an offensive-minded team like the Warriors can spell disaster, and often has during Rivers' tenure. With all of this in mind, let's take a quick look back at the Celtics' last six (failed) attempts at securing a win in Oracle Arena.
--
December 6, 2004: Warriors 110, Celtics 106
--
Troy Murphy
isn't playing in NBA games right now, and was recently involved in
Carmelo Anthony
-related trade rumors. But early in December several years ago, he was in the midst of torching the Boston Celtics to the tune of 30 points (on 10-of-20 shooting) and 15 rebounds, leading the Warriors to a four-point victory. The Celtics held the Warriors to 46 percent shooting, but committed 20 turnovers in this game, with seven being credited to center
Mark Blount
.
Paul Pierce
logged 31 minutes and contributed 26 points on 9-of-16 shooting, and the Celtics almost made it over the hump thanks to -- get ready --
Jiri Welsch
, who knocked down nine of his 14 field goal attempts to finish with 24 points.
February, 22, 2011
2/22/11
1:45
PM ET
By
Greg Payne
| ESPNBoston.com

(40-14, 15-9 away)
-- vs. --
(26-29, 19-11 home)

at Oracle Arena, 10:30 p.m. | CSN, WEEI (850 AM)
PAYNE'S THREE THINGS TO WATCH
Focus, focus, focus: In their interviews with reporters after the All-Star game on Sunday, Paul Pierce, Ray Allen, Kevin Garnett, and Rajon Rondo all admitted to being ready to get back to work with 28 games remaining in the regular season. But will the rest of the team embrace such a mindset? How will the Celtics look in their first game following the much-needed All-Star break? Will we see sluggishness or intensity? Since the 2007-08 season when Garnett and Allen joined the Celtics, Boston is just 1-2 in its first game following the All-Star break.
Curse of the Oracle?: Since the Celtics assembled their new Big Three in 2007, they've never won a game on the Warriors' home floor. In fact, the Celtics' losing streak in Oakland extends all the way back to the 2004-05 season. In the teams' three most recent meetings in Oakland, the Warriors have averaged 107 points per game. Monta Ellis, the Warriors' 6-foot-3 scoring machine, played in two of those contests and averaged 31.5 points per game. This season, Ellis is averaging 25.3 points per game, good for fifth in the entire NBA. Will the Celtics finally snap their losing streak in Oakland Tuesday?
Getting bodies back: It seemed like the closer the Celtics made it to the All-Star break, the more players they lost due to injury. When the team parted ways for the weekend following its 94-80 victory over the New Jersey Nets last Wednesday, it was without the services of Delonte West (fractured right wrist), Shaquille O'Neal (inflamed right Achilles), Jermaine O'Neal (left knee surgery), Marquis Daniels (bruised spinal cord) and Semih Erden (right adductor strain). At long last, things look to be heading in the opposite direction, as West and Erden are expected to be available for Tuesday's contest. West's return is crucial, as the veteran guard is expected to help bring stability to a second unit that has been in flux for the majority of the season.
GAME PREVIEW (via Stats Inc.)
The Boston Celtics have won an NBA title and more regular-season games than any other team since Kevin Garnett arrived in 2007-08. There's one place they haven't enjoyed any success.

Oracle Arena is the only visiting venue where the Celtics have failed to win since Garnett's arrival, a six-game drought they'll try to end Tuesday night as they open a four-game road trip against the improving Golden State Warriors.

Boston (40-14) has won 218 games over the past 3 1/2 seasons, riding the league's top defense to two NBA finals appearances and the 2007-08 championship.

Golden State (26-29) has averaged the second-most points in that span, and while it's been held to 96.0 points per game in losing all three trips to TD Garden, the Celtics haven't done so well defensively in Oakland. The Warriors have averaged 107.0 points in three victories over Boston at Oracle Arena, stretching their home winning streak in the series to six with a 103-99 win on Dec. 28, 2009, behind 37 points from Monta Ellis.
Read the full preview
HERE
.
PODCASTS
Field Yates, NFL
Play Podcast ESPN NFL reporter Field Yates covers expectations for Rob Gronkowski, the Patriots' outlook, LeSean McCoy's injury and Alex Smith's contract negotiations with the Chiefs.
Baseball Tonight - Jed Hoyer
Play Podcast Buster Olney and Justin Havens discuss how teams that made major deals have fared since the deadline. Plus, Cubs GM Jed Hoyer on the strange circumstances caused by weather.