Boston Celtics:

2010Game57
February, 27, 2011
2/27/11
5:55
PM ET
By
Greg Payne
| ESPNBoston.com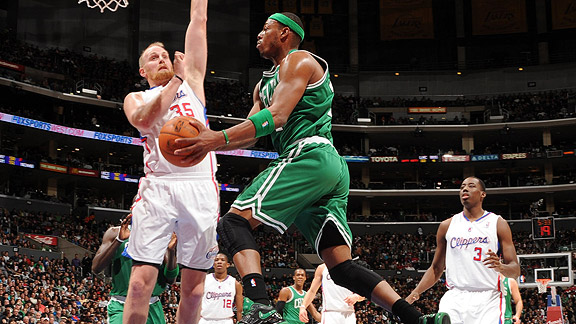 Andrew D. Bernstein/NBAE/Getty ImagesPaul Pierce attacked the basket throughout Saturday's game against the Clippers.
Paul Pierce
and the free throw line haven't exactly been strangers over the course of his 13-year NBA career. As if the charity stripe were a favorite restaurant or vacation spot, Pierce has always made an effort to just keep going back for more. The Celtics' captain has taken 7,062 free throw attempts over the course of his NBA lifespan, making 5,675 of those, good for an 80.4 percent clip.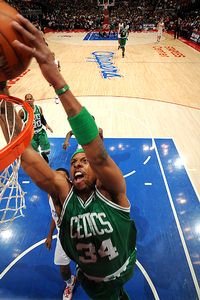 Andrew D. Bernstein/NBAE/GettyPaul Pierce goes at the rim.
Against the Clippers on Saturday night, Pierce tied season-highs in free throws made (11) and attempted (13) as he brushed off a 6-of-14 shooting performance, finishing with 24 points that helped spark the Celtics to a 99-92 victory at the Staples Center.
A sluggish first half devoid of intensity earned the Celtics a seven-point halftime deficit, and, like so many times before, they looked to Pierce to turn things around. Pierce registered eight points in the first half, but like so many of his teammates, he failed to make at least half of his first half shots, finishing the first 24 minutes on 2-of-5 shooting. As a team, the Celtics shot a horrendous 34.3 percent from the floor in the opening half.
Pierce's first half output was bolstered somewhat by a 4-of-4 performance at the free throw line, and he concentrated his efforts on attacking the basket and getting back to the stripe in the third quarter. Pierce's seemingly innate ability to draw fouls on opponents is one thing, but his superior physical gifts that allow him to still convert shots after drawing contact have always set him apart.
February, 27, 2011
2/27/11
8:35
AM ET
LOS ANGELES -- A collection of news and notes after the
Boston Celtics
defeated the
Los Angeles Clippers
99-92 Saturday night at the Staples Center:
The rundown: Krstic gerts offensive | The Blake Show | Size Matters | Loose Balls
Maybe it's because the Celtics don't put too much of an emphasis on offensive rebounding, preferring to fall back on defense rather than chase putbacks, but as newly acquired center
Nenad Krstic
hauled in offensive carom after offensive carom Saturday night, coach Doc Rivers turned to top assistant Lawrence Frank and asked if this was normal for him.
"I said, 'Does he do that all the time?' and Lawrence said, 'If he did, I'd still be in New Jersey,'" Rivers relayed with a smile. Frank coached Krstic during his four seasons with the Nets at the start of his NBA career.
"But he does do that. He has length and he has the ability to do that, so it was good to see."
Krstic finished with six rebounds, all of the offensive variety, setting a new single-game high for offensive rebounds by a Celtics this season. Starting in his Boston debut, Krstic added nine points on 3-of-7 shooting over 21 minutes, despite virtually no familiarity with the offensive system.
"I didn't expect anything; It was nice just to be on the court with these guys and actually play and be involved in offense," said Krstic. "I think I did OK for the first game."
And what about those six offensive rebounds?
"I always try to get offensive rebounds, but maybe I was more aggressive," said Krstic. "When somebody gives you a chance to play, you appreciate that and you play hard."
February, 27, 2011
2/27/11
1:11
AM ET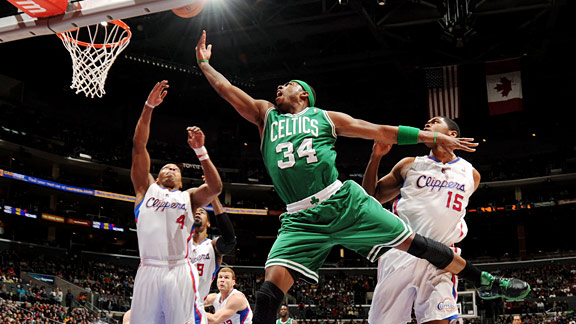 Noah Graham/NBAE/Getty ImagesPaul Pierce and the Celtics made a concerted effort to attack the basket vs. the Clippers.
LOS ANGELES -- Rapid reaction after the
Boston Celtics
defeated the
Los Angeles Clippers
99-92 Saturday night at the Staples Center:


HOW THE GAME WAS WON
Paul Pierce
scored a team-high 24 points, shrugging off a poor shooting night (6-of-14 overall) by getting to the charity stripe 13 times to fuel Boston's free throw line parade.
Ray Allen
added 22 points, while
Kevin Garnett
logged a double-double (16 points, 11 rebounds).
Randy Foye
scored a game-high 32 points for the Clippers, while
Blake Griffin
kicked in 21 more. Making their Boston debuts,
Jeff Green
registered seven points over 17 minutes, while
Nenad Krstic
added nine points and six rebounds (all on the offensive glass, a new Celtics' single-game high for the 2010-11 season) over 21 minutes.
TURNING POINT
Despite trailing by seven coming out of the intermission, the Celtics cranked the intensity and needed little more than three minutes to all but erase their deficit. A Krstic jumper with 7:45 to play in the frame, put Boston out front and ignited a 12-2 run that culminated with a Garnett alley-oop jam off a
Rajon Rondo
feed for a 62-53 edge with 5:13 to play in the third quarter.
STAT OF THE GAME
The Celtics shot a staggering 41 free throws, eclipsing their season high (39 vs. the Nets on Feb. 16). Only eight times had Boston scaled above 30 free throws this season and this is their first foray into the 40's. What's more, Boston made 35 of those freebies, shooting 85.4 percent as a team.
UNSUNG HERO
In only his third game back after missing 39 contests with a fractured right wrist,
Delonte West
showed glimpses of the player the Celtics expected back before the injury bug bit. West chipped in nine points off the bench, hitting a pair of trifectas, while adding five assists and three rebounds over 20 minutes.
WHAT IT MEANS
After stumbling in the first game of the post-Perk era Thursday in Denver, Boston righted its ship with help of its newcomers. There's plenty of work to be done as the Celtics integrate their new faces, but on this night Boston erased a 13-point first-half deficit to win for the second time in three games on this road trip. The Celtics will enjoy Sunday's offday with coach Doc Rivers noting at Saturday's morning shootaround that coaches will log extra time with Green and Krstic to help them continue to learn the playbook.
February, 26, 2011
2/26/11
10:05
PM ET
LOS ANGELES -- Celtics coach Doc Rivers knows newcomers
Jeff Green
and
Nenad Krstic
have had to absorb a lot of information over the last 24 hours, so his instructions to them before Saturday's tilt with the
Los Angeles Clippers
was simple: Go play.
"I told them both: Just play hard," said Rivers. "Play free. If you're open, shoot. Don't try to fit in, we'll fit in -- we'll figure it out. Right now, we just have to try to win a couple games and slowly get some practices under our belt to get them integrated more. So go for it, just go out and play."
As Rivers indicated at this morning's shootaround on the campus of UCLA, Krstic will start at center, while Green will come off the bench. He won't limit their minutes unless their unfamiliarity with the system is working against the Celtics. Regardless, Rivers knows there's going to be some bumps as the new players get comfortable, particularly in their Boston debuts.
But he doesn't want them to use that as an excuse to lose games.
"I told our guys, we're not managing anything," said Rivers. "We're still trying to win the games, as many as we can. We still want homecourt. We know it'll be more difficult now and we're going to lose some rhythm here, but we still want to win the games while learning [and] not use this as an excuse to not win games."
With Boston's deadline moves raising eyebrows around the league, but especially in Los Angeles where so much has been made about how the lack of having center
Kendrick Perkins
cost Boston a world title in Games 6 and 7 of the NBA Finals in June, Rivers was asked if he was surprised by the reaction to the Celtics' bold moves.
"We don't make moves to worry about what people think, if you want me to be honest," said Rivers. "We make moves to try to win championships."
February, 26, 2011
2/26/11
5:35
PM ET
LOS ANGELES --
Jeff Green
and
Nenad Krstic
, acquired in Thursday's trade deadline shocker that sent
Kendrick Perkins
and
Nate Robinson
to Oklahoma City, took the floor with their new teammates for the first time during Boston's morning shootaround Saturday on the campus of UCLA in Westwood.
Green and Krstic logged some extra time with the coaching staff after the session, but beyond the crash course in Boston's philosophies, both expressed excitement about joining a championship-caliber squad.
"It's an honor," said Green. "There's a lot of history behind the name that's on this jersey. I'm proud to be a Celtic. I'm coming here to do the best I can, try to help this team out and win a championship."
Added Krstic: "It's going to be a great experience for me. I can learn so much from these guys. Hopefully we'll win a championship this year and I can go back to Serbia with a ring."
After passing their physicals Friday, the duo met with the coaching staff to start going over Boston's playbook. Even as they get up to speed, coach Doc Rivers said he'll toss Krstic into the starting lineup during Saturday's game against the
Los Angeles Clippers
, while Green will settle into his role off the bench.
"It's going to take some time, obviously, but we'll throw them in," said Rivers. "Jeff will take longer in some ways because he has to learn two positions, the 3 and the 4. We're going to throw them in there, throw them in the fire. Nenad will start tonight and hopefully he can figure it out on the fly. We don't have a lot of time."
Green said the pair were well received by their new teammates and is fully aware that chemistry may be the most important factor moving forward.
"They accepted me well," said Green. "I can already tell the tight bond, these are guys you go to battle with. It's important to have that relationship with each other and they welcomed me and Nenad with open arms."
Green laughed when asked about choosing jersey No. 8; Krstic will wear No. 4. Combined with
Chris Johnson
wearing No. 86 after being fetched from the NBA Development League on a 10-day contract Thursday, the new Celtics have all inherited former Celtics' numbers (Robinson wore No. 4; Erden wore No. 86, and Marquis Daniels had No. 8).
"Man, so many numbers are retired in Celtics' history," joked Green. "There wasn't a lot of numbers to chose from. Eight is a great number, I'll try to represent it well."
--
DOC REJOINS TEAM DURING SHOOTAROUND
--
Rivers, who flew to Chicago after Thursday's loss in Denver to be with his ailing mother, returned to the team Saturday morning midway through shootaround and will coach the team Saturday night.
"I'm good," said a flight-weary Rivers. "Things are getting better, so that's good."
Rivers said he utilized 10 hours on a plane to watch game film of his two new players in hopes of figuring out how to best utilize them. He also logged extended time on the phone with Oklahoma City coach Scotty Brooks, both coaches offering advice to each other on how to best utilize their new faces.
"The best part was that one of their last game was against the Clippers," Rivers said of his marathon film sessions. "So, it was duel [tasks], I could watch the two new guys and scout the other team. I got to see what Jeff did well against [the Clippers] and integrate that into the [game plan] as well."
--
KRSTIC THE STARTER UNTIL SHAQ IS READY TO RETURN
--
Rivers indicated that Krstic will eventually slide into a reserve role, maybe as early as next week. Ailing center
Shaquille O'Neal
(inflamed right Achilles) is currently rehabbing in Orlando, but plans to return to Boston after the Celtics complete their four-game road trip Monday in Utah and could be available for action soon after.
"We talked and we want him to keep working out," said Rivers. "He's doing great. We told him, 'Stay where you're at. Keep working out.' He'll meet us back -- when we get back to Boston, he'll be in Boston and we'll go form there."
Pressed on his return to game action, Rivers noted, "He may try to play when we get back."
February, 26, 2011
2/26/11
4:15
PM ET
By
Greg Payne
| ESPNBoston.com

(41-15, 16-10 away)
-- vs. --
(21-38, 16-14 home)

at Staples Center, 10:30 p.m. | CSN, WEEI (850 AM)
--
PAYNE'S THREE THINGS TO WATCH
--
Welcome aboard: Jeff Green and Nenad Krstic -- who were acquired Thursday in a trade that saw Kendrick Perkins and Nate Robinson shipped to the Oklahoma City Thunder -- are expected to make their Celtic debuts tonight. Krstic could get the starting nod at center, while Green should come off the bench as part of the second unit with the likes of Delonte West and Glen Davis. Both Green and Krstic participated in the team's morning shootaround, but that only gave them a minor introduction to Boston's schemes, so it'll be interesting to see how the duo fares on both ends of the floor tonight.
Roarding Rondo: Rajon Rondo's always been more of a distributor than a scorer, but his passing has taken a back seat to his scoring in his career against the Clippers. In eight career games against Los Angeles, Rondo is averaging 15.6 points per game on a scorching 60.2 percent shooting, good for his highest career scoring average against any one opponent. Last season against the Clippers in Los Angeles, Rondo registered 20 points on 9-of-16 shooting, but handed out only six assists. In nine career games against the Clippers, Rondo's assist average sits at just 5.8 per game.
The Blake Show: Not counting the All-Star game, Celtics fans will get their first look at Clippers rookie sensation Blake Griffin. The high-flying power forward has injected new life into the Clippers, making them one of the more exciting draws in the league right now. Griffin plays with a raw intensity and should be matched up with Kevin Garnett tonight, setting the stage for one of the season's most exciting head-to-head battles.
--
GAME PREVIEW (via Stats Inc.)
--
The Clippers traded Baron Davis to Cleveland on Thursday for Mo Williams and Jamario Moon, but neither newcomer played Friday against the Lakers because Davis had yet to take his physical.

Both hope to be cleared Saturday, but coach Vinny Del Negro thinks it's more likely they'll debut Monday at Sacramento.

The Clippers played their first game in Los Angeles since Feb. 2 on Friday, but their matchup with the Lakers was technically an away game -- their 11th in a row. To cap the league's longest road trip since 1978, the Clippers trailed by just two at halftime but were outscored 33-17 in the third quarter en route to a 108-95 loss.
Read the full preview
HERE
.