Boston Celtics:

2010Game58
March, 3, 2011
3/03/11
1:55
AM ET
BOSTON -- A collection of news and notes after the
Boston Celtics
defeated the
Phoenix Suns
115-103 Wednesday night at the TD Garden:
The rundown: Murphy's bootcamp | Injury updates: Shaq, D-West | Loose Balls
Despite the fact that
Troy Murphy
hadn't been on an NBA court for nearly two months, Celtics coach Doc Rivers wanted to put him through a bit of a Boston basketball boot camp. He gave the 30-year-old forward a 15-minute tutorial during the team's pregame walkthrough Wednesday, then played coy about potential playing time, knowing full well he was going to thrust him into the fire if the situation allowed.
An early double-digit lead offered the perfect opportunity for heightened activity, but Rivers didn't have the heart to be a drill sergeant.
"[Murphy] looked good, but he was dying out there," Rivers said with a laugh. "And I was going to keep him out there for a while. I wanted to run him to the ground today, just get him used to things. But his lungs didn't allow for that."
Murphy, who officially signed with the Celtics just hours before tip-off after clearing waivers following a buyout by the
Golden State Warriors
, logged 14 minutes, 11 seconds of action, missing all three shots he took, while chipping in one point and two rebounds. He got blocked on consecutive possessions in the fourth quarter by
Marcin Gortat
, maybe the best indication that his legs simply aren't where he needs them to be.
But after tasting victory as part of a new championship-craving atmosphere, Murphy wasn't complaining. After all, he hadn't been on the court since Jan. 7 with the
New Jersey Nets
, where he appeared in a mere 18 games this season.
"Just rust, it's been a whirlwind last couple days," Murphy said. "I'm excited to finally get underway here. I'm looking forward to practice [Thursday], and getting a practice under my belt. Each day I'm feeling like it's going to get better."
Murphy admitted he had no clue about the offensive sets, looking to Rivers and the bench for guidance most times down the court.
"I pretty much didn't have any clue where to go," he admitted. "I stayed in the same spot half the time."
Glen Davis
compared him to
Rasheed Wallace
(in a good way), noting he can spread the floor and shoot the trifecta. Doc Rivers is likewise encouraged by the brief debut and looks forward to really stretching his lungs in the coming days.
Rivers tried to take credit for luring Murphy to Boston, joking that it was a phone conversation Monday that sealed the deal.
"I'm a closer," Rivers joked. "No, that's not true. I don't know. He likes the way we play and we talked about that. He saw how we used other forwards who can shoot and liked the fact that we were aiming for one thing: That's to win a title. We're not trying to build, we're trying to win here and he understands that. He just really feels like he can help our team. That's important."
Added Celtics president of basketball operations Danny Ainge: "Troy was our top guy -- of the guys bought out. Two things stood out: His 3-point shooting and his defensive rebounding. You watch our team play and our big guys get a lot of open shots, [
Kevin Garnett
] and
Glen Davis
. Those guys are mid-range shooters and we really don't have a 3-point shooter at any of our big positions. Troy can provide that."
March, 2, 2011
3/02/11
7:35
AM ET
By
Greg Payne
| ESPNBoston.com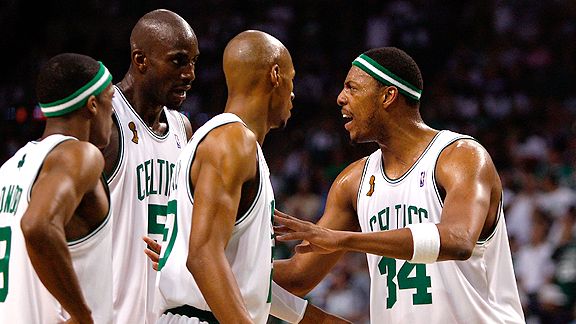 Jim Rogash/Getty ImagesThe Celtics play four of their next six games at home.
With the All-Star break and a four-game Western Conference road swing looming on the horizon, the Celtics knew after their 94-80 victory over the
New Jersey Nets
back on Feb. 16 that they wouldn't see the TD Garden parquet for quite some time. Sure enough, the calendar has flipped to March, and for the first time in exactly two weeks, the Celtics will host an opponent on Wednesday night when the
Phoenix Suns
visit Boston.
The C's own some considerable momentum as they return to the welcome sites of their own homes and beds. They finished their Western Conference swing with a 3-1 mark, losing only to the
Denver Nuggets
on the day
Kendrick Perkins
and
Nate Robinson
were traded away, leaving them both emotionally drained and even more shorthanded than usual. Things took a turn for the better on their next outing, as they axed the
Los Angeles Clippers
in the team debuts of
Nenad Krstic
and
Jeff Green
, and followed it up with an exciting, down-to-the-wire win over the
Utah Jazz
on Monday.
So what's on tap for the Celtics? Home games, fortunately. Five of Boston's first eight games in March will be played in Boston, with manageable trips to Philadelphia, Milwaukee, and New Jersey sprinkled in. The opponents they'll face at home aren't exactly classified as juggernauts of the NBA, either. Unlike a four-game home stretch back in January that saw them play the
Dallas Mavericks
,
Orlando Magic
,
Los Angeles Lakers
, and
Miami Heat
(who currently have a combined record of 166-74), the Celtics will take on the Phoenix Suns, the
Golden State Warriors
, the Los Angeles Clippers, the
Milwaukee Bucks
, and the
Indiana Pacers
(who boast a combined record of 126-167) over their next five at the Garden.
With all of this said, let's take a closer look at the next two weeks for Boston:
Wednesday, March 2 - Celtics vs. Suns
: Numerically speaking, the Suns handed the Celtics their worst loss of the season (a forgettable 88-71 clubbing) back on Jan. 28 in Phoenix. Playing on the second night of a brutal back-to-back, the Celtics displayed virtually no intensity, and the only highlights were negative ones: Doc Rivers was ejected for arguing with referee Steve Javie in the second quarter, and
Kevin Garnett
got into fourth quarter dust-ups with
Mickael Pietrus
and
Channing Frye
. The incident with Frye was more notable, considering Garnett appeared to jab him below the belt on a 3-point field goal attempt. Wednesday will mark the first time they'll have seen each other since the incident. How will things play out between them?
March, 1, 2011
3/01/11
12:45
AM ET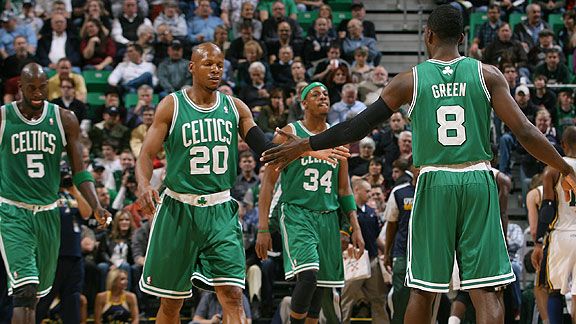 Melissa Majchrzak/NBAE/Getty ImagesIt took a team effort for Boston to topple Utah on Monday night.
Rapid reaction after the
Boston Celtics
defeated the
Utah Jazz
107-102 Monday night at EnergySolutions Arena in Salt Lake City:
--
YOU CAN'T GET THESE GUYS ON THE BUYOUT SCRAP HEAP
--
For all the consternation about whom the Celtics might be able to add to their roster following the rash of recent buyouts, it was a familiar five of
Rajon Rondo
,
Paul Pierce
,
Ray Allen
,
Kevin Garnett
and
Glen Davis
that carried Boston to the finish line of a four-game road trip.
Each player had his moments (yes, even Davis whose ill-timed fouls kept Utah in the game longer than necessary) and you'd be hard pressed to pick a single hero among the bunch. Allen might top the nominees, however, as he scored eight points over the final 4:18, hitting a pair of clutch 3-pointers and adding a ridiculous floating, off-balance 23-footer with 53 seconds to go to keep Utah at arm's length.
"[Allen] just makes shots and because we're so unselfish, our guy finds him," Celtics coach Doc Rivers told reporters in Utah. "It's just amazing. But he bailed us out. He really did. He made a couple big shots for us. The one down the stretch on [Andrei] Kirilenko, we completely blew the play and they got the ball to Ray and he made a shot for us."
Rondo fueled a frenetic offense -- logging 42 minutes with reserve guard
Delonte West
sidelined with a sprained ankle -- and drilled a 15-foot elbow jumper with 24 seconds remaining that essentially sealed the win by putting the Celtics ahead by four.
Allen finished with a team-high 25 points on 9-of-15 shooting, including 5-of-8 from beyond the arc, with four rebounds and two steals over 36:41. Rondo chipped in 18 points on 9-of-16 shooting with 11 assists.
Pierce and Garnett? They weren't too shabby themselves. Pierce made all 11 free throws he attempted, once again doing a phenomenal job getting to the line, in contributing 21 points, 7 rebounds and 4 assists over 38 minutes. Garnett produced his latest double-double with 16 points and 14 rebounds over 35 minutes (and was a team-best plus-14 in the plus/minus).
February, 28, 2011
2/28/11
4:11
PM ET
By
Greg Payne
| ESPNBoston.com

(42-15, 17-10 away)
-- vs. --
(32-28, 17-13 home)

at EnergySolutions Arena, 9 p.m. | CSN, WEEI (850 AM)
PAYNE'S THREE THINGS TO WATCH
The Adjustment Bureau: The Celtics and their last two opponents all made deals around the trade deadline, resulting in roster shake-ups and needed periods of adjustment. Newcomers Jeff Green and Nenad Krstic will continue to familiarize themselves with the Celtics' schemes against a Utah Jazz team that underwent a significant change itself last week. In addition to Hall-of-Fame head coach Jerry Sloan recently stepping down, Utah traded All-Star point guard Deron Williams to the New Jersey Nets in exchange for point guard Devis Harris, rookie forward Derrick Favors, two first-round draft picks, and cash last Wednesday. The Jazz are 1-1 since acquiring Harris, who notched his first double-double with his new club in a 120-116 loss to the Detroit Pistons on Saturday, finishing with 17 points and 12 assists.
Bigger Al this time around?: For the second time this season the Celtics will match up with old friend Al Jefferson. When the two clubs met in Boston back on January 21, Jefferson struggled through a horrendous 1-of-11 shooting performance, finishing with his lowest shooting percentage in any game this season (9.1 percent).
Allen owns Utah: Ray Allen has scored over 20,000 points in his NBA career, and, historically, Utah's been one of his favorite teams to tally points against. Allen's career scoring average of 23.9 points per game in 34 career games against the Jazz is his second highest against any one team in the NBA. In his career Allen has only averaged more points (24.4 per game) against the Denver Nuggets. Allen's been particularly effective from three-point nation against Utah, as he's buried 42.2 percent of his looks from deep.
GAME PREVIEW (via Stats Inc.)
It will likely take time for the Jazz to figure out how to move forward following the trade of Deron Williams to New Jersey on Wednesday. Devin Harris and Derrick Favors, both acquired in the deal, combined for 27 points in a 120-116 loss to Detroit on Saturday, Utah's sixth defeat in seven games.

The Jazz (32-28) have been spiraling down the standings for a while, losing 15 of 20 to drop from third place in the Western Conference to ninth.

"We are just looking for something good to happen so that we can start feeling good about ourselves," coach Tyrone Corbin said.

A matchup with Boston might not provide the best opportunity for Utah to break out of its funk. The Celtics beat the Jazz 110-86 on Jan. 21 in Boston, getting 21 points from Kevin Garnett and 20 from Pierce.

No Utah player scored more than 12, and the starters combined for a season-low 38 points. Former Celtic Al Jefferson finished with seven points on 1-of-11 shooting, but he's in the midst of a scoring surge, averaging 27.0 points in his last five games -- 9.2 better than his team-leading average.
Read the full preview
HERE
.