Boston Celtics:

2010Game59
March, 6, 2011
3/06/11
8:30
PM ET
Comcast SportsNet ScreenshotPaul Pierce glared at Channing Frye after an emphatic third-quarter dunk Wednesday night.
After video review, the NBA has rescinded the technical foul assessed to Celtics captain
Paul Pierce
during the third quarter of Wednesday's triumph over the
Phoenix Suns
at the TD Garden.
Pierce provided the highlight of the night when he delivered an emphatic left-handed baseline jam over Phoenix's
Channing Frye
to put Boston out front 75-52 win 7:34 to go in the quarter. Pierce glared down as Frye spilled into a cameraman under the basket before teammate
Kevin Garnett
pushed Pierce away as the duo celebrated the slam.
Frye got called for a foul on the play, but Pierce earned what would have been his eighth technical of the season.
Of the 41 technical fouls the Celtics have been whistled for this season, this is the first to be rescinded. Garnett has been hit with a team-high 10 technical fouls, while Pierce and coach Doc Rivers have seven apiece.
March, 3, 2011
3/03/11
10:00
AM ET
By
Greg Payne
| ESPNBoston.com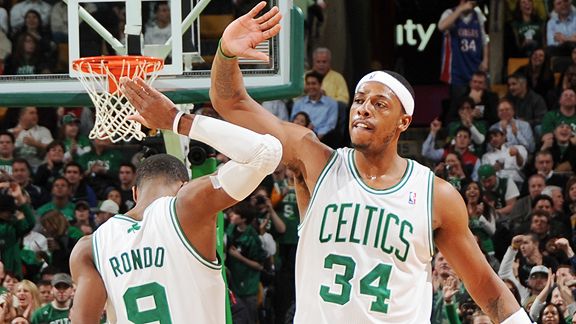 Brian Babineau/NBAE/Getty ImagesPaul Pierce gets congratulated by Rajon Rondo during Wednesday's tilt with the Phoenix Suns.
BOSTON -- Celtics coach Doc Rivers once labeled
Paul Pierce
a "professional scorer", which shouldn't come as much of a shock considering Pierce's remarkable ability to put the ball in the basket. But part of being a professional scorer is knowing when -- and when not -- to force the issue on the offensive end, whether it be due to an off-shooting night -- which happens to even the most prolific of point producers -- or another teammate having a more favorable matchup with an opponent.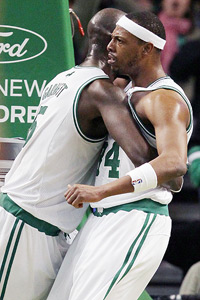 Elsa/Getty ImagesAfter an emphatic jam over Channing Frye, Paul Pierce gets some love from Kevin Garnett.
Against the
Los Angeles Clippers
last Saturday, Pierce finished the 99-92 victory having shot just 6-of-14 from the floor, but that number easily could have been worse. But rather than force his own offense on a night when his shot wasn't falling, Pierce compensated by attacking the rim and getting to the free throw line. He finished the game with a team-high 24 points, and tied season-highs in both free throws attempted (13) and made (11).
With the
Phoenix Suns
in town on Wednesday night, Pierce could have taken advantage of his matchups with the likes of
Grant Hill
and
Jared Dudley
, but he knew a better matchup existed: The one between
Kevin Garnett
and
Channing Frye
. As a result, Pierce sat back and let Garnett go to work in the post. The result was a 5-of-5 shooting performance in the first quarter for Garnett, translating to 12 points (he added two free throws) and an early 11-point lead. Garnett would go on to finish with a season-high 28 points on 12-of-14 shooting with 11 rebounds.
Pierce notched six first-quarter points of his own on 3-of-4 shooting, proving he also could have had one of his finer offensive nights of the season. But rather than try and match Garnett bucket-for-bucket, Pierce picked his spots, and contributed in other key areas, like the rebounding column. Pierce finished with a season-high 13 rebounds in the Celtics' 115-103 victory over the Suns, leading the charge on a night when the Celtics owned a distinctive 45-33 advantage on the glass.
"[Wednesday], I felt the need to [rebound]," said Pierce. "We played a lot through Kevin, that was the game plan coming in. I just tried to do the other things. Doc, before the game said, 'Kevin should get 20 looks tonight.' That's the advantage with him, so I said, 'Okay.' Let me see how I can get involved, getting on the rebounds, doing the other little dirty things to help this team."
March, 3, 2011
3/03/11
4:00
AM ET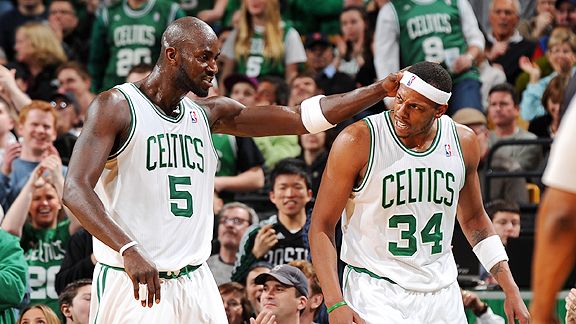 Brian Babineau/NBAE via Getty ImagesKevin Garnett delivers a friendly blow to the back of Paul Pierce's head.
BOSTON -- Everything you need to know after the
Boston Celtics
defeated the
Phoenix Suns
115-103 Wednesday night at the TD Garden:

Rapid Reaction | Game Recap | Box Score
--
FORSBERG: KG'S FIRE BURNS SUNS IN REMATCH
--
Try as he might to ignore it, Kevin Garnett reached his boiling point late in Wednesday's game when, according to multiple Celtics, Gentry injected himself into verbal warfare from the bench, directing his venom at Garnett. Garnett got tagged with a technical foul for barking back with 16.2 seconds remaining. He played coy afterward, but took a not-so-veiled shot at Gentry and Co. when asked about the tech. "Oh, Alvin Gentry was asking me for tickets for the first round of the playoffs and I told him I'd hook him up," Garnett said.
--
MAY: C'S ARE FINALLY SET WITH LATEST MOVES
--
Here's who left: Kendrick Perkins, Nate Robinson, Semih Erden, Luke Harangody and Marquis Daniels. At the trade deadline, only two of those guys were poised to play any significant minutes in the playoffs; and, with Robinson's, er, quirkiness, you could make a case that only one player -- Perkins -- fit that category. Here's who arrived: Nenad Krstic, Jeff Green, Troy Murphy and Sasha Pavlovic. All of those players are likely to see minutes in the postseason. If this were one jumbo deal, it would be classified as an outright heist.
March, 2, 2011
3/02/11
11:45
PM ET
BOSTON -- Celtics top reserve
Glen Davis
suffered a strained patella tendon in his left knee during Wednesday's win over the
Phoenix Suns
and will undergo an MRI on Thursday to determine the severity of the injury.
Davis, who said he's been playing through pain in the knee for much of the season, came up hobbling after a two-handed jam with 49.3 seconds to play in a 115-103 victory. He dropped to the floor near midcourt while trying to limp off and was tended to by trainer Ed Lacerte and team physician Brian McKeon before departing for the locker room.
With an oversized ice pack over his knee after the game, Davis stressed that he's not too concerned about the injury and was in good spirits despite a setback that could put him on the shelf for the first time this season. Davis is averaging a career-high 11.6 points and 5.2 rebounds while appearing in all 59 games, putting himself in the conversation for the league's Sixth Man of the Year award.
"I don't really know what's going on, but I'll get an MRI tomorrow," Davis said. "It was bothering me the whole year. I've just been tough, trying to be available for the team."
Davis, who was already wearing a protective sleeve on the knee, said he felt pain immediately after leaving his feet for the dunk. But Davis was moving around in the locker room and tried to take an optimistic approach.
"I'm OK," he said. "I'll be all right."
Celtics forward
Kevin Garnett
expressed hope that Davis wouldn't miss time, but seemed resigned to the idea that he might.
"We're back to that injury bug and trying to maneuver around it," Garnett said. "Unfortunately, Baby's going to be out. We haven't got [a lot of time left], but hopefully he's better than the norm and he's not out for too long -- or he's [not] out period. Baby's a trooper, he's been playing hurt throughout this whole year and some of last year. He [ground] through it last year and I just hope he doesn't have to go through that this year, so hopefully he's good."
Joked captain
Paul Pierce
: "I see Baby go down every day, but hopefully he's all right."
Davis took a lighthearted approach as well. After telling media members the injury has prevented him from jumping, he pointed to a failed dunk attempt last month against the Miami Heat as evidence.
"That's why I don't jump that high," Davis said. "And that's why I missed that dunk. No [kidding]. Against Miami, I couldn't jump. My knees hurt. I'll be OK, though."
Comcast SportsNet ScreenshotGlen Davis crumples to the floor in pain in the fourth quarter Wednesday.
March, 2, 2011
3/02/11
10:15
PM ET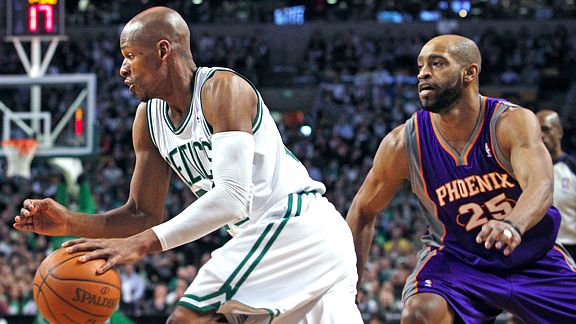 AP Photo/Elise AmendolaIt took longer than it should have, but Ray Allen and the Celtics left the Suns in their wake.
BOSTON -- Rapid reaction after the
Boston Celtics
defeated the
Phoenix Suns
115-103 Wednesday night at TD Garden:


HOW THE GAME WAS WON
An inspired
Kevin Garnett
appeared to take out some lingering frustration against
Channing Frye
, erupting for a game-high 28 points on 12-of-14 shooting, scoring all his points over the first three quarters as Boston built a 29-point lead. Things weren't as comfortable in the fourth quarter, but Boston hung on by placing six players (the entire starting five and
Glen Davis
) in double figures.
TURNING POINT
Leaning on a bigger lineup featuring
Rajon Rondo
,
Paul Pierce
,
Jeff Green
, Garnett and Davis to close out the first quarter, Boston turned a three-point lead into an 11-point cushion. But it was the start of the second quarter, with a second-unit lineup, where the Celtics really motored away. Davis produced a dunk, rookie
Avery Bradley
canned a 16-foot jumper, and Green made a driving layup for a 38-21 cushion little more than a minute in. The lead grew to 20 by intermission.
STAT OF THE GAME
The Celtics absolutely dominated the points in the paint while building their big lead, holding a 36-8 advantage in the first half. The Suns trimmed it a bit by game's end (52-26) while making a fourth-quarter charge.
UNSUNG HERO
Pierce continues to find ways to make good things happen. Even when he struggled with his shot the previous three games, he got to the foul line and piled up points there. On Wednesday, his shots were falling (6-of-9, making everything inside the arc, for 16 points), allowing him to focus on rebounding and he hauled in a team-high 13 boards. Pierce also produced the "SportsCenter" moment of the night with a jaw-dropping left-handed jam over Frye in transition (even if he drew a technical in the aftermath that included staring down Frye).
WHAT IT MEANS
For a time, it seemed the Celtics' newcomers would get a glimpse of Gino in their first tilt at the Garden. Alas, the Suns spoiled the fourth-quarter dance party as Boston let the visitors back into the game. Regardless, the Celtics won their third straight, atoning for an ugly loss in Phoenix last month.
March, 2, 2011
3/02/11
8:30
PM ET
BOSTON -- Expressing excitement about joining a team with championship expectations,
Troy Murphy
arrived in Boston Wednesday hoping to aid that cause in any way he can.
A veteran of 639 regular-season games, Murphy has never appeared in a postseason contest and, after securing a buyout from the
Golden State Warriors
earlier this week, landing with a contender was tops on his priority list.
"That was the most important factor, going to a team that was going to not only be in the playoffs, but for a long playoff run," said Murphy. "Looking at the teams, the Celtics have all the potential to do that."
But so do the
Miami Heat
, who were finalists for his services as well, but Murphy liked what he heard as Celtics coach Doc Rivers delivered a recruitment pitch earlier this week.
"I think it's the way they play," said Murphy. "I think, watching both teams, I fit in better with the way Boston plays, the way they spread the floor, and I just like the way that they play."
Before Wednesday's game, Rivers said he wasn't sure if he'd even put the crash-coursed Murphy into the starting lineup. But there he was in his new No. 30 jersey checking in for
Kevin Garnett
with 2:13 to play in the first quarter. He missed his first shot -- a 3-pointer -- but hit a free throw early in the second quarter for his first Boston points.
"We may throw him out there, we may not, we'll just see how the game's going," said Rivers. "We just gotta figure out some practice time for all these guys. We've made a lot of moves, obviously, with very few practice days and little time, so we just have to figure this out on the fly."
March, 2, 2011
3/02/11
5:40
PM ET

The newest member of the Celtics,
Troy Murphy
, is in the building and expected to be in uniform Wednesday night against the
Phoenix Suns
. Murphy will wear No. 30, last worn by
Rasheed Wallace
. Here's the official announcement from the Celtics:
The Boston Celtics announced today that they have signed forward Troy Murphy. Per team policy, terms of the deal were not disclosed.

Murphy, a 6'11" forward, has posted career averages of 11.8 points, 8.5 rebounds and has shot 39.1% from three-point range in his 10 NBA seasons. Murphy has posted five seasons during which he averaged a double-double (points-rebounds). Murphy recorded one of the best seasons of his career during 2008-09 when he averaged 14.3 points and a career-high 11.8 rebounds to go along with a 45.0% shooting percentage from the three-point line.
The deal, of course, is for the pro-rated value of the veteran's minimum (the most the over-the-cap Celtics could offer).
March, 2, 2011
3/02/11
12:05
PM ET
By
Greg Payne
| ESPNBoston.com

(43-15, 25-5 home)
-- vs. --
(31-27, 14-14 away)

at TD Garden, 7:30 p.m. | CSN, WEEI (850 AM)
PAYNE'S THREE THINGS TO WATCH
Garnett vs. Frye: Don't be shocked if tempers flare between Kevin Garnett and Channing Frye tonight, in light of the recent history between them. Late in the fourth quarter of the Celtics' 88-71 loss to the Suns back in January, Garnett fouled Frye on a 3-point field goal attempt, but also appeared to deliver a shot below Frye's belt. Frye took exception after briefly crumpling to the floor, the two exchanged words, a small scrum ensued, and Garnett was eventually ejected. Will conflict erupt between the pair once again tonight?
Rondo vs. Nash: Rajon Rondo and Steve Nash currently rank first and second in the NBA in assists per game this season, respectively. While Rondo's head-to-head matchups with Nash in the past haven't garnered as much attention as his duels with the likes of Chris Paul, Deron Williams, or Derrick Rose, Nash still serves as one of Rondo's tougher covers. Nash has averaged at least 13 points and seven assists in each of the last three seasons against Boston, including a double-double in points and assists (13 points, 10 assists) during the 2009-10 campaign. In the first meeting between these two clubs this season, Nash finished with 13 points and 10 assists to Rondo's seven points and six assists.
Offensively inclined: The Suns have yet to abandon the run-and-gun model employed by former head coach (and current New York Knicks helmsman) Mike D'Antoni, as they currently rank sixth in the NBA in offensive efficiency (107.7 points per 100 possessions). But Phoenix also hasn't quite gotten its act together on the defensive end, either, as their defensive rating (106.9 points allowed per 100 possessions) currently ranks them 22nd in the league. The Suns are one of those teams that prefer to run and score in transition, but doesn't like it when opposing teams return the favor. The Celtics have been doing an awful lot of running lately, as they averaged 17.7 fast-break points per game over their recent four-game Western Conference road swing. Why slow down now?
GAME PREVIEW (via Stats Inc.)
Channing Frye's second straight game-winning shot kept the Phoenix Suns surging toward playoff position in the Western Conference.

Frye was also a major factor in the Suns' first meeting of the season with the Boston Celtics -- but for an entirely different reason than timely offense.

Frye and the Suns head to TD Garden for Wednesday night's rematch of their physical January victory over the Celtics -- their third straight win in the series.

After hitting a jumper as time expired to beat Indiana 110-108 in overtime Sunday, Frye stepped up again Monday in a thrilling 104-103 OT win over New Jersey. His 3-pointer with 6.6 seconds remaining in the extra period lifted Phoenix to its season-best fifth road victory in a row.

"This is extremely humbling," he said. "To be honest I'm not really nervous about the last-second shot. We got a win that we really needed. We just need to play better at the end of the games."

Phoenix, though, has played well enough to win 11 of 14 and move into contention for a playoff berth. The Suns have won four in a row overall -- one shy of tying their season high -- and extended their longest road win streak of the season to five Sunday.
Read the full preview
HERE
.
PODCASTS
Adam Schefter, NFL
Play Podcast ESPN NFL Insider Adam Schefter weighs in on the Panthers' WR situation, Julian Edelman's future with the Patriots, Vince Wilfork's decision to ask for his release and more.
Spanning the Globe: 3/13
Play Podcast "Spanning the Globe" features ESPN Boston's Mike Reiss, Yahoo! Sports' Eric Edholm and ESPN LA 710's Mark Willard.
John Farrell, Red Sox
Play Podcast Red Sox manager John Farrell talks about whether he expected his team to make such a turnaround in one season, his relationship with his players, fans' expectations for the squad and more.