Boston Celtics:

2010Game6
November, 6, 2010
11/06/10
3:33
AM ET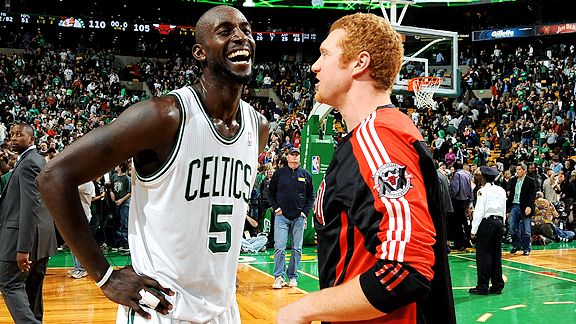 Steve Babineau/NBAE/Getty ImagesKevin Garnett and Brian Scalabrine share a postgame laugh.
BOSTON -- The phone wasn't exactly ringing off the hook, but, as he tells the story,
Brian Scalabrine
still put a hard sell on the
Chicago Bulls
this offseason.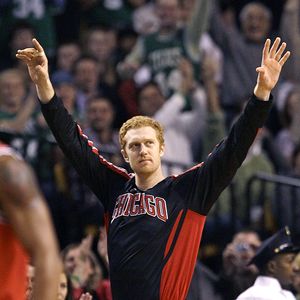 AP Photo/Charles KrupaThe Celtics and their fans were happy to see Brian Scalabrine back in Boston on Friday.
"We were talking to Chicago the whole [offseason], but I was talking to [Bulls general manager] Gar [Forman] and the holdout was that I wanted a statue next to
Michael Jordan
[outside the United Center]," Scalabrine explained Friday before the Celtics beat the Bulls 110-105 in overtime at TD Garden. "He was like, 'A lot of good players have come through Chicago, and I don't know if I can guarantee we can do that.' So I said, 'I'm going to hold out until you promise me that.' At the end of the day, I said, 'Fine, you don't have to put the statue up.'"
And with that, Scalabrine and his family crammed five years worth of memories into moving boxes -- a task he did without the aid of movers, he points out -- and uprooted to Chicago for a chance to keep his NBA career alive after the
Boston Celtics
decided they would not retain his services moving forward.
Scalabrine returned to Boston on Friday for the first meeting between his new team and the one he still holds an attachment to after the overwhelming success it enjoyed the past three seasons (including winning a world title in 2008). He stressed he's not disappointed with the way things played out this offseason, in large part because of the way former Celtics assistant coach Tom Thibodeau -- now the Bulls' first-year head man -- recruited him for a veteran role with a young team.
Click
HERE
to read the full story.
November, 6, 2010
11/06/10
1:45
AM ET
BOSTON -- Emerging from the trainer's room more than an hour after Boston completed its 110-105 overtime triumph over the
Chicago Bulls
Friday at the TD Garden, Celtics point guard
Rajon Rondo
downplayed the severity of his "sore" feet, stressing he's fine after coach Doc Rivers suggested he had a "mild" case of plantar fasciitis that nearly prevented Rondo from suiting up.
"It's fine," said Rondo, who only shrugged when asked to confirm the diagnosis of plantar fasciitis. "It's cool. It's sore, that's all."
It wasn't so cool Friday morning, when team trainer Ed Lacerte advised Rivers that Rondo should skip Friday's game in lieu of rest. But when Rivers approached Rondo soon after, he brushed off the diagnosis and said he was playing.
"Listen, this morning, Eddie told me that Rondo wasn't playing because of his foot," said Rivers. "And 10 minutes later, I go down so we can watch film and Rondo said, 'I'm playing; I'm fine.'"
Rivers said before Friday's game that Rondo would be on a short leash and the first sign of soreness would result in him being yanked. The Celtics did just that, pulling Rondo earlier than usual in the first quarter, but he ultimately played 40 minutes, 13 seconds overall.
Rondo contributed 10 points and 11 assists, while also providing some key defense, including a late-game strip of
Derrick Rose
that prevented the Bulls from getting off a potential game-winning shot at the end of regulation.
"The only thing we did, and you could tell, we subbed him early," said Rivers. "I think with five or six minutes [left] in the first [quarter] we subbed him. And then we did it again [after] halftime. And, overall, that may have helped him with his wind."
Rondo's feet became a concern after Wednesday's win over the Bucks when Rivers indicated his point guard's feet were so sore he couldn't carry the ball up the court on consecutive possessions. Rondo suggested after Friday's game that the soreness developed over time and, while the only true way to heal is rest, he doesn't plan to miss any time because of the injury.
"I was able to tolerate it tonight," said Rondo, who got treatment and a massage after the game. "We're just taking precautions, that's all."
But the most telling statement from Rondo might have come when asked about his matchup with Derrick Rose, a monster story line before any meeting between the two teams. It's clear Rondo didn't want to take a backseat Friday.
"It's going to take a lot to keep me out of these type of matchups," admitted Rondo. "I like competing, especially against guys like Derrick."
Rose was one of the members of a Team USA squad that won gold at the 2010 FIBA World Championships after Rondo voluntarily departed the team before the start of the tournament. Rondo seems to have something to prove against guards that were ahead of him on the depth chart for Team USA and that would include Oklahoma City's
Russell Westbrook
, who he'll be matched up with Sunday if he's able to play against the Thunder.
"They get fired up for each other, I'm sure," Rivers said of the Rondo-Rose matchup. "That's human nature. And it doesn't get any easier; We play a pretty good guard [Westbrook] in the next game [Sunday vs. the Thunder] as well. But it's good. They're both sensational."
If those guards weren't sensational, Rondo's plantar fasciitis might seem a lot more severe than he's letting on.
November, 5, 2010
11/05/10
11:04
PM ET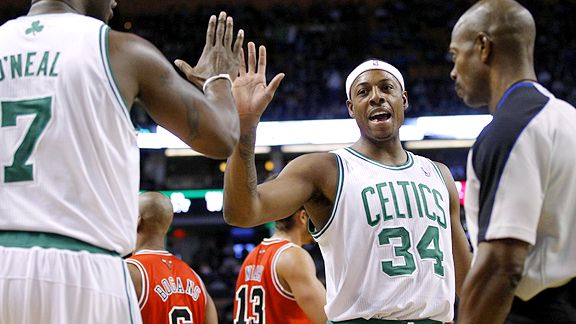 David Butler II/US PresswirePaul Pierce and the Celtics needed overtime to fend off the Bulls.
BOSTON -- First impressions after the
Boston Celtics
defeated the
Chicago Bulls
110-105 Friday night at the TD Garden.
HOW THE GAME WAS WON
The Celtics built a 16-point second-half lead, but allowed the Bulls to rally ahead in the fourth quarter before forcing overtime. Nursing a three-point cushion in that extra session,
Paul Pierce
found
Ray Allen
cutting baseline for an emphatic one-handed jam and a five-point lead with 79 seconds to go to escape with the win. The Bulls boasted a chance to tie late in overtime, but
Kevin Garnett
punched the ball free as
Joakim Noah
sprinted the floor, forcing a turnover that sealed the victory. Allen finished with a team-high 25 points on 9-of-12 shooting, while Garnett (16 points, 10 rebounds) and
Rajon Rondo
(10 points, 11 assists) added double-doubles.
TURNING POINT
The Celtics should have put the game away early in the second half. Trailing by four entering the second quarter, Boston scored 18 of the frame's first 20 points, opening a 12-point cushion behind an offensive explosion by
Marquis Daniels
(11 first-half points). That lead ballooned to 16 just 96 seconds into the third quarter and stood at 14 with five minutes to play in the frame, but evaporated quickly. Chicago's
C.J. Watson
drilled a 3-pointer with 5:43 to play in the game and the Bulls owned an 82-81 advantage, forcing Boston to rally just to force an extra session.
STAT OF THE GAME
The Celtics put seven players in double figures, including
Glen Davis
(15 points) and Daniels (13 points), getting 37 points from a bench that had struggled mightily to generate offense over the first five games of the season.
UNSUNG HERO
Once again in crunch time, it was Davis the Celtics leaned on with the core four starters. Big Baby logged a whopping 37 minutes and also connected on 7-of-8 free throws, including some clutch ones in overtime to seal the win.
WHAT IT MEANS
The last thing these aging Celtics need is more overtime games, but the bottom line is Boston is finding a way to win games -- and home games at that -- which is an encouraging sign. There's things to clean up, but the Celtics boast a 5-1 record as they prepare for a daunting four-game road trip next week with stops in Oklahoma City, Dallas, Miami, and Memphis.
November, 5, 2010
11/05/10
7:45
PM ET
BOSTON -- A collection of pregame notes before the
Boston Celtics
host the
Chicago Bulls
Friday night at the TD Garden:
--
FAMILY REUNION AS SCALABRINE, THIBODEAU RETURN TO GARDEN
--
It was a big pregame lovefest as
Brian Scalabrine
and Tom Thibodeau returned to Garden for the first time as members of the Chicago Bulls. Both gushed about their new situation, while expressing great gratitude for their time in Boston.
"The last three years were the funnest times I've ever had in basketball," said Scalabrine. "I learned the most and grew the most as a person, in those 3 1/2 years -- the 1/2 year and then when we got Kevin [Garnett] and those guys. It changed my life so much that I think my kids will take advantage of it, as well as their children. Just the way you should live life -- not make excuses, work hard, be respectful, grow up and be mature. Those are the type of things i learned."
Said Thibodeau: "There's a lot of memories. I wouldn't be in this position without those players, [coach] Doc [Rivers], [Celtics president of basketball operations] Danny [Ainge], and ownership, so I'm indebted to all of them."
More from Scal and Thibs later, check out the videos embedded here for more.
--
DOC: SHAQ (KNEE) OUT FOR INDEFINITE PERIOD; RONDO (FOOT) ON SHORT LEASH
--
Rivers said center
Shaquille O'Neal
(right knee bruise) will miss his third straight game Friday night against the Bulls (and is questionable to even travel with the team on the upcoming road trip), while point guard
Rajon Rondo
(sore foot) will be on a short leash during Friday's game after experiencing pain in his foot Wednesday night against the Bucks.
Rivers on Shaq: "I don't know if it's looking good to be honest, but i don't know. We'll see. I don't even know, right now, if we'll bring him on this road trip, let alone if he's going to play."
Rivers on Rondo: "He's doing better. But I will say this, if i see anything, and I told him that today, I mean a limp or anything, he's out. I'm not going to wait; You can't take a chance with a foot."
The Celtics do get to add an additional active body for Friday's game thanks to the league's rule that a player suspended for five games or more can come off the active roster after the initial five-game period.
Delonte West
's 10-game suspension left Boston with only 11 available bodies to start the year, but, due to injuries, the additional spot simply means rookie
Luke Harangody
won't have to worry about bringing a suit to the arena each night.
Avery Bradley
(ankle) and
Kendrick Perkins
(knee) remain sidelined by injury, providing Boston with its two other inactives moving forward.
November, 5, 2010
11/05/10
2:22
PM ET
Here are 10 facts and figures to keep in mind for Friday's Celtics vs. Bulls clash (ESPN, 8 p.m) at the TD Garden (information researched for ESPN by Elias Sports Bureau, Inc.):
1.
Rajon Rondo
had 15 assists (14 in regulation) in the Celtics' overtime win against Milwaukee on Wednesday. Rondo's 82 assists this season are an NBA record for one player through his first five games of a season. He broke the mark of 81 assists previously shared by Magic Johnson (1988) and
John Stockton
(1989). Rondo needs 17 assists tonight to keep pace with the NBA record for most assists through a player's first six games of a season (Stockton holds that mark with 99 during the 1989–90 season).

Pierce
2.
Paul Pierce
scored 28 points on Wednesday night, including the 20,000th point of his career. Pierce was the 20th player in NBA history to net at least 20,000 points for one team and he's the third player to reach that milestone for the Celtics, joining John Havlicek (26,395) and Larry Bird (21,791). The only other franchise with as many 20,000-point players as the Celtics is the Lakers, who have four:
Kobe Bryant
, Jerry West, Kareem Abdul-Jabbar and Elgin Baylor.
3. Paul Pierce has made his last 15 free throws. The only NBA player with a longer current streak than Pierce (entering Friday's game) is
Jeff Green
of the Thunder (18 straight free throws made).

4.
Nate Robinson
has made only 19.2 percent (5 of 26) of his field-goal attempts this season. That's the lowest field-goal percentage among NBA guards with at least 15 shots from the floor.
5.
Derrick Rose
scored a career-high 39 points in the Bulls' 101–93 victory at United Center the last time these clubs met (April 13). Paul Pierce led Boston with 28 points in that game and
Ray Allen
added 25. It's one of five games in which both Pierce and Allen have scored at least 25 points for the Celtics, but it's the only such game that Boston lost.

Scalabrine
6.
Brian Scalabrine
has made six of seven field-goal attempts this season (85.7 percent) but his 38.9 percent career field-goal percentage is the second lowest among active players (minimum: 1,400 FGA).
7. Rose is averaging 21.5 field-goal attempts per game this season. That ranks him second in the NBA to
Kevin Durant
(23.0 FGA/G). The only other player who is averaging as many as 20 field-goal attempts per game this season is
Monta Ellis
(20.5).

8. The Knicks scored 70 first-half points on their way to a 120–112 victory last night in Chicago. It was the first time in almost 14 years (Dec. 17, 1996 vs. the Lakers) that the Bulls allowed at least 70 points in the first half of a home game.
9.
Joakim Noah
leads the NBA with an average of 14.8 rebounds per game. No Bulls player has finished a season as the league's leading rebounder since
Dennis Rodman
in 1997–98. Noah has pulled down at least 10 rebounds in each of his last seven regular-season games (dating back to last season). That's the longest current streak of its kind in the league;
Luis Scola
is second (4).
10.
Taj Gibson
has fouled out of 10 games over the last two seasons (including one this year). No other NBA player more than seven DQs over that span.
November, 5, 2010
11/05/10
12:12
PM ET

(4-1)
-- vs. --
(2-2)

at TD Garden, 8 p.m. | ESPN, WEEI (850 AM)
GAME PREVIEW (via Stats Inc.)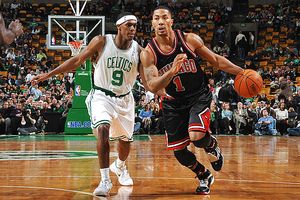 Brian Babineau/NBAE via Getty ImagesDerrick Rose and Rajon Rondo are two of the NBA's best young point guards.
Tom Thibodeau made quite an impact in his time as associate head coach of the Boston Celtics, forging a close relationship with Kevin Garnett along the way. It's why he landed his first head coaching job with the Chicago Bulls.

Thibodeau returns to Boston to face his former team for the first time when the Bulls and Celtics renew a rivalry that blossomed in the 2009 playoffs.

In Thibodeau's three seasons working under coach Doc Rivers, Boston (4-1) twice led the league in field-goal percentage defense and went to the NBA finals twice. Thibodeau earned a reputation as one of the top defensive coaches, and was hired by the Bulls (2-2) in the offseason as their 18th coach.

Garnett earned his lone defensive player of the year award in 2007-08 as Boston won its record 17th championship.

"Thibs brings a passion for defense, I think," Garnett said. "When you think of Tom Thibodeau and what's his strengths, he's obviously a defense guy. He watches an uncountable amount of film. He's a worker. He's a guy that loves his job. He does it with passion."
Read the full preview
HERE
.
FORSBERG'S THREE THINGS TO WATCH
With help from our friends at ESPN Chicago, we touched on a few of the
obvious story lines
entering Friday's game. Here's three other things I'll be watching:
How do the Bulls attack the Celtics?: Thibodeau is credited as the mastermind behind building Boston's defense, so no one should know better how to attack it. That said, Celtics coach Doc Rivers noted earlier this year that there are few secrets in the NBA and joked that if he, or any of his assistants, didn't know what was coming from another team, they probably deserved to be fired.
Bench warming?: Is this the night Boston's bench finally finds its groove? Yes, we've mentioned the bench before just about each game, but with a third game in five nights, and an already taxed group of starters, the Celtics still need a boost from the reserves. What's more, Chicago's bench is among the lowest scoring units in the league right now, so yet another chance to potentially do some damage for Boston's second unit.
C's & the 3-ball: The Knicks connected on 16-of-24 attempts from beyond the arc, generating a whopping 40 percent of their total output (in a game they scored 120 points, no less) via the 3-pointers. Can Boston take advantage of the same weakness New York exposed in Chicago's perimeter defense?
November, 5, 2010
11/05/10
8:35
AM ET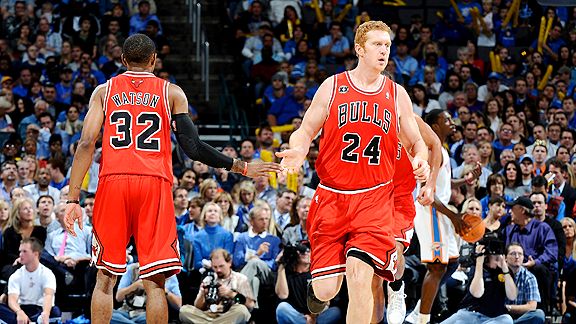 Larry W. Smith/NBAE via Getty ImagesOld friend Brian Scalabrine returns to Boston Friday night.
Just another Friday night at the Garden? Hardly. There's no shortage of story lines when the Chicago Bulls visit the Boston Celtics (ESPN, 8 p.m.) in an early season Eastern Conference showdown.
The return of Brian Scalabrine and Tom Thibodeau; Rajon Rondo vs. Derrick Rose; Kevin Garnett vs. Joakim Noah. It's going to be a fun night on Causeway St. and the participants aren't hiding their excitement either.
"As much as I would love to downplay it, I am actually pretty excited about going back to Boston to play there," Scalabrine said. "More than just me, Tom [Thibodeau, too] ... if we could go out there and get a win I'd be the happiest dude alive at the time."
Asked about Thibodeau's return, Celtics coach Doc Rivers' face lit up.
"That'll be great [to have Thibodeau back in town]," said Rivers. "We talk a lot; Hell, I think I talk to him more now then when he was with us, at least it feels like that at times. I'm just real happy for him. He's doing a sensational job. I don't know if anybody paid more dues than him. He's been around for a long time, trying to get a head coaching job. So it's real nice."
Our good friend Nick Friedell of ESPN Chicago (follow him on Twitter,
@ESPNChiBulls
) provides a
nice breakdown
of Friday's other story lines:
RONDO vs. ROSE:
Which team has the better point guard? Obviously, it depends on whom you ask, but there is no doubt that the Bulls clearly have a lot of respect for Celtics point guard Rajon Rondo.

"Mentally, he's probably the smartest player I've ever play against," Scalabrine said. "Some players play out of instincts and what they see they can go and attack. He plays out of concepts. He's like Doc, or a guy like Mark Jackson, they see stuff that could happen and a way that you could beat a team that most of the people, including players, don't see."

Rose was very complimentary as well; the pair played together for Team USA over the summer.

"You can't guard passes like that," Rose said of Rondo. "It's hard when somebody doesn't have to score and they can still control the game. So with him doing that and rebounding, it's very tough. You just got to make sure you pressure him and make sure he's got his back turned."

As for Rondo's departure from Team USA before the World Championships, Rose said he really didn't know much about the situation.

"I really didn't know what was going on," Rose said. "I was confused. It happened in the morning; we woke up, go in the meeting and he wasn't there, so we really didn't know what was going on. [Coach Mike Krzyzewski] wasn't really saying too much about it and then we just kept it like that."

NOAH vs. KG
Having played with both Joakim Noah and Kevin Garnett, Scalabrine may be one of the best players to judge how the pair compares to one another.

"They're motor's the same," Scalabrine said. "There's just little differences. Jo has better hands, bigger and better hands. KG is a better shooter. But, all those differences balance out to a really good player and another really good player. What's similar is their motor is the same ... and that's important in the league. It's an underrated skill that a lot of people don't talk about."

As for who the better trash talker is?

"Better as in more tactful?" Scalabrine responded. "Better as in talks more?"

"Who gets in your head more?" I said.

"Oh, Kevin, no question" he said. "Kevin gets in your head probably better than anybody."
A glance at Thursday's headlines:
Celtics Mailbag: Can Rondo, Baby keep it up?: In terms of assists, Rajon Rondo is off to the best start in NBA history through five games. But could he challenge John Stockon's single-season assist record? Could Glen Davis be a candidate for Sixth Man of the Year?
Ainge defends KG: Celtics president of basketball operations Danny Ainge is the latest to come out in strong defense of Kevin Garnett, calling Detroit's Charlie Villanueva's accusations "ludicrous."
Knicks' bench sparks record from downtown vs. Bulls: Chicago endured a tough loss Thursday night on the front end of a back-to-back before visiting the Celtics Friday.