Boston Celtics:

2010Game66
March, 17, 2011
3/17/11
9:26
AM ET
By
Greg Payne
| ESPNBoston.com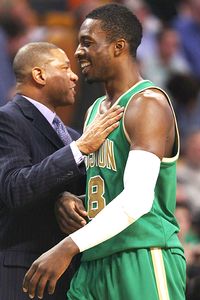 Elsa/Getty ImagesDoc Rivers congratulates Jeff Green on a big effort vs. Indiana.
BOSTON -- The Celtics are first and foremost a defensive team, but when they acquired Jeff Green three weeks ago, it was with the hope that he would prove to be a key asset on the other side of the ball.
Against the Pacers on Wednesday night at the TD Garden, Green once again fulfilled those hopes, as he sparked Boston with 19 points off the bench in the Celtics' 92-80 victory.
The Celtics trailed 20-15 at the end of the first quarter, but Green confidently led a second unit that changed the complexion of the game in Boston's favor. Green scored 13 of Boston's first 16 points in the second quarter -- including 12 straight at one point -- turning that five-point deficit into a two-point advantage. Utilizing his size against smaller defenders like Brandon Rush and Danny Granger, Green repeatedly posted up on the right block and forced the issue going to the rim, which more often than not resulted in trips to the free throw line. Green garnered eight total free throw attempts in the second quarter, making six of them.
"I just go out there and be aggressive," said Green. "I just go out there and play hard. When you play hard it makes up for a lot of things and it leads to some good things."
March, 17, 2011
3/17/11
12:48
AM ET
BOSTON -- A collection of news and notes after the
Boston Celtics
defeated the
Indiana Pacers
92-80 Wednesday night at the TD Garden:
The rundown: KG on Rondo, Chicago, Ocean's Eleven | Murphy's Dunk | Layup Line
No need to wait for his next blog, Celtics forward
Kevin Garnett
tackled a wide variety of topics following Wednesday's win and offered some intriguing answers to questions about some of the hottest topics around the Celtics.
On if he had talked to point guard
Rajon Rondo
about his recent struggles:
"Rondo's playing hurt. [Rondo's hurt]. He's giving us everything he has and he's grinding. I think the nights where he's playing countless minutes for us, and he's not playing washed up guys. He's playing [Indiana's Darren Collison] and [New Jersey's Deron Williams] and all these guys and they're coming at him. He knows that, so he's just a little focused in. But everybody's banged up at this point and [Rondo] is no different from that."
On competing with Chicago for the top seed in the Eastern Conference:
"We don't even care about Chicago. We're not really worrying about everybody else. We're taking it a game at a time. Doc's making sure that we don't overlook anybody, any teams. Right now the focus is the road trip and the road trip only. This is probably the most important priority at hand, winning tonight, so that you had that momentum going on the road. It's very important, so now we've got to suit up and be ready for this road trip."
On losing another tail end of a back-to-back in New Jersey:
"Basically, we knew we were getting guys back [Wednesday. We wanted] to be aggressive and there really wasn't a lot of chatter on the plane from [New Jersey], a lot of [angry] guys, and we came in and got some things done, and it carried over to the game [Wednesday]. Ticked off is an understatement."
On whether he's excited about how this team will look once everyone is healthy:
"You know what's crazy? This is like a good movie and you haven't even seen all of it. As a matter of fact, I'm going to use Ocean's Eleven ... you haven't seen Matt Damon, you haven't seen Brad Pitt, you haven't seen Bernie Mac. You've just seen [George] Clooney and a couple other guys."
Pressed on what character from the movie he'd be, Garnett pondered for a moment and smiled broadly before announcing, "I'm Saul."
Saul Bloom
, played by Carl Reiner, is described on the
movie's official website
as "the ulcerous old pro who is brought out of retirement to play a crucial role in the heist." Yep, seems appropriate.
March, 16, 2011
3/16/11
10:04
PM ET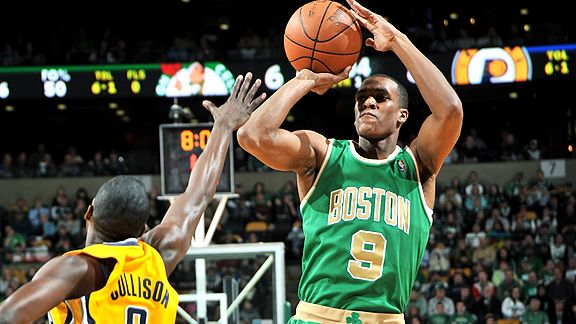 Brian Babineau/NBAE/Getty ImagesRajon Rondo helped the Celtics get back on track Wednesday night against the Pacers.
BOSTON -- Rapid reaction after the
Boston Celtics
defeated the
Indiana Pacers
92-80 Wednesday night at the TD Garden:


HOW THE GAME WAS WON
Paul Pierce
scored a team-high 20 points over 28 minutes, while
Jeff Green
kicked in 19 points off the bench to fuel the Boston offense. Indiana shot a mere 37.5 percent (33-for-88 overall) with
Paul George
and
Danny Granger
posting a team-high with 15 points apiece. No Celtics starter played more than 29 minutes (
Rajon Rondo
).
TURNING POINT
The Celtics sleepwalked out of the gates, allowing Indiana to build an early eight-point lead while scoring a mere 15 points in the first frame. Green poured in 13 points on his own in the second frame as Boston erupted for 32 points. With the game tied at 29, Boston embarked on a 15-2 run highlighted by a trio of 3-pointers (two by
Ray Allen
, one by Pierce) for a 44-31 advantage with 2:02 to go in the half.
STAT OF THE GAME
Highlighted by Green's second-quarter effort, the Boston bench combined for 39 points, its highest output since Jan. 25 (47 points vs. Cleveland).
UNSUNG HERO
Delonte West
returned from an ankle injury that sidelined him for eight games and chipped in two points, three assists, a steal, and one very loud fourth-quarter block over 16 minutes. He was a plus-10 in the plus/minus for the night.
WHAT IT MEANS
Despite the sluggish start, it was another feel-good effort for Boston, which leaned on Green's second-quarter explosion to make this one breezy.
Troy Murphy
was throwing down reverse jams on the eve of St. Patrick's Day and Gino danced (albeit, after the final buzzer). Boston climbs back into a tie atop the Eastern Conference with Chicago, but a daunting three-game road trip (Houston, New Orleans, and New York) looms as the Celtics play 10 of their final 16 games away from the Garden.
March, 16, 2011
3/16/11
7:50
PM ET
BOSTON -- Celtics center
Shaquille O'Neal
engaged in some shooting and light basketball exercises Wednesday, the most heightened activity he's performed recently, and coach Doc Rivers expressed optimism about the latest step in O'Neal's recovery from the right foot injuries that have sidelined him since Feb. 1.
"Shaq shot today and felt pretty good," said Rivers. "Hopefully, I don't even know what the time frame is, but the fact that he's on the floor, means sooner than later."
Including Wednesday's tilt with the
Indiana Pacers
, O'Neal has missed the last 18 games. One day removed from his 39th birthday, O'Neal deemed himself 85 percent during a community event at the Boston Children's Museum on March 7 and said he hoped to be back on the floor in a week.
That week passed and, even with Wednesday's light activity, it would appear that O'Neal's return is still not imminent.
March, 16, 2011
3/16/11
7:33
PM ET
BOSTON -- Celtics reserve guard
Delonte West
revealed Wednesday that he actually chipped a bone in his right ankle when he injured himself during a non-contact, offday walkthrough in late February. But after missing the last eight games, West is set to return to the Boston lineup Wednesday against the
Indiana Pacers
.
"I got an MRI and it showed that I chipped a bone [causing] swelling in my ankle," said West. "Like I said, it was a sprained ankle, so I was thinking 2-3 days. It turned out to be about two weeks. I figured I waited this long, what's two more weeks. But we're here now."
West, who missed 39 games due to a fractured right wrist and another 10 contests due to suspension to start the 2010-11 season, has appeared in only eight games this season. Wednesday's game will be only his fourth game of the season at the TD Garden and his first since the wrist injury on Nov. 24.
Davis returned following the All-Star break and played three games on the west coast before the fluke injury while trying to get newly acquired
Jeff Green
and
Nenad Krstic
acclimated to a new playbook.
"A walkthrough; I stepped on a coach's foot," said West. "Rolled it all the way over and touched the ground."
Pressed on which coach it was that caused the injury, West smiled and noted, "I don't remember." Despite all the trials this season, he's still got his sense of humor.
"My goal between now and the playoffs is just gaining the trust of my teammates and the coaching staff," said West. "Just be out there with them, get my timing right... That's my goal right now: Have this team have confidence in me going into the playoffs."
March, 16, 2011
3/16/11
11:37
AM ET
By
Greg Payne
| ESPNBoston.com

(47-18, 28-6 home)
-- vs. --
(29-38, 11-23 away)

at TD Garden, 7:30 p.m. | CSN, WEEI (850 AM)
PAYNE'S THREE THINGS TO WATCH
West Returns: Delonte West is expected to play tonight following an eight-game absence due to a sprained right ankle. It's the latest comeback attempt for the oft-injured Celtics guard, who's only played in eight games for the Celtics this season. He's still regarded as a crucial piece of the team's second unit, even with the recent addition of Carlos Arroyo. Keep an eye on how head coach Doc Rivers juggles the minutes between the two backup point guard candidates. Don't be shocked if West spends more time serving as the backup shooting guard while Arroyo handles the ball for the second five.
March Madness: Pacers forward Tyler Hansbrough has so far had one of the best statistical months of his young NBA career. In nine games in March, Hansbrough's averaged 20.3 points and 7.1 rebounds while shooting 51.9 percent from the field. Against the New York Knicks on Sunday, Hansbrough posted a career-high of 29 points to go along with eight rebounds, only to one-up that point total by pouring in 30 points against that same Knicks squad on Tuesday.
Rondo's Roadblock: The word "slump" has been associated with Rajon Rondo the last few days, in the wake of his struggles in the month of March. In the seven games Rondo's played in this month he's averaged 8.1 points and 9.3 assists, but he's shot just 37.7 percent from the field. His assist numbers have troubled folks the most, as his assists-per-game average has dropped in each month since the season started. His head-to-head matchups won't get any easier tonight, as he'll square off against the upstart Darren Collison, who's coming off of a 24-point (on 9-of-13 shooting) nine-assist effort against the Knicks.
GAME PREVIEW (via Stats Inc.)
Indiana (29-38) will be coming to town on a high this time after a home-and-home sweep of New York.

Danny Granger scored 26 points Tuesday, including a jumper with 0.3 seconds remaining to give the Pacers a 119-117 home victory. Granger missed Sunday's 106-93 win at Madison Square Garden because of strep throat. Tyler Hansbrough set a new career high in each game against the Knicks, following a 29-point effort Sunday with 30 points two nights later.

The Pacers, who had lost six straight prior to Sunday, are clinging to the eighth and final playoff spot in the East -- one-half game ahead of Charlotte.

"We had a rough stretch that, we all understand that we went through a tough time," coach Frank Vogel said. "We're on our way back to being ourselves."
Read the full preview
HERE
.