Boston Celtics:

2010Game67
March, 20, 2011
3/20/11
3:37
PM ET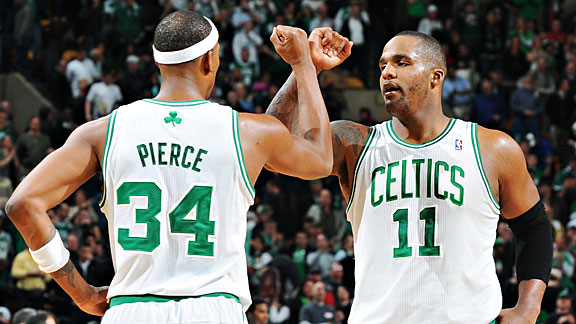 Brian Babineau/NBAE/Getty ImagesThe Boston starters don't mind when the reserves thrive.
When the Celtics' reserves outscored the starters during Friday's thrashing in Houston, it was the first time in more than a year that the bench has outproduced the first unit (no small feat considering all the injuries Boston has endured in recent seasons).
While it happened Friday in part because the Big Four of
Rajon Rondo
,
Kevin Garnett
,
Paul Pierce
, and
Ray Allen
had one of their lowest combined output of the Big Three era (33 total points), it's the new 1-2 punch of
Glen Davis
and
Jeff Green
off the pine (mix in
Delonte West
and you may even have a bench Big Three) that's helping Boston's bench output.
We have a story on the Boston bench that will be posted on ESPN Boston later on Sunday, but for now, courtesy of ESPN researchers, here's a look at the last five games in which the Celtics' reserves have outscored the starters (with date, totals for each unit, and result):
March, 19, 2011
3/19/11
1:34
AM ET
By
Greg Payne
| ESPNBoston.com
Rapid reaction after the
Houston Rockets
defeated the
Boston Celtics
93-77 on Friday night at the Toyota Center in Houston:
The rundown: Houston, we have a problem | On guard | Tempers flare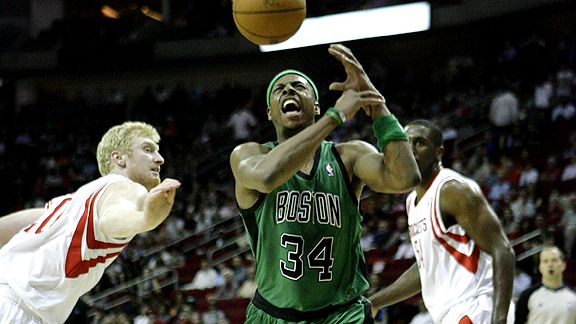 Brett Davis/US PresswirePaul Pierce and the Celtics struggled on offense Friday against the Rockets, which Doc Rivers said led to their defensive difficulties.
--
HOUSTON, WE HAVE A PROBLEM
--
The Celtics suffered their third straight road defeat and, once again, the finger needs to first be pointed at the defensive end of the floor. The Celtics allowed a season-high 62 first half points, as the Rockets converted 20 of their 40 field goal attempts, all 15 of their free throw attempts and seven of their 14 shots from 3-point nation in the opening 24 minutes. Houston notched 28 points in the first quarter and exploded for 34 more in the second frame, as it carried a 62-40 advantage into halftime.
With that said, Boston's offense wasn't exactly praiseworthy, despite some encouraging play in the opening minutes. The Celtics appeared to enter the game with an aggressive mindset, as guys such as
Paul Pierce
and
Rajon Rondo
attacked the rim, creating open looks for themselves and their teammates. That aggressiveness seemed to dissipate as the frame went on however, and the Celtics finished the opening quarter with 22 points on just 8-of-19 shooting from the field (42.1 percent).
"I thought early on we had [intensity] and we couldn't make a shot," Celtics coach Doc Rivers told reporters after the game. "We showed them at halftime -- I think we showed them seven point-blank shots at the basket that didn't go in -- and I thought we got a little frustrated because we were missing shots. Kevin [Garnett] got great turnarounds in the paint, Ray [Allen] missed good shots, and that's uncharacteristic of us. I definitely thought our offense led to our bad defense. I thought [the Rockets] played harder overall, but I thought early in the game, we came with the right intensity. We just couldn't make a shot, and then that led over to our bad defense."
The Celtics' offensive woes continued into the third quarter, as they shot an appalling 6-of-19 from the field, finishing with just 16 points. And while they might have "held" the Rockets to just 19 points in the third quarter, they ultimately dug themselves into a deeper hole, as they trailed by 25 points heading into the fourth quarter. Knowing a rematch with the
New Orleans Hornets
awaited his team on Saturday, Rivers threw up the white flag, as he didn't play any of his starters in the final frame.
"Well, we accomplished one thing: Minutes were low," Rivers deadpanned.
March, 18, 2011
3/18/11
2:36
PM ET
By
Greg Payne
| ESPNBoston.com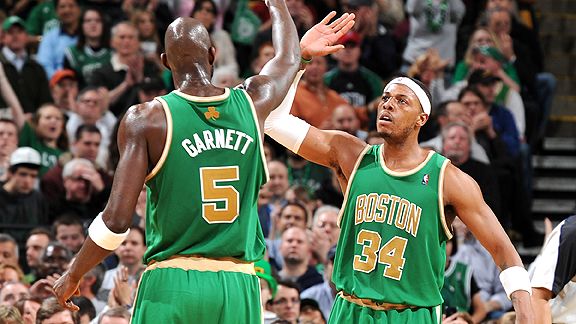 Brian Babineau/NBAE/Getty ImagesWill the Boston Celtics be focused Friday night against the Houston Rockets?
Following unsightly back-to-back losses to the
Los Angeles Clippers
and
Philadelphia 76ers
, the Celtics responded with a thorough 31-point beat down of the
Milwaukee Bucks
Sunday, helping to halt some of the negative criticism that was starting to surface. After the 87-56 win over the Bucks, Celtics forward
Kevin Garnett
pointed to a renewed focus from the team as a key ingredient in the decisive victory.
"Today was just a different focus," Garnett said. "We don't like to lose around here. We definitely don't like multiple losses. We're working for something that's bigger than everybody here, and today we had that focus."
Unfortunately, the Celtics didn't appear to pack that newfound focus on their flight to New Jersey, as they suffered a string of key mental lapses down the stretch the following night in another head-scratching 88-79 loss to the Nets. Sure, the Celtics have suffered on the second night of back-to-backs all season, and coach Doc Rivers told reporters after the loss that he wasn't particularly concerned over the issue. But he also spoke on the issue of mental toughness, and how his team hasn't been spot-on in that department.
"It doesn't bother me unless they're going to start having back-to-backs in the playoffs," said Rivers. "I'm not that concerned by it. It bothers me that we're not mentally tougher, because, to me, all back-to-backs are is a mental toughness thing and we've struggled all year. If we could take the back-to-backs out, we'd have the best record in the NBA, but we can't, and where it doesn't bother me is, again, you don't have those in the playoffs. You have rest and so that's a good thing. But [they] still are losses and you're losing ground by losing games."
March, 18, 2011
3/18/11
11:05
AM ET
By
Greg Payne
| ESPNBoston.com

(48-18, 19-12 away)
-- vs. --
(35-34, 19-14 home)

at Toyota Center, Houston, Texas, 8:30 p.m. | CSN, WEEI (850 AM)
PAYNE'S THREE THINGS TO WATCH
Defending the Arc: In the Celtics' most recent three losses, their opponents have shot a combined 25-of-58 from 3-point nation (43.1 percent). For the season, the C's rank sixth in the league in 3-point field goal defense, as opponents have shot just 34.1 percent from distance. When the Rockets defeated the Celtics at home back on Jan. 10th, they shot 50 percent (10-of-20) from the nation (granted, Aaron Brooks made five of those and he is now a member of the Phoenix Suns).
Eyes on Rondo: Rajon Rondo has drawn a slew of tough point guard matchups in the Celtics' last handful of games, and while Houston's Kyle Lowry isn't regarded as one of the league's elite quarterbacks, the Villanova product has averaged 18.4 points and 7.1 assists over his last 10 games. Rondo will be in for another tough draw, and it would be encouraging to see him respond with a breakthrough game, as he continues to work his way out of his recent streak of lackluster play.
Move the Ball: The Celtics still rank first in the NBA in assists per game, with a nightly average of 23.9. That figure was well above 24 for most of the season, however, and in its last six games, Boston boasts an average of just 21 assists per game. While some of this can be attributed to the recent up-and-down play of Rondo, the C's as a team can make strides to improve in this area. The Rockets are basically an average team when it comes to allowing assists, as opponents currently drop 20.8 helpers against them, good for 13th overall in the NBA.
GAME PREVIEW (via Stats Inc.)
The Rockets are in 10th place in the West as they try to catch Memphis for the eighth and final playoff spot.

Houston lost its first two games without Luis Scola before winning the last two. Kevin Martin led five Rockets in double figures with 21 points in Wednesday's 94-78 win over Charlotte. The Rockets never trailed for the sixth time this season, limiting the Bobcats to 37.2 percent shooting -- the third-lowest mark allowed by Houston.

"It's a solid win for our guys," coach Rick Adelman said. "We came out and defended them pretty well. We did what we had to do, which was control the game from the very start."
Read the full preview
HERE
.