Boston Celtics:

2010Game68
March, 20, 2011
3/20/11
10:04
AM ET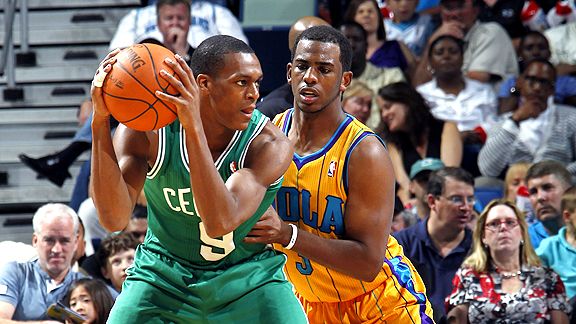 Layne Murdoch/NBAE via Getty ImagesRajon Rondo is getting back on track after Saturday's win in New Orleans.
Rajon Rondo showed signs of snapping out of his funk as the Celtics bounced back from Friday's ugly loss:
--
MacMULLAN: RONDO ROUNDING INTO FORM
--
The smile came easily on Saturday night. That's progress, Rajon Rondo figures. The grin was in response to a query regarding his modest success in knocking down some open jumpers against the New Orleans Hornets. "That was good," he said. "We needed it. I needed it." It was of little consequence to Rondo that when the Boston Celtics finally stopped scuffling and ripped off an 21-6 run that catapulted them to an 89-85 win over the New Orleans, he was on the bench, nursing a pinky injury that caused his hand to go numb.
Later, Rondo opens up about his recent struggles, that nagging pinky injury, and moving on after the Kendrick Perkins trade:
"It's a mix and match of things. I haven't been playing well. Aches and pains. And we had the trade with Perk [Kendrick Perkins]. He's a guy I spent a lot of time with. I'm not saying that's why I'm playing bad. You just appreciate somebody more when they're gone. We were best friends. We're talking more now than we did when he was here. It's been tough. I know other guys have been through it, but I haven't. We went through everything together, right from the beginning. I missed the USA basketball camp so I could be at his wedding. When we were on the road, there was never any question we'd be hanging out together. It was 'What are we going to do tonight?' or 'Let's go here and there.' So now it's a little different. I'm not saying I'm no lost puppy. He didn't die or anything. But he's a good person."
March, 19, 2011
3/19/11
11:19
PM ET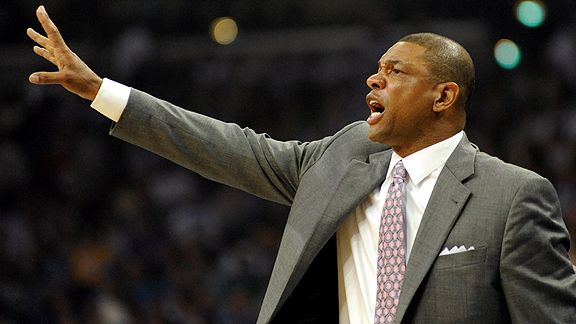 Chuck Cook/US PresswireDoc Rivers earned his 500th career win Saturday night vs. the Hornets.
Celtics coach Doc Rivers earned the 500th victory of his career with Saturday's 89-85 come-from-behind triumph over the New Orleans Hornets. The win makes him only the
27th coach in NBA history
to reach the half-grand milestone.
In 12 seasons on the benches in Orlando and Boston, Rivers now boasts a career record of 500-399 (.556 winning percentage), including a 329-231 mark (.588) with the Celtics.
Coincidentally, the next person Rivers would pass in the 500-win club is former Celtics helmsman KC Jones, who boasts 522 wins in 10 seasons. Jones accrued 308 wins with Boston, and earlier this season,
Rivers leapfrogged him into third place all-time
for Boston wins behind only Red Auerbach (795) and Tommy Heinsohn (427). Needless to say, elite company, especially considering Boston's overwhelming success with 17 world titles.
Rivers is one of five active coaches with 500 wins, the others being Washington's Flip Saunders (629 wins), San Antonio's Gregg Popovich (791), Houston's Rick Adelman (938), Denver's George Karl (1,027) and the Lakers' Phil Jackson (1,147). Larry Brown (1,098) and Jerry Sloan (1,221) were on that list until moving on from their positions this season.
March, 19, 2011
3/19/11
10:10
PM ET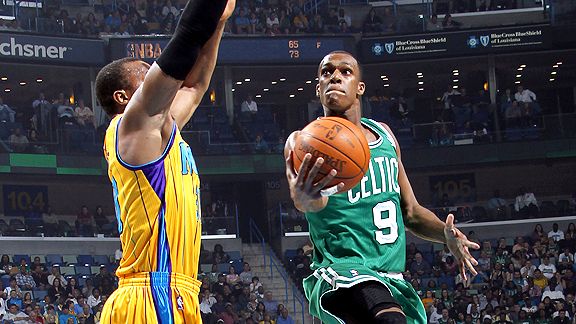 Layne Murdoch/NBAE via Getty ImagesRajon Rondo and the Celtics rallied from a 15-point deficit to win in New Orleans.
Rapid reaction after the
Boston Celtics
defeated the
New Orleans Hornets
89-85 Saturday night at New Orleans Arena:


HOW THE GAME WAS WON
Playing with extra spunk in front of his hometown crowd, Celtics reserve forward/center (and Baton Rouge native)
Glen Davis
erupted for 20 points on 8-of-11 shooting with eight rebounds and a steal over 29 minutes as the Celtics rallied out of a 15-point, second-half hole.
Ray Allen
matched Davis with a team-high 20 points, connecting on 7-of-13 shots over 44 minutes.
David West
scored a game-high 32 points for New Orleans, while
Marco Belinelli
added 23 for the Hornets.
TURNING POINT
The Celtics trailed by 15 early in the third quarter, but closed out the period with a 26-8 run to carry a 67-64 advantage into the final stanza. Allen made all five shots he took in the frame, including a pair of 3-pointers to ignite the rally. He finished with 12 points in the quarter, while Davis added four buckets (eight points) and four rebounds during the feverish rally. Boston's three-man bench of Davis,
Jeff Green
and
Delonte West
combined to connect on 6-of-7 shots for 12 points in the third quarter.
STAT OF THE GAME
Unable to find their shot in recent games, the Celtics overcame a woeful first-quarter shooting performance (6-of-18, 33 percent) to shoot 51.5 percent overall (35-of-68). Boston made 12 of 16 shots (75 percent) in the third quarter alone.
UNSUNG HERO
With
Rajon Rondo
playing just 4:48 in the third quarter (after a collision with Garnett, Rondo could be seen on the sideline
icing his hand
, but he returned later), the Celtics leaned hard on West to run the offense. He responded by guiding the comeback effort and finished with nine points, five assists, a rebound and a block over 14 brilliant minutes. West was also a team-best plus-19 in the plus/minus category, further emphasizing his role in the rally.
WHAT IT MEANS
The Celtics' struggles in back-to-backs closing on the road have been well-documented with the team dropping eight of 10 games under that scenario this season, including their last six. After losing for only the second time in 15 tries on the front end of a back-to-back Friday night in Houston, Boston responded by stealing one on the road and rallying from 15 down (the largest deficit overcome this season).
March, 19, 2011
3/19/11
12:47
PM ET
By
Greg Payne
| ESPNBoston.com

(48-19, 19-13 away)
-- vs. --
(40-30, 24-10 home)

at New Orleans Arena, 8 p.m. | CSN, WEEI (850 AM)
PAYNE'S THREE THINGS TO WATCH
Rondo vs. Paul: Rajon Rondo's recent struggles have been well-documented, but Saturday's head-to-head matchup with fellow All-Star Chris Paul might be just what he needs to get himself back on track. While Rondo hasn't matched up well with some of the game's better point guards in recent weeks like Deron Williams of the New Jersey Nets, Darren Collison of the Indiana Pacers, and, most recently, Kyle Lowry of the Houston Rockets, Rondo and Paul appear to have a crusty relationship, stemming from a confrontational matchup in Boston back in November of 2009 in which the pair exchanged words after the final buzzer sounded. Will whatever tension exists between the two be enough to motivate Rondo to once again play at an All-Star level?
Gut Check: Assessing things like the Celtics' intensity and body language will actually be important Saturday, considering how poorly they played against the Rockets on Friday night. While Saturday's contest is not a "must-win" game by any means, it would be encouraging to see the Celtics come out firing on all cylinders as they look to move past one of their worst performances of the season. The good news: All of the starters played less than 30 minutes on Friday, meaning they'll hopefully be somewhat fresh for Saturday's bout. The bad news: Saturday's game serves as the second night of a back-to-back and the C's currently hold a 2-8 record on the second night of back-to-backs on the road this season. Overall, the Celtics have lost their last six games under such circumstances.
Get Ray Shots: Ray Allen took a season-low six field goal attempts against the Rockets on Friday night, in a game in which the Celtics could have obviously used a hot shooting night from him. Expect to see the Celtics feed the ball to Allen early, as he runs Marco Belinelli off his usual string of baseline screens. A hot start from Allen could also help Rondo get into a rhythm, as he'll most likely be the one passing Allen the ball as he comes off the various picks for jump shots near both elbows.
GAME PREVIEW (via Stats Inc.)
Home-court advantage in the first round is likely out the window for New Orleans (40-30), but finishing as high as fifth in the West -- which would allow it to avoid the Spurs, Lakers and Mavericks in the first round -- is a distinct possibility.

The Hornets are currently percentage points behind Portland for sixth place, and 1 1/2 games behind fifth-place Denver. Most importantly, Chris Paul doesn't seem to be showing any lingering effects from his recent concussion. The points guard has averaged 28.7 points, 11.3 assists and five steals in three games since his return, and scored a game-high 26 in Wednesday's 100-95 victory over Phoenix.

"I just try to be aggressive," Paul said. "I've learned, watching all the games, that if I'm aggressive early, it makes the defense collapse on me and it makes my teammates open even more."

Paul had a similarly balanced game Dec. 31 at Boston. He had 20 points, 11 assists, six steals and five boards as New Orleans edged a Celtics team missing Kevin Garnett and Rajon Rondo 83-81.

The Hornets won't have the luxury of avoiding Garnett or Rondo this time around, but Paul is at least catching Rondo in the midst of a horrendous slump. The two-time All-Star has totaled eight points in his last four games while shooting 4 for 29 (13.8 percent) from the field.
Read the full preview
HERE
.
March, 19, 2011
3/19/11
9:25
AM ET

The Celtics' struggles on the second night of back-to-backs on the road this season are no secret. Boston has dropped eight of 10 games in that scenario this season, including its last six. The silver lining was that Boston was practically undefeated (13-1) on the front end of back-to-backs this season, including a 7-1 mark on the first night of back-to-backs on the road.
But then Boston went out Friday night and got annihilated in Houston, doubling that first night loss total, and must now trek to New Orleans Saturday night looking to steal the tail end of this back-to-back (no easy task against a Hornets squad that is 10 games above .500, even if that's currently only good for the No. 7 position in the Western Conference playoff race).
Are the Celtics destined to lose both ends of this current back-to-back? Despite their second-night struggles, past history suggests there might be some hope. The only other time Boston lost on the first night this season -- a 102-101 loss to the Raptors on Nov. 21 -- it rebounded with a 99-76 drubbing of the Hawks the next night in Atlanta.
The Celtics play four more back-to-backs this season and seven of the eight games involved are on the road; the only home game is vs. Washington on April 8.