Boston Celtics:

2010Game69
March, 22, 2011
3/22/11
11:15
AM ET
By
Greg Payne
| ESPNBoston.com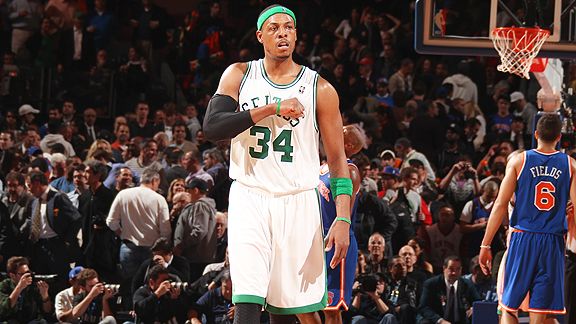 Nathaniel S. Butler/NBAE/Getty ImagesPaul Pierce pounds his chest during Boston's rally from a 15-point deficit vs. the Knicsk.
It took the
Boston Celtics
24 minutes of play in Monday's 96-86 come-from-behind victory over the
New York Knicks
to play like the Boston Celtics. It took
Paul Pierce
12 additional minutes to finally play like Paul Pierce.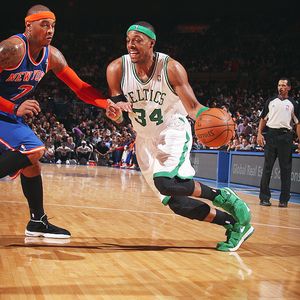 Nathaniel S. Butler/NBAE/Getty ImagesPaul Pierce looks to drive against Carmelo Anthony and the Knicks.
Hindered by a lack of field goal attempts, a tough defensive matchup with the Knicks'
Carmelo Anthony
, and frustrating foul trouble, Pierce stumbled through the first three frames, posting just eight points on 3-of-8 shooting, to go along with four rebounds and four personal fouls. But after Anthony dropped 18 points over that same span, Pierce had had enough, and promptly went on a fourth-quarter scoring spree, tallying 13 points on 5-of-6 shooting from the field as Boston completed its comeback from a 15-point deficit.
"You give a scorer a little taste," Pierce said in a sideline interview broadcast on Comcast SportsNet after the game. "Sometimes that's all it takes for me, just to see the ball go in once, twice and then I feel like I've got a good groove and my teammates do a good job of setting me up and getting me the ball."
March, 22, 2011
3/22/11
7:02
AM ET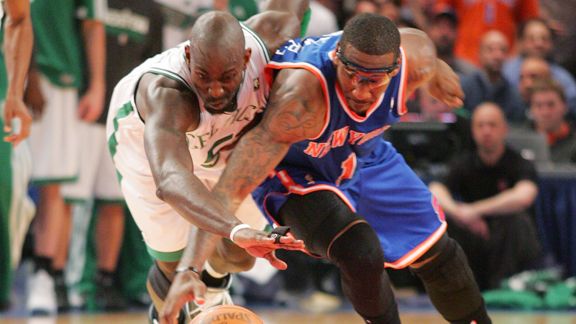 Jeyhoun Allebaugh/NBAE/Getty ImagesKevin Garnett gets set to pounce on Amare Stoudemire and this loose ball.
After Doc Rivers suggested at halftime that his team was soft, the Boston Celtics made life hard for the New York Knicks:
--
CELTICS TOUGHEN UP IN TIME VS. KNICKS
--
Appropriately, it's a four-letter word, maybe the only one that isn't uttered on a routine basis in the team's locker room. But Boston Celtics coach Doc Rivers was incredulous at his team's lackluster play Monday night against the New York Knicks and so, for the first time maybe in the Big Three era, he dusted off the dirtiest word in basketball. Soft. Now, truth be told, Rivers swears he didn't actually utter the word. As if even a mere mention might be taking it too far. But he certainly insinuated it, probably doing everything short of drawing a picture of a pillow and a melted marshmallow on the dry erase board in the visitor's locker room.
*
Bonus Links:
Daily Dime: Same Old Knicks
|
ESPN New York
March, 22, 2011
3/22/11
1:02
AM ET
NEW YORK -- A collection of news and notes after the
Boston Celtics
defeated the
New York Knicks
96-86 Monday night at Madison Square Garden:
The rundown: The Green Squirrel | Division champs? News to Doc | Layup Line
--
GARNETT: LACK OF ASSISTS IS 'LIKE A GREEN SQUIRREL'
--
The Celtics always have a few key stats scrawled on a dry erase board inside their locker room at halftime of each game. And trailing by 14 at the intermission of Monday's tilt with the New York Knicks, it was Boston's puny assist total that stood out like a green thumb.
Or, well, something green, according to
Kevin Garnett
.
"We had four assists at halftime, that's not us," said Garnett. "That's like a green squirrel; Like, 'What's going on?' Second half, I thought the ball moved more, we started sharing the ball, started setting solid picks, caught fire."
Bizarre analogies aside, Garnett had reason to be concerned by Boston's low assist output. Take away Rondo's three first-half dimes and Garnett had the only other feeder (assisting to
Paul Pierce
on an 11-foot fadeaway jumper with 4:33 to go in the first half).
If the 14-point lead didn't wake Boston up, the assist total sure did.
"We realized, we looked at the score, and we said, 'This is not the Boston Celtics," said Pierce. "We didn't move the ball, we had like four assists. That was very uncharacteristic of a team like us, who moves the ball, makes the extra pass, makes the defense work. So, we tried doing a better job of that in the second half, run our offense, set the screens that are supposed to be set, make the extra pass, and our offense flowed a lot better in the second half."
Boston finished with 17 assists, still low for its lofty standards, but not bad considering 13 of those helpers came after the break. Maybe more importantly, Rondo dished out 12 of those dimes overall, putting together his most Rondo-like effort in weeks as he also finished with 13 points, four rebounds, and two steals over 42:29.
"What you've got to understand is no one's perfect in this league and we're all going to have some bad games here and there," said Garnett. "Lord knows, I know. You just have some difficult games. This is not an easy game to perfect. Every night it's hit or miss. [Monday], he was really well, he was really good, he was patient, he knew to attack seams. After Doc got our attention at halftime I think we all settled into who we are and went from there."
March, 21, 2011
3/21/11
10:08
PM ET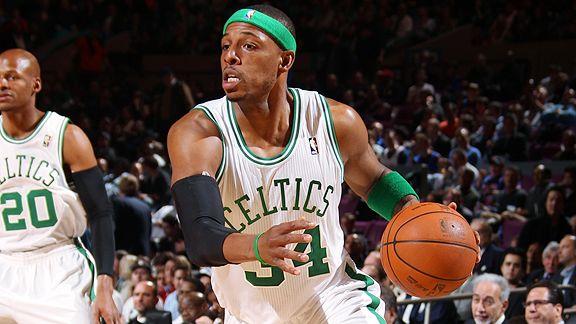 Nathaniel S. Butler/NBAE/Getty ImagesFoul trouble prevented Paul Pierce from a repeat performance on Broadway.
NEW YORK -- Rapid reaction after the
Boston Celtics
defeated the
New York Knicks
96-86 Monday night at Madison Square Garden:


HOW THE GAME WAS WON
Kevin Garnett
poured in a game-high 24 points on 10-of-15 shooting with 11 rebounds, while
Paul Pierce
overcame early foul trouble to add 21 points on 8-of-13 shooting (saving much of his offense for the final frame).
Rajon Rondo
looked like Rajon Rondo again, chipping in 13 points, 12 assists and 2 steals over 41 spirited minutes (this despite 6-of-15 shooting).
Carmelo Anthony
(22) and
Chauncey Billups
(21) paced the Knicks.
TURNING POINT
The Celtics trimmed a 14-point halftime deficit to two and held all the momentum when
Jeff Green
's fastbreak dunk (on a pretty feed from
Delonte West
) dented New York's lead to 71-69 with 10:02 to play. Coming out of a timeout, Billups drilled a 3-pointer. On the next trip down, Anthony got a questionable whistle and added two free throws. A gun-shy
Glen Davis
, who picked up his fourth foul on the play, could only watch as
Toney Douglas
followed with a baseline floater for a 78-69 lead with 8:30 to go. But Boston wouldn't go quietly ...
Down nine with 7:13 to play, the Celtics embarked on a 13-0 run, Kevin Garnett's shot-clock beating jumper with 4:18 to play capped the spurt and put Boston out front, 86-82. The Celtics then scored 10 of the game's final 14 points, sending the crowd streaming to the exit in the final moments.
STAT OF THE GAME
There's no stat to quantify desire, but Boston simply wanted the game more in the final quarter. Garnett and Rondo were sprawling on the floor for loose balls and the Knicks couldn't match the intensity.
UNSUNG HERO
Davis overcame an elbow to the noggin to register eight points and nine rebounds over 27 minutes.
WHAT IT MEANS
Can we interest you in a first-round playoff series between these teams? While it probably wouldn't be good for the long-term postseason health of either side, it sure would be intriguing. Boston gave its chief Atlantic Division rival another demoralizing defeat on its home turf in a game with a playoff atmosphere. Maybe New York's elbows were enough to clear Boston's recent cobwebs.
March, 21, 2011
3/21/11
7:24
PM ET
NEW YORK -- A couple of quick pregame notes before the
Boston Celtics
joust with the
New York Knicks
:
* Celtics point guard
Rajon Rondo
arrived early at Madison Square Garden and got in a workout before most of his teammates even arrived. According to Celtics coach Doc Rivers, Rondo is fine and, while his right pinkie injury is unlikely to heal the remainder of the season, it shouldn't be too much of a detriment to Rondo's play moving forward.
"Everybody that's playing is good," Rivers said. Asked if the hand injury is a concern, Rivers said, "No, hand injuries are a concern in the fact that, once you get one, it doesn't heal. No one is going to let them heal. It's tough when you're a point guard, you're handling the ball and you're going to get hit in the hand."
* Celtics center
Shaquille O'Neal
did not participate in the team's on-court workouts Monday and instead logged more conditioning work on the exercise bike.
"Just bike work today," said Rivers, who admitted the time to reintegrate both O'Neals -- Shaq and Jermaine -- is running out.
Rivers acknowledged it is tough to tell what Shaq will be able to contribute when he gets back.
"The one thing he'll give us is size and hard fouls," Rivers said. "Then the rest will be determined by how healthy he is and what he can do. We need that size. But obviously the clock is ticking with him and J.O. and we need those guys on the floor."
March, 21, 2011
3/21/11
1:11
PM ET
By
Greg Payne
| ESPNBoston.com

(49-19, 20-13 away)
-- vs. --
(35-34, 19-14 home)

at Madison Square Garden, New York City, 7:30 p.m. | CSN, WEEI (850 AM)
PAYNE'S THREE THINGS TO WATCH
Spotlight on Rondo ... Again: The play of Rajon Rondo has been examined down to the tiniest detail these last few weeks, given his string of uncharacteristic performances. Granted, he's been matched up against legitimate competition in each of his last 10 games, and that beat will roll on tonight, when he goes toe-to-toe with the larger, and stronger, Chauncey Billups. While Rondo might possess a quickness advantage on offense, the Knicks might very well counter by having Billups post Rondo up on the block on the other end. The Knicks will probably also try and utilize the versatile Jared Jeffries, whose length and quickness at 6-foot-11 could prove bothersome to Rondo on the defensive end. Similar to how the Lakers use Kobe Bryant defensively on Rondo, Jeffries might sag off and encourage Rondo to shoot jump shots as he looks to play the role of free safety and provide help defense for his teammates.
Pierce's Theatrics: The last time these two teams met back in December, Paul Pierce buried a step-back jumper over Amare Stoudemire with 0.4 seconds left, capping off a thrilling 118-116 victory. Pierce routinely notes that he enjoys playing on the NBA's larger stages (and few are larger than Madison Square Garden), particularly when games go down to the wire. If things stay close tonight, don't be shocked if Pierce elects to take the big shots once again. Who knows, we might even see a late-game, back-and-forth duel between Pierce and New York's Carmelo Anthony if things play out accordingly.
Shooting in Unison: The Knicks have lost five of their last six games overall, and throughout that string of losses, Carmelo Anthony and Amare Stoudemire never shot at least 50 percent from the field in the same game. In New York's lone win in the last six games -- a 120-99 victory over the Memphis Grizzlies -- Anthony shot 10 of 19 from the floor, finishing with 28 points, while Stoudemire connected on 6-of-12 field goal attempts, capping off a 16-point, nine-rebound effort.
GAME PREVIEW (via Stats Inc.)
New York (35-34) has 13 games left, and it appears to be on its way to reaching the playoffs for the first time since 2004. The team is seventh in the conference, one-half game behind sixth-place Philadelphia and seven ahead of Milwaukee in ninth.

The Knicks failed to create more separation from the Bucks on Sunday, losing 100-95 at Milwaukee while hitting just 38.6 percent of their shots. They've dropped five of seven and are 7-8 since acquiring Carmelo Anthony from Denver last month.

"They're frustrated, and that's good," coach Mike D'Antoni said. "We're trying to get this done. We'll get it done. It's just a matter of staying calm and knowing our problems and working through them."

One of the problems has been poor defensive play, and New York has show some improvement over the last three games. The Knicks have allowed an average of 99.3 points after giving up 117.3 over the previous three.

While the defensive issues appear to be waning, Anthony could provide a spark offensively after scoring 23 points Sunday. He was held to six points while making just 2 of 12 shots in a 99-95 loss at Detroit two nights prior. The forward had 32 points for the Nuggets in a 113-99 loss at Boston on March 24 of last year.

The Knicks are in for a series of rough tests during this homestand, also hosting Orlando and Milwaukee. They've dropped 14 of 16 meetings with the Celtics, and nine of 11 at MSG.
Read the full preview
HERE
.
March, 21, 2011
3/21/11
6:37
AM ET
By
Greg Payne
| ESPNBoston.com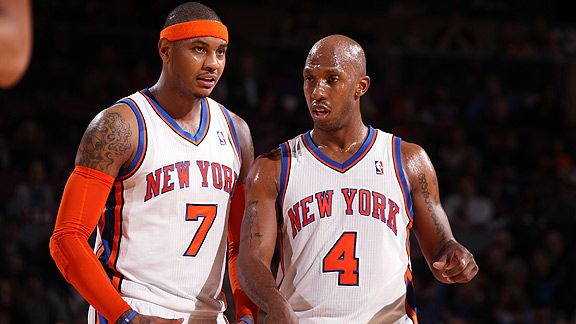 Nathaniel S. Butler/NBAE/Getty ImagesCarmelo Anthony and Chauncey Billups highlight the new-look Knicks.
The last time the
Boston Celtics
and
New York Knicks
squared off on Dec. 15, the two teams produced a thrilling, down-to-the-wire, defense-free affair capped by
Paul Pierce
's winning jumper (and ensuing home run trot on the Madison Square Garden floor) with 0.4 seconds remaining in the visitors' 118-116 triumph.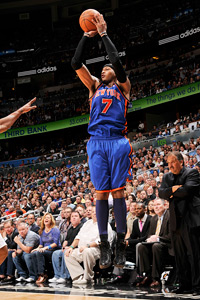 Fernando Medina/NBAE/Getty ImagesCarmelo Anthony and the Knicks have had some growing pains.
And while the game itself was exciting, it has to be thrown out the window, because the happenings and result of that game mean very little now, considering the moves both teams made at the trade deadline. Gone from the Knicks are
Raymond Felton
,
Wilson Chandler
,
Danilo Gallinari
, and
Timofey Mozgov
, who were all shipped to the
Denver Nuggets
in exchange for
Carmelo Anthony
,
Chauncey Billups
,
Anthony Carter
, old friend
Shelden Williams
, and
Renaldo Balkman
. New York also re-acquired forward
Jared Jeffries
via free agency.
The pairing of Anthony and Stoudemire gives the Knicks one of the most dynamic offensive 1-2 punches in the NBA, and it shouldn't come as much of a shock that New York's offense has been superb since they acquired Anthony. In the 14 games Anthony has played in as a member of the Knicks, New York has averaged 111.6 points per 100 possessions -- a figure which would lead the whole league if maintained (currently, Anthony's former team, the Nuggets, are the league's most efficient offensive team, averaging 109.9 points per 100 possessions, according to HoopData). New York's offense is likely to challenge the Celtics' defense more than any other team that Boston have faced since they made their own roster shuffle a little over three weeks ago, beginning with the acquisitions of
Jeff Green
and
Nenad Krstic
.
March, 20, 2011
3/20/11
6:00
PM ET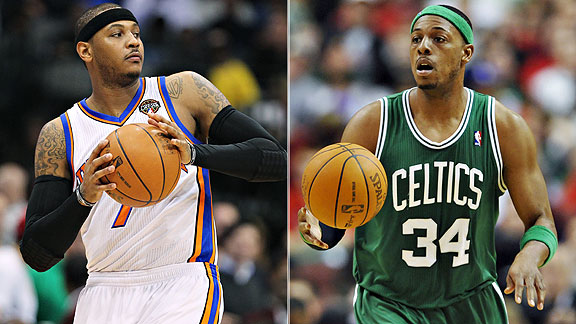 US PresswireStat sheets may favor Carmelo Anthony, but Paul Pierce's intangibles may give him an edge.
Who's the better small forward: Paul Pierce or Monday's foe, the Knicks' Carmelo Anthony? ESPN Insider breaks down the matchup:
--
WHO'S BETTER: PIERCE OR ANTHONY

--
There is nothing quite like a New York-Boston rivalry. Allow us to add yet another page to the storied feud. While the New York Knicks are assembling a team they hope will contend for titles for years to come, the Boston Celtics look to claim one more trophy with one of the best groups they've ever had. The linchpins to both efforts are a pair of sweet-shooting, 6-foot-8 small forwards. Carmelo Anthony arrived in Gotham riding a wave of possibility, spreading hope throughout the boroughs. Paul Pierce has punched his ticket for Springfield thanks to a career that has become the annual key to Boston's title hopes. Pierce's résumé is long enough to wallpaper Anthony's new Manhattan condo. But does Melo have enough game to prove he's better?
ESPN the Magazine's Chris Palmer breaks the matchup down in four categories, with Pierce earning advantages in secret skill (off-balance shooting) and intangibles (motivation). But the overall winner? For the
second straight week
, Boston fans are sure to disagree.