Boston Celtics:

2010Game7
November, 8, 2010
11/08/10
4:05
PM ET
AP Photo/Sue OgrockiCeltics guard Ray Allen puts up a shot against the Oklahoma City Thunder.
OKLAHOMA CITY -- A trio of leftovers after the
Boston Celtics
defeated the
Oklahoma City Thunder
Sunday night at the Ford Center:
THE DAGGER: After the Thunder rallied within six in the fourth quarter, Glen Davis hit a pair of jumpers to quickly push the lead back to double digits. But the play Celtics coach Doc Rivers liked best came a short time later and essentially sealed Boston's victory. Hauling in an offensive rebound off a Nate Robinson miss, Davis keenly decided against going up in traffic and instead kicked the the ball back out to Ray Allen, who splashed a 3-pointers for an 88-71 advantage with just over seven minutes remaining, forcing Oklahoma City to call timeout as the game slipped away.

"One of the thing that I love that we're finally doing is, on offensive rebounds in traffic, we're kicking it back out," said Rivers. "That's something we talk about a lot. I think it was Baby who got an offensive rebound and, last year he would have tried to fight the trees and go into traffic. [This time] he kicked it out and 3-point shooters are always open on offensive rebounds. That was a big play."
No charity from C's: The Celtics came into the game with a primary goal of keeping the free throw-happy Thunder off the charity stripe and, thanks in large part to quality offensive possessions and valuing the ball (maybe outside of the third quarter), they achieved that goal. Boston forced Oklahoma City to operate largely out of a halfcourt set and limited transition opportunities, which prevented them from racing to the rim and drawing fouls (keeping OKC off the offensive glass, beyond the third quarter, helped that cause as well). The Thunder settled for a mere 17 free throw attempts, nearly half the league-best 34.8 attempts they averaged per game entering Sunday's tilt.
See you again, soon: Being a Western Conference foe, Sunday was Boston's only visit to Oklahoma City this season, but the Thunder trek to Boston on Nov. 19. Celtics coach heaped praise all over Oklahoma City and thinks they'll it'll get its season on track sooner than later. But he wouldn't mind if that came after the second meeting.

"They'll be fine," said Rivers. "Everybody is gunning for them right now. It'll be an adjustment period, but they'll be right back up there by the end of the year. They're so talented, so well-coached. They'll be fine. I'm glad we only see them twice."
November, 8, 2010
11/08/10
12:30
PM ET
The Celtics were nursing a two-point lead entering the final minute of the first quarter Monday night in Oklahoma City, but utilizing one of the team's simpler sets,
Nate Robinson
helped Boston generate five points that capped a 12-4 burst to end the frame and put the Celtics out front to stay.
CSN Screenshots
It's a play called "45" and it's name isn't hard to decipher. With a point guard dribbling up top, the two wings bury themselves in the corner, spreading the floor. Power forward
Glen Davis
(the 4) comes towards center
Semih Erden
(the 5) giving the appearance he's setting a pick to free Erden, but both players then rush out to the top of the key to set a double pick on the point guard's defender (with their own defenders chasing through the paint).
Robinson gets to pick which way he wants to come off the double-pick, with his preference likely being whichever side the opposing big is lower on. In the first instance that Boston ran the play,
Cole Aldrich
is caught sinking too low to prevent the drive and Robinson pulls up and buries a 15-foot jumper from the left elbow for a 25-21 lead.
November, 8, 2010
11/08/10
2:15
AM ET
NBA TV ScreenshotNate Robinson splits the defense for a last-second 3-pointer vs. the Thunder.
OKLAHOMA CITY -- Sometimes it's the little things that separate the good teams from the great ones.
The Celtics were already up 18 on the Thunder Sunday night when assistant coach Lawrence Frank sprang from his seat to remind coach Doc Rivers that, with Oklahoma City set for a final first-half possession after the second of two
Jermaine O'Neal
free throws, he should sub
Marquis Daniels
in for
Paul Pierce
(Boston's captain had two fouls and there was no sense risking a third in the defensive end).
Durant ultimately made a bad pass, zipping the ball out of bounds and turning it over at the other end of the floor with 2.3 seconds to play. To most, it would have been a chance to simply inbound the ball, hoist up a prayer, and get into the break with a monster lead.
But the Celtics instead quickly subbed back in Pierce and
Nate Robinson
, catching the Thunder with matchup problems. Robinson made it hurt when he split a pair of bigs --
Cole Aldrich
and
Nenad Krstic
-- before banking in a circus shot 3-pointer at the buzzer for a 58-37 advantage.
Rivers breaks the play down: "We always do that if it's the last shot, we try to throw all guards on the floor and try to get them in before the other team can't sub and get the bigs out. It's like snapping the ball [in football] before the [other team can institute a] replay [challenge], before they throw the red flag out. With two seconds left, it was nice to get the shot, because we had matchups. I think it was Krstic or whoever guarding Nate. It was still only two seconds, but we'll take the luck though."
With Rondo blanketed by Westbrook, taking away the first option of having him sprint the length of the floor, Robinson slipped quietly into the backcourt, hauling in the long inbound feed from Garnett a few strides from the center stripe. He made two dribbles before hoisting the shot, his body turning to shield himself from a scrambling Krstic.
Robinson adds his perspective: "They denied Rondo [the ball], but they didn't have any other guards in. They had a big guy -- Krstic -- and the other guy -- Aldrich -- they came up and I just let it go. It felt good."
The shot itself didn't look particularly pretty out of his hand, but Robinson banked it home hard. After the shot, and with still boasting a full head of steam, he made a leaping motion as he neared the end of the Boston bench, then sprinted down the hallway to the locker room.
"I was still running at full speed; I couldn't stop," said Robinson. "I tried to jump on [rookie] Luke [Harangody]. It was funny."
Watch the entire play
HERE
.
November, 8, 2010
11/08/10
1:45
AM ET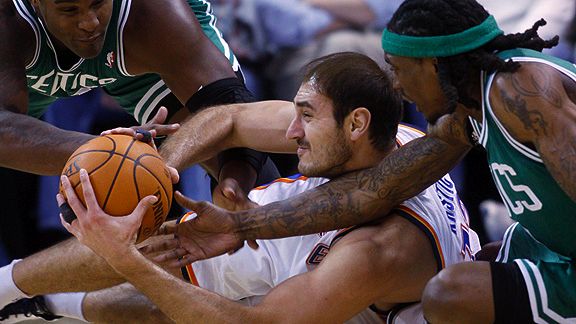 AP Photo/Sue OgrockiMarquis Daniels fights for a loose ball Sunday in Oklahoma City.
OKLAHOMA CITY -- Christened the "Boston Bench Mob" by
Shaquille O'Neal
at the onset of training camp, the Celtics' reserves took great pride in the potential to be the best second unit in the league.
But through five games, the mob designation just didn't seem fitting, particularly if you go by Webster's definition:
mob | |mäb | noun
a large crowd of people, esp one that is disorderly and intent on causing trouble
Because of injuries and suspensions, the Celtics' reserves were limited in number and certainly didn't seem to be causing too much of a ruckus (save maybe for
Glen Davis
, who totaled nearly half of the bench's total point production over the first five games, thanks in large part to extended minutes with the starting unit).
But even as Boston waits for the return of O'Neal, the unofficial ringleader of this posse who has missed the past four games with a bruised right knee, and
Delonte West
, who proved to be the glue of the second unit during the preseason but is serving a 10-game suspension, the Celtics' bench is starting to bond.
For the first time this season, Boston received balanced output from a four-man bench of Davis (8 points),
Nate Robinson
(9),
Semih Erden
(9) and
Marquis Daniels
(7). The unit combined for 33 points -- the bench's second-biggest outburst of the season -- while lifting Boston to a 92-83 triumph over Oklahoma City on Sunday night at the Ford Center.
"That's our whole thing: the bench mob," said Daniels, who had a pair of layups late in the first quarter to spark a 12-4 burst that rallied Boston out of a three-point hole -- the Thunder's largest lead of the night -- that ultimately became a 21-point halftime advantage.
"We want to be the best bench, regardless of whether the starters are playing great or not. We want to pick them up. Like Nate was saying earlier [this year], we're a tag team. He helps [Rajon] Rondo; I help Paul [Pierce] and Ray [Allen], and so on. We've got each other's backs."
Click
HERE
to read the full story.
November, 8, 2010
11/08/10
12:12
AM ET
OKLAHOMA CITY -- A collection of postgame news and notes after the
Boston Celtics
defeated the
Oklahoma City Thunder
92-83 Sunday night at the Ford Center:
The rundown
(a quick look at postgame headlines)
* For one half, Celtics show potential to be great
* Erden making strides with extended floor time
* Loose balls: J.O'Neal's ailing knee; Rondo's feet still fine
--
FOR ONE HALF, CELTICS SHOW POTENTIAL TO BE GREAT
--
Before Sunday's game, Celtics coach Doc Rivers detailed how, despite Boston's early season success, he felt there was room for great improvement from his team. He figured it would take the remaining 76 games of the season to bring them to max efficiency.
Instead, that potential came gushing out over a 15-minute stretch spanning into the second quarter in which Boston erased a three-point deficit, while building a 21-point halftime advantage. Before they could even get too pleased with themselves, the Celtics tempered all the good feelings by disappearing in the third frame and nearly letting the entire game slip away.
"We came out in the first half and played as well as a team can play," said Rivers. "We were defending; We kept them off the glass; We played with great energy; We were running the ball up the floor and getting into our offense early. Then we did the exact reverse in the third quarter; We reversed. Just kind of let them play and they're too good to let your guard down. We did that and a veteran team should never do that. We got away with it and, even though we won by a big margin, you can't do that."
The Celtics were prone to allowing big second-half runs last season and it's been more of the same at the start of the 2010-11 campaign, but Rivers doesn't seem overly concerned quite yet.
"We're winning the games, and that's one thing I will say, in this league, everyone loses leads," said Rivers. "Not the way we did today. The other games, it was more our execution, I thought we had good focus. Today, it was just us. We got up on a great team, then you have to keep playing that way to win the game and stay up, and we kinda let up. You can get away with that against a lot of teams, not with a team with [Russell] Westbrook and [Kevin] Durant on it. You definitely can't do that."
Kevin Garnett
realized the starters spoiled a chance to put a great effort together, but took the positives out of the start.
"I thought the third quarter, we had a little lapse there," said Garnett. "But they're at home, we knew they were going to make a run. We could have opened the game up in the third quarter, but for the most part we started the game off solid."
Added
Ray Allen
: "It does seem like we've been holding on, like we've been doing what we need to do for the long haul for 48 minutes. That's the important thing: Just [doing] whatever we've been doing to win games. Sometimes it's not pretty, sometimes it's not executed the way we want, but that's the objective."
Like Rivers said, there's 75 more games to work out the kinks. The Celtics can win ugly now, then win pretty later.
--
ERDEN MAKING STRIDES WITH EXTENDED FLOOR TIME
--
With Shaquille O'Neal sitting out his fourth consecutive game due to a bruised right knee, rookie center
Semih Erden
continued to log extended minutes, which are aiding his rapid development.
In the first quarter of Sunday's game, Erden helped cap a little 12-4 run to end the first quarter when Boston rallied from the biggest deficit it would face (3 points). First, Erden set a pick that set up a
Nate Robinson
jumper. When the Celtics ran the same exact play on a final-possession opportunity the next trip down, Robinson dished to Erden on the roll for the and-1 layup that put Boston up, 28-21.
Early in the second quarter, Erden outraced Durant on a little-too-long lead pass from
Glen Davis
, and when Durant stumbled out of bounds on the chase, Erden delivered an easy dunk.
"Tonight, [Erden] was phenomenal," said Rivers. "He's just great. He's starting to understand this role. With all the shooters on the floor, we're just trying to teach him how to roll -- just roll hard on every pick. I tell him: He has to look at himself like a human pinball. Just go pick everybody and roll hard to the basket. And he's starting to do that. Now he's starting to rebound for us as well.
And
he makes free throws."
Now if he can just master the language. Kevin Garnett said to be weary of that.
"Don't let Semih fool you; He speaks English very well, and understands it very well," said Garnett. "I don't know if he's got all the plays under his belt, but he's playing hard. Really, really hard."
Added Rivers: "I think traveling is actually helping him [learn the language], being on the plane with the guys. He's getting it, it's just going to take time. We're going to play him, regardless. He's going to make mistakes and you just gotta try to let him play through mistakes. He needs to be on the floor."
--
LOOSE BALLS: J.O'NEAL'S AILING KNEE; RONDO'S FEET STILL FINE
--
*
Jermaine O'Neal
drew his fourth consecutive start with Shaq sidelined, but played only 21:32 and labored at times. He connected on 1-of-5 shots for five points, but did haul in a team-high nine rebounds and blocked two shots. Jermaine O'Neal has battled a cocktail of injuries, including torn cartilage in his left wrist and a sore left knee that began bothering him after a loss in Cleveland. He told CSNNE.com after Sunday's game that he
underwent a "minor" procedure
on his left knee and that could be limiting his effectiveness (and minutes).
*
Rajon Rondo
continues to insist that his sore feet are fine. Battling what Rivers dubbed a "minor" case of plantar fasciitis, Rondo produced another double-double (10 points, 10 assists) over 36:14 against the Thunder.
"I don't know if it's going to go away, but I'm not going to rest any time soon," Rondo said when asked if he might need to miss time eventually to allow the pain to subside. "It's not as painful as it was [last week]."
Rondo noted after Friday's win over the Bulls that he won't allow the injury to slow him, particularly in key matchups like Sunday's against Oklahoma City's
Russell Westbrook
. While their head-to-head joust ultimately proved to be a secondary story line, Westbrook overcame a sluggish first half (0 field goals, 1 point) to aid the Thunders' third-quarter rally. He finished with 16 points and 10 assists over 43:24.
* Add two more charges to Glen Davis' season total. That's his sixth two-charge game in seven contests this season. Davis boasts a total of 13 charges taken overall.
November, 7, 2010
11/07/10
9:25
PM ET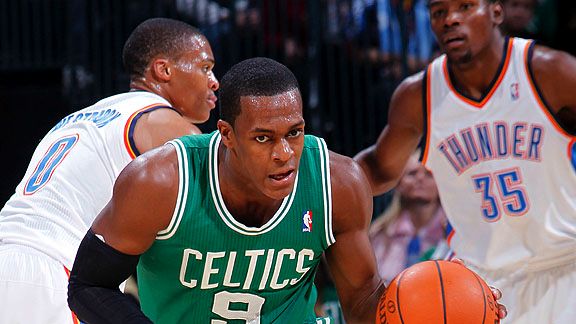 Layne Murdoch/NBAE/Getty ImagesRajon Rondo and the Celtics emerged from Oklahoma City with a solid win.
OKLAHOMA CITY -- First impressions after the
Boston Celtics
defeated the
Oklahoma City Thunder
92-83 Sunday night at the Ford Center:
HOW THE GAME WAS WON
For the first time this season, Boston's bench provided the spark the team desperately needed, keying spurts in each half that helped the Celtics build a big enough cushion to hang on when Oklahoma City made its charges. A four-man reserve unit of
Glen Davis
(8 points),
Nate Robinson
(9 points),
Semih Erden
(9 points) and
Marquis Daniels
(7 points) produced its most balanced output of the season, each player stepping up in different spots.
Ray Allen
scored a team-high 19 points on 8-of-16 shooting for the Celtics, while
Kevin Durant
produced a game-high 34 points on 11-of-22 shooting for the Thunder.
TURNING POINT
Oklahoma City made a furious third-quarter rally, trimming Boston's 21-point halftime lead to single digits before the end of the frame. When
James Harden
splashed a 3-pointer early in the fourth quarter, the lead dipped to six. But riding a second-unit lineup (with Allen mixed in), Davis made back-to-back 20-footers from the top of the key to push the lead back to 10. Big Baby soon added a 17-footer and Allen followed with a 3-pointer for an 88-71 cushion with 6:55 to go.
STAT OF THE GAME
The Thunder, which entered the game averaging an NBA-best 34.8 free hrow attempts per game, shot a mere 17 free throws, including seven in the second half.
UNSUNG HERO
Daniels finished a bench-best plus-8 in the plus/minus category, producing some early scoring that triggered Boston's initial run. The Celtics were down three -- Oklahoma City's biggest lead of the night -- with little more than four minutes to play in the first quarter when Daniels checked in for Paul Pierce. He quickly produced a pair of layups to key a 12-4 spurt to end the period. Boston never trailed again.
WHAT IT MEANS
The Celtics start a daunting four-game road trip on the right foot and, what's better, their starters played manageable minutes (well, besides Allen at 40 minutes) with the second end of a back-to-back looming Monday in Dallas. Sure, the C's made it a bit more dicey than it needed to be by allowing Oklahoma City to make a second-half charge, but they withstood it and punched back for a quality road triumph.
November, 7, 2010
11/07/10
6:45
PM ET
OKLAHOMA CITY -- A collection of news and notes before the
Boston Celtics
visit the
Oklahoma City Thunder
Sunday night at the Ford Center:
--
RONDO MAINTAINS HIS FEET ARE FINE
--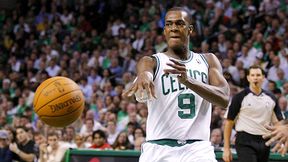 David Butler II/US PresswireRajon Rondo says his feet remain fine despite a mild case of plantar fasciitis.
Celtics point guard
Rajon Rondo
maintained that his feet, which coach Doc Rivers suggested are suffering from a mild case of plantar fasciitis, are "fine" after receiving some pregame treatment before Sunday night's tilt.
Rondo said he rested for much of Saturday, including the team's flight to Oklahoma City for the start of a four-game road trip, and reiterated his claim from Friday, saying "it's nothing to worry about."
Regardless, Rivers remains concerned, even if he's still fuzzy on what exactly plantar fasciitis is.
"I don't know what it means, literally," said Rivers. "We're not going to worry about minutes unless [Celtics trainer] Eddie [Lacerte] tells us to worry about it. But the history of [plantar fasciitis], we all know that's something that, if it starts flaring up, that gets bad. I've never had it, but people who have had it say it's extremely painful."
Even with his starters averaging heavy minutes through the season's first six games, topped by Rondo at 41.3 minutes per game (the Big Three are right behind him with
Ray Allen
at 39.2,
Paul Pierce
at 38.2 and
Kevin Garnett
at 34), Rivers noted that two overtime games have forced that number higher, and even then he's not overly concerned at this stage of the season.
"You've got to account for overtime and take those five minutes away, those minutes are all right," said Rivers. "And I really never care about minutes at the beginning of the season. Like last year, the more they play, it's almost better the first 10-15 games. You almost want to get your team back into the season, then after that, then you can start worrying about minutes. But the first 10-15 games, I really don't care about minutes."
--
RIVERS: BEST BASKETBALL LIES AHEAD
--
Despite a glistening 5-1 record, Rivers acknowledged that his team needs to play better moving forward. Even still, gutting out two overtime wins at home, while failing to play a complete game, leaves him satisfied as long as the team continues to build.
"I would prefer not [to play overtime games], but I'll take the wins," said Rivers. "Really, in both of them, we kind of let up in our execution, especially defensively, given up a lot of points late. The other night [vs. the Bulls], we were having a great defensive game, then with four minutes to go, all of a sudden we start breaking down. We've got a lot of improvement [to make]. I'll take our record and it's good to win games when you don't think you played great, but, as I told our team today, we have a lot of improvement to do, and that's good."
November, 7, 2010
11/07/10
5:10
PM ET
Chris Forsberg/ESPN BostonA look outside the Ford Center in Oklahoma City
OKLAHOMA CITY -- Welcome to the Ford Center, where the Thunder host the Celtics Sunday night, kicking off Boston's four-game road trip that features a trio of potential Western Conference playoff squads (OKC, Dallas, and Memphis) and maybe its top roadblock in the Eastern Conference (Miami).
While there are plenty of story lines on the court, one off-the-court nugget we'd be remiss if we didn't pass along was the potential for a slobberknocker of a radio broadcast on WEEI (850 AM):
For anyone that grew up a fan of pro wrestling and pro basketball, two worlds set to collide.
November, 7, 2010
11/07/10
2:30
PM ET
Chris Forsberg/ESPN Boston
OKLAHOMA CITY -- Greetings from Oklahoma City, where cowboys and lassos greet you outside Will Rogers World Airport.
The Celtics went through a light shootaround Sunday morning in advance of tonight's clash with the Thunder. Coach Doc Rivers confirmed that
Shaquille O'Neal
will not play against Oklahoma City, but both coach and player expressed hope he could suit up later in this four-game road trip.
"When I got on the plane, Shaq came on the plane," said Rivers. "That's how much decision I made in it. I don't even ask. I never do. If he's healthy, he comes. If he's not, he doesn't. If he thinks he has a chance to play -- and that's between him and [Celtics trainer] Eddie [Lacerte], then he comes. But I never get involved in that. At least I try not to. I don't ever want a player to feel like I'm pushing him."
O'Neal (right knee bruise) has been sidelined ever since knocking bumping legs with New York's
Amare Stoudemire
late last month. Sunday's game will be the fourth straight he's missed and will leave Boston with only 11 active bodies, but he noted he wouldn't have come on the weeklong journey if he didn't expect to suit up.
"I'm always going on the trip, unless it's one of those 'out for four-to-five week' diagnosis," said O'Neal. "But I'm close, I just want to be out there at least [at] 80 percent with the guys. I don't want to be out there half[way]."
O'Neal said last week that he needs to be able to push off without pain before he gets back on the court and there's one spot that remains troublesome near the top of the shin/start of the knee.
Jermaine O'Neal
is set to make his fourth consecutive start in Shaq's absence.
More to come from Oklahoma City later this evening.
November, 7, 2010
11/07/10
6:15
AM ET

(5-1, 1-1 away)
-- vs. --
(3-2, 1-1 home)

at Ford Center, 7 p.m. | CSN, WEEI (850 AM)
GAME PREVIEW (via Stats Inc.)
The Boston Celtics capped their first extended road trip last season with a convincing win against the Oklahoma City Thunder. The Celtics will try to open this season's first lengthy trip with their third straight victory at Oklahoma City Arena.

Coming off consecutive overtime home wins, Boston looks to improve to 6-1 for the third straight season Sunday when it faces a Thunder team trying to avoid its first back-to-back home losses since December.

Led by Kevin Garnett's 23 points and 21 in the first half by Paul Pierce, Boston won 105-87 in its last game in Oklahoma City on Dec. 4, finishing a 4-0 trip and handing the Thunder their most lopsided home loss of 2009-10.

Back home following a 1-1 West Coast swing, Oklahoma City (3-2) will host a Celtics team looking to build off its first set of back-to-back overtime wins since March 3-4, 2007. After Wednesday's 105-102 victory over Milwaukee, Boston (5-1) defeated Chicago 110-105 on Friday for its fourth straight win, and now begins a four-game road trip.

"We got some valuable experience in these overtimes, which is great," Pierce said Friday after missing 10 of 14 shots and scoring a season-low 10 points. "I thought we really kept our poise."
Read the full preview
HERE
.
FORSBERG'S THREE THINGS TO WATCH
Avoid the whistles: No team gets to the charity stripe as often as the Thunder, shooting an NBA-high 34.8 free throws per game. Considering Boston might be running thin with Shaquille O'Neal questionable, it's imperative that the bigs -- especially Jermaine O'Neal -- stay out of foul trouble. Kevin Durant famously got plenty of whistles the last time the two teams met in Boston with Garnett opining afterwards, "I thought we were playing Michael [expletive] Jordan the way he was getting the whistle. Durant damn near shot more free throws than our whole team."
Chip on his shoulder: Rajon Rondo might be battling plantar fasciitis, but he admitted after Friday's overtime win over the Chicago Bulls that it's going to take a lot more than soreness in his feet to prevent him from playing against some of the league's top young point guards. With Derrick Rose in the rear-view mirror, Rondo turns his attention to Russell Westbrook, another guard that earned gold with Team USA at the 2010 FIBA World Championships after Rondo withdrew.
Don't get into a shootout: Sure, the Thunder are allowing a whopping 106.4 points per game -- more than 11 points per game more than Boston is surrendering -- but Boston needs to keep the score low to be successful. Even with a day off Saturday, the Celtics are surely still weary after back-to-back overtime games and don't need this one to turn into a track meet.