Boston Celtics:

2010Game74
April, 1, 2011
4/01/11
10:51
AM ET
By
Greg Payne
| ESPNBoston.com
In Sunday's 85-82 victory over the
Minnesota Timberwolves
, the Celtics leaned on
Paul Pierce
to close out the game in the fourth quarter. Against the Spurs on Thursday, it was the first 12 minutes that were most in need of Pierce's expertise, as the Celtics attempted to absorb San Antonio's opening haymaker and remain on their feet with
Kevin Garnett
once again buried on the bench in foul trouble.
Pierce proved equal to the task, as he scored 11 of his 21 points in the opening frame on 4-of-5 shooting, to go along with six rebounds and three assists, as the Celtics countered a 33-point opening frame from the Spurs by dropping 31 points of their own. Defensive purists won't appreciate the results of the quarter, but with Garnett forced to exit the game not even three minutes in, it was more important for the Celtics to simply hang in there, absorb some punches, and regroup once Garnett was able to get back in the fray.
"I thought the biggest point of the game was the beginning of the game when Kevin gets the two fouls," said Celtics coach Doc Rivers after his club's 107-97 victory in San Antonio. "We held our ground, and that was terrific."
Realizing his team needed a catalyst, Pierce stepped up and scored nine of his 11 points after Garnett exited the game with his second foul.
"I thought Paul clearly carried us in the early going," said Rivers. "When Kevin went out, we needed scoring. It was Paul. Paul, early in the game, he took it over for us, and that's what he can do. So that was wonderful."
April, 1, 2011
4/01/11
9:08
AM ET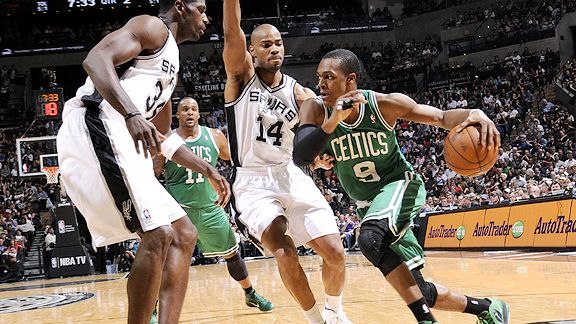 D. Clarke Evans/NBAE/Getty ImagesRajon Rondo took over Thursday's game for the Celtics.
Doc Rivers called it "coach's porn," but whatever you call it, superior ball movement, sparked by
Rajon Rondo
, gave the Celtics an inspiring win over the Spurs:
--
RONDO GETS THE CELTICS MOVING VS. SPURS
--
If Boston's offense was in a funk, it broke out in a big way Thursday night in San Antonio. The Celtics shot a blistering 61.9 percent in the second half, connecting on 26 of 42 shots while racing away for a 107-97 triumph over the Spurs. "Hell, I'm going to say it, and I probably shouldn't, but [the players know], I call it coach's porn," joked Rivers, the insinuation that nothing gets a hoops coach more excited than seeing fundamental ball movement leading to open looks.
April, 1, 2011
4/01/11
1:06
AM ET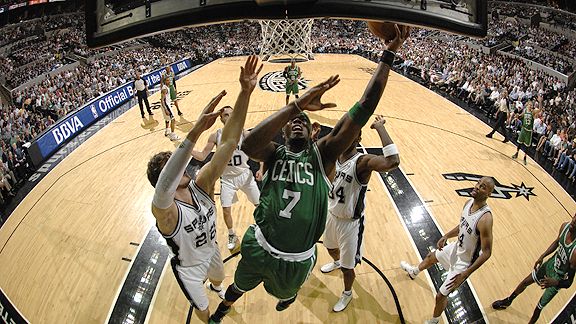 D. Clarke Evans/NBAE via Getty ImagesJermaine O'Neal returned to the court Thursday for the first time since Jan. 12.
SAN ANTONIO -- When the Celtics and
Jermaine O'Neal
sat down to map out a plan of attack for his return to game action, they could have easily given him a couple of extra days of practice time and brought him back on Sunday at the TD Garden against the 26-win
Detroit Pistons
.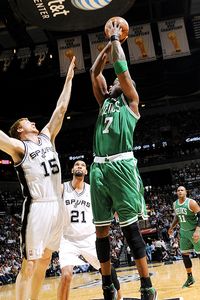 D. Clarke Evans/NBAE/Getty ImagesJermaine O'Neal admitted the hardest part was getting reacclimated to the speed of the game.
But what's the fun in that? O'Neal figured if he was going to jump back in the fire, why not pick the spiciest game on the schedule?
So there was O'Neal, back on the floor at the AT&T Center on Thursday night for the first time since Jan. 12, giving a quick tap to
San Antonio Spurs
big man
Tim Duncan
, then immediately leaning on the future Hall of Famer to prevent him from establishing post position.
"You don't want to try to find a lesser talent," O'Neal said. "You want to put yourself to the test. We looked at the calendar and this is when we picked to come back. I've always, throughout my career, I've tried to contribute at a high level, so I couldn't have picked a better place to come and challenge what I've been through for the last three months [than] against a good team like San Antonio."
O'Neal's stat line was modest: 2-for-2 shooting with five points, a rebound and an assist over 11:12. He played in two short bursts midway through the first and third quarters, but earned big praise from Celtics coach Doc Rivers each time he came back to the bench.
March, 31, 2011
3/31/11
10:37
PM ET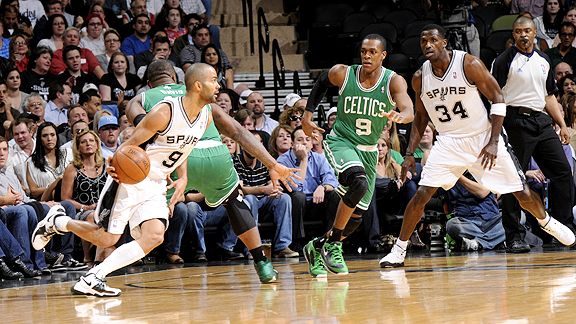 D. Clarke Evans/NBAE/Getty ImagesTony Parker provided the offensive spark for the Spurs, but Rajon Rondo lifted Boston.
SAN ANTONIO -- Rapid reaction after the
Boston Celtics
defeated the
San Antonio Spurs
107-97 Thursday night at the AT&T Center:


HOW THE GAME WAS WON
Celtics point guard
Rajon Rondo
put together a brilliant all-around effort, scoring a team-high 22 points on 11-of-20 shooting (matching his regular-season career high for attempts), while adding 14 assists and not committing a single turnover in 41 minutes.
Paul Pierce
flirted with a triple-double (21 points, 11 rebounds, 7 rebounds), while
Kevin Garnett
added 20 points on 9-of-12 shooting with nine rebounds.
Tony Parker
scored a team-high 23 points for the Spurs.
TURNING POINT
Down four with little more than five minutes to play in the third quarter, the Celtics embarked on a 14-0 run highlighted by
Jeff Green
and Rondo. Green scored off a Rondo feed before Boston's All-Star point guard chipped in the next three buckets. Green hit a pair of jumpers to cap the spurt (both on
Delonte West
feeds) and Boston led, 77-67, with 1:15 to go in the frame. All this while often running with a second-unit lineup featuring the likes of
Sasha Pavlovic
and
Von Wafer
on the floor.
STAT OF THE GAME
The Celtics blistered the floor shooting 26-of-42 (62 percent) after halftime and motored away from the Spurs over the final 18 minutes.
UNSUNG HERO
Glen Davis
chipped in 16 points on 8-of-12 shooting over 33 minutes and provided much-needed size after
Nenad Krstic
departed with a knee injury late in the first half.
WHAT IT MEANS
If not for Krstic's second-quarter knee injury, all would be well in Celtics Nation with one dominating second-half performance against the team with the best record in the NBA.
Jermaine O'Neal
provided 11 solid minutes in his first game back since Jan. 12, making both shots he took while chipping in five points and a rebound. Boston will hope it can bottle some of this late-game intensity and carry it over to Atlanta on the second night of a back-to-back Friday.
March, 31, 2011
3/31/11
9:24
PM ET
Nenad Krstic
suffered a right knee injury after it bent awkwardly as Krstic drove toward the basket late in the first half Thursday night against the Spurs.
According to the Celtics, Krstic will not return.
Krstic grimaced before collapsing beneath the basket and clutching the knee in pain. He eventually got to his feet and hobbled to the locker room with the aid of team trainer Ed Lacerte.
The Celtics got one center back on Thursday in
Jermaine O'Neal
, who had been sidelined since Jan. 12 following left knee surgery, and are hoping to get another,
Shaquille O'Neal
, who has been sidelined since Feb. 1, back as early as next week.
Krstic has been the team's starting center since being acquired in the deal that sent
Kendrick Perkins
to Oklahoma City at the trade deadline in late February.
UPDATE:
Krstic will undergo an MRI in Boston on Saturday and Celtics coach Doc Rivers said he will not play Friday against the Hawks or Sunday versus the Pistons. Click
HERE
for more on the injury.
SAN ANTONIO -- Celtics center
March, 31, 2011
3/31/11
7:50
PM ET
SAN ANTONIO -- Just in case you were worried about some freak afternoon setback,
Jermaine O'Neal
is still scheduled to make his return to game action Thursday night against the
San Antonio Spurs
. So, Celtics coach Doc Rivers, what can we expect from a player that's been sidelined since Jan. 12?
"I have no idea," said Rivers. "I'm going to throw him out there and he may look like he can play one minute, or 10 minutes, I'm just going to let him tell us with the way he's moving around and playing. He's going to be fighting a number of things: No. 1, he hasn't played in three months or whatever; No. 2, remembering anything we do when you're going full speed; The third one, and most [importantly], just conditioning. That's a lot to fight. And then the fourth thing: Playing against the Spurs. All those are pretty tough ones.
"But we need him back and we need the minutes. We have to use his games for him, and when [
Shaquille O'Neal
] comes back, we have to use both of them, use [the remaining games as] practices for them. The other four guys will be playing in the game, but [the O'Neals] just have to play."
Speaking of Shaq, Rivers confirmed the potential for the 39-year-old center to return to the court as early as Sunday (but more likely Tuesday if the team elects to squeeze Shaq into a practice Monday). Asked if he worried about setting another time line, given all the ones that have passed already, Rivers kept it light.
"The other way hasn't worked, so yeah, he's playing Tuesday," joked Rivers. "I mean, what the hell? I tried the other way and that doesn't work. So let's jinx him. Hell, we need him back."
Shaq has been sidelined since Feb. 1 with right foot injuries.
In other injury news,
Von Wafer
(right calf sprain) is back in the active lineup this evening. Rivers said he'd dress, but wasn't sure he'd play him, suggesting he'll lean on
Sasha Pavlovic
as the third wing behind
Paul Pierce
and
Jeff Green
.
With Wafer, the Celtics enjoyed the rare luxury of not only dressing 12 healthy bodies, but actually having to scratch one (rookie
Avery Bradley
). Rivers isn't a fan of the NBA's inactive policy, but admitted it's nice to be able to have 13 healthy bodies to lean on.
As for the Spurs, as coach Doc Rivers
keenly predicted this morning
, all of their key players are available, including stars
Tim Duncan
(sprained left ankle),
Manu Ginobili
(left quadriceps contusion),
Tony Parker
(left patella contusion), and
Antonio McDyess
(lower back contusion), who all sat out Monday's loss to Portland.
March, 31, 2011
3/31/11
3:00
PM ET
By
Greg Payne
| ESPNBoston.com

(51-22, 22-14 away)
-- vs. --
(57-17, 33-4 home)

at AT&T Center, 8 p.m. | TNT, WEEI (850 AM)
PAYNE'S THREE THINGS TO WATCH
Ray Allen's Shots: Ray Allen's averaged just nine field goal attempts per game over his last three games, including a mere eight in the Celtics' 107-100 loss to the Pacers on Monday. Allen's averaging 12.5 field goal attempts per game this season, and has said in recent weeks that getting a consistent string of shots throughout the game is key to garnering a rhythm, which becomes vital when he becomes relied upon to make shots down the stretch in games. Allen took four shots in the fourth quarter of Monday's loss, but made only one of them -- perhaps affected by having taken only four shots over the course of the first three frames.
Jermaine O'Neal's Return: O'Neal has been out of action since Jan. 12 following left knee surgery, but his return comes at a key point in time as the Celtics are lacking other big men in Troy Murphy and Shaquille O'Neal due to injuries. Celtics coach Doc Rivers should have O'Neal on some type of minute restriction, but O'Neal looks to be in phenomenal shape and could have an immediate impact.
Who's on the Other Side?: It's still unclear as to which Spurs will trot out onto the court tonight (though Rivers is expecting the full squad). Tony Parker, Manu Ginobili, Tim Duncan, and Antonio McDyess have all been battling various ailments lately. Duncan has missed the Spurs' last four games (all losses) following a left ankle sprain suffered on March 21 against the Golden State Warriors. If all of San Antonio's stars play, strap in for a slew of exciting matchups, including Rajon Rondo vs. Parker, Paul Pierce and/or Ray Allen vs. Ginobili, Kevin Garnett vs. Duncan, and even Glen Davis vs. DeJuan Blair. If the Spurs' stars remain benched, the Celtics' road to victory might be a bit easier tonight, which wouldn't necessarily be a bad thing, seeing as every game counts right now for Boston in terms of playoff seeding, and tonight also marks the first game of another back-to-back on the road (the Celtics play the Hawks in Atlanta tomorrow).
GAME PREVIEW (via Stats Inc.)
A once comfortable lead atop the Western Conference has shrunk dramatically in the past 10 days for the injury-riddled San Antonio Spurs. The Boston Celtics' lead in the East is long gone and they're not playing as if they can get it back. One of these stumbling title contenders will get a much-needed boost Thursday night, when the Spurs looks to avoid their worst losing streak in nearly 14 years and a fifth straight home loss to the Celtics.

San Antonio (57-17) still leads the West but is struggling to hold off the Los Angeles Lakers and Dallas. The Spurs had a seven-game lead over Los Angeles on March 21, but that margin has been cut in half because they've lost a season-high four in a row.

Tim Duncan has missed all four of the losses with a sprained ankle and the Spurs' injury woes worsened earlier this week. They were without Tony Parker (left knee contusion), Manu Ginobili (bruised thigh) and Antonio McDyess (back) in a 100-92 loss to Portland on Monday.

"It's life. You have to deal with it and figure out how to get better," said George Hill, who had a team-high 27 points. "No one's hanging their head or thinking we're not as good as we've been all year."

The Spurs are at risk of losing five consecutive games for the first time since dropping their final six of the 1996-97 season.
Read the full preview
HERE
.
March, 31, 2011
3/31/11
1:18
PM ET


SAN ANTONIO -- While
San Antonio Spurs
coach Gregg Popovich won't tip his hand about who his team will have available for Thursday night's battle with the Celtics, Boston coach Doc Rivers told his players to prepare for everyone.
Spurs stars
Tim Duncan
(sprained left ankle),
Manu Ginobili
(left quadriceps contusion),
Tony Parker
(left patella contusion), and
Antonio McDyess
(lower back contusion) all sat out Monday's loss to Portland, but Rivers has a feeling they'll all be back on the floor Thursday night at the AT&T Center.
"I think they all will play," said Rivers. "I told our guys that a week ago. They've done this twice. Last year they rested their guys up to play against us and [this year the Spurs] did it again. Duncan was an injury, but now he's healthy. I have no doubts they're all playing. It's one of the games they get up for when they play us, and I hope we do, too."
Given that his own troops typically play up to the level of their competition -- part of the reason the Celtics have dropped seven of their last 12, mostly to inferior teams -- Rivers thinks Thursday's matchup could bring out the best of his team, but cautioned against putting too much stock in any regular-season game.
As his team prepares to joust with a top Western Conference foe, Rivers said he's not overly concerned how Boston's Eastern Conference rivals are faring.
"I can't worry about them," Rivers said of the
Chicago Bulls
and
Miami Heat
. "I don't even worry about them, I worry about us. We have to take care of ourselves... More importantly [than Boston's overall record], we have to take care of getting ready for the playoffs. At the end of the day, that's all I'm concerned with. I'm not concerned by [the East rivals]."
March, 31, 2011
3/31/11
12:15
PM ET
SAN ANTONIO -- Celtics reserve center
Jermaine O'Neal
experienced no unusual overnight swelling in his surgically repaired left knee and is ready to return to game action Thursday night against the Spurs.
O'Neal, sidelined since Jan. 12 and limited to 17 games so far this season due to left knee ailments, admitted he had normal soreness after going through a lengthy offday practice session in San Antonio on Wednesday -- his first since rejoining the team on Monday in Indiana -- and he's excited to get back on the floor with his teammates.
"You're in there banging, the body is going to be a little sore," O'Neal said of his first practice. "But I feel pretty good... I'm just happy to be back. We'll take it day to day, do the maintenance... and keep [the knee] strong."
Celtics coach Doc Rivers, who initially expressed skepticism on whether O'Neal could get back on the court Thursday, reversed his course after Wednesday's session.
"He looked good and he feels better," said Rivers. "He had a good day yesterday."
O'Neal said he hadn't discussed a game plan with Rivers as far as minutes, but expects them to be low on his first game back, especially on the first night of a back-to-back (Boston travels to Atlanta Friday). O'Neal did say that, if the knee feels good, he's not against playing extended minutes, but will let the body (and coaching staff) dictate that.
Rivers thinks just having O'Neal back in uniform will give his team a spark.
"I think getting any guy back helps," said Rivers. "Especially a guy with size, that always helps. And I think it helps guys mentally."
In other injury news,
Von Wafer
, sidelined since March 4 with a sprained right calf, went through a full practice session Wednesday and could also be back on the floor as early as Thursday's game.
"He's close," said Rivers. "He may even dress tonight."
If that's the case, the Celtics would have a very rare situation where they would need to scratch a healthy body (likely rookie
Avery Bradley
) in order to add O'Neal and Wafer to the 12-man active lineup. For Rivers, that's a fine problem to have this time of year.
March, 30, 2011
3/30/11
5:21
PM ET

SAN ANTONIO --
Boston Celtics
reserves
Jermaine O'Neal
and
Von Wafer
both participated fully in the team's lengthy offday practice session Wednesday at the AT&T Center, according to the team.
O'Neal, sidelined since Jan. 12 due to left knee surgery, engaged in his first practice session since rejoining the team Monday in Indianapolis and suggested that he'll be back on the floor Thursday night against the Spurs.
"I'm going to play tomorrow," O'Neal said,
according to the Boston Globe
. "We talked a little bit about me playing back-to-back games. Obviously, it's sensitive, but I told them the plan is to play back-to-back games, the plan is to play as many minutes as I can without limitation."
The final hurdle for O'Neal would be making sure his knee doesn't swell from the activity Wednesday. The Celtics can gauge that at Thursday's morning shootaround, then confidently trot him out there against San Antonio.
Wafer has been sidelined since March 4 with a right calf sprain. He participated in a practice last week, but downshifted after that. Rivers has previously suggested his return is still a ways off.