Boston Celtics:

2010Game78
April, 8, 2011
4/08/11
10:20
AM ET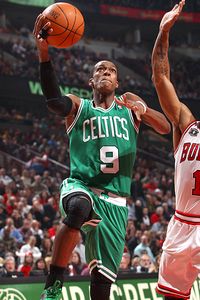 Gary Dineen/NBAE/Getty ImagesRajon Rondo and the Celtics are frustrated by their inconsistencies.
After Thursday's loss to the
Chicago Bulls
, Celtics point guard
Rajon Rondo
suggested that Boston
can't expect to flip the postseason switch
like it did a year ago (emerging from a fourth seed to come within a game of winning another world title). But he's not the only one who believes that, as Celtics coach Doc Rivers echoed his sentiment after Thursday's game, even as he tried to limit the panic around Boston's inconsistent play.
"If we had won [Thursday's] game, I'd have been happy and I'd have said all these great things about our team," said Rivers. "And [Chicago coach Tom Thibodeau] would have said the bad things about his team. Then you play the next night.
"Listen, we've been inconsistent. We have to play better. We have to play with a better sense of urgency, as a habit. If I have a concern, we have this turn-off, turn-on thing. I don't think, with this group, that works."
After Thursday's loss, Rondo said: "It's a pretty different team. It's not the same team. We're not going to be able to turn it on like we did last year. Even last year, we came up short [in Games 6 and 7 of the NBA Finals]. I don't know what we're waiting on, but these type of games we have to find a way to win. It's a roller coaster right now, and we went back down today."
Added Kevin Garnett: "We've got to be better than this. No way we can come out and put an effort like this in a game this big."
April, 8, 2011
4/08/11
7:45
AM ET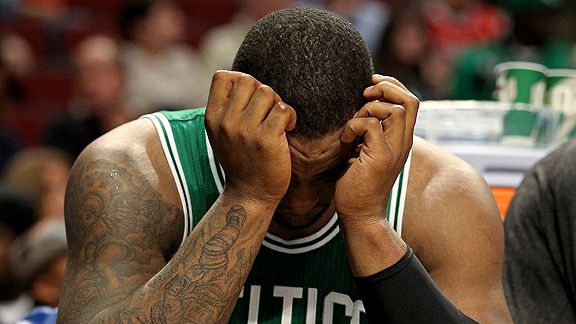 Jonathan Daniel/Getty ImagesGlen Davis and the Celtics are frustrated by their inconsistencies.
The Celtics' issues are glaring heading into the playoffs, but Doc Rivers is confident they'll be solved. Not everyone can say the same:
--
FORSBERG: C'S SHORT ON TIME TO TURN THIS AROUND
--
CHICAGO -- When Boston Celtics coach Doc Rivers tells you his suddenly inconsistent team will get this right, you're inclined to believe him because recent history suggest the Celtics are indeed capable of such a feat. (Just dig out your 2010 playoff tapes for proof.)

But your eyes tend to tell you something different and on the heels of a 97-81 thumping at the hands of the Chicago Bulls on Thursday night at the United Center, there's reason to question whether this team is truly capable of making history repeat.

Rewind to last season when the Celtics rested their ailing stars down the stretch while stumbling to a 27-27 mark over the final 54 games, settling for a fourth seed in the Eastern Conference before flipping that proverbial switch when those stars aligned back on the court in the playoffs.

This season, the Celtics are 8-9 over their past 17 games, and that's with their "big four" on the court for nearly the entirety. Sure the numbers aren't quite as daunting as last season -- in fact, Boston is 30-17 since Jan. 1 and 18-13 since Feb. 1. But its inability to generate any sort of consistency lately is allowing the first signs of doubt to creep into the locker room.

"It's a pretty different team," said Rajon Rondo, comparing last year's team to now. "It's not the same team. We're not going to be able to turn it on like we did last year. Even last year, we came up short [in Games 6 and 7 of the NBA Finals]. I don't know what we're waiting on, but these type of games we have to find a way to win.

"It's a roller coaster right now, and we went back down today."
*
ESPN Chicago
:
Perk-less C's lack muscle
|
Rose seals MVP candidacy
|
Bulls Blog
*
ESPN.com
:
5-on-5: Recapping C's-Bulls
|
Daily Dime: Rose stands tall for Bulls
April, 8, 2011
4/08/11
1:46
AM ET
CHICAGO -- A collection of news and notes after the
Chicago Bulls
defeated the
Boston Celtics
97-81 Thursday night at the United Center:
The rundown: Game plan = Unfollowed | Ball Sticks Again | Layup Line
Celtics players as a whole are big fans of social networking, so let's put this in computer terms (in 140 characters or less): Somewhere along the line Thursday night, Boston players unfollowed @CelticsGamePlan.
That's one way to explain how the Green let
Derrick Rose
run wild at the United Center. After watching Rose attack the rim at will during their last visit to Chicago, the Celtics' defensive game plan scrawled out on a dry erase board called for limiting his drives and preventing trips to the charity stripe.
According to ESPN Stats and Info, Rose lived in the paint, connecting on 7-of-9 shots inside of five feet (including 6-of-7 in the first half). That's just one field goal less than his total in the previous three games. Rose generated 14 of his game-high 30 points close to the basket and 10 more of his points came at the charity stripe, where he made every freebie he attempted (many of which were the result of getting hacked on drives to the rim).
Meanwhile, offensively, the Celtics couldn't get anything going anywhere on the floor.
"Coach did mention throughout the game that, when we post the ball up, we shot a higher percentage," said captain
Paul Pierce
. "I thought for most of the night, we probably settled for outside jumpers."
The Celtics were outscored in points in the paint, 44-22. But they may have actually had a good reason to settle for perimeter shots. Boston couldn't get anything to fall around the hoop, missing a bevy of layups over the course of the game (maybe none more frustrating than
Rajon Rondo
's third-quarter buzzer beater that spun out keeping Chicago out front by double digits heading to the final frame).
According to ESPN Stats and Info, the Celtics made only 9-of-22 shots within five feet of the hoop and those 18 total points matched a season low (the 40.9 field goal percentage established a new single-game low, the previous mark being 42.3 percent vs. New Jersey on March 14).
Rivers said much of that trouble around the basket was a result of the Bulls' physicality. Pierce didn't disagree that the Bulls' defense made them uncomfortable.
"You've got to give credit to the Bulls," said Pierce. "They're an excellent defensive team. That's why they're one of the best in the league. I just think we didn't reach the pace we needed on offense, especially against a great defensive team. You know, one, two [passes and it was] shot instead of making the extra pass, which kind of led to the struggles offensively, and I think the struggles offensively led to our breakdowns defensively."
April, 7, 2011
4/07/11
10:42
PM ET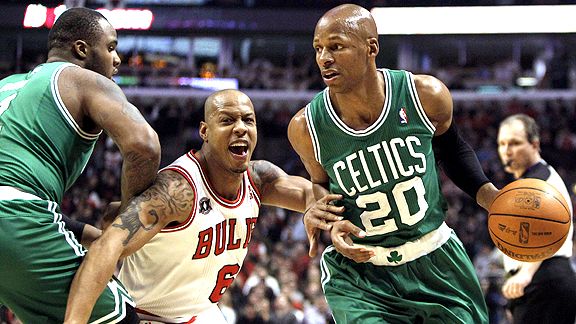 AP Photo/Nam Y. HuhRay Allen and the Celtics couldn't get past the Bulls.
CHICAGO -- Rapid reaction after the
Chicago Bulls
defeated the
Boston Celtics
97-81 Thursday night at the United Center:


HOW THE GAME WAS WON
Serenaded by MVP chants throughout the night, Chicago point guard
Derrick Rose
poured in 30 points on 9-of-16 shooting with eight assists, five rebounds and two steals over 39 minutes to pace a Bulls squad that all but wrapped up the Eastern Conference's top seed.
Luol Deng
added 23 points on 9-of-18 shooting with six rebounds and two blocks.
Paul Pierce
chipped in a team-high 15 points for Boston, whose starters combined for a mere 44 points overall.
TURNING POINT
The Celtics whittled the Bulls' lead to three with three minutes to play in the third quarter, but Chicago responded by scoring seven points in a 53-second span -- Deng sandwiching a 3-pointer and a layup around a
Carlos Boozer
layup -- pushing the lead to double digits. Rose added a triple before the end of the frame and
Rajon Rondo
missed a layup at the buzzer sending the Bulls into the break on top, 71-60.
STAT OF THE GAME
The Celtics essentially went an entire quarter without an assist. After Rondo assisted on a
Ray Allen
alley-oop with 3:35 to play in the third quarter, Boston didn't get another helper until
Kevin Garnett
fed Pierce on a 25-foot 3-pointer with 3:34 to go in the game.
UNSUNG HERO
Keith Bogans
should never outduel Allen in a matchup of starting shooting guards, but that's what happened Thursday. Bogans not only got in Allen's head with some physical defense, but Bogans made two of three 3-pointers while chipping in six points over 17 minutes. Allen finished with seven points on 3-of-11 shooting over 38 minutes, missing all three trifectas he put up.
WHAT IT MEANS
Any miracle charges at the No. 1 seed that the Celtics may have dreamed about have evaporated with Thursday's loss. No shame in that, neither Boston nor Miami were going to catch Chicago with the way they've played late in the season. Now the Celtics and Heat will joust for the No. 2 seed with matching records and four games to play, including Sunday's head-to-head battle on South Beach. The Celtics played poorly for the second straight visit to Chicago and, if these teams see each other again in the Eastern Conference finals, Boston is going to have to win at least one game here. But let's not get too far ahead of ourselves. The Celtics return home Friday night to host the Wizards in the tail end of a back-to-back.
April, 7, 2011
4/07/11
7:44
PM ET
CHICAGO -- Celtics coach Doc Rivers flew to Chicago last week to watch his son participate in the McDonald's All-American high school All-Star game at the United Center. The matchup with the Bulls was still eight days away, but Rivers enjoyed the chatter from Bulls fans that spotted him.
"I flew down last week to see my son [Austin] play and going through the airport, I heard all this trash talking," said Rivers. "Everybody was talking and I thought to myself, 'My God, Chicago is awake again.' That's nice, it is. Part of it is fun."
That trip to Chicago came the day before the Celtics put together an inspired effort in a road win over the Western Conference-leading
San Antonio Spurs
in another nationally televised showdown. Rivers said the in-game intensity that night was phenomenal and he expects the same atmosphere Thursday against the Eastern Conference-leading Bulls.
But don't expect Rivers to put too much stock in the outcome, even with the playoffs looming in little more than a week. Rivers simply wants his team to play at a high level as that second season nears.
"Oh, it's a big game today, but tomorrow's another game," said Rivers, whose troops fly home immediately for the second night of a back-to-back against the Wizards Friday at the TD Garden. "It's fun to play these games, the crowd will be into it... Both [Bulls coach Tom Thibodeau and Rivers] want [their teams] to win and both of us want to play well. But I think we both want to be playing well going into the playoffs, that's important."
A few more notes from pregame:
* The Celtics brought 13 healthy bodies to Chicago and, as expected, rookie
Avery Bradley
is the healthy scratch.
Von Wafer
and
Shaquille O'Neal
, both of whom did not make the trip, are Boston's other inactives. In the nightly Shaq Watch, Rivers said he expects O'Neal to be healthy by the start of the playoffs, but didn't offer a potential return date (though he suggested earlier in the day that Sunday vs. Miami remains a possibility).
* Those hoping to get a glimpse of old friend
Brian Scalabrine
will have to settle for him in street clothes. Scalabrine is one of the Bulls' three inactives Thursday (John Lucas III and
Jannero Pargo
the others).
* A glimpse inside the Bulls' locker room:
Derrick Rose
has two crystal Player of the Month trophies on the top shelf of his stall (maybe a friendly reminder of the level of play he strives to maintain). Across the room, the Bulls' dry erase board was covered by a curtain to discourage wandering eyes (somewhere, Bill Belichick would nod in approval).
April, 7, 2011
4/07/11
1:31
PM ET
CHICAGO -- The
Boston Celtics
invaded the Solheim Center on the campus of Moody Bible Institute for their morning shootaround in advance of Thursday night's Eastern Conference showdown with the
Chicago Bulls
.
Doc Rivers offered hefty praise of coach Tom Thibodeau and his troops, while
Rajon Rondo
did his best to avoid all chatter about
Derrick Rose
(invoking his "I don't talk about other point guard" rule). About the only real news from this morning was that reserve guard
Von Wafer
didn't travel with the team (Rivers suggested he was unlikely to play, so they simply kept him back home being merely a one-game trip). Boston still has 13 available bodies, including rookie
Avery Bradley
, who is likely to be the lone healthy scratch. Wafer was a healthy scratch Tuesday against the 76ers.
As for your daily
Shaquille O'Neal
Watch, Rivers reiterated that the 39-year-old center, who is now nursing a right calf sprain, won't play in either of the next two games, but there's still potential for Sunday in Miami.
"Definitely not tonight, unless he gets on his super plane and comes down," joked Rivers. "Other than that, not tonight and not tomorrow [vs. the Wizards]. Perhaps Sunday [vs. the Heat]."
Pressed for an update on O'Neal, Rivers said: "He's feeling better; doing great from what I hear."
April, 7, 2011
4/07/11
1:00
PM ET
By
Greg Payne
| ESPNBoston.com

(54-23, 23-15 away)
-- vs. --
(57-20, 34-5 home)

at United Center, Chicago, 8 p.m. | TNT, WEEI (850 AM)
PAYNE'S THREE THINGS TO WATCH
Rondo vs. Rose: The All-Star point guard matchup highlights Thursday's tilt in Chicago, as Rajon Rondo and MVP candidate Derrick Rose each try to pace their teams to a crucial victory. In the three previous meetings between these two clubs this season, Rose has held a major edge in points over Rondo (24.7 points per game to Rondo's 11.7), but has shot a lower field goal percentage (45.5 percent for Rose to 48.6 percent for Rondo) and hasn't been up to par in the assist department (6.3 assists per game compared to 12.7 per game for Rondo). How these two play will go a long way in determining who will emerge victorious in tonight's bout.
Out of the Box: After shooting a combined 10-of-13 from the field in his last two games, Ray Allen might finally be breaking out of the mini-slump he's been stuck in these last few weeks. If the Celtics involve him in their offense the way they should, he could serve as a crucial factor in tonight's outcome. In three games against the Bulls this season, Allen has averaged 19.3 points on 56.8 percent shooting from the field and 50 percent shooting from 3-point nation.
KG vs. Noah: With Carlos Boozer back in the fold for the Bulls, Kevin Garnett and Joakim Noah might spend less time guarding each other than usual, but even those limited minutes should keep us riveted. Their off-the-court jawing only helps to intensify their on-the-court battles, which often boil down to two of the most passionate players in the NBA going at one another. The two have been pretty evenly matched so far this season. The pair have played in two of the teams' three head-to-head meetings this season and have been pretty evenly matched, with Garnett averaging 18 points and 13.5 rebounds and Noah registering 20 points and 11 rebounds.

GAME PREVIEW (via AP)
Joakim Noah has a pretty good idea what to expect on Thursday night.

The Chicago Bulls host the Boston Celtics in a game that could have a big impact on the race for the No. 1 seed in the Eastern Conference, and he anticipates a charged atmosphere at the United Center.

"I think it's going to be a zoo in here on Thursday," he said. "It's very exciting."

These, indeed, are exciting times in Chicago.

With 16 wins in 18 games and the No. 1 seed in reach, the Bulls haven't had it this good since the Michael Jordan championship era.

They were three games ahead of Miami and Boston at 57-20 after hanging on to beat Phoenix on Tuesday. A win over the Celtics would all but eliminate them from the race for the top seed. The Bulls would salvage a four-game split and be four games ahead of Boston four to go in the regular season.

The next tiebreaker if they finished with identical records would be conference play, and at the moment, the Celtics are 35-12 with the Bulls 34-13 against the East.

"It means a lot," veteran forward Luol Deng said. "(The top seed) gives you the homecourt, but also, just having the best record tells a lot about the kind of season you had."
Read the full preview
HERE
.
April, 7, 2011
4/07/11
12:11
PM ET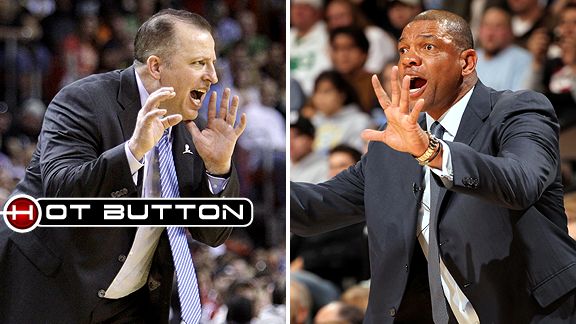 AP Photo/Getty ImagesOld friend Tom Thibodeau has Doc Rivers and the Celtics chasing his Bulls.
The Celtics visit the Bulls in a battle between the top two teams in the East. In
this week's Hot Button poll
, we ask which contender has more at stake on Thursday?
--
FORSBERG: CELTICS CAN'T LET 2-SEED SLIP AWAY
--
And don't discount Boston's desire to win the season series. The Celtics wouldn't mind atoning for a putrid effort on the second night of a back-to-back in Chicago in January. Seeing old friends like Tom Thibodeau and Brian Scalabrine always provides a little motivation -- just as seeing Joakim Noah ought to give Kevin Garnett a spark and Rajon Rondo will be a little extra amped to match up with Derrick Rose.
--
GREENBERG: BULLS NEED WIN FOR PLAYOFF MOMENTUM
--
It sounds like coachspeak when Derrick Rose talks about a 97-94 win over Phoenix like a loss, but he isn't humble in the way some might think. Rose is cold-blooded when it comes to basketball and he's thinking about a championship and what it takes to get there. He can see the slippage on defense lately, the blips in intensity.
Click
HERE
to vote in this week's Hot Button.
April, 7, 2011
4/07/11
12:03
PM ET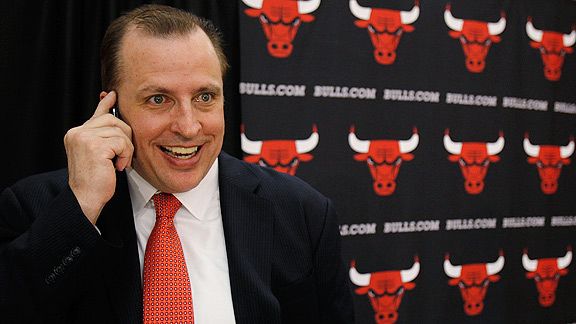 Jonathan Daniel/Getty ImagesBulls coach Tom Thibodeau has reason to be excited about his team.
Five writers break down the
top five questions surrounding Thursday's Celtics-Bulls clash
, using 160 characters or fewer, including question No.1: Who has the better Big Four?


Zach Harper, Daily Dime Live
: CHI has the best Big 1 but BOS has the next-best 4 guys after him. Not that the Bulls' guys don't play their roles, but C's 4 play their roles better.
Matt Moore, Hardwood Paroxysm
: Depends. Are we talking star power? BOS by a hair. CHI strong but not enough. Are we talking chem? Still BOS. Talented, effective, work together. Experienced.
Breene Murphy, ClipperBlog
: Derrick Rose buoys the Bulls, but the Celts have the better Big 4. There's more consistency and versatility with Rondo, Garnett, Pierce and Allen.
Danny Savitzky, Nets Are Scorching
: Boston, even with Rose's go-to offensive ability. Both foursomes thrive on sound team defense, but the Celtics' unit has Finals experience on its side.
Zarar Sidiqqi, Raptors Republic
: BOS. In 2 years it'll be CHI. KG & Rondo's D has edge over Boozer & Rose's O. Pain of losing Finals fuels them more than CHI, who are happy to be good.
April, 7, 2011
4/07/11
9:56
AM ET
By
Greg Payne
| ESPNBoston.com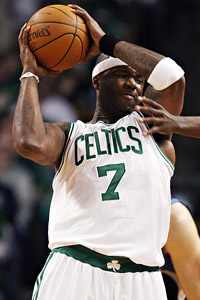 Elsa/Getty ImagesJermaine O'Neal is back in Chicago, this time to contribute on the floor for the Celtics.
When the Celtics touched down in Chicago on Wednesday, it marked a return to the Windy City for
Jermaine O'Neal
, who just 11 days ago was finishing up a grueling rehabilitation process there in the aftermath of left knee surgery.
Clouds of uncertainty surrounded O'Neal as he returned to Boston's lineup on March 31 in a 107-97 victory over the
San Antonio Spurs
, for it was unclear just how much he would be able to contribute after missing more than two months of action. But O'Neal's play in his first four games back has been encouraging, and better yet, he never fell victim to the pressure of expectations.
"Is coming off of surgery to finish a job really pressure?" O'Neal asked after the Celtics' win over the 76ers Tuesday. "A state in Indiana really [jumped] on my back to see if I could carry a team and I didn't really see that as pressure. It's all a challenge. If you see it as pressure then you're not built for it."