Boston Celtics:

2010Game80
April, 11, 2011
4/11/11
8:33
AM ET
By
Greg Payne
| ESPNBoston.com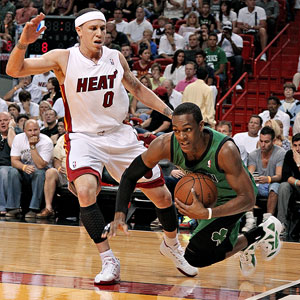 Mike Ehrmann/Getty ImagesRajon Rondo stumbled trying to exploit his matchup with Mike Bibby.
You know the saying by now: As
Rajon Rondo
goes, so go the Celtics.
Unfortunately, in two of Boston's last three games -- both of which had significant playoff implications -- Rondo didn't take his club where it needed to go.
The Celtics' All-Star point guard finished Sunday's pivotal 100-77 loss to the
Miami Heat
with a pedestrian seven points and five assists on 3-of-8 shooting, a mere three days after finishing with seven points, five rebounds, and six assists on 3-of-10 shooting in a 97-81 loss to the
Chicago Bulls
.
In both games the state of Rondo's play was what was most troubling. All too often he seemed to be running on cruise control and the usual aggressiveness that is expected out of him was hardly seen. Rarely did Rondo attempt to penetrate Chicago or Miami's interior defense and get to the rim, either to score for himself or create easy looks for his teammates. Against the Bulls, he missed a wide-open layup in transition in the third quarter. It was shrugged off because it happens so rarely, but it happened again on nearly the exact same play against Miami on Sunday. The overall lack of aggression against the Heat was almost unforgivable, especially considering Rondo's matchup with
Mike Bibby
is the one true lineup advantage the Celtics hold against the Heat.
April, 11, 2011
4/11/11
6:55
AM ET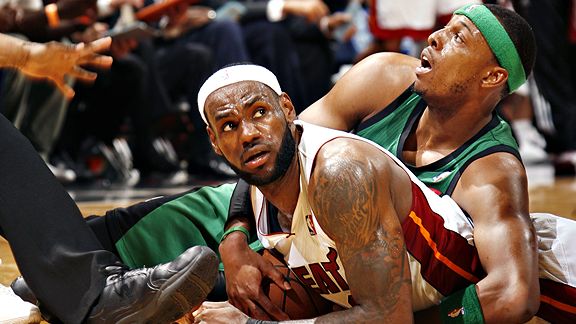 Issac Baldizon/Getty ImagesPaul Pierce could only watch at LeBron James and the Heat all but wrapped up the No. 2 seed.
With just two games remaining in the regular season, the scuffling Celtics are still a work in progress and in need of a new plan:
--
FORSBERG: C'S RUNNING OUT OF TIME TO CRAFT A PLAN
--
When Boston Celtics coach Doc Rivers suggests that he doesn't think his team is capable of flipping a postseason switch again this season, it's because he doesn't think people quite understand what his team did a year ago. Battered by in-season injuries, the Celtics' only hope last season was to shut down their stars and cross their fingers that they'd be healthy enough by the time games mattered to make a run. So long before April even arrived, Rivers and his staff sat down and mapped out a plan of attack. This season there's none of that. And on the heels of Sunday's 100-77 throttling by the Miami Heat -- Boston's second loss to a top Eastern Conference foe in four days and a defeat that will likely force the Celtics to settle for the No. 3 seed -- Rivers admitted he can't be as confident in his team's ability to go deep in the playoffs because there is no master plan.
--
WINDHORST: HEAT SHOW TOUGHER SKIN VS. CELTICS
--
It is said, and with good reason, that in the postseason the more desperate team often wins. The Miami Heat were desperate to beat the Boston Celtics on Sunday because, in many ways, it was their season. They tried before the game with clichés to insulate themselves in case there was another loss. Then after the win, they played it cool, acting as though it was routine.
*
The Heat Index:
The Heat's supersubs
|
Five things we saw
|
Heat grades
April, 10, 2011
4/10/11
9:45
PM ET
MIAMI -- A collection of news and notes after the
Miami Heat
defeated the
Boston Celtics
100-77 Sunday afternoon at American Airlines Arena:
The rundown: C's need to 'pick' it up | Doc confident Arroyo will help C's | Layup Line
If
Ray Allen
is in a slump, his teammates are not doing much to help him out of it. Allen's offense, perhaps more than that of any other player in the league, is predicated on Boston's four other players slowing down his defender in order to create open looks.
And as coach Doc Rivers noted after Sunday's loss, the Celtics are an atrocious pick-setting team right now.
"We've got to do a better job [of getting Allen shots]," Rivers said. "I have to do a better job. He has to do a better job of being patient and we've got to set picks. I think our pick-setting is horrendous right now. We have one pick-setter on the team and that's Kevin [Garnett]."
Allen finished with 13 points on 4-of-9 shooting Sunday. After attempting only two first-half shots, he came out cold after intermission and missed all three shots he put up in the third quarter. The Celtics are doing little to get him open and even less to get him going.
Consider this: Allen is averaging a mere 9.1 shots per game over his last 10 contests, never launching more than 11 shots in that span. This from a player who has averaged 15.7 shots per game during his career, including roughly 12.2 shots per game both this season and last.
What's more, according to Synergy Sports, Allen ranks second in the NBA in field goals attempted off of screens (350 field goal attempts) and on those plays is tops among qualifiers (more than 200 plays) in both field goal percentage (45.4 percent) and points per play (1.04). Allen also ranks among the top four players in the league averaging 4.4 shots off screens per game.
It's worth noting that Allen is averaging only 2.2 attempts off screens per game over his last five games. And since the
Kendrick Perkins
trade, he's down from 4.7 attempts per game to 3.6. Perkins was one of the team's top pick-setters.
Allen doesn't need much space. He proved that in the first quarter when he caught a pass from
Paul Pierce
while moving toward the right corner and splashed a 3-pointer with his man chasing to put Boston out front 11-2, forcing Miami to call timeout with 9:15 to play.
As Boston's offense sputtered, Allen didn't get his next shot -- an 11-foot jumper -- until there was 3:48 to play in the first half.
Allen played 20:25 in the first half with only two jumpers. That's inexcusable, especially for a player who has thrived against the Heat this season, averaging 22.7 points and 4.7 3-pointers made per game against Miami -- both his best marks against any team in the league.
Asked if there was any groundswell around the bench about getting Allen more involved in the offense during the second half, Allen replied simply, "No, that wasn't said tonight."
Allen put the onus on himself to fight through this.
"You just kind of stay patient," Allen said. "You just try to keep your head down and try to make plays when the ball does come. If it comes, then you've got to be ready, and if it doesn't, then you've got to try and do other things to help the team get better."
But the stats tell the story: The Celtics are 35-10 (.778 winning percentage) when Ray Allen scores 15 points or more. In all but two of those games he's attempted at least 10 shots.
April, 10, 2011
4/10/11
6:15
PM ET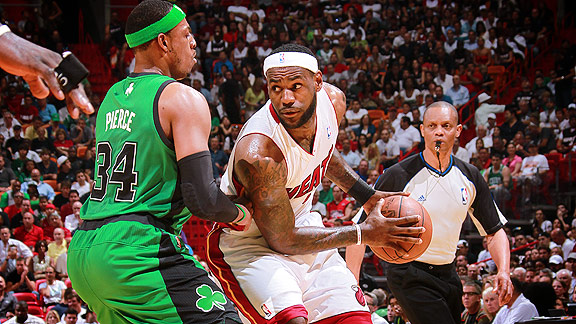 Victor Baldizon/NBAE/Getty ImagesPaul Pierce and the Celtics couldn't slow LeBron James and the Heat.
MIAMI -- Rapid reaction after the
Miami Heat
defeated the
Boston Celtics
100-77 Sunday afternoon at American Airlines Arena:


HOW THE GAME WAS WON
LeBron James
poured in a game-high 27 points on 11-of-19 shooting, adding 7 assists, 5 rebounds and 4 steals over 37 minutes, while his Miami Thrice partners
Dwyane Wade
and
Chris Bosh
combined for 27 points, 13 rebounds, 8 assists and 2 blocks.
Paul Pierce
scored a team-high 24 points, hitting a trio of 3-pointers for Boston, while
Kevin Garnett
chipped in 21 points (but went quiet in the second half).
TURNING POINT
The Heat came out of halftime with a seven-point cushion and quickly pushed that lead to double digits. With less than five minutes to play in the third quarter, Boston looked like it was finally going to mount a rally as Pierce drilled a 3-pointer and
Rajon Rondo
added an 18-foot jumper. Soon after, Rondo delivered an outlet pass to
Ray Allen
on the fast break, but Wade chased him to the hoop and delivered a game-changing right-handed block as Allen tried for a layup from the left side. It turned out to be a five-point swing as, at the other end, Bosh chased down an offensive rebound and drove hard on the baseline for an and-1 bucket over
Glen Davis
putting Miami on top, 66-55, with 3:34 to go in the third.
STAT OF THE GAME
The Heat finished with a 42-26 advantage on the glass, generating a whopping 15 offensive rebounds that lead to 18 second-chance points.
UNSUNG HERO
Joel Anthony
, the 6-foot-9 center with season averages of 2 points and 3.4 rebounds over 19.2 minutes per game, chipped in seven points and 10 rebounds over 35:16 on a night Boston's bench offered little in the way of support.
WHAT IT MEANS
The Celtics, once seemingly entrenched atop the Eastern Conference standings, will finish as the No. 3 seed barring an unforeseen collapse by Miami. Boston could rest its starters on the second night of a back-to-back Monday in Washington, essentially waving a white flag and conceding that No. 2 seed. (Because the Celtics hold the tiebreaker by virtue of winning the season series, the Heat's magic number to clinch the second spot is 2. Miami closes at Atlanta and Toronto; the Celtics finish at Washington and at home against the Knicks.)
The road to the playoffs just got a bit more daunting, but the more concerning aspect is that Boston couldn't get itself up for what amounted to a playoff battle. One can't help but wonder if they'll be able to reverse that when the playoffs start in a week.
April, 10, 2011
4/10/11
3:08
PM ET
MIAMI -- Celtics coach Doc Rivers continues to downplay the "sending a message" aspect of Sunday's showdown against the Heat, but admitted it's a big game because of the postseason implications.
"I heard [Miami's Chris] Bosh say this is a message game and all that crap," said Rivers. "I think it's an important game in that the winner gets home court [in the conference semifinals if top seeds advance]. Other than that, the whole message thing -- if we win this game, I don't think that's going to make them not want to play us in the second round. If they win, I don't think it's going to send a big message to us. A win means you have a chance to have home court in a seventh game -- and the first two games, which people overlook. I think that's important."
Down the hall, Miami coach Erik Spoelstra suggested his team is already in playoff mode.
"It started to feel like the playoffs last week," said Spoelstra. "We wanted to really treat the Charlotte game as the first game of a playoff series. We changed our approach and our preparation. We did the same thing going into this game."
With that in mind,
LeBron James
didn't hold his normal pregame chat with the media. Yes, there's a playoff-like intensity around this one.
A couple other pregame nuggets:
* Rivers said it was a pretty simple decision not to bring
Shaquille O'Neal
(right calf strain) on this final road trip of the season and didn't want to predict whether the 39-year-old center would be back on the court in Wednesday's regular-season finale against the
New York Knicks
.
"Honestly, I didn't talk to him, I just talked to [team trainer] Eddie [Lacerte] and he said he wasn't ready," said Rivers. "It wasn't a long conversation. I just said, 'Is he ready or not?' He said, 'No.' That was it."
Pressed on O'Neal's potential return, Rivers said: "[Wednesday is] possible, but I'm just going to wait and see. To be honest, that's the last thing I'm thinking about."
*
Jermaine O'Neal
is back in the starting lineup after getting a maintenance day Friday against the Wizards. J.O. had played five games in eight days before that coming off left knee surgery. Rivers reiterated that he wants to change the way he's utilizing his veteran center, limiting the length of time he spends on the bench.
"I don't think I've done a very good job with the way we've played him," said Rivers. "I thought resting him for long periods was good. It turns out it probably was not, so we'll try to tweak that a little bit."
April, 10, 2011
4/10/11
12:56
PM ET
Here are three nuggets that stood out among the pregame notes package that Elias Sports Bureau researched for ESPN in advance of Sunday's showdown between the
Boston Celtics
and
Miami Heat
:


Paul Pierce has scored 30-or-more points in a game six times at the American Airlines Arena during the regular season. That is tied with LeBron James for the second highest total among visiting players in this arena and behind only Allen Iverson (7). Pierce has not had much success recently in Miami, averaging only 15.7 points per game in his last six games there; This after averaging 26.9 points per game in his first 13 games in this arena.
The Heat, who enters Sunday's game with 55 wins, has lost each of the first three games played between these two teams this season. Over the last 10 seasons, only one team that finished a season with 55+ wins has gone 0-4 against an opponent: Phoenix in 2007-08 (0-4 vs. New Orleans). The Suns were bounced by the Spurs in the opening round of the postseason.
Erik Spoelstra is 1-9 (.100 winning percentage) against the Celtics during the regular season. That is tied with Jay Triano (1-9) for the lowest career winning percentage against the Celtics among head coaches who began their career in the last 50 years (minimum: 10 games). Wonder if those teams had anything in common?
April, 10, 2011
4/10/11
12:00
PM ET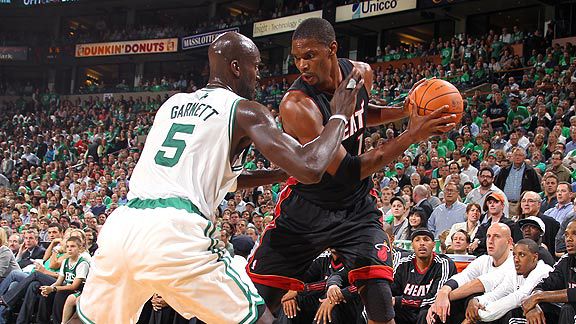 Nathaniel S. Butler/NBAE/Getty ImagesKevin Garnett and Chris Bosh are two of the top power forwards in the game.
Each week, ESPN Insider

breaks down one of the week's key matchups
. This time around:
Kevin Garnett
vs.
Chris Bosh
before Sunday's showdown on South Beach:
You just can't win in this league without a great power forward. Particularly one who can fill the stat sheet across the board and perfectly complement the superstars playing next to him. The Boston Celtics and Miami Heat have no such worries with Kevin Garnett and Chris Bosh on the floor.

Garnett is the emotional anchor of Boston's Big Three while Bosh is the unsung third wheel in Miami's triumvirate. Their roles vary, but both will play vital roles in their respective teams' championship chase. While Garnett is putting the finishing touches on a Hall of Fame career, Bosh has become one of the league's more maligned players despite posting stellar numbers alongside two superstars who often have the ball in their hands.

They're both charged with providing their respective teams with scoring, muscle, and leadership, but who does it better?
ESPN the Magazine's Chris Palmer gives the Bosh the edge on key strength (shooting touch), secret skill (ambidexterity), while Garnett earns the edge in weakness (durability) and intangibles (intimidation). The winner? No need to toss your keyboards out the window this time, Celtics fans.
As an added bonus, check out the Player POV, which includes commentary from two former Celtics:
Kendrick Perkins
and
Al Jefferson
. Here's Perk on old friend KG:
"KG is one of the toughest guys to play because his intensity never lets up. He's one of the true competitors to ever play the game. He goes hard against guys and a lot of them can't deal with it. He's the best at that. As an opponent you don't get to see the other side of him, but he's a great teammate, somebody that's going to have your back and you always like to be out on the floor with a guy like that. His emotion and focus carries over to the people around him, until you have the whole team on the same page. It's very hard to beat a team like that. That's what KG does. In the locker room and on the floor, you're lucky if he's on your team."
Click
HERE

to read the full breakdown.
April, 10, 2011
4/10/11
11:08
AM ET
By
Greg Payne
| ESPNBoston.com

(55-24, 23-16 away)
-- vs. --
(55-24, 29-11 home)

at American Airlines Arena, Miami, Fla., 3:30 p.m. | ABC, WEEI (850 AM)
PAYNE'S THREE THINGS TO WATCH
Sense of Urgency: The Celtics squared off against the Chicago Bulls last Thursday in a marquee game with potential playoff implications, and, to say the least, Boston came away disappointed with its effort. The C's suffered a 97-81 defeat and were thoroughly outplayed on both sides of the ball in the process. But with the winner of Sunday's tilt emerging as the favorite for the No. 2 seed in the Eastern Conference and home-court advantage through the first two rounds of the playoffs, will Boston play like a team that's hungry for another deep postseason run? When asked about his expectations for today's game after Friday's 104-88 win over the Washington Wizards, Paul Pierce had this to say: "I know we'll be ready. I just know we'll be ready. A lot more ready than we were in Chicago."
Defending Wade: LeBron James and Chris Bosh have fared well against the Celtics in the teams' three previous meetings this season, but the same cannot be said for Dwyane Wade. Wade's averaged just 12.3 points against the Celtics this season (he's averaging 25.8 points per game -- good for third overall in the NBA) on 26.7 percent shooting from the field, 20 percent from 3-point nation, and 64.7 percent from the free throw line. Perhaps most concerning for Heat fans has been the fact that Wade's averaged six turnovers in the three games against the Celtics. Boston might hold a slight advantage Sunday, as Wade's currently battling a sore right thigh that kept him out of the Heat's 90-85 loss to the Milwaukee Bucks last Wednesday.
First Impressions: The Celtics are 3-0 against the Heat this season, but all three victories came before Boston traded Kendrick Perkins and Nate Robinson to the Oklahoma City Thunder for Jeff Green and Nenad Krstic. Boston's identity has shifted since the last time these two clubs took the floor, and Sunday will mark a series of firsts for the new-look Celtics. How well will Jeff Green defend LeBron James? Green spoke recently about his need to improve on defense and lending a hand in trying to contain James could go a long way towards his defensive reputation. Meanwhile, will the likes of Jermaine O'Neal, Nenad Krstic, and (potentially) Troy Murphy be enough inside today? In the three previous meetings with Miami, the C's had the services of either Shaquille O'Neal or Kendrick Perkins in the paint on defense, but neither luxury will be available for today's game.
GAME PREVIEW (via AP)
Somehow, after 79 games, nothing between the Boston Celtics and Miami Heat has been decided.

Boston, 55-24. Miami, 55-24. Tied for the No. 2 spot in the Eastern Conference, one team will take a stranglehold on the race for home-court through at least the first two playoff rounds on Sunday when the Celtics and Heat meet in Miami. Boston is 3-0 in the season-series between the clubs, and has won 18 of its last 20 games against the Heat since April 2007.

But if Miami finds a way on Sunday, that Celtic dominance may be temporarily forgotten.

"Let's toss the ball up and play," Heat coach Erik Spoelstra said Saturday. "We think we're a different team than the last three times we've played them, but until we prove it in between the lines, it doesn't matter."

The Heat are understandably thrilled that Game 4 of the regular-season series is in Miami. That won't be the case if Game 4 of a potential Heat-Celtics postseason series is also in Miami.

The No. 1 seed in the East has been locked up by the Chicago Bulls, and in some order, seeds 2 and 3 will go to Miami and Boston. So that means the Heat and Celtics will be slotted to meet in the East semifinals -- where Games 1, 2, 5 and 7 would be hosted by the higher seed.
Read the full preview
HERE
.
April, 10, 2011
4/10/11
11:03
AM ET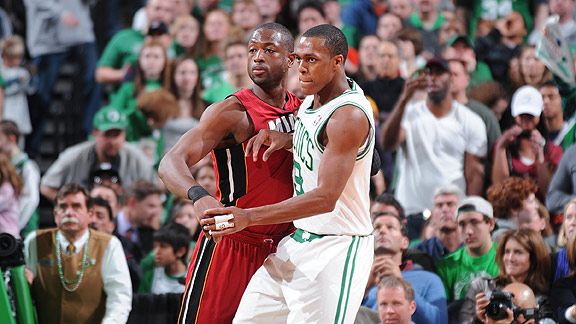 Brian Babineau/NBAE/Getty ImagesThe battle for the No. 2 spot in the East likely hangs in the balance Sunday.
When the C's meet the Heat for the fourth time, there will be much at stake: An advantage that could go far in the playoffs.
--
MAY: PLENTY AT STAKE FOR C'S, HEAT
--
No one on either side is going to need a pep talk or a reminder of the importance of the outcome. There's home-court advantage at stake -- and perhaps not just in their own conference.

There's certainly payback on the Miami Heat's mind -- again. There's muscle flexing on the Boston Celtics' mind -- again.

Oh, and will we see the Stepford Dwyane Wade again?

Boston and Miami, Part IV, presents that rarity of rarities in an NBA regular-season game -- actual meaning. The teams, which meet Sunday in Miami, are tied for second place in the Eastern Conference with records of 55-24. The winner likely will secure the No. 2 seed behind the Chicago Bulls for the playoffs, which begin next weekend.
*
The Heat Index
:
Who wants it more?
|
Eyes on Wade
|
What to watch
|
Seed matters?
April, 9, 2011
4/09/11
1:00
PM ET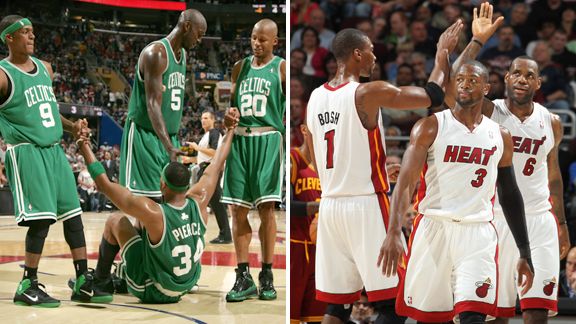 Getty ImagesCeltics vs. Heat, Round 4, Sunday on South Beach.
Celtics coach Doc Rivers admits that the most frustrating aspect of his team's late-season stumble has been that, along the way, it lost the ability to control its own destiny. After spending much of the season atop the Eastern Conference, Boston has endured inconsistent play over the past month-plus and soon found itself three games behind the
Chicago Bulls
with five games to play.
And after getting throttled Thursday at the United Center, any fleeting dreams of a top seed were dashed. The bad news for Boston: The road back to the NBA Finals almost assuredly goes through Chicago. The good news for Boston: The Celtics can still control just about everything but that.
Or, as Celtics coach Doc Rivers put it after Friday's win over the Wizards: "We control our own destiny for the second seed now and we've got to win the next two games."
The Celtics and Heat sit with matching 55-24 records entering Sunday's showdown. Whoever wins thrusts themselves into the driver's seat for the No. 2 seed, but particularly Boston since the Green already own the head-to-head tie-breaker having ensured they win the season series by taking the first three meetings of the season.
A win Sunday would mean the Celtics would need just one win over their final two games -- Monday in Washington or Wednesday against New York -- to lock up the maid of honor spot in the East (which would ensure that, should top seeds win out, Boston would boast home-court advantage over the Heat in the conference semifinals). Boston could also clinch that spot with a win Sunday and a Miami loss over its final two games (road games at Atlanta and Toronto).
If the Heat win Sunday, they'll need to maintain that one-game cushion over Boston to the finish line due to the tie-breaker.
But here's the added bonus for Boston: Wins on Sunday and Monday would not only lock up the No. 2 seed, but take all the meaning out of Wednesday's regular-season finale against the Knicks. Not only could Boston rest its starters that night -- giving it what amounts to a week break, given that the team is not likely to open the first round until Sunday, April 17 -- but Boston would have the luxury of -- ahem --
allowing
New York to win that game, which could ensure a first-round matchup with what seems like a more desirable Philadelphia squad, depending on how the 76ers and Knicks close out their schedules.
New York currently boasts a ½-game edge for the sixth seed. Boston would play the No. 7 seed in the opening round.
April, 9, 2011
4/09/11
12:11
PM ET
Celtics center
Shaquille O'Neal
did not travel with the team to Miami Saturday and has been ruled out for both of Boston's final two road games of the season.
Celtics coach Doc Rivers had said Friday that it was unlikely that Shaq would travel and, sure enough, he was the only player left behind as Boston will carry 14 healthy bodies for Sunday's showdown in Miami and Monday's visit to Washington.
With no scheduled practice days before the regular-season finale, it would appear that O'Neal might not be back on the floor until the postseason. The Celtics play game No. 82 on Wednesday night when the Knicks visit the TD Garden, then will likely enjoy three offdays before the first round of the Eastern Conference playoffs open.
O'Neal returned to the court for the first time since Feb. 1 on Sunday, but logged a mere six minutes before suffering a right calf sprain. Rivers had said all week there was a slight chance O'Neal could play in Miami, but also said the team would exercise extreme caution with the 39-year-old center.
Shaq has appeared in 37 games this season, averaging 9.2 points and 4.8 rebounds over 20.3 minutes per game. Boston is 27-9 (.750 winning percentage) with O'Neal in the starting lineup this season.
Jermaine O'Neal, who got a maintenance day by sitting out Friday against the Wizards, traveled with the team and will likely rejoin the starting lineup in Miami.