Boston Celtics:

2010Game81
April, 12, 2011
4/12/11
4:42
PM ET
Von Wafer
committed one of the more head-shaking plays in recent memory during Monday's loss to the
Washington Wizards
. But nice to see him having fun at his own expense on Twitter a day later.
Wafer slashed to the hoop with a chance to put the Celtics up four just two minutes into the overtime session Monday. But his emphatic attempt at a one-handed jam bounced hard off the iron. A seemingly unaware Wafer exulted in front of the home crowd below the baseline before starting to backpedal. That's when he bumped into
Jermaine O'Neal
, who had hauled in the offensive rebound, but the collision forced O'Neal to double dribble. Just a mess of a sequence.
The good news for Wafer is that, beyond that gaffe and a missed free throw at the end of regulation, he put together a solid night, chipping in 11 points on 4-of-12 shooting with two assists, a rebound, and a steal over 44:39. What's more, Wafer's defense was better than expected and if he can maintain the intensity on that side of the ball, he's got a chance to edge fellow wing reserve
Sasha Pavlovic
for a final spot on the 12-man active playoff roster (Pavlovic, however, has more size and could still sneak on with a solid showing Wednesday).
April, 12, 2011
4/12/11
11:44
AM ET
By
Greg Payne
| ESPNBoston.com
Celtics reserve forward/center
Glen Davis
is already guaranteed a spot in Boston's 12-man playoff rotation, but he still had something to gain from playing 40 minutes in Monday's 95-94 overtime loss to the
Washington Wizards
.
Having struggled mightily in the six games prior to Monday's tilt in the nation's capital, Davis earned a starting nod at the power forward spot as Celtics coach Doc Rivers elected to rest his four All-Stars, and tied
Jeff Green
for a team-high 20 points on 6-of-13 shooting to go along with three rebounds, four assists, and one stellar block on Wizards center
JaVale McGee
in overtime.
It was the type of performance Davis needed with the playoffs fast approaching, as in his six previous games he had averaged just 8.1 points, 3.6 rebounds, and had made only 19-of-55 field goal attempts (34.5 percent shooting). His confidence looked visibly shaken throughout the stretch, to the point where he seemed uncertain as to whether he should pass or shoot the ball. He was criticized at times for taking too many perimeter jump shots, and for not rebounding enough.
But Davis remains a pivotal part of Boston's postseason picture, not only as a consistent rock for Rivers off the bench, but as necessary insurance along the front line, in case
Shaquille O'Neal
cannot make a healthy return. In order for Davis to be that type of impact player, he could not afford to enter the playoffs coming off of perhaps his worst stretch of the season.
April, 12, 2011
4/12/11
1:26
AM ET
Rapid reaction after the
Washington Wizards
defeated the
Boston Celtics
95-94 in overtime Monday night at the Verizon Center in Washington, D.C.
The rundown: The Good | The Bad | And the Ugly vs. the Wizards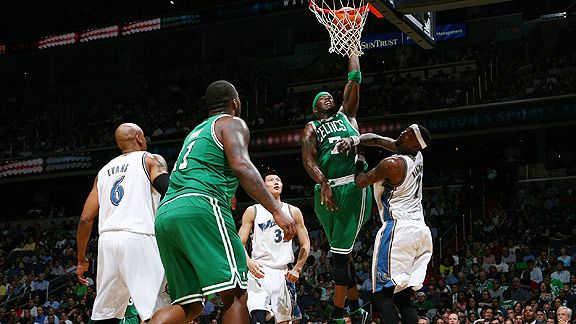 Ned Dishman/NBAE/Getty ImagesJermaine O'Neal with a left-handed jam against the Wizards.
--
THE GOOD: HEAVY LIFTING FOR J.O'NEAL
--
Celtics center Jermaine O'Neal admitted last week that he's been bugging coach Doc Rivers to ramp up his minutes. Even O'Neal probably didn't expect the workload he encountered Monday night in the nation's capital.
O'Neal didn't just register his first double-double while posting season-highs with 15 points and 13 rebounds, but logged a whopping 36 minutes 54 seconds of court time, the most action he's seen in a regular-season game since turning in 37:27 for the Heat against the Magic on March 18, 2010.
O'Neal has a balky left knee, one that caused him to squeeze in a maintenance day last Friday night against these same Wizards, this after sitting out 57 games due to injury this season. Monday's effort was an encouraging step for O'Neal and showed his potential to contribute for long stretches in the postseason (especially important given the uncertainty surrounding Shaquille O'Neal and his ability to stay healthy in the postseason).
Jermaine O'Neal was active around the basket Monday. Not only did he haul in 13 rebounds (five in the offensive end), he also blocked five shots. Then late in the third quarter, he found some space going toward the basket and delivered an emphatic (and unexpected) left-handed jam with Andray Blatche and Yi Jianlian only able to watch. Dare we say, it was as explosive as we've seen O'Neal since his 2004 MVP candidate years in Indiana (OK, maybe not
that
good, but you get the point).
More good news for Boston
: Jeff Green earned a start and played 47:03, posting a team-high 20 points on 8-of-20 shooting. Green also matched a career-high with 15 rebounds ... The Celtics forced the Wizards into 18 turnovers leading to 26 points.
April, 11, 2011
4/11/11
10:17
PM ET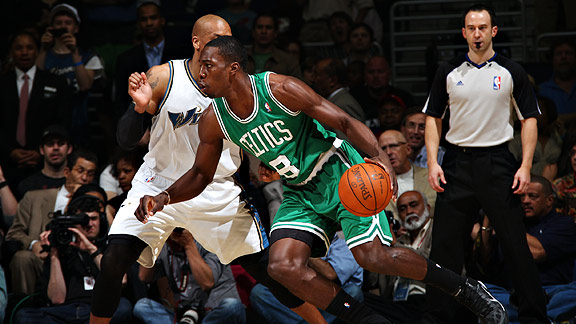 Ned Dishman/Getty ImagesJeff Green got big minutes as Boston's starters got rest in Washington.
First impressions after the
Washington Wizards
defeated the
Boston Celtics
95-94 in overtime Monday night at the Verizon Center in Washington D.C.


HOW THE GAME WAS WON
Wizards rookie
John Wall
got to the charity stripe 15 times (making 14 of those attempts) while scoring a game-high 24 points and adding nine assists over 46 minutes. Fellow rookie
Jordan Crawford
chipped in 17 points and drilled the winning 3-pointer with 38 ticks to play in overtime, breaking the game's final tie.
Jeff Green
and
Glen Davis
scored 20 points apiece in spot starts as Boston rested its Big Four.
TURNING POINT
The Celtics held a seven-point lead with 2:34 to go in the third quarter, but the Wizards embarked on an 11-0 run to pull ahead early in the fourth quarter. With Boston trailing by three with little more than three minutes to go,
Carlos Arroyo
aided Boston's comeback. After hitting a pair of free throws, Arroyo canned a wide-open corner 3 for a 77-75 lead with 2:31 to go. Davis chipped in Boston's next four points before Arroyo fed
Von Wafer
on the break for a six-point cushion with under a minute to play. Unfathomably, Boston fumbled away that lead, lowlighted in the extra session by Wafer blowing an emphatic jam and then forcing
Jermaine O'Neal
to double-dribble by bumping into him.
STAT OF THE GAME
Jermaine O'Neal logged a whopping 36 minutes. On the surface, that's an encouraging number should Boston need to lean on him in the postseason (but let's see how his surgically repaired left knee responds). One thing that's surely a positive is that O'Neal registered five blocks, showing just how much of a defensive force he can be around the basket.
Nenad Krstic
and
Delonte West
added two blocks apiece for Boston, while Davis added the highlight of the night with by rejecting
JaVale McGee
in overtime. That said, the Wizards registered 11 blocks of their own, highlighted by nine blocks between McGee (5) and
Andray Blatche
(4).
UNSUNG HERO
Before his gaffe, Wafer had put together a fairly solid outing, maybe one that could have (and still might) thrust him ahead of
Sasha Pavlovic
in the competition for a spot on Boston's active playoff roster. Alas, he missed a free throw that could have put the game away late in the regulation, then produced the head-slapping sequence with Boston up two in the extra session.
WHAT IT MEANS
For a fleeting moment it appeared the Celtics might stumble back into the hunt for the No. 2 playoff seed as Boston was on the cusp of winning this one and the Hawks were putting a scare into Miami. Alas, the Heat prevailed and the Celtics didn't -- that locks up the postseason playoff picture and third-seeded Boston will joust with the sixth-seeded
New York Knicks
in the first round of the Eastern Conference playoffs. Ironically, the two teams meet in both squads' regular-season finale Wednesday. Don't expect many hands to be tipped.
April, 11, 2011
4/11/11
8:55
PM ET
Comcast SportsNet ScreenshotCeltics guard Delonte West departed Monday's game with an ankle sprain.
Celtics guard
Delonte West
suffered a right ankle sprain, aggravating an existing injury, during Monday's game against the
Washington Wizards
, according to the team.
In the third quarter, West got steamrolled as Washington's
JaVale McGee
motored toward the basket in transition. West fell awkwardly as McGee fell on top of him. West grabbed at his ankle before being helped to the bench by teammates. He was briefly examined by team trainer Ed Lacerte before limping back to the locker room.
The team said he would not return.
West missed eight games after spraining the ankle during an offday practice in late March. He said previously that he's been playing with a small bone chip in the ankle, which caused it to swell earlier this month.
West drew a spot start Monday with Boston resting its starters and chipped in 11 points on 4-of-9 shooting with five rebounds and five assists over 23 minutes before the injury.
April, 11, 2011
4/11/11
7:15
PM ET

The
Boston Celtics
elected to rest their Big Four Monday, removing
Rajon Rondo
,
Ray Allen
,
Paul Pierce
, and
Kevin Garnett
from their starting lineup. Boston instead went with a group featuring
Delonte West
,
Von Wafer
,
Jeff Green
,
Glen Davis
, and
Jermaine O'Neal
.
Here's more from the
Associated Press
:
Coach Doc Rivers said Kevin Garnett, Ray Allen and Rajon Rondo would not play Monday night against the Washington Wizards. Rivers also said Paul Pierce probably wouldn't play, and that Jermaine O'Neal would see limited minutes.

Rivers said he plans to rest his stars again for the regular-season finale Wednesday against the New York Knicks, but he might change his mind if Miami were to lose at Atlanta on Monday.

Despite Sunday's loss to the Heat, the Celtics still had a chance to catch Miami for the No. 2 seed in the Eastern Conference.

Rivers said his players need a break so that he can have good practices Thursday through Saturday before the playoffs start.
Hop
HERE
to read the full story.
April, 11, 2011
4/11/11
5:31
PM ET
By
Greg Payne
| ESPNBoston.com

(55-25, 23-17 away)
-- vs. --
(22-58, 19-21 home)

at Verizon Center, Washington, D.C., 7 p.m. | CSN, WEEI (850 AM)
PAYNE'S THREE THINGS TO WATCH
Response Time ... Again: After the Celtics lost to the Chicago Bulls last Thursday, 97-81, they needed a bounce-back game, and the Wizards served as the perfect opponent the very next night. Boston reverted back to the aggressive, attacking team it has to be in last Friday's 104-88 win over Washington, and while a win against a club with three victories on the road this season wasn't enough to make up for Thursday's lashing, the C's at least came away having played better basketball. The same formula is in the works for tonight's tilt, as the Celtics need to get back up after stumbling badly in a 100-77 loss to the Miami Heat on Sunday. Including tonight's game, the Celtics have two games remaining before the postseason, and they still would like to play well and gather momentum, even if that consists only of a modest two-game winning streak.
Run, Run, Run: The Celtics registered 25 fast break points against the Wizards last Friday, good for their second highest total of the season. Playing on the second night of a back-to-back didn't hurt Boston's chances of scoring in transition, and the same should hold true tonight against the exact same Wizards club. Taking advantage of Washington's turnovers helped, as the C's converted 21 Washington miscues into 23 points last Friday.
Get Baby Going: Glen Davis remains pivotal to the Celtics' championship hopes, despite his struggles over his last five games. How Davis performs off the bench will go a long way in determining how far the Celtics advance in the postseason, and the fourth-year forward could use a confidence boost. In his last five games, Davis has averaged 8.0 points and 3.4 rebounds, while shooting just 34.1 percent from the field. Putting together back-to-back strong games to close out the season will certainly help Davis regain his rhythm before the playoffs get under way.
GAME PREVIEW (via Stats Inc.)
Washington (22-58) defeated Atlanta 115-83 on Saturday, handing the visiting Hawks their fourth straight loss.

The Wizards have won five of eight, largely by taking advantage of slumping opponents. Since March 28, Washington has defeated Utah, Cleveland, Charlotte, Detroit and Atlanta. Those teams are a combined 10-24 in that same span.

A couple of recent NBA D-Leaguers helped lead the Wizards on Saturday, as Othyus Jeffers had 13 points and 11 rebounds and Larry Owens scored 10.

"Those guys have helped bring our energy level up," coach Flip Saunders said.

Veteran Andray Blatche led the way against the Hawks with 23 points while shooting 9 of 15. Blatche is averaging 25.5 points -- 8.7 better than his season average -- in six games this month. That includes a 20-point, 10-rebound performance against the Celtics on Friday.

John Wall also had 20 points in that game, along with seven assists and five steals. The rookie is averaging 21.0 points in his last four games.
Read the full preview
HERE
.