Boston Celtics:

2010Game82
April, 14, 2011
4/14/11
9:35
AM ET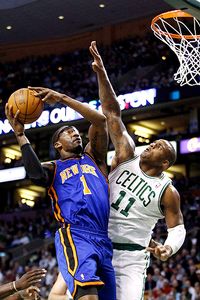 Mark L. Baer/US PresswireAmare Stoudemire's scoring potential makes the Knicks a dangerous team.
With top scorers
Amare Stoudemire
and
Carmelo Anthony
, the Knicks could present some problems for the Celtics, as coach Doc Rivers knows from experience:
--
WHAT MAKES KNICKS DANGEROUS FOR C'S?
--
Boston Celtics coach Doc Rivers operates under the theory that you don't want to get into a playoff series in which the other team has the best player on the floor. Considering he's touted the New York Knicks tandem of Carmelo Anthony and Amare Stoudemire as among the NBA's elite, Rivers concedes that New York is not the ideal first-round draw (if such a thing exists). Rivers wouldn't bite when asked if the Knicks are a "dangerous" team, dismissing the suggestion by saying that he wouldn't get involved in wordplay and noting that some might dub his own team "dangerous." But Rivers knows from experience just how threatening an opponent with elite scorers can be. "I almost won a series in Orlando with one guy named Tracy McGrady," Rivers said.
*
Required reading
:
May: Rivalry? What rivalry?
|
Sheridan: Stoudemire (ankle) says he's OK
April, 14, 2011
4/14/11
2:18
AM ET
By
Greg Payne
| ESPNBoston.com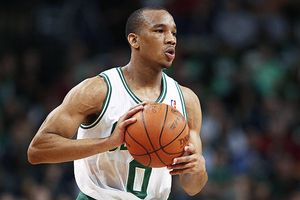 Mark L. Baer/US PresswireCeltics rookie Avery Bradley made the most of his rare playing time vs. the Knicks.
BOSTON -- When Celtics rookie
Avery Bradley
first checked into Wednesday's 112-102 victory over the
New York Knicks
, he hadn't even played four full seconds before he was being yelled at by head coach Doc Rivers.
Rivers was urging Bradley to get back on defense, and his wish was granted, as, a second later, Bradley swiped the ball from Knicks point guard
Anthony Carter
, and raced towards his own hoop before he rose up and threw down a loud right-handed slam.
It was only the start of the best game of Bradley's young NBA career, as he finished Wednesday's regular-season finale with a career-high 20 points on 10-of-16 shooting, to go along with three rebounds, two assists, and two steals in a career-best 27 minutes.
Bradley wasn't willing to let his first significant minutes in weeks go to waste, and he followed up his first quarter dunk with a jump shot from the left corner, a floater on the right side and a pull-up jumper over Carter at the left elbow. He finished the first frame with eight points, which, at the time was already a new personal milestone (his previous career-high in points stood at five).
"I felt good," said Bradley. "I mean, we've been practicing a lot and [I've been] going up against [Rajon] Rondo every single day. We go hard in practice, and so, those guys just got me so much better from the beginning of the year to now. Even though I don't play much, I still get better in the little bit of time we've got in practice and on my own. It was big for me tonight to go in there and show coach that I go hard when my name is called on to help our team out any way I can."
April, 14, 2011
4/14/11
12:48
AM ET
BOSTON -- A collection of news and notes after the
Boston Celtics
defeated the
New York Knicks
112-102 Wednesday night at TD Garden:
The rundown: The Battle for No. 12 | J.O.'s Knee Fine After Big Minutes | Layup Line
Celtics coach Doc Rivers is brutally honest when he admits that he hopes to never have to use the 12th man on his active playoff roster. This is the time of year when rotations shorten and Rivers is likely to operate with a lineup that runs only eight or nine deep.
But if Celtics reserve
Sasha Pavlovic
was hoping to make a strong final impression for the opportunity to sneak onto that active roster, he picked as good a time as any.
Pavlovic scored 19 points on 7-of-10 shooting, canning 4-of-5 trifectas over 35 minutes off the bench. For the eighth-year journeyman of six teams, Wednesday's outburst ranks among the top 12 scoring nights of his career and was his biggest offensive outburst since scoring 20 points with Cleveland on April 15, 2009.
What's more, Pavlovic picked up his defensive intensity (and his intensity overall, as evident by a third-quarter dust-up with former Celtic
Bill Walker
). And it's on the defense end that Pavlovic must shine in order to usurp fellow reserve
Von Wafer
for a roster spot at the start the postseason (though rosters are flexible, game to game).
A charge Pavlovic absorbed from New York's
Derrick Brown
early in the fourth quarter might go a long way toward that cause.
"The whole bench exploded on that one," Rivers said. "So that was just good. I thought the minutes helped him kind of get comfortable. Sasha, you know, he's such a confidence player. He made his early shots and then he missed one and almost didn't want to look at the rim. And then he made another one and started looking again. So that was just good."
Rivers noted last week in Chicago how Pavlovic's biggest detriment throughout his NBA career has been an inability to maintain his confidence when he makes a mistake on the floor. Rivers has been on him about moving past that initial error and playing with sustained intensity.
"[Rivers is] helping me," Pavlovic said last week. "He's pointing to my mistakes and I'm trying to listen to whatever he says, and I'm trying to put that on the floor."
Rivers wouldn't tip his hand on how his active roster will look, but suggested he might need to see how the candidates perform in practice the next three days before making a final decision. Pavlovic, who played a quiet eight minutes Monday in Washington, might have kept his name in the running with Wednesday's effort.
April, 13, 2011
4/13/11
10:22
PM ET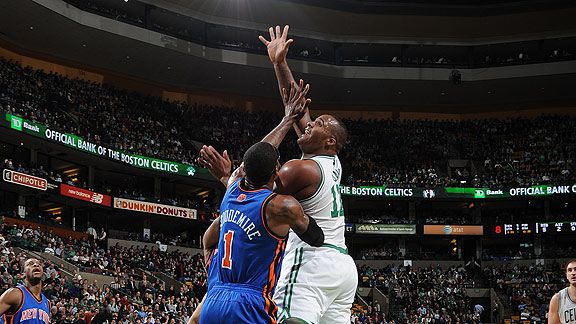 Steve Babineau/NBAE/Getty ImagesGlen Davis and Amare Stoudemire get ready for their postseason tussle.
BOSTON -- Rapid reaction after the
Boston Celtics
defeated the
New York Knicks
112-102 in the regular-season finale Wednesday night at TD Garden:


HOW THE GAME WAS WON
Rookie
Avery Bradley
poured in a game-high 20 points on 10-of-16 shooting over 27 minutes off the bench, while
Sasha Pavlovic
chipped in 19 points on 7-of-10 shooting over 35 minutes off the pine in what amounted to a mere playoff appetizer.
Glen Davis
added 17 points, while
Jeff Green
and
Von Wafer
added 14 apiece as Boston's offense scored early and often against the Knicks' B-Team.
Landry Fields
scored a team-high 16 points over 31 minutes for the Bockers.
TURNING POINT
The Celtics opened the fourth quarter on an 11-0 burst that featured five different players scoring, closing with Pavlovic drilling a 3-pointer before a
Troy Murphy
dunk for a 97-84 lead with 7:54 to go. The Celtics added another 11-2 run a short time later, the reserves spreading the ball around again as the lead ballooned to 110-90 after a Murphy layup with 3:42 to play.
STAT OF THE GAME
Boston's three-man bench of Bradley, Pavlovic, and Murphy combined for 48 points, good for a top five outing for the Celtics' reserves this season. Murphy connected on 4-of-6 shots for nine points, including his first 3-pointer in a Boston uniform.
UNSUNG HERO
Pavlovic is likely fighting for a spot on the 12-man active roster in the playoffs, but might have shown enough at both ends to warrant a final spot. He's still gotta edge Wafer, but, ultimately, as Doc Rivers said pregame, the Celtics hope to never have to lean on the end of their bench in the postseason.
WHAT IT MEANS
With 82 games in the bag, it's time to turn our attention to the postseason and the upcoming best-of-seven series with the Knicks. The Boston reserves got some extended time and hopefully they enjoyed it. The Celtics will lean on an eight-man roster comprised heavily of the guys who weren't on the floor Wednesday as they start their postseason quest for Banner 18.
April, 13, 2011
4/13/11
8:08
PM ET
BOSTON -- Celtics guard
Delonte West
spent Tuesday's offday soaking his ailing right ankle in an ice bucket and, while he appeared glum about enduring yet another setback in this injury-plagued season, he vowed he'd be available when Boston tips off its Eastern Conference quarterfinal series versus the
New York Knicks
on Sunday night.
"No question, no excuses," said West, who was wearing a walking brace over his right ankle when he arrived to the locker room. "It's not 100 percent, but it is what it is."
West, who missed eight games after spraining his right ankle during an informal workout in late February, aggravated the injury Monday night in Washington when
JaVale McGee
steamrolled him while trying to race to the basket in transition.
West, who hoped to get in some light on-court activity before the game, will not play in Wednesday's regular-season finale against the Knicks and couldn't hide his frustration with the injury bug.
"It's almost like a jammed finger," West said. "The pain goes away, then you hit it, and it comes back all over again. Today is Day 1, we'll see how it goes today. Then we'll see how tomorrow goes."
West stressed that he'll be ready for Sunday's game, declaring that he'll be "suited and booted."
Celtics coach Doc Rivers also believes West will be ready to go and breathed a sigh of relief after watching the injury in front of the Celtics' bench.
"He felt a lot better today," Rivers said. "But watching that injury live, I was very concerned. I thought right away, 'We just lost him for a couple weeks.' So [the fact that it's not that severe is] great."
West appeared in 24 games for Boston this season, averaging 5.6 points, 2.7 assists and 1.5 rebounds per game. He served a 10-game suspension for off-the-court issues to start the season, then missed 39 games with a broken right wrist. The ankle sidelined him for nine more games.
Carlos Arroyo
drew the start Wednesday versus the Knicks and would provide depth behind West if he's unable to get back on the court for the start of the postseason.
April, 13, 2011
4/13/11
7:49
PM ET
BOSTON -- The Celtics' list of available bodies Wednesday is about as long as the list of those that are not.
Coach Doc Rivers said he will rest
Delonte West
,
Jermaine O'Neal
,
Kevin Garnett
,
Ray Allen
,
Paul Pierce
,
Shaquille O'Neal
, and
Rajon Rondo
in Boston's regular-season finale against the visiting
New York Knicks
. The Celtics will trot out a starting lineup of
Carlos Arroyo
,
Von Wafer
,
Jeff Green
,
Glen Davis
, and
Nenad Krstic
. That leaves
Avery Bradley
,
Troy Murphy
, and
Sasha Pavlovic
available off the bench.
While Rivers admitted there's still some competition for the final spots on the active playoff roster, he downplayed the significance of that battle.
"I don't think that's newsworthy, personally," said Rivers. "I mean, it's more newsworthy if the 12th man on either roster is playing a lot [in the postseason]. I'm not set, honestly, but I think the game the other night [versus Washington] helped and this game will actually help, along with the [pre-playoff] practices."
Rivers went on to note again how it's not that big of a deal any more as rosters can be modified game-to-game, unlike in the past. Rivers recalled how he had to sit out an entire postseason because there wasn't room on the 12-man active roster, even when injuries opened potential doors.
"I was one of the reasons it was changed," said Rivers. "Because it sucked."
Rivers said he expects to have West (sprained right ankle; more on that in the blog shortly) available for Game 1 of the Eastern Conference quarterfinals against the Knicks on Sunday night, but said practice will dictate whether Shaquille O'Neal (sprained right calf) can be ready.
"With Shaq, it's probably too early to tell, but I think [he'll be able to play in Game 1]," said Rivers.
O'Neal was at the arena prior to Wednesday's game, getting in a workout with the training staff.
April, 13, 2011
4/13/11
12:51
PM ET
By
Greg Payne
| ESPNBoston.com

(55-26, 32-8 home)
-- vs. --
(42-39, 19-21 away)

at TD Garden, 8 p.m. | CSN, WEEI (850 AM)
PAYNE'S THREE THINGS TO WATCH
12th Man Auditions: Celtics coach Doc Rivers said following Monday's 95-94 overtime loss to the Wizards that he is still determining which players will earn the final spots on his 12-man active playoff roster, and that Wednesday's game will serve as one final opportunity for the reserves to state their respective cases. For guys like Troy Murphy, Sasha Pavlovic, and even Von Wafer, this game still holds some weight as they seek to be a part of Boston's postseason plans.
Arroyo's Rhythm: Delonte West re-sprained his right ankle in Monday's loss in Washington, and while he's currently listed as day-to-day, Arroyo might be counted on more than originally anticipated with the postseason looming. If West's health prevents him from playing in the first games of the first round, Arroyo will be the one to log minutes at the backup point guard position. While the minutes will still be sparse because of all the court time Rajon Rondo will log, stability at each position is always important in the playoffs. Arroyo played 30 minutes against Washington on Monday, producing mixed results, but should get a chance for extended time once again Wednesday.
Don't Expect Defense: Assuming Rivers follows through with his plan to rest the majority of his starters for the second straight game, Wednesday's tilt will once again consist of the bench guys going blow-for-blow in the regular-season finale. Knicks coach Mike D'Antoni might follow Rivers' lead and hold out some of his key players (especially since the Knicks played on Tuesday), but the team's philosophy is still very much in play. The Knicks will look to run and score quickly, and don't be shocked if Boston gets caught up in a frantic, defense-free game dictated by New York's pace.
GAME PREVIEW (via Stats Inc.)
The Boston Celtics and New York Knicks will play at least their next five games against each other, but the first one will look considerably different than the rest.

Both teams may rest starters when they finish the regular season Wednesday night at TD Garden, the same place where they'll open the playoffs this weekend.

"We just have to stay healthy," Knicks point guard Chauncey Billups said Tuesday. "Nothing we can really accomplish tomorrow to be honest with you, just kind of stay healthy. Tomorrow to me is nothing. (In the playoffs) everything will be different, intensity will be different, players will be more focused, it will be a totally different game."

Boston (55-26) is locked into the No. 3 seed in the Eastern Conference, while the Knicks (42-39) are assured of finishing sixth, which means the clubs will square off in the postseason for the first time since 1990.

Coach Mike D'Antoni's plans for Billups and Carmelo Anthony in the finale are unclear. Anthony has been outstanding lately, averaging 30.3 points on 49.0 percent shooting in his last nine games.

While the Knicks can't exactly send a message by beating Boston's reserves, they wouldn't mind avoiding a season-series sweep. The Celtics have won the first three meetings, although they were decided by an average of just 5.3 points.

The Knicks haven't won in Boston since Nov. 24, 2006, losing eight straight there -- seven since the Celtics acquired Garnett and Allen.
Read the full preview
HERE
.
April, 12, 2011
4/12/11
4:50
PM ET
By
Greg Payne
| ESPNBoston.com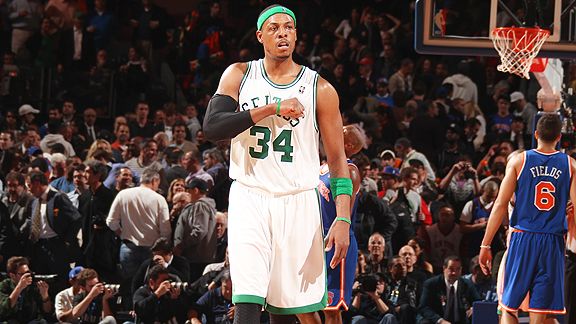 Nathaniel S. Butler/NBAE/Getty ImagesCeltics captain Paul Pierce celebrates Boston's win in New York last month.
WALTHAM, Mass. -- Celtics captain
Paul Pierce
wasn't willing to analyze Boston's first-round playoff matchup with the
New York Knicks
in great detail on Tuesday, but he did express excitement over the idea of the two sides meeting in the opening round of the postseason.
Speaking at an event advocating safe driving outside of the Celtics' practice facility in Waltham, Pierce said the excitement level of a Boston and New York battle could reach that of two other memorable playoff series the Celtics have engaged in in recent years.
"It's going to be a very interesting series," said Pierce. "I know everybody's going to tune in to watch it. I know this is going to be as exciting as probably that series versus the Lakers last year, or even the series we had [two years ago] versus the Bulls. I think it's going to be very exciting for the fans to watch."
Pierce hinted at the rivalry that's long existed between the
Boston Red Sox
and the
New York Yankees
, before suggesting a hard-fought playoff series between the Celtics and Knicks could cause some of that tension to spill over onto the basketball court.
"I think it's going to be fun," said Pierce. "You definitely have that rivalry in baseball. Maybe we can spark a rivalry there in basketball. You've got two cities who are close, next to each other, great sports towns. I think it's going to be great for the game."
In an ironic twist of fate, both the Celtics and Knicks will conclude their respective regular seasons against one another in Boston on Wednesday. Celtics coach Doc Rivers elected to hold out starters Pierce,
Ray Allen
,
Kevin Garnett
, and
Rajon Rondo
from Boston's 95-94 overtime loss to the
Washington Wizards
on Monday, and Pierce said he might sit out of Wednesday's tilt as well.
"I think it was good for the most part," Pierce said of resting against the Wizards. "Right now we're stuck in the third seed... going to see New York, so we don't want to show them all our cards on Wednesday, knowing that we have to play them in a playoff series. If I had to guess, I probably wouldn't play."
The Celtics and Knicks have already squared off three times this season, with Boston emerging victorious in each meeting, although not by much. The average margin of victory in those three games for Boston was just five points, which suggests neither team will have an easy time trying to advance to the second round of the playoffs.
Despite his team's recent struggles, Pierce acknowledged several key distinctions between the postseason and the regular season that should help to give the Celtics an edge.
"Well the focus is basically on one team," Pierce said of the playoffs. "Not as much traveling, you're not playing every day, and with the guys we've got, with the older players we've got, I think that's better for our advantage. We have a few days at home, a few days on the road, no back-to-backs. We can really focus in on one team, and like I said before, our team is really built for the playoffs, so there's definitely an advantage there, in that aspect, as far as the
Boston Celtics
."
April, 11, 2011
4/11/11
10:30
PM ET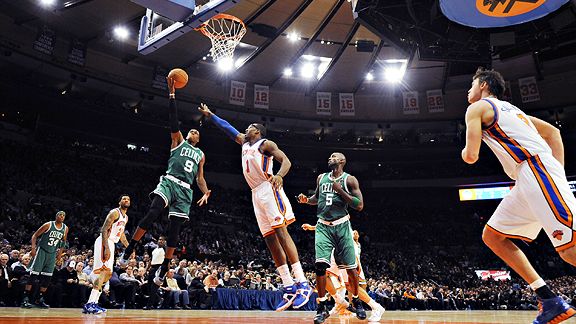 Lou Capozzola/Getty ImagesIt's Boston vs. New York in the first round of the NBA playoffs.
The third-seeded
Boston Celtics
will joust with sixth-seeded
New York Knicks
in the opening round of the Eastern Conference playoffs.
By virtue of Boston's overtime loss Monday to Washington, coupled with both Miami's win over Atlanta and Orlando's triumph over Philadelphia, the East seeds were finalized, setting up one side of the NBA playoff bracket. Top-seeded Chicago battles eighth-seeded Indiana; Second-seeded Miami tangles with seventh-seeded Philadelphia; and four-seeded Orlando renews acquaintances with fifth-seeded Atlanta.
The Celtics are 3-0 against the Knicks this season, but all three meetings were wars. Boston defeated New York, 105-101, at the TD Garden in late October. Boston needed a last-second
Paul Pierce
jumper to win 118-116 at Madison Square Garden in December, then rallied out of a monster hole to prevail 96-86 in a bloodbath last month in the Big Apple.
The two teams meet in both sides' regular-season finale Wednesday night in Boston.