Boston Celtics:

2011Offseason
July, 5, 2011
7/05/11
11:55
PM ET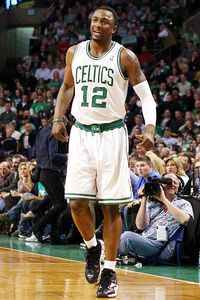 Elsa/Getty ImagesA calf injury detoured Von Wafer late in the 2010-11 season.
In six NBA seasons,
Von Wafer
has never had the opportunity to return to the team he ended the previous campaign with and build upon that experience. While committed to exploring all options this offseason -- including potentially heading back overseas if the NBA lockout lingers -- Wafer wouldn't be opposed to a return engagement with the
Boston Celtics
, according to his agent Terrance Doyle of the Veritas Venture Group.
Wafer appeared in 58 games for Boston last season, averaging 3.2 points over 9.5 minutes per game. A calf injury in early March detoured him at maybe the worst possible time, but Wafer did get healthy enough to appear in three playoff games.
"Von would love to be back [with Boston]," Doyle said of the 6-foot-5 swingman who has played for seven teams since being drafted by the Lakers in the second round (35th overall) of the 2005 draft. "He's never gotten that opportunity to go back with a team."
Inked last August, Wafer had to
fend off challenges for his roster spot
during training camp and endured a
locker room dust-up
with teammate
Delonte West
early in the season. Although Wafer was on a non-guaranteed minimum contract, Celtics president of basketball operations Danny Ainge offered consistent praise and Wafer survived the duration of the season, including February's bench overhaul. In fact, that roster flux nearly opened some doors for Wafer, but
a calf injury in early March
kept him off the court for nearly a month and prevented Wafer from playing his way into a larger role.
While Boston's first-round draft pick
JaJuan Johnson
snagged
Wafer's No. 12
at last Monday's rookie introductions, Wafer remains a potential free agent option for depth at the swingman spot. Boston's desire to keep him might depend on whether the team can re-sign combo guard West, and whether Gilbert Brown, the undrafted shooting guard out of Pittsburgh who's also represented by Doyle, can earn a spot on the team once the lockout is over.
Doyle said Wafer has a better idea of what's expected of him after last season and stressed that Wafer learned a lot from Boston's veteran leaders. Wafer will draw interest from teams hoping he can rekindle what made him an effective bench presence in Houston during the 2008-09 season, when he averaged 9.7 points over 19.4 minutes per game. Wafer shot only 26.9 percent from beyond the arc last season, down from 39 percent in Houston, and coach Doc Rivers worked hard to get him to buy into the defense-first system. Even still, Wafer showed glimpses of what makes him an intriguing depth option.
Wafer chased an overseas payday with Greek squad Olympiakos after his breakout 2009 season, but soon returned stateside hoping to find another NBA job (he inked a 10-day contract with the Mavericks in February 2010). Doyle suggested Wafer might explore overseas options again depending on the length of the lockout.
Hop
HERE
for more on Wafer, including
last month's Grab Bag
about whether Wafer deserves another year in Boston.
July, 1, 2011
7/01/11
5:00
AM ET
ESPN Insider
examined the payroll situations
for every NBA team this offseason and suggested that the likes of the Celtics, Lakers, Magic, and Mavericks are likely to endure the greatest roster inflexibility this summer (or whenever the offseason officially takes place). Here's a glimpse at their Boston breakdown:
BOSTON CELTICS


6 players under contract: Ray Allen, Avery Bradley, Kevin Garnett, Jermaine O'Neal, Paul Pierce and Rajon Rondo
Total payroll: $64.37 million
1 waived player: Rasheed Wallace
Total: $491,109
1 free-agent cap hold: Jeff Green
Total: $13,367,964 (300 percent previous salary)
1 first-round cap hold: JaJuan Johnson (No. 27)
Total: $895,700 (rookie scale)
Other: 3 minimum roster charges
Total: $1,470,540
Estimated over the cap: $22.56 million
Notes: The Celtics already have about $64.86 million on the books for next season with just six players under contract plus Wallace's buyout. They can get to eight signed players by agreeing to deals with their first-round pick, Johnson, and restricted free agent Green. They can also bring back Glen Davis. However, it seems that both sides want to part ways. The rest of the squad will be signed to minimum contracts if the new collective bargaining agreement eliminates the midlevel and million-dollar exceptions. They can also bring back a player who makes no more than $2.488 million by using the trade exception from Marquis Daniels. In terms of dollars and roster parity, this is a top-heavy situation.
*
Forsberg's thoughts
: Don't immediately dismiss the idea of Davis being back in Boston. While the Celtics don't want to impede the cap flexibility they are scheduled to enjoy after the 2011-12 season (when the likes of Garnett, Allen, and O'Neal will come off the books), a short-term, reasonable-money deal for Davis isn't out of the question. Boston also boasts full Bird Rights to Davis, which means they can pay him up to a maximum contract or use that leverage to explore the idea of a sign-and-trade deal (maybe netting a veteran with an expiring contract in return). Yes, any such move will add even more money to what Boston is already committed to spend, but if it helps keep the team competitive in what's almost certainly the final year of the Big Three, it might be worth it (particularly any one-year deal that maintains cap flexibility next offseason). The Celtics spent $76.2 million last season, zipping past the luxury tax threshold ($70 million) and will need to pay dollar for dollar for going over the cap. On the surface, the Celtics might not have much flexibility this offseason, but there are moves the deep-pocketed team can make to remain a championship contender.
June, 30, 2011
6/30/11
12:45
PM ET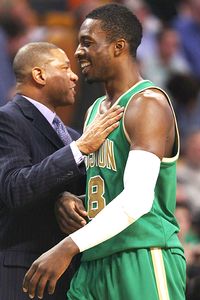 Elsa/Getty ImagesThe Celtics extended a qualifying offer to Jeff Green Thursday.
The
Boston Celtics
formally extended a qualifying offer to forward
Jeff Green
Thursday making the four-year veteran a restricted free agent as the NBA prepares for an uncertain summer.
The Celtics also exercised the 2012-2013 option on Avery Bradley.
In a move that Celtics president of basketball operations Danny Ainge
acknowledged would occur earlier this week
, Boston submitted the one-year, $5.9 million tender that sets into motion the process that will likely keep Green in green next season. While NBA owners are expected to lock out their players at midnight, the Celtics will essentially boast the right of first refusal with Green once the offseason does begin as Boston can match any offer a team might make for Green's services.
Green appeared in 26 games for Boston after being acquired from Oklahoma City along with
Nenad Krstic
and a future first-round pick in a deadline swap that sent
Kendrick Perkins
to the Thunder. Green averaged 9.8 points and 3.3 rebounds over 23.5 minutes per game with the Celtics (though those numbers dipped to 7.3 points and 2.7 rebounds over 19.2 minutes per game in nine postseason appearances).
"I think what people don't realize is how hard it is to [change roles]," Ainge said immediately after the 2010-11 season ended. "When I played in the [1980s], we brought in players that were hurting us every time we played them, like we couldn't stop them. I think one example is a player named Darren Daye. He used to score 25 every time we played him, but now all of a sudden he's coming in, he's playing behind Larry Bird and Kevin McHale and some games he scores zero playing behind them because he's just coming into the game to give them a rest.
"It's a different role and the expectations need to be different... [Green] gave us scoring, 3-point shooting that we needed, along with good defense and some athleticism. I think Jeff was a bright spot, based on what my expectations were."
May, 31, 2011
5/31/11
10:30
AM ET

The Saskatchewan Roughriders of the Canadian Football League open rookie camp on Wednesday and don't believe they'll have the services of unsigned second-round draft pick
Matt O'Donnell
. The rumored hang-up? Interest in O'Donnell from the Boston Celtics. The
Leader-Post of Saskatchewan
explains:
It's believed that O'Donnell has not signed because there has been some interest in the Canadian offensive tackle by the NBA's Boston Celtics. O'Donnell, who is listed at 340 pounds, hasn't played basketball since high school. O'Donnell and Hardaway could not be reached for comment Monday.

Taman had heard about the possible interest in O'Donnell by the Celtics, but that was the extent of it.

"The crux of the matter is we start rookie camp on Wednesday and (O'Donnell) may be the only draft pick (of five in the 2011 CFL draft by the Riders) we don't have in camp at that point,'' Taman said.
*
Forsberg's take
: OK, we all know the Celtics could use a big man and at 6-10, 340 pounds, O'Donnell fits the bill. Alas, we'd have to assume that any initial interest is merely curiosity if the 22-year-old O'Donnell hasn't played hoops since high school.
May, 31, 2011
5/31/11
10:15
AM ET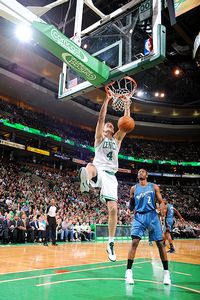 Brian Babineau/NBAE/GettyDoes a Russian team have eyes on Celtics center Nenad Krstic?
Serbian website
Sportske.net published a report
this week that Russian basketball squad CSKA Moscow is interested in signing free-agent-to-be
Nenad Krstic
. From Russian sports site,
Sports.ru
:
CSKA Moscow are reportedly interested in signing Boston Celtics' Serbian centre Nenad Krstic (27 years old, 213 cm). According to Serbian website Sportske.net, the Russian club has offered the player a long-term contract.

Meanwhile, commenting on this information CSKA president Andrey Vatutin has refrained from giving a direct confirmation or denial.

"As the offseason is coming with active negotiations and signings of new players, there will be a lot of rumors on alleged future contracts around each club. Some of this information will prove to be true, some will be a complete lie and just an element of the agents' game aimed to increase the price of a particular player. CSKA not will neither deny, nor confirm any rumors before the actual conclusion of official contracts," Vatutin stated according to Championat.ru.
*
Forsberg's take
: Let the offseason fun begin! While Krstic is technically under contract with the Celtics through the end of June (the official end of the NBA season), there's certain to be all sorts of overseas reports this summer as -- with the NBA prepping for a potential lockout -- foreign teams will be waving big money at players to take their talents outside of North America. Krstic will be an unrestricted free agent and, as a Serbia native, it makes sense that he might draw interest in Russia. If he does get offered a deal from a team like CSKA Moscow, it will be interesting to see if he's willing to wait out a potential lockout here, or ink a deal that offers immediately security.
(h/t: Celtics Life)
May, 14, 2011
5/14/11
3:00
PM ET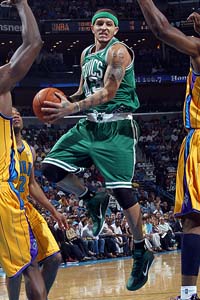 Layne Murdoch/NBAE/GettyThe C's would like Delonte West back ... but, like all free agents, they'll have to wait.
The Celtics took care of their biggest offseason chore Friday, securing the services of head coach Doc Rivers by agreeing to a five-year contract extension. For the next month, they'll target the NBA Draft. But after that, well, it could be a lot of thumb twiddling.
With an uncertain labor forecast and the potential for owners to lock out their players on July 1 as the two sides continue to work towards a new collective bargaining agreement, NBA activity could cease for much of the summer.
"Well, we can't have a game plan in place today, if that's what you mean," Celtics president of basketball operations Danny Ainge said when asked about the difficulties of an uncertain summer. "But every team's in the same boat. We're just sitting and waiting for those answers. We know some possibilities, we read what you guys read and follow that and we have an owner that can keep us updated on how things are going, so you've got to be a little bit flexible."
Ainge and his front-office crew have ideas in place depending on what sort of agreement is reached and how that alters the tools at the disposal of NBA teams as far as roster building.
"When we learn what the new rules will be and we learn how much money we have to spend and what sort of things that we can and can't do, we'll be prepared," said Ainge. "We'll be preparing for lots of different scenarios, and following collective bargaining conversations, even now, hoping that nothing happens, and that we just go as is or move forward on July 1. But we'll be prepared for anything, and there's a lot of players out there that are good players, but we need to improve our team to have a crack at it next year, and we hope to be able to do that this summer."
So, let's assume the Celtics will have the same tools as their disposal this summer. What can Boston do to improve its roster? Here's a breakdown that hopefully won't be rendered obsolete by a new CBA: