Boston Celtics:

2011Playoffs
April, 26, 2011
4/26/11
12:21
PM ET
Tickets for Boston's second-round home games at the TD Garden -- presumably Games 3, 4, and 6 (if necessary) of an Eastern Conference semifinals series against the Miami Heat, barring an unprecedented comeback by the Philadelphia 76ers -- will go on sale Thursday afternoon at 2 p.m. Keep reading for full details from the Celtics.
April, 26, 2011
4/26/11
7:57
AM ET
ESPN Boston via kwout
April, 25, 2011
4/25/11
1:24
PM ET
April, 25, 2011
4/25/11
1:14
PM ET

ESPNBoston.com's
Chris Forsberg
dropped by Monday to answer all your Celtics questions, including how excited fans should be after Boston swept New York, what lies ahead in (potentially) facing the
Miami Heat
, and whether
Rajon Rondo
would be an All-Star in Minnesota.
Click
HERE
to read the transcript.
April, 19, 2011
4/19/11
2:17
PM ET
By
Greg Payne
| ESPNBoston.com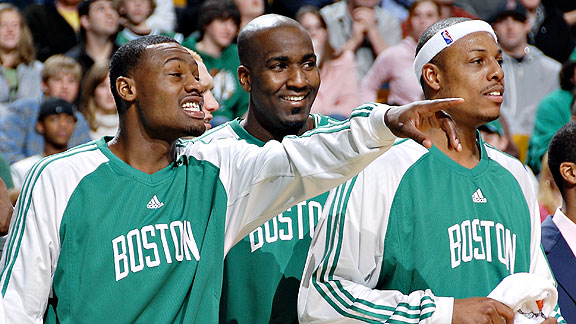 Brian Babineau/NBAE/Getty ImagesTony Allen, Kendrick Perkins, and Paul Pierce during the 2007-2008 championship season.
WALTHAM, Mass. -- Celtics captain
Paul Pierce
is focused on helping his team vanquish the
New York Knicks
in an Eastern Conference first-round playoff matchup, but he also has a rooting interest in how the Western Conference playoff picture unfolds. Pierce said Monday that he's pulling for the fourth-seeded
Oklahoma City Thunder
and the eighth-seeded
Memphis Grizzlies
, since they both feature a former teammate in
Kendrick Perkins
and
Tony Allen
, respectively.
"Yeah, I'm definitely rooting for them," Pierce said of the Thunder. "I'm rooting for Perk and [Tony Allen]. I actually texted them before their games [Sunday]."
Pierce said his message was simple.
"I just wished them luck, [and told them to] lead their teams," said Pierce. "They got valuable experience that they can bring to their teams, so I just told them that and wished them luck."
April, 5, 2011
4/05/11
10:00
AM ET



The
Boston Celtics
remain on pace for the No. 3 seed in the Eastern Conference based on John Hollinger's playoff odds projections, but with upcoming head-to-head battles with its top conference foes, there's still a chance to shimmy up (more likely to No. 2 than No. 1). So why should Boston be so concerned about moving up one spot?
Since the NBA went to a 16-team postseason format during the 1983-84 playoffs, teams with homecourt advantage in the conference semifinals are 85-23 (.787 winning percentage). Amazingly, that number is higher than the winning percentages for the first round (166-50, .769), conference finals (37-17, .685), and NBA Finals (21-6, .778).
What's more, the team with homecourt advantage has won 76.3 percent of all series since that playoff format was instituted. Needless to say, history suggest it's a heck of a lot easier to win when you've got the added bonus of homecourt advantage.
Yes, the Celtics rumbled to the NBA Finals a year ago as a fourth seed that went on the road in the final two rounds of the conference playoffs, but this year clearly won't be so easy given the beefed-up nature of the East. The potential to have to go on the road against both Miami and Chicago, should top seeds prevail, is surely daunting.
Here's an updated look at the jockeying atop the East:
***
1.
Chicago Bulls (56-20, .737)
Chance at top seed: 96.3 percent; Projected: 61-21
Conference: 34-13; Streak: Won 3; Games Back: --
Road ahead
: HOME (3) -- Phoenix, Boston, New Jersey; AWAY (3) -- Cleveland, Orlando, New York
The skinny
: Barring an unforeseen collapse, the Bulls have the top seed in hand and simply need to keep their East brethren at bay over the next six games. Even a head-to-head loss to the Celtics on Thursday wouldn't hurt them much. Yes, Boston would boast the tie-breaker in that situation having won the season series, 3-1, but the Celtics would still have to make up 2 games over their final five and that's daunting considering its plays four playoff teams in six games. Winners of 15 of their last 17 games, the Bulls have separated from the pack and are heading towards the playoffs with serious momentum.
2.
Miami Heat (54-23, .701)
Chance at top seed: 0.8 percent; Projected: 58-24
Conference: 34-13; Streak: Win 3; Games Back: 2½
Road ahead
: HOME (3) -- Milwaukee, Charlotte, Boston; AWAY (2) -- Atlanta, Toronto
The skinny
: The Heat stumbled on the first night of a four-game road trip in Cleveland, but rebounded to win the final three games, maintaining a slight edge over the Celtics as the sprint to the finish line begins. The No. 2 seeds looks like it will come down to Sunday's head-to-head battle in Miami. A win for Boston would go a long way as not only would they pick up a game, but would have swept the season series against the Heat, 4-0, and boast the tie-breaker. Even if the Celtics lost, they'd maintain the head-to-head tie-breaker, but would likely need Miami to trip up against some lesser opponents in order to finish with matching records.
3.
Boston Celtics (53-23, .697)
Chance at top seed: 2.8 percent; Projected: 57-25
Conference: 34-12; Streak: Win 1; Games Back: 3
Road ahead
: HOME (3) -- Philadelphia, Washington, New York; AWAY (3) -- Chicago, Miami, Washington
The skinny
: Unable to put together any sort of consistency in March (and spilling into April), the Celtics have put themselves in the tougher-than-necessary position of having to fight for that No. 2 seed over the final week of the season. Boston would rather settle for the No. 3 seed than risk health, but Celtics coach Doc Rivers has to balance winning as many games as possible while ensuring enough rest for his core before the postseason arrives.
Required reading
:
Hollinger's Playoff Odds
|
NBA Standings
|
Playoff Predictor
Follow the race
:
ESPN Boston
|
ESPN Chicago
|
The Heat Index
March, 22, 2011
3/22/11
1:44
AM ET
Paul Pierce
and
Rajon Rondo
both took to Twitter after Monday's win in New York to suggest that the ultra-physical battle felt like a playoff game.
So how would the Celtics and Knicks feel about another joust in mid-April? (And we're not just talking about the season finale on April 13 in Boston). The Celtics and Bulls are in a virtual tie atop the Eastern Conference, while the Knicks sit at No. 7, a game behind the
Philadelphia 76ers
. There's a good chance that, whichever team draws the No. 2 seed, could wind up against the Knicks.
So as the Celtics gets stitched back together after Monday's war, who wants a best of seven series?
"If it is, so what?" asked
Kevin Garnett
. "Let's do it. It's what it is."
Celtics coach Doc Rivers preferred to focus on Monday's matchup instead of thinking about playoff matchups that might never materialize.
"With all the different guys, it was just a good competitive game," said Rivers. "I think that's always healthy for both teams."