Boston Celtics:

2011Round1Game4
April, 26, 2011
4/26/11
8:13
AM ET

A day after sweeping the
New York Knicks
out of the playoffs,
Boston Celtics
forward
Kevin Garnett
blogged about Game 4
and his excitement with moving on to the next round.
Writes Garnett: "We needed to get this game, so we could have a couple of days to get our rest! With Miami losing, we don't play until at least Sunday. Doc gave us 2 days off, so practice on Wednesday! Lots of treatment, recovery and catching up with video games."
April, 25, 2011
4/25/11
7:33
AM ET
ESPN Boston via kwout
*
ESPN Boston
:
MacMullan: Turning it on
|
C's KO Knicks
|
Game 4 grades
|
Heat not done
And here's how it playing in New York:
ESPN New York via kwout
April, 24, 2011
4/24/11
11:53
PM ET
NEW YORK -- A collection of news and notes after the
Boston Celtics
defeated the
New York Knicks
101-89 in Game 4 of their Eastern Conference quarterfinals series Sunday at Madison Square Garden to complete a 4-0 series sweep:
The rundown: Bench Gets Warmer | Still Cleaning the Glass | Layup Line
It was an 11-foot baseline jumper, like maybe 100 others he's made this season (and countless more in practice). But as Glen Davis splashed a wide-open look less than seven minutes into the first quarter Sunday, he smiled as he glanced briefly at the Boston bench, where coach Doc Rivers was emphatically cheering the play.
Davis and his Boston bench brethren have been mired in a postseason slump that has forced the Celtics to lean heavily on their starters. Under the microscope, every open look is magnified when it clangs off the rim, but you could almost feel the collective sigh of relief as Davis' jumper ripped through the twine.
Soon after, fellow reserve big man Nenad Krstic checked into the game. Despite his own struggles in limited time, Krstic grabbed a rebound, blocked a shot, produced his first bucket of the postseason (an emphatic two-handed baseline jam) and poked the ball loose, leading to a Paul Pierce steal -- all within his first 75 seconds on the floor -- as confidence became contagious with the reserves.
After combining for a mere 33 points on 14-of-47 shooting (29.8 percent) over the first three games of the postseason, Boston's bench combined for 23 points on 10-of-18 shooting (55.5 percent) on Sunday. Davis highlighted the effort with 14 points on 6-of-8 shooting, giving the reserves something to build off.
"I don't think I had even made a jump shot this series yet," Davis joked. "To get it going in the closing game, it's a big game.
"We were due for a game to help our team win. [The starters], just doing what they do, they can't carry us all the time. Sometimes they might miss shots, sometimes things might not flow the way they want them to flow, and we've got to be the guys to use their energy and make sure we get up there."
Maybe most encouraging was the way the bench maintained an early lead for Boston, something it failed to do in the first three games against the Knicks. The Celtics kept at least three bench players on the court during a near nine-minute stint spanning into the second quarter in which a five-point lead built by the starters grew to nine before the first unit returned to the floor.
The secret?
"Just played a little bit harder," said Jeff Green, who missed five of the seven shots he put up but chipped in five points and seven rebounds over 16:45 in a solid effort. "That's about it. I think that's what we needed to do. [Delonte] West came in and gave us some big minutes, myself, [Glen Davis] played tremendous today. It was just the effort that we needed to put forth today. It had to be another notch up."
When Boston's bench plays like it did Sunday, allowing the starters even the tiniest of breaks, Boston's entire play goes up a notch.
April, 24, 2011
4/24/11
6:22
PM ET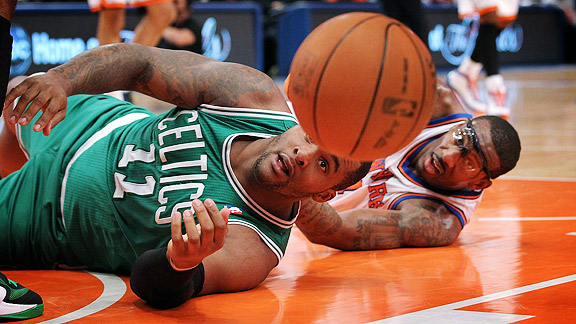 Nick Laham/Getty ImagesGlen Davis and the Celtics kept their eyes on the prize Sunday.
NEW YORK -- Rapid reaction after the
Boston Celtics
defeated the
New York Knicks
101-89 in Game 4 of an Eastern Conference quarterfinals series Sunday at Madison Square Garden to complete a 4-0 series sweep.


HOW THE GAME WAS WON
Kevin Garnett
scored 26 points on 10-of-16 shooting, while grabbing 16 rebounds, and
Rajon Rondo
scored 21 points on 8-of-12 shooting with 12 assists to fuel Boston to the four-game sweep.
Glen Davis
added 14 points and the bench provided its best effort of the postseason. New York's
Carmelo Anthony
scored a game-high 32 points on 10-of-24 shooting, while
Amare Stoudemire
kicked in 19 points (despite 5-of-20 shooting woes) and 12 rebounds.
TURNING POINT
The Celtics led by as much as 23 in the third quarter before New York made a feverish charge hoping to prolong its season. The Knicks trimmed their deficit to 10 by the end of the frame, then got it as low as four with 7:33 to play. That's when Celtics coach Doc Rivers called timeout, put in his full starting unit and Boston embarked on an 11-5 run, Rondo and Garnett capping the dash with back-to-back jumpers that put the Celtics back on top by double digits, 95-85, with 4:11 remaining.
STAT OF THE GAME
After a brilliant and dominating first half in which the Knicks were 11-of-47 (23.4 percent) for 38 points, the Celtics left their defensive intensity in the locker room at intermission. New York more than doubled its field goal output in the third quarter, scoring 12 buckets for 34 points to fuel the rally.
UNSUNG HERO
Jermaine O'Neal
labored through foul trouble that limited him to 21 minutes, but he quietly grabbed six rebounds and provided stellar defense the entire time he was on the court.
WHAT IT MEANS
Previously a mere 8-11 in closeout games during the Big Three era, the Celtics completed their first best-of-seven series sweep since dispatching Milwaukee in the Eastern Conference finals in 1986 (before going on to win a world title that year). Boston could have made it a little easier on itself without fumbling away its big lead. But the starters tightened up over the final seven minutes, preventing the need for the late-game heroics of the first two games of the series. Despite Miami's stumble against Philadelphia, it seems inevitable that the Celtics and Heat will clash in the conference semifinals. Boston will enjoy as much as a full week off before that series starts (depending on how quickly the Heat close out -- unless of course Philly pulls off an unprecedented rally from a 3-0 hole).
April, 24, 2011
4/24/11
2:59
PM ET
NEW YORK -- A quiet pregame here at Madison Square Garden, but Knicks coach Mike D'Antoni livened things up a bit by taking a subtle shot at Celtics point guard
Rajon Rondo
in advance of Sunday's Game 4 of an Eastern Conference quarterfinals series.
Asked about Rondo's triple-double performance the other night (and his stellar play overall in this series), D'Antoni seemed to question whether Boston's All-Star point guard would put up the numbers he does if he was playing without a Hall of Fame supporting cast.
"He's a very good player," said D'Antoni. "I'd like to see him play in Minnesota and see how he does. Everybody's tied together and they have three Hall of Famers playing out there. Rondo is a very good basketball player -- really good. But if you look at their team and you have to say, 'What can we take away? What do we have to give them and play the odds?' You have to give him his shot and you have to try to close up the middle on him and that's kind of how we did it. We think that's the best way to go. Nothing might work because they're that good. He's a very good basketball player, there's no doubt about it."
Rondo is coming off a performance in which he produced his sixth career postseason triple-double, handing out a Celtics' playoff record 20 assists in Friday's Game 3 triumph.
Celtics coach Doc Rivers admitted that any player in that situation is going to hear that criticism, but said Rondo is deserving of all the praise regardless of what's around him.
"You play with those guys, that's probably what you're going to get," said Rivers. "I don't think he would trade it. I think he enjoys playing with them. If there is a negative side, I guess that would be it. No matter how well you play, the question will be [how much the supporting cast helped]. Some day, that will be answered, too. I got a feeling he'll answer them all in the way he's answering them now."
April, 24, 2011
4/24/11
1:33
PM ET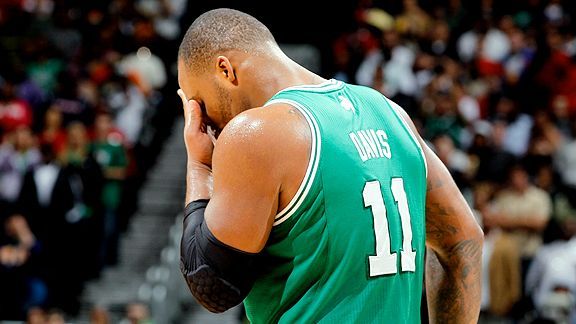 Kevin C. Cox/Getty ImagesCeltics coach Doc Rivers said he's going to do everything he can to get better play out of Glen Davis
NEW YORK -- After the Celtics' walkthrough on Saturday at Madison Square Garden, Doc Rivers was engaged in a long chat with
Glen Davis
as reporters were allowed onto the floor. With Davis struggling at the start of the playoffs (an extension of a late-season slump), the topic of the confab wasn't hard to discern.
Rivers is adamant he can help pull Davis from his downturn and put the onus on the coaching staff to do something to help pull the fourth-year forward/center (and his bench brethren) out of their postseason plummet.
"I told him I was buying him dinner, that put a big smile on his face," quipped Rivers. "Listen, we need him. He can play better, I can help him play better. I told him I was going to keep trying to do that as long as he kept up his end, and that was basically it."
Asked if Davis is down on himself, Rivers admitted it was pretty obvious, given how Davis is an emotional player incapable of masking those emotions (both positive and negative). Rivers simply doesn't want Davis walking on eggshells because of his slump.
"Listen, you struggle and play bad, you're down on yourself, that's human nature," said Rivers. "He still has confidence and he'll be fine. Baby is an energy player for us. As Pat Riley used to always tell me and everyone else, thinking hurts the team. When you start thinking what's wrong, you usually play poorly. When you just play reactive and with your instincts, you're probably a pretty good player. And that's what he needs to get back to."
April, 24, 2011
4/24/11
10:00
AM ET
By
Greg Payne
| ESPNBoston.com

(3-0)
-- vs. --
(0-3)

at Madison Square Garden, New York City, 3:30 p.m. | ABC, WEEI (850 AM)
PAYNE'S THREE THINGS TO WATCH
Sense of Urgency: The Celtics' quick start was a key ingredient in their lopsided victory in Game 3. They led 9-0 just over three minutes in, and their lead eventually ballooned to as many as 17 (22-5), before Boston ultimately settled for a 27-20 edge heading into the second frame. Another hot start would do wonders for the Celtics in Sunday's potential closeout contest. The worst thing Boston can do is play with a false sense of security and assume the Knicks are going to roll over because they're injury-ridden and are in a less-than-desirable 3-0 hole. The Celtics need to be the ones playing as if their backs are against a wall, and end this series in a convincing manner.
So, About the Bench: Stop me if you've heard this one before: Boston's bench mustered just 13 total points between two players in Game 3 (Jeff Green scored nine, Glen Davis chipped in four), once again failing to make a significant impact as the Celtics' victory was fueled by the starters. It's no mystery to the Celtics' reserves that they haven't been playing well, but so far they have yet to have that breakout game. The Celtics have been able to right the ship in a variety of areas as the series has progressed (defense, rebounding, etc.). A reserve-driven win would be an encouraging way for Boston to close out the Knicks and advance to the second round.
Encore in Store?: Sure, a strong game from the reserves would be heartening, but the Celtics will still lean heavily on their starters, regardless. How will Paul Pierce and Ray Allen perform after becoming the first Celtic players to record 30 or more points in the same game since 2002? Will Rajon Rondo follow up his 15-point, 11-rebound, 20-assist triple-double with another dazzling performance? The Knicks were helpless against Boston's trio of All-Stars in Game 3, and while asking for repeat performances might be a stretch, the shooting hands of Pierce and Allen might still be sizzling and Rondo has proven time and again that when he gets locked in, he's one of the best in the league at controlling the flow of a game on both ends of the court.
GAME PREVIEW
GREENBURGH, N.Y. (AP) -- At his best, Rajon Rondo can seize a rebound, dart away from defenders, and set himself or an All-Star teammate up for a basket.

Amare Stoudemire can shake a backboard with a powerful dunk, or scare a spectator sitting courtside by forcefully blocking a shot out of bounds.

He can't right now, though.

Rondo is rolling and Stoudemire is sore, a big reason the Boston Celtics will bring a 3-0 lead over the New York Knicks into Game 4 of their first-round series on Sunday.

The Celtics will be looking for their first sweep since beating Indiana in three games in 1992, so long ago that it was Larry Bird's last playoff series victory.

After needing seven games just to get out of the first round in both 2008 and '09, they would welcome the chance to do something easily for a change -- especially with likely second-round opponent Miami poised to finish a sweep of its series with Philadelphia.

"I've never been part of a sweep, but I don't like to think about that stuff. We don't worry about that stuff," forward Paul Pierce said after practicing at Madison Square Garden. "It's about getting better one game at a time. We want to close the series, but they're not going to give it to us."
Read the full preview
HERE
.
April, 24, 2011
4/24/11
9:30
AM ET


Some of the facts and figures that jumped off the page as part of ESPN's game notes before Game 4 of an Eastern Conference quarterfinal series between the
Boston Celtics
and
New York Knicks
:
*
What history tells us
: This is the 13th time that the Celtics have led 3-0 in a best-of-seven series. Of the previous 12 times, Boston swept their opponent four times; seven times the Celtics won in five games; and once Boston won in six games. Conversely, this is the fifth time that the Knicks have been down 0-3 in a best-of-seven series. Of the previous four times, New York was swept three times and lost in seven games once (1951 NBA Finals).
*
No road closings
: The Celtics have lost each of the last seven games they have played with a chance to clinch a playoff series on the road. That is the second-longest such streak in NBA history. The
Utah Jazz
lost 13 straight potential series-clinching road games from 1987 to 1996.
*
No what the Doctor ordered
: Doc Rivers is 1-11 (.083 winning percentage) in games in which his team has a chance to clinch a playoff series on the road. That is the lowest career winning percentage for any head coach in NBA history in potential series-clinching road games (minimum: five games).
*
It's been a while
: Elias Sports Bureau kicks the Knicks while their down while passing along this note: The Knicks have not won a postseason game since April 29, 2001. How long ago was that? Over 85 percent of the players who appeared in a regular-season game in 2010-11 had yet to make their NBA debut when the Knicks last won a playoff game (385 of 452). Also, Boston has registered 57 postseason wins since the last time the Knicks walked off the court with a playoff victory.
April, 24, 2011
4/24/11
5:51
AM ET
ESPN Boston via kwout
*
ESPN New York
:
Stephen A. Smith: Lost cause
|
Amare to sit?
|
Fields trying too hard
April, 23, 2011
4/23/11
5:07
PM ET

NEW YORK --
Boston Celtics
coach Doc Rivers ruled
Shaquille O'Neal
out for Sunday's Game 4 of the Eastern Conference quarterfinals against the
New York Knicks
, noting the 39-year-old center simply is not ready for game action.
O'Neal was present at Madison Square Garden on Saturday as the Celtics engaged in a walk-through after watching film at the team hotel.
"He's not playing [Sunday]," said Rivers. "We didn't do anything to see honestly. We didn't practice, we just walked through. I'm not going to put him out on the floor."
Click
HERE
to read more.