Boston Celtics:

2011Round2Game4
May, 10, 2011
5/10/11
3:56
PM ET
By
Greg Payne
| ESPNBoston.com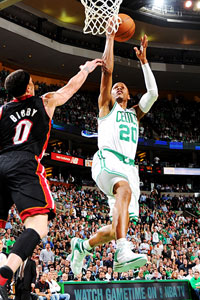 Brian Babineau/NBAE/GettyRay Allen drives to the rim against Mike Bibby and the Heat.
Celtics coach Doc Rivers didn't lay out the ideal number of shots he would like to see
Ray Allen
take against the
Miami Heat
the way he did for
Kevin Garnett
, but it's safe to say the figure would be larger than the four he took in the first half of Monday's 98-90 Game 4 defeat.
In fact, Allen's offense hasn't been highlighted much over the course of the current series, despite the fact that he was such an important part of Boston's offensive success in the opening round of the playoffs against the
New York Knicks
. In that series, Allen rifled off an acceptable 13.5 field goal attempts per game, which helped him procure the 22 points he averaged over the course of the four-game sweep.
But so far against the Heat, Allen's attempts have been more inconsistent, bringing back memories of the final weeks of the regular season when his offense was sputtering as a result of not taking enough shots at the basket. After taking 13 shots and scoring 25 points in Game 1, he managed just seven field goal attempts in Game 2, and that figure rose only to 11 in Game 3.
It was looking like Game 4 would closely resemble Game 2 for Allen over the first 24 minutes, but after halftime the light bulb appeared to go off for the Celtics, as Allen became much more involved in the offense, matching his first-half shot total with four third-quarter attempts and finishing the frame having scored 10 points. He would finish the game with 17 points on 5-of-12 shooting from the field, with his greatest contribution coming with a little over two minutes left in regulation, when he buried a clutch 3-pointer to put Boston ahead by three.
May, 10, 2011
5/10/11
11:15
AM ET
The Celtics pride themselves on always being bigger than the moment, never allowing themselves to wilt in crunch time. In fact that's one of the biggest advantages Boston prided itself on coming into this Eastern Conference semifinal series against the
Miami Heat
.
Which is why, on the heels of a 98-90 overtime loss to the Miami Heat in Monday's Game 4 at TD Garden, Boston players expressed extreme frustration over how the final play of regulation fell apart, preventing Boston from producing a quality look with a chance to win the game.
Maybe most frustrating is that it's a play that Boston has run hundreds of times before in the Big Three era. It's a bread-and-butter play with potential to set up any of Boston's Big Three for a quality shot. But when it broke down in the closing seconds Monday, the Celtics settled for a terrible
Paul Pierce
fadeaway with
LeBron James
draped all over him. That shot found iron and the game spilled into overtime where an out-of-gas Celtics squad watched the game -- and maybe their championships aspirations -- slip away.
Let's break it down (with TNT screenshots):
With 19.5 seconds on the clock and the shot clock off, the Celtics have plenty of time to get the look they want.
Ray Allen
takes the inbounds pass and hands it off to Paul Pierce on the left side above the arc. Guards
Delonte West
and
Rajon Rondo
bury themselves in the left corner and are only options if their defenders scramble to help and blow up another option. The real action on the play occurs on the right wing, where Ray Allen is supposed to set a screen that will allow
Kevin Garnett
to come out free and set a pick on Pierce's man, James.
May, 10, 2011
5/10/11
10:25
AM ET
On the heels of maybe his worst playoff performance in a Boston uniform, Celtics forward Kevin Garnett took to his ANTA blog for a short post
expressing frustration
at falling in overtime to the Miami Heat in Monday's Game 4.
We didn't finish strong. Lost and now [we're] down 3-1. Guys battled, but [made] mental errors. Had to have that one. Now we gotta have the rest of these. Heading to Miami in the [morning]. Tough loss. Real tough loss. Gotta win 3 now. All the pressure is on now.
May, 10, 2011
5/10/11
9:15
AM ET
BOSTON -- A look at morning headlines after the Miami Heat defeated the Boston Celtics 98-90 in overtime of Game 4 of an Eastern Conference semifinal series Monday at TD Garden:
Heat Index via kwout
May, 10, 2011
5/10/11
1:29
AM ET
BOSTON -- A collection of news and notes after the
Miami Heat
defeated the
Boston Celtics
98-90 in overtime of Game 4 of an Eastern Conference semifinal series Monday night at the TD Garden. The Heat lead the series, 3-1, as it shifts back to Miami:
The rundown: Where's Big Baby? | West picking up bench slack | Layup Line
Even after his best regular season in a Celtics uniform,
Glen Davis
entered the 2011 postseason with the reputation as a player that upped his performance in the playoffs. With Boston's season slipping away after Monday's loss, Boston is still waiting for Davis to show up. A fact that even he isn't even attempting to hide from.
"I've been nowhere to be found this whole playoffs," sighed Davis. "I need to find myself."
He's got about 48 hours. The Celtics need to win three straight to prolong their season and an uptick in production from Davis would go a long way starting in Wednesday's Game 5. After watching his minutes get thinned in Saturday's Game 3 triumph, Davis logged 16:37 during Monday's Game 4 and emerged with little to show for that time on the floor. He misfired on three of the four shots he put up and finished with four points, no rebounds, and a turnover.
"I need to ask somebody [where Davis' game is]. I don't know, I don't know where I'm at," said Davis. "This is my time of year. This is my type. This is what I do. This is what I've been doing all this year, all my years of playing with the Celtics, [the] playoffs have always been when I've played best. It's not showing right now."
Davis averaged 7.3 points and 4.5 rebounds in 20.1 minutes per game during the playoffs last season. He even won games for Boston during that run to the NBA Finals (see the Shrek & Donkey Game vs. the Lakers). But after averaging a career-best 11.7 points and 4.2 rebounds over 29.5 minutes per game during the regular season, Davis' production has dipped dramatically this postseason.
Entering Monday's action, Davis was averaging 4.9 points and 4.3 rebounds over 22.6 minutes per game.
"Glen wasn't in that [first-round] series [vs. the Knicks], either; Just one game," said Davis. Asked where the real Davis went, Big Baby just shrugged and offered: "I don't know. [But I've] got to find it. I've got to find it."
May, 9, 2011
5/09/11
10:01
PM ET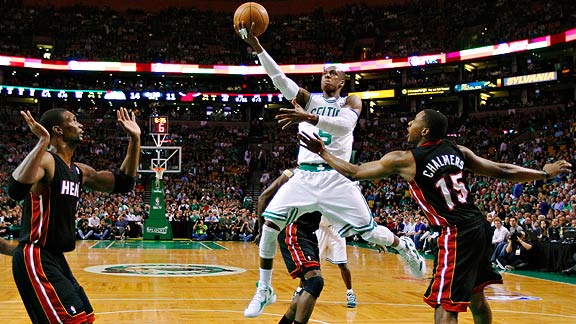 AP Photo/Charles KrupaNot even a gutsy effort from Rajon Rondo could lift the Celtics in Game 4 against the Heat.
BOSTON -- Rapid reaction after the
Miami Heat
defeated the
Boston Celtics
98-80 in Game 4 of an Eastern Conference semifinal series Monday night at TD Garden. The Heat lead the series, 3-1, with a chance to close out Wednesday in Miami:


HOW THE GAME WAS WON
LeBron James
scored a game-high 35 points on 12-of-28 shooting and grabbed a game-high 14 rebounds, while
Dwyane Wade
added 28 points (getting to the charity stripe for 14 attempts) and
Chris Bosh
chipped in 20 more to pace Miami.
Paul Pierce
scored a team-high 28 points for the Celtics, while
Ray Allen
added 17.
Rajon Rondo
, playing through the pain of the dislocated left elbow, turned in a gutsy effort with 10 points and five assists over 39 minutes, but was clearly limited by the injury.
TURNING POINT
The Celtics missed opportunities at every turn. Boston was up five with 8:48 to play in regulation, but missed their next four shots and turned the ball over twice as Miami rallied ahead. The Heat went up three and missed a chance to take a two-possession lead before
Delonte West
buried a monster corner 3-pointer to tie the game at 81 with 2:59 to play. That led to a dizzying final three minutes.
Allen and James traded clutch 3-pointers in front of the opposing benches. After Rondo missed a potential go-ahead drive to the rim, James muscled in a layup for an 86-84 lead with 48 ticks to play. Pierce responded with a driving layup of his own to tie the game again seven seconds later. Allen picked James' pocket and got fouled to give Boston the final opportunity with 19.5 seconds remaining in regulation, but the final play crumbled and Pierce's isolation jumper was off the mark.
The Celtics missed a pair of 3-pointers and turned the ball over twice (once on an iffy Pierce charge) to start overtime and were down six with two minutes to play after each of the Miami Thrice registered a hoop. Boston couldn't rally out of that hole and Miami made its free throws down the stretch.
STAT OF THE GAME
After shooting a blistering 58.1 percent in the first half (18 of 31), Boston finished 30 of 70 from the field, going 12 of 39 (30.8 percent) after the intermission.
UNSUNG HERO
West continues to have an amazing series (after really struggling in the first round versus New York). Not only did he reach double figures (10 points over 25 minutes) for the fourth straight game, he did it by playing through the pain of a left shoulder bruise. Wearing a sleeve over the ailing shoulder, West connected on 4-of-7 shots, including the big 3-pointer near the end of regulation. But he missed two shots in overtime.
WHAT IT MEANS
The Celtics face the daunting task of winning the final three games of this series to extend their season, two of which are on the road in Miami.
Kevin Garnett
picked an awful night to have maybe his most atrocious playoff games of his career. Garnett missed nine of the 10 shots he took over 42 minutes and chipped in a mere seven points and 10 rebounds, missing some big shots when Boston needed offense near the basket late in the game. Boston will look back and kick itself because it missed all sorts of opportunities and didn't have any gas left in the extra session.
May, 9, 2011
5/09/11
6:44
PM ET
BOSTON -- Celtics coach Doc Rivers confirmed that guard
Rajon Rondo
will start Monday's Game 4 and attempt to play through the lingering pain from a dislocated elbow suffered in Saturday's Game 3 win over the
Miami Heat
.
Rondo will wear a bulky brace that will immobilize the arm in case of contact, but Rivers is confident his All-Star guard can remain effective on the court.
"He looked OK this morning [at shootaround]," said Rivers. "We just gotta wait and see. It's very similar to [
Shaquille O'Neal
], you have to look with your eyes and make a decision. It's the same with Rondo. I think he'll be OK though, I really do.
"He still has legs and he still has speed. He's just got to play the game with the same force that he played the other night and that's for the whole team. Rondo's force and ball pressure, that's very, very important for us. So that's what we'll be watching. If he can't do that, if he can't play with speed, then he's not going to be very effective."
Rivers also gave a positive update on backup guard
Delonte West
, who bruised his left shoulder during the second quarter of Saturday's win.
"Delonte's fine," said Rivers. "He's hurting, obviously, the shoulder is bothering him. But he looked fine [at shootaround]."
To be safe, the Celtics activated veteran
Carlos Arroyo
to add depth at the point guard position in case either Rondo or West is limited. Boston's healthy scratches are
Avery Bradley
,
Troy Murphy
and
Sasha Pavlovic
.
Rivers also said that O'Neal responded well to his first activity in more than a month after playing 8½ minutes in Game 3. Rivers wants to see more of what O'Neal provided in his brief second-half stint.
"The first half, I thought [he labored]," said Rivers. "But I thought in the second half, he was really good. He gave us exactly what he could give us and what we needed. I don't know if there's a breakthrough for him. You get on the floor the first time and you're tentative. I thought he was far more aggressive in the second half. We need more of that."
Before Monday's game, Heat president Pat Riley gave a handful of
individual pep talks to his players
on the Garden floor after the team's morning shootaround. Rivers, who played under Riley with the
New York Knicks
, said those words could go a long way.
"He's a hell of a speaker, I guarantee that," said Rivers. "There's no better speaker that I've been around in my life. So I guarantee you that whatever he said reached them. And they'll play with amazing intensity."
May, 9, 2011
5/09/11
3:33
PM ET
A glance at some afternoon headlines, including the latest edition of
5-on-5
, where five writers tackle five questions on Celtics vs. Heat:
May, 9, 2011
5/09/11
3:28
PM ET
By
Greg Payne
| ESPNBoston.com

(1-2)
-- vs. --
(2-1)

at TD Garden, 7 p.m. | TNT, WEEI (850 AM)
PAYNE'S THREE THINGS TO WATCH
Rondo's Status: Rajon Rondo's improbable comeback from a dislocated left elbow in the second half of Game 3 was certainly gutsy, but now it's a question of how well he'll be able to play with the injured arm, if at all. He'll be listed as a game-time decision heading into tonight's game, with Delonte West, who suffered a bruised left shoulder in Game 3, ready to step in should he be unavailable. Rondo's value to the Celtics needs no explanation, but given his effort to return in Game 3, if he's physically capable of participating tonight, he'll give it a shot.
Limit Anthony: The Celtics have plenty to worry about with LeBron James, Dwyane Wade, and Chris Bosh on the floor for the Heat, which is why they can't afford to allow guys like Joel Anthony to impact the game in a positive way for Miami. In Game 3, Anthony was nothing short of a game-changer for the Heat, as he posted 10 points and seven rebounds in the first half, significantly aiding the Heat's second unit (along with Mario Chalmers) as it fought to keep the game close when the Celtics were poised to make a run coming off of their best first quarter of the series. Anthony finished with a 12-point, 11-rebound double-double, with four of his boards coming on the offensive end.
Can't Stop Garnett: The numbers from Game 3 alone speak volumes. Kevin Garnett put forth a monster 28-point (13-of-20 shooting), 18-rebound effort, while Chris Bosh finished with only six points (on 1-of-6 shooting) and five rebounds. Bosh admitted after the game his nerves failed him somewhat once he saw how amped Boston's fans were, which only further limited him in a matchup the Celtics have to continue to try and exploit if they want to win this series. Expect Garnett to get a boatload of shots once again tonight, and should the Heat alter their defense at all, he can always resort to his excellent passing game to keep them on their toes.
GAME PREVIEW
WALTHAM, Mass. (AP) -- Boston Celtics coach Doc Rivers did his best to stay out of the trainer's room on Sunday, lest he learn something about one of his injured players that he didn't want to hear.

"It's a pretty busy room right now," he said on Sunday, a day after the Celtics earned a bruising 97-81 victory over the Miami Heat in Game 3 of the Eastern Conference semifinals despite injuries to point guards Rajon Rondo and Delonte West. "Right now, we're going to go with, 'They're all playing."

Rondo dislocated his left elbow in the third quarter on Saturday night when he got tangled up with Miami guard Dwyane Wade and got thrown to the floor. He had an MRI and CAT scan at New England Baptist Hospital on Sunday, and both tests came out negative, Celtics spokesman Jeff Twiss said.

West, who had a bruised left shoulder, was feeling better on Sunday and did not go to the hospital for tests, Twiss said. Rivers said he would likely decide just before gametime -- or later -- whether Rondo will play.

"I'm optimistic about both, that they're going to play. I don't know why I am, but I am," Rivers said, adding that he has tried to avoid watching the video of Rondo's arm being bent into an unnatural position when he was thrown to the floor by Wade. "I just don't know how well either one can play."
Read the full preview
HERE
.
May, 9, 2011
5/09/11
12:01
PM ET
By
Greg Payne
| ESPNBoston.com

WALTHAM, Mass. -- Celtics point guard
Rajon Rondo
is still listed as a game-time decision for Monday's Game 4 with the
Miami Heat
after suffering a dislocated left elbow in the third quarter of Game 3 on Saturday, but reserve point guard
Carlos Arroyo
confirmed Rondo participated fully in the team's morning walkthrough -- an encouraging sign regarding his status for the game.
Arroyo also said
Delonte West
, who suffered a bruised shoulder on Saturday, also participated and is expected to play.
"I think [Rondo's] ready to go," said Arroyo. "He's a warrior and he demonstrated that last game. We were all surprised, the fact that he came back after that injury. I know he's ready. He wants to play, he wants to win. And Delonte, he was banged up but he's ready to go. I'm always ready. I'm always ready for the challenge and obviously playing my old team would be even more motivating for me."
When reporters entered the team's practice facility Rondo was seen shooting free throws, but did not appear to be sporting any sort of sleeve or brace on the injured elbow. When Rondo returned to the floor on Saturday after suffering the injury, he played almost solely with his right arm, but Arroyo said he was moving his left arm more this morning.
"Yeah, a little bit," Arroyo said of Rondo moving his left arm. "It still bothers him. He's sore. It was a huge injury. But I know he's ready."
"He'll know how he feels more than me. But he's ready to go."
Arroyo said he has not spoken with Celtics coach Doc Rivers about being active for Monday's game.
May, 9, 2011
5/09/11
7:37
AM ET
Rajon Rondo
's dislocated elbow continues to be the story, both here in Boston where Celtics coach Doc Rivers remains optimistic his All-Star point guard can be effective in Game 4...
Dwyane Wade
is adamant he didn't commit a dirty play...
Heat Index via kwout
May, 9, 2011
5/09/11
12:00
AM ET
By
Greg Payne
| ESPNBoston.com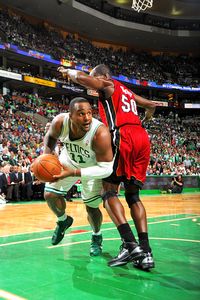 Brian Babineau/NBAE/GettyGlen Davis is struggling and he isn't hiding from it.
WALTHAM, Mass. -- Something didn't add up for Celtics forward
Glen Davis
over the course of Saturday's 97-81 Game 3 victory over the
Miami Heat
. Tabbed as arguably the Celtics' most important bench commodity, he played just 11 minutes -- his fewest in any game of the entire 2010-2011 season. This in what was unquestionably the most important game of Boston's season.
Part of it was the fact that
Kevin Garnett
was in the midst of a throwback 28-point, 18-rebound effort that saw him play 38 minutes, but the larger reason revolves much more closely around Davis himself. He entered the season as a self-proclaimed energy guy, but hasn't played that role much in this series. Despite having been the Celtics' fourth leading scorer during the regular season, the points can take a backseat to the charges drawn, the rebounds pulled down and the consistent effort on the 50/50 hustle plays that sometimes make or break a team in a specific game.
An ideal night for Davis is one in which a typical box score cannot necessarily do justice.
"He has to play better," Celtics coach Doc Rivers said of Davis. "And it's not about scoring. It's about rebounding, it's about taking charges -- being our energy guy. That's what he is. And when he gets caught [trying to be an] offensive player, thinking offense, that [hurts his play]. We'll free his mind up eventually. And the sooner the better."
May, 8, 2011
5/08/11
5:55
PM ET

Tests on Celtics point guard Rajon Rondo's dislocated left elbow were all negative, indicating no structural damage, according to the team. He is listed as a game-time decision for Game 4 of an Eastern Conference semifinal series against the Miami Heat Monday night in Boston.
Rondo underwent an MRI and CAT scan at New England Baptist Hospital Sunday afternoon and the Celtics breathed a sigh of relief when no further damage was detected. Celtics coach Doc Rivers admitted Rondo was particularly sore Sunday morning, just hours after the dislocation and improbable return during Boston's Game 3 win at the TD Garden, but that he expected Rondo to play in Game 4.
Given the positive medical results, only lingering pain could detour Rondo from partcipating in Game 4. Rivers did stress that he'd keep an eye on Rondo's on-court performance to gauge if he's truly healthy enough to play.
The Celtics got even more good news when backup guard Delonte West felt so much improved Sunday morning that he did not even undergo tests on the left shoulder he bruised in the second quarter of Game 3. Like Rondo, Rivers expected West to play and only a flareup of that injury would keep him off the court in Game 4.