Boston Celtics:

2012Game11
January, 14, 2012
1/14/12
9:40
PM ET
By
Greg Payne
| ESPNBoston.com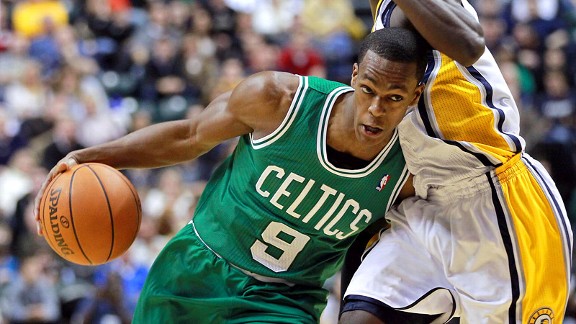 Michael Hickey/US PresswireRajon Rondo and the Celtics couldn't make any progress Saturday against the Pacers.
Rapid reaction after the Indiana Pacers defeated the Boston Celtics 97-83 Saturday night at Bankers Life Fieldhouse:


HOW THE GAME WAS WON
Danny Granger
scored 21 points for the Pacers, connecting on 8 of 19 field goal attempts. The Pacers' offense was further anchored by
Darren Collison
(17 points, 4 rebounds, 4 assists), and
Paul George
(17 points, 8 rebounds). For the Celtics,
Paul Pierce
and
Kevin Garnett
each put in a team-high 21 points, playing better (though certainly not perfectly) than they have in recent nights. Garnett took a team-high 19 shots.
TURNING POINT
Despite a better first quarter start compared to what's been seen in recent games (The C's scored 24 first-quarter points Saturday compared to their 15-point average in the opening frame in their previous four games), the Celtics couldn't sustain it in the second frame, when the Pacers upped their lead to as many as 13, before eventually carrying an eight-point advantage into halftime. Boston wouldn't make much progress in the third frame, as Indy increased its lead back up to as many as 18 on a 3-pointer by Granger and cruised to the win from there.
STAT OF THE GAME
It's 95.7% -- the Pacers' percentage from the free throw line. Indiana earned 23 shots from the stripe and buried 22 of them.
UNSUNG HERO
Brandon Bass
. It's tough to choose a member of the losing team on a night like this, but as the Celtics were in the midst of imploding in the second half, Bass stayed the course and did his job, grabbing rebounds and hitting that patented jump shot of his. He finished the night with 10 points, 8 rebounds, and 2 assists in 21 minutes. Bass recovered from a 1-for-5 start from the field to finish 5-of-12 overall.
WHAT IT MEANS
The Celtics are now losers of four straight, still have yet to defeat a playoff-worthy opponent, and fall to 1-2 on the second night of back to backs. If you weren't concerned already, now might be the time. Offensively, the Celtics got the start they were looking for, but the problems on defense persisted from the get-go. Boston allowed 29 first quarter points, and were marred by the same issues that have plagued them throughout their four-game losing streak. The Pacers outscored the Celtics, 23-9, on second-chance points, owned the paint by a score of 42-24, and outpaced the Celtics in transition, finishing with a 23-13 edge in fast break points. The frustration level might finally be setting in for the Celtics, as they're still unable to put together a complete game of solid basketball.
January, 14, 2012
1/14/12
12:00
PM ET
Michael Hickey/US PresswireThe Celtics hope to avoid this sight Saturday night in Indiana.
Supposedly there's a big football game Saturday night that's supposed to upstage Celtics-Pacers. Maybe a few less eyeballs on Boston's struggling hoopsters isn't such a bad thing. Under that cloak of darkness, the Celtics (4-6, 1-3 away) travel to Indiana to meet the Pacers (8-3, 4-0 home) at newly renamed Bankers Life Fieldhouse. ESPN Boston's Greg Payne joins me for a quick game of 2-on-2 given the quick turnaround for this one:
---
1. Coming off an emotional game with the Bulls, playing the second night of a back-to-back on the road against a team that beat them a week ago, give me one reason the C's win Saturday.

Payne
: The Celtics will win Saturday simply because they're tired of losing. After being in the locker room Friday night, I think things have finally boiled to the point where this club will finally click out of desperation more than anything else. The frustration level is mounting, but so is the desire to improve and win games and I think those two will combine Saturday and you'll see an upstart group with a sense of urgency.
Forsberg
: The Pacers are coming off their own back-to-back having played Friday night in Toronto. But not only did they actually complete a rally from a 16-point first-half deficit to win,
Danny Granger
ought to be well rested after getting ejected in the first half. As Doc Rivers lamented last night, the Celtics
always
seem to have this schedule quirk, where they have to travel to Indiana for the second night of a back-to-back each year -- and they've lost three of those games the past three seasons. Why won't a fourth occur? As Payne suggested, Boston is truly desperate. But it all hinges on the start. If the Celtics come out of the gates fast, get
Paul Pierce
and
Kevin Garnett
going a bit, they can absolutely win this game. In fact, they almost have to at this point.
---
2. More likely to have a big game Saturday: KG or Paul Pierce?
Payne
: Pierce. His shot isn't falling right now, so I think we'll see the Pierce who compensates by putting his head down, attacking the rim, and getting to the free throw line. Similar to his team as a whole, Pierce's effectiveness Saturday could be born out of desperation more than anything else.
Forsberg
: Pierce. KG limped through the locker room last night with his left ankle wrapped in ice. That's not an encouraging sign for an aging player already struggling to find consistency. Not sure how much Pierce has in his tank, but this is definitely the sort of night where he shows why he's the captain and musters the energy for a breakout game. That being said, this is also the sort of night that Boston could really use a non-Big 4 player -- maybe
Brandon Bass
or maybe even the Purdue rookies,
JaJuan Johnson
or
E'Twaun Moore
, who played their college ball nearby -- to give a little extra spark to a team in desperate need of a boost.