Boston Celtics:

2012Game13
January, 18, 2012
1/18/12
9:59
PM ET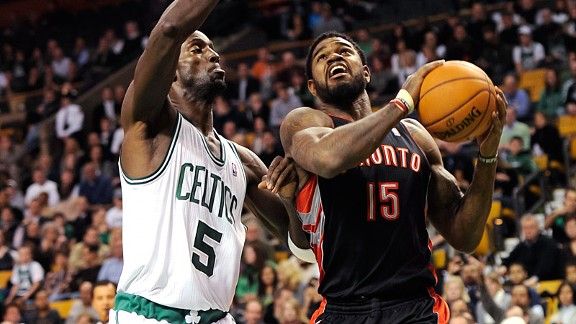 Bob DeChiara/US PresswireKevin Garnett and the Celtics snapped a five-game losing streak vs. the Raptors.
BOSTON -- Rapid reaction after the
Boston Celtics
defeated the
Toronto Raptors
96-73 Wednesday night at TD Garden:


HOW THE GAME WAS WON
Rajon Rondo
(21 points, 3 rebounds, 2 assists) and
Paul Pierce
(8 points, 7 assists, 4 rebounds) essentially flip-flopped roles and it helped Boston snap a five-game losing streak, the longest of the Big Three era.
Kevin Garnett
added 15 points (on efficient 5-of-7 shooting), though
Ray Allen
continues to search for his shot (6 points, 2-of-7 shooting over 27 mintues).
Brandon Bass
(13 points, 9 rebounds, 2 blocks, 1 steal) and
Mickael Pietrus
(12 points on 4-of-7 shooting beyond the arc) sparked a bench-heavy effort. Former UMass star
Gary Forbes
propelled the Raptors with a team-high 18 points off the pine.
RONDO (WRIST) INJURED ON HARD FOUL
The Celtics got a relatively breezy win, but it wasn't without some pain. Rondo, who sparked the offense behind 7-of-8 shooting from the field and 7-of-11 shooting at the charity stripe over the 28 minutes departed late in the third quarter after
suffering a right wrist injury
while crashing hard to the floor on a flagrant foul by
Linas Kleiza
. Hop
HERE
for more on the injury.
NOW THAT'S HOW YOU START...
Plagued by slow starts this season, the Celtics came flying out of the gates. The Celtics connected on 12 of 20 shots overall (60 percent), but most encouraging was how the team made 7 of 8 attempts at the rim (this after missing 15 of a season-high 33 tries there against the Thunder on Monday night). The Raptors connected on 6 of 20 attempts (30 percent) and Boston built a 15-point cushion after one frame.
... BUT NOT HOW YOU FINISH (THE HALF)
A promising first half gave way to a dismal second quarter in which the reserve unit sloshed through nearly four scoreless minutes and the Raptors ultimately whittled the lead to six at halftime (and Boston's first unit was as much to blame with some sloppy play late in the half). The Celtics were 6 of 20 shooting (30 percent) in the frame and
Jermaine O'Neal
-- he of "don't judge me on my offense" fame -- was the only player with multiple buckets.
GINO TIME!
Boston's favorite smooth-grooving dancer -- who serenades the Garden with his moves in an American Bandstand clip played during lopsided victories -- dropped in for only the second time this season with Boston owning a 93-66 advantage with 2:18 to go. Garnett didn't miss the opportunity to groove away in front of the Celtics bench, taking more pleasure than anyone else in the clip.
WHAT IT MEANS
Beggars can't be choosers. The Raptors join the other Eastern Conference doormats the Celtics have feasted on this season (we're looking at you, Wizards, Pistons, and Nets). Toronto has lost six straight and was playing again without star big man
Andrea Bargnani
(all while tinkering with their starting lineup looking for a spark). Regardless, the Celtics turned in some inspired ball -- even if there were a few lulls and the Rondo injury tempered the evening a bit. Boston has a chance to build some momentum here with Phoenix visiting on Friday and a trip to Washington looming Sunday (a chance to hand the Wizards a third loss this season). Plus the younger players got extended time in a lopsided win. All in all, it's an encouraging victory that gives Boston something positive to build off after two rough weeks.
January, 18, 2012
1/18/12
7:16
PM ET
BOSTON -- A quiet pregame before Wednesday's battle of teams on five-game losing streaks as the Celtics and Raptors joust at TD Garden. Boston coach Doc Rivers said his troops are well aware of their early season struggles.
"They are frustrated, like you would be," he said. "Other than that, they know they should be better. I always tell them, you are what your record is at the time. And that's what we are. We are making a lot of self-inflicted mistakes... We're almost in our own way right now. Eventually, we'll get out of our way."
And he sees them pressing on the floor.
"I think that's natural, I think every team does that -- I don't think we're any different," he said. "You look at it, I know there were six times we had a chance in the game [against Oklahoma City] the other night to either tie the game or take the lead, and we turned the ball over all six. We never actually got a shot off. And five of them were clearly guys just trying to make something happen when there didn't need to be.
"You like the spirit, you just don't like the application."
Here's a few quick hits before tip-off:
*
Jermaine O'Neal
is back in the starting lineup. Rivers reiterated his desire for O'Neal to focus on his role, but wouldn't mind some offense when opportunities arise. "I just need him to do what he does every night," said Rivers. "There's nights where, when he's under the basket, you want him to score. But, hell, it's a team epidemic the other night. I don't know how many layups we missed the game the other night, but it was a big number."
* The Celtics are again without reserves
Keyon Dooling
(right knee) and
Chris Wilcox
(left calf). Dooling went through a workout during the team's morning shootaround Wednesday and could be eyeing a Friday return; Wilcox isn't so close. "Chris is basically staying in the training room," said Rivers. "Keyon worked out this morning at a pretty good pace, so I would say he's very close."
January, 18, 2012
1/18/12
11:11
AM ET
Brian Babineau/NBAE/Getty ImagesKevin Garnett seems overly excited about the halfcourt trap.
After meeting twice in the preseason, the
Boston Celtics
(4-8, 3-4 home) and Raptors (4-10, 2-6 away) meet for real Wednesday night at TD Garden (7:30 p.m., CSN). We go 3-on-3 with ESPN Boston's Greg Payne and CelticsHub's Brian Robb to preview the matchup:
---
1. Fact or fiction: This is a must-win game for Boston.

Payne
: Fiction. Must-win games are reserved for elimination situations in the postseason. However, this is a game that Boston absolutely should win. Having lost to so many upper-echelon teams in recent weeks, facing a club like Toronto probably seems like an unofficial benchmark for this club right now. Lose tonight, and people will really be up in arms.
Robb
: Fiction. As ugly as a five-game home losing streak would be, it's foolish to call game 13 in a 66-game season a must-win, no matter what a team's record is. With that said, this contest will be as close as you can get to a must-win around this time of year. Boston's ship is taking on water at the moment, and although a tough slate of recent games is a factor in the recent skid, the Celtics have left themselves with a pretty significant hole to dig themselves out of in the improved Eastern Conference. If this core wants one last chance at a playoff run together, the winning has to start now and Toronto is the kind of team that they have to take care of business against.
Forsberg
: Fiction. Honestly, what's another loss at this point? Sure, a sixth straight defeat might drive a panicky fan base a little closer to the ledge, but as Doc Rivers is fond of noting, "What happens if we lose? Should we just stop playing?" This one is important because the Celtics have a real chance to gain some momentum after playing four straight games against playoff teams. The next three opponents (Toronto, Phoenix, and Washington) are a combined 9-31 overall and there's a very real chance to rip off a few wins (which would leave the Celtics on cusp of .500 when the Magic visit Monday for the front end of a home-and-home).