Boston Celtics:

2012Game20
January, 31, 2012
1/31/12
11:37
PM ET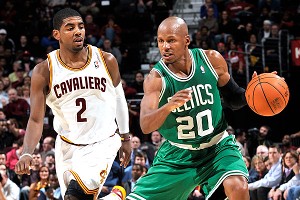 David Liam Kyle/NBAE/Getty ImagesRay Allen and the Celtics managed to stay just in front of the Cavaliers Tuesday.
A handful of observations after the Boston Celtics hung on to defeat the Cleveland Cavaliers 93-90 Tuesday night at Quicken Loans Arena:
CRAVING CONSISTENCY
The Celtics are making it incredibly challenging for their supporters to muster much confidence in them at the moment. Just when it seemed safe to climb back on the bandwagon (or shout about how you never left) after the team ripped off four straight wins -- much of it while playing without a trio of starters -- Boston coughed up an 11-point lead in the final four minutes against the Cavaliers on Sunday, then nearly fumbled away a 22-point cushion Tuesday night in Cleveland.
Sure, the Celtics are still waiting to get healthy, and the lack of point guard Rajon Rondo goes a long way towards explaining some of their inconsistencies at both ends of the court. But it's fair to say that Tuesday's win might have been the least encouraging of the season because of the near meltdown -- and that's not exactly an unfamiliar feeling this season.
The Celtics are simply struggling to put together 48 consistent minutes this season. The schedule thus far has been littered with slow starts and sloppy finishes. Players are showing up for portions of the game and disappearing for stretches. Blame the schedule, blame the injuries, blame the officials -- but Boston only has itself to blame for much of its struggles so far.
As coach Doc Rivers is fond of noting, Boston's biggest opponent is itself. If the Celtics go out and execute for 48 minutes, chances are they are going to win, regardless if its the 16-5 Heat or the 4-17 Hornets on the other side of the floor (though, they did lose to both those squads in December). When Boston gets outworked on the glass or sloppy with the ball or stops attacking the basket, the Celtics find a way to let teams hang around long enough to make it interesting.
And that's exactly what's happened twice in this discouraging home-and-home with the Cavaliers. On Tuesday, Boston exploded out of the gates in the second half, turning a 12-point halftime lead into a 22-point cushion with under three minutes to play in the third quarter. But just when it seemed safe to relax, the foot came off the accelerator, Cleveland got some quick confidence, and -- the next thing you know -- it's a two-point game with 1:18 to play.
And this time around Paul Pierce played the final 9:28, checking in with a 14-point lead that still got whittled to a single bucket (though the reserves did little to aid the cause in watching the big cushion erode early in the final frame).
Consistency won't be easy to find in a condensed 66-game season with little practice time. But Boston's No. 1 goal has to be finding a way to prevent these sort of lapses. Clearly, it can't get away with this type of effort against a young team like Cleveland; the Celtics certainly won't get away with it against the East's elite.
January, 31, 2012
1/31/12
9:40
PM ET
David Richard/US PresswireRay Allen delivers a dish around Anderson Varejao during Tuesday's game.
Rapid reaction after the Boston Celtics defeated the Cleveland Cavaliers 93-90 Tuesday night at Quicken Loans Arena:


HOW THE GAME WAS WON
Paul Pierce paced five Celtics players in double figures with 20 points (adding 6 assists and 4 rebounds), but it was Kevin Garnett (13 points, 4 rebounds, 4 assists) and Brandon Bass (13 points, 6 rebounds) who produced the clutch late-game buckets helping the Celtics escape with a should-have-been-easier triumph after leading by as much as 22 with under 15 minutes to play. Anderson Varejao single-handedly kept the Cavaliers in the game, producing 20 points (on 10-of-17 shooting) and 20 rebounds (10 on each end of the court) and rookie No. 1 pick Kyrie Irving (game-high 21 points and 6 assists) gave his team a spark late, helping make it a one-possession game in the waning moments.
NO CELTICS LEAD SAFE VS. CAVS
The Celtics came out strong after the intermission (keyed by Ray Allen's 12 third-quarter points) and turned a 12-point halftime cushion into as much as a 22-point lead after Allen's 3-pointer with 2:43 to play in the third quarter. But Boston clearly didn't learn from Sunday's loss in which the Cavaliers rallied from an 11-point deficit over the final four minutes. Cleveland got some momentum and rallied all the way to within a bucket when Irving's layup made it 89-87 with 78 ticks to play. Isolated on Varejao, Garnett got a turnaround jumper to rattle home with 1:04 to go and Jermaine O'Neal swatted a Varejao layup attempt at the other end helping Boston hang on.
BENCH PROVIDES AN EARLY SPARK
Boston's bench aided its early success as reserves Bass, E'Twaun Moore, Sasha Pavlovic, and Mickael Pietrus combined for 23 first-half points. Alas, everyone but Bass -- who played starter-sized minutes -- disappeared in the second half. Bass scored the bench's only five points after the intermission, making two big jumpers to keep Cleveland at arm's length down the stretch.
LINE OF THE NIGHT
Flummoxed for much of the night by the whistles from referee Karl Lane, Celtics TV analyst Tommy Heinsohn declared in the fourth quarter, "His name is Lane, they should show him the highway."
WHAT IT MEANS
Well, the Celtics clearly are not going for style points this year. They're also clearly not trying to make things easy for themselves. That said, unlike Sunday night, they managed to emerge with the win, pulling their record back to .500 at 10-10. Maintaing a 22-point cushion might have allowed Boston some fresher legs for when the Toronto Raptors visit Wednesday night, so it will be interesting to see how the Celtics respond with the quick turnaround.
January, 31, 2012
1/31/12
10:00
AM ET
Bob DeChiara/US PresswirePaul Pierce and the Celtics get another crack at the Cavaliers on Tuesday.
Two days after fumbling away a double-digit lead in the final four minutes, the Boston Celtics (9-10, 3-4 away) wrap up a home-and-home series against the Cleveland Cavaliers (8-11, 3-4 home) Tuesday night at Quicken Loans Arena (7 p.m., CSN). To preview the matchup, we go 3-on-3 with ESPN Boston's Greg Payne and
CelticsHub
's Brendan Jackson.
---
1. What was the most discouraging part of Sunday's loss to Cleveland?

Payne
: The Celtics' inability to get a stop on Cleveland's game-winning possession. The C's had to know a pick-and-roll involving Kyrie Irving and Anderson Varejao was coming, yet it didn't seem like they were fully prepared to handle it. Watch the replay and you'll notice that Avery Bradley slams right into Varejao's screen, which indicates he had zero idea it was there. That breaks down to poor communication on the part of his teammates and poor court awareness on Bradley's end. The C's had the pieces they needed to make a defensive stand, but those pieces didn't execute as well as they could have.
Jackson
: The last five minutes of the fourth quarter. Everything the Celtics did up until that point was pretty impressive. They played great defense. They shot over 50 percent from the field. They were out-rebounding the Cavs at that point. If the game lasted 43 minutes, the Celtics would have dominated in a 10 point victory.
Forsberg
: Points in the paint. The Celtics surrendered a season-high 54 points in the paint (the previous high was 52 in Miami in December), which accounted for 61.3 percent of Cleveland's total output. That includes 12 points in the paint in the fourth quarter (most notable being Irving's winning bucket). While Boston was content to settle for perimeter jumpers (and led late because they were making them at a high rate, shooting 52.2 percent for the game), the Celtics lost the game by giving up easy points around the basket (and being unable to get easy buckets of their own at the other end).