Boston Celtics:

2012Game22
February, 4, 2012
2/04/12
2:05
AM ET
AP Photo/Matt SaylesBoston's Big Four at last year's All-Star festivities in Los Angeles.
BOSTON -- A collection of postgame news and notes after the Boston Celtics defeated the New York Knicks 91-89 Sunday evening at TD Garden:
Quick links
:
Doc hits campaign trail
|
Rondo's (black and blue) return
|
Loose Balls
RIVERS WILL STUMP FOR (ALL-)STARS
Celtics coach Doc Rivers said he'll phone his Eastern Conference coaching brethren this week in hopes of earning a couple Boston guys a free trip to Orlando for the All-Star festivities later this month.
None of the five eligible Celtics landed among the East's
All-Star starters based on fan vote
(point guard Rajon Rondo was the team's top vote-getter and was a distant third behind Chicago's Derrick Rose and Miami's Dwyane Wade at the guard position). Now, the 30 NBA head coaches will vote for seven players from within their own conference (two guards, two forwards, a center, and two players regardless of position) to comprise the All-Star reserves.
Coaches cannot vote for their own player, hence why cell phones will be burning up this weekend with reserves set to be announced Thursday evening (before the Celtics and Lakers joust on TNT).
"I usually call [other coaches], all my friends -- so that's usually one call," quipped Rivers. "No, I call guys. I always do, just to make sure. And they call you. Last year was just strange, really, I don't know what it said, but I didn't get a call from one coach last year asking me to vote for their player. I thought that was really unusual. This year I think you will get a ton of calls. This year is going to be a lot tougher. There's a lot of guys that are playing well."
February, 3, 2012
2/03/12
11:00
PM ET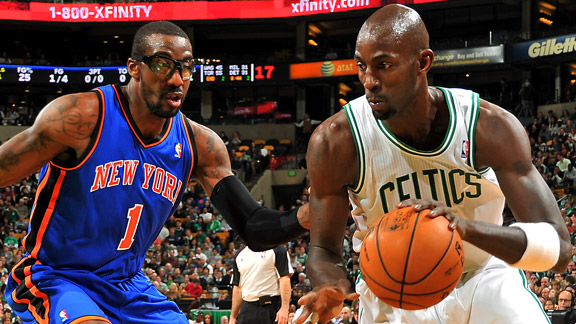 Steve Babineau/NBAE/Getty ImagesKevin Garnett and the Celtics rallied past Amare Stoudemire and the Knicks.
BOSTON -- Rapid reaction after the
Boston Celtics
defeated the
New York Knicks
91-89 Friday night at TD Garden:


HOW THE GAME WAS WON
With
Rajon Rondo
back in the starting lineup,
Paul Pierce
kicked it back into scorer mode, connecting on 8 of 22 shots (including 4 of 11 beyond the 3-point arc) while scoring a game-high 30 points (to go along with 7 rebounds and 5 assists) over 43 minutes as the Celtics overcame a 12-point second-half deficit. Pierce might have had three more points, but video replay wiped out what was originally scored a made triple with 16.1 seconds to go in a one-point game. Boston's defense came up with two big stops (Pierce making a free throw in between) to hang on.
Ray Allen
started slow (2-of-5 shooting for 5 points through three quarters), but caught fire in the final frame, converting a pair of big 3-pointers and a baseline layup to finish with 14 points.
Carmelo Anthony
paced the Knicks with 26 points, while
Tyson Chandler
added 20 points and 11 assists.
TURNING POINT
The Celtics had whittled as much as a 12-point deficit down to a bucket with little more than eight minutes to play and it was clear they simply wanted it more than the Knicks when it mattered most. During one sequence, Pierce won a footrace to a loose ball in the backcourt, then, after a miss,
Chris Wilcox
pried the ball loose from a Knicks player before getting fouled going up with it under the basket. His free throws tied the game at 75. The next possession down, Wilcox got on the ground to force a jump ball. The Celtics didn't pull ahead until Ray Allen's 3-pointer with 4:24 to play (thanks in part to Rondo's hustle to force the Knicks to fumble the ball out of bounds right before the trey), but it was clear from that sequence that Boston would not be denied. The Celtics dominated what we like to call the WIM category (wanted it more) in the fourth quarter.
MILESTONE MOMENT
Kevin Garnett
became only the third player in NBA history to register 10,000 defensive rebounds with his fourth of the night late in the first quarter. He joins
Karl Malone
and
Robert Parish
as the only other members in that elite club. How did Garnett celebrate? By draining his second 3-pointer in as many games.
DOC GETS A TECH
Unhappy with the calls going against his team in the early portion of Friday's game, Celtics coach Doc Rivers got a little too chirpy with referee Curtis Blair, who hit Rivers with a technical foul (his fourth of the year). The Knicks attempted 17 first-half free throws (making 14, compared to 6-of-9 shooting at the stripe for Boston before the intermission). By the end of the game, Rivers' complaining might have helped even up the shots (the Celtics were 19-of-25 at the stripe; the Knicks were 18-of-21).
WHAT IT MEANS
You ever been in a bar fight, Craig
? That one was a lot of fun. Haymakers from both sides and big shots by the truckload late in the game. The Celtics avenge a Christmas Day loss to New York and, with Philadelphia getting blown out by Miami, reassert themselves a bit in the Atlantic Division. Boston has now won eight of its past 10 and keeps the momentum going on this five-game homestand.
February, 3, 2012
2/03/12
12:55
PM ET
Anthony Gruppus/US PresswireThe Celtics get a chance to avenge a Christmas Day loss Friday at TD Garden.
Six weeks after opening the 2011-12 season on Christmas Day, the Boston Celtics (11-10, 7-6 home) and New York Knicks (8-14, 4-7 away) renew acquaintances in an Atlantic Division battle Friday night at TD Garden (8 p.m., ESPN). To preview the matchup, which serves as the 1/3 checkpoint of the season for the Celtics, we go 3-on-3 with
ESPN Boston
's Greg Payne and
CelticsHub
's Brian Robb.
---
1. Carmelo Anthony said last month that he has a "vendetta" against the Celtics after last season's playoff sweep. No one up here even blinked. What's it going to take to make this an honest-to-goodness rivalry?

Payne
: All the standard ingredients, including some intense regular-season meetings (the only part of this we received last season), a few spats between players, and a memorable playoff series. Tonight will be interesting, seeing as neither team has played great basketball this season (although the C's have been much better of late), but both are scrapping to work their way back up in the standings. Rivalries, though, often need continuity, and I'm not sure we'll have that with these two teams. This is Anthony's first full season in New York, and while there's always potential for things to ignite this season, the C's will have an overhauled roster at the start of next season, which could wipe away any progress that was made on the rivalry front.
Robb
: A competitive team in New York. I hate to be so blunt about it but facts are facts. The C's swept them out of the postseason last year, and despite the opening loss this year, Boston has routinely destroyed the Knicks in regular season play during the entire The Big Three era. While the names are bigger in New York now, the record has become worse and no one around the NBA considers them a serious threat. Until that happens, we'll have to wait on the rivalry.
Forsberg
: It would help if the Knicks would put up a consistent fight. Christmas Day was a step in the right direction, but let's face it, the Celtics have won 16 of the last 19 regular-season meetings and swept the Knicks out of the playoffs last season. We've seen a little bit of a hostility with the dust-up at the end of the first meeting when Kevin Garnett put his hand around the neck of old friend Bill Walker, so it will be interesting to see if any emotion carries over to this one. But, bottom line, it's probably going to take a heated postseason series -- one in which the Knicks top the Celtics, or at least push them to their limits -- before anyone in Boston is ready to bust out the "r" word.