Boston Celtics:

2012Game23
February, 5, 2012
2/05/12
4:57
PM ET
AP Photo/Mark HumphreyMemphis Grizzlies swingman Tony Allen shows off his jersey.
BOSTON -- A collection of postgame news and notes after the Boston Celtics defeated the Memphis Grizzlies 98-80 Sunday afternoon at TD Garden:
Quick links
:
No play for old friend TA
|
Doc no fan of matinees
|
Loose balls
DNP CAN'T OVERSHADOW BOSTON RETURN FOR TONY ALLEN
Old friend Tony Allen knows all too well the frustration of being pinned to the bench at TD Garden. Despite currently playing some of the most inspired ball of his career, he was forced to sit out Sunday's game against his former team due to left knee and hip soreness.
Talking with Boston reporters before Sunday's game, a mellow Allen, who must have known his injuries would prevent him from getting on the floor, discussed comments he previously made about feeling "overshadowed" in Boston where his court time was limited, particularly given his emergence this season as a starter in Memphis.
"When I was saying 'overshadowed,' I felt like I couldn't get any further than where I was, playing behind Paul Pierce and Ray Allen, those Hall-of-Fame guys," said Allen, who is averaging 10.8 points, 3.7 rebounds and 1.8 steals over 25.3 minutes per game this season in 23 starts. "On paper, you would be a fool to play Tony Allen in front of Ray Allen or you'd be a fool to play Tony Allen in front of Paul Pierce. I wouldn't blame anybody for that decision. But like I said, it's just a chapter in my book and I'm starting a new one. And I'm enjoying it. I'm loving it, and success is here and the sky's the limit for Tony Allen over here."
Celtics coach Doc Rivers doesn't necessarily disagree with Allen, who played only 16.5 minutes per game during his final season in Boston (emerging as a true defensive stopper late in the year and aiding Boston's run to the NBA Finals).
"No matter what he did, he was only going to play a certain amount of minutes," Rivers said. "You have Ray and Paul in front of you. I don't know, 'overshadow' was probably not the word he was looking for. A guy like Tony should and deserves to play 30 minutes per game. But on this team he couldn't. Where I appreciated him is that he accepted that. It was never an issue. He wanted to play more, but he understood our team, he understood his value to our team and that's cool to me. I wish we had a whole bunch of him out there."
February, 5, 2012
2/05/12
2:27
PM ET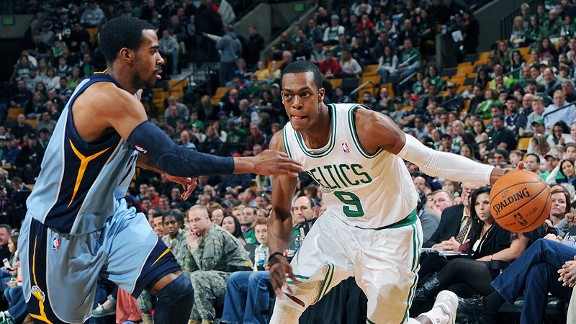 Brian Babineau/NBAE/Getty ImagesRajon Rondo looks to drive Sunday against the Memphis Grizzlies.
BOSTON -- Rapid reaction after the Boston Celtics defeated the Memphis Grizzlies 98-80 in a Sunday matinee at TD Garden.


HOW THE GAME WAS WON
Kevin Garnett converted 9-of-12 field goals for a game-high 24 points, while Paul Pierce continues to fill up the stat sheet, registering 21 points, 6 rebounds, 6 assists, and a steal, while finishing plus-28 in plus/minus over 31 minutes. Boston limited Memphis to 36.8 percent shooting (32 of 87 overall) and overcame 20 turnovers (usually fatal against the Grizzlies) to turn this one into a fourth-quarter laugher (even if someone forgot to make Gino dance on the JumboTron).
TURNING POINT
The Grizzlies opened the second quarter on a 16-3 run to turn an eight-point deficit into a five-point lead with 7:10 to go in the first half. The Celtics soon rallied back to tie, but the offense looked a bit stagnant (prompting Celtics radio analyst Cedric Maxwell to rip off his headset at one point and shout, 'Hey guys, shoot the ball!') Allen buried a long jumper, Pierce added a 3-pointer, and Jermaine O'Neal delivered an emphatic two-handed jam to key a 9-1 run to close out the half and Boston led by eight at the break (43-35). Memphis didn't get closer than five (48-43, 8:29 of 3rd) the rest of the way.
BOSTON RUNS ON RONDO
With the early start, you wondered if the Celtics might need some coffee to get going. No, Rondo provided the caffeine. Playing just his second game since returning from a right wrist injury that sidelined him for two weeks, Rondo raced around the court, handing out 10 first-half assists (on 16 Boston field goals) to fuel Boston's early lead. Rondo finished with 14 assists over 34:35.
WILCOX, JOHNSON PICK UP SLACK
With Brandon Bass (sore left knee) missing Sunday's game, reserve big men Chris Wilcox and JaJuan Johnson provided a boost up front. Wilcox registered 10 points and 4 rebounds in the first quarter alone, while Johnson finished with 10 points on 5-of-8 shooting overall.
ANOTHER 3-POINTER FOR KG
After saying the other night that he doesn't "want to become the new Rasheed Wallace of the league," Kevin Garnett buried his third 3-pointer in as many games with a third-quarter triple against the Grizzlies. "We got enough guys around here that shoot 3's, I don't want to get confident with that," Garnett said after Friday's win. So much for that.
WHAT IT MEANS
For the third time this season, the Celtics own a season-high four-game winning streak. They'll look to extend it Tuesday night when this five-game homestand continues with a visit from the Charlotte Bobcats. The Celtics are playing inspired ball at the moment and getting contributions throughout their lineup even as injuries like the knee ailment that kept Bass out Sunday crop up. Boston can surely benefit from the depth its breeding, particularly in this game-heavy season when all 15 members of the roster will be called upon at times to contribute. Now go watch some football.
February, 5, 2012
2/05/12
11:44
AM ET


BOSTON -- Celtics reserve forward Brandon Bass will sit out Sunday's matinee against the Memphis Grizzlies due to left knee soreness, while center Jermaine O'Neal, who underwent a right knee MRI on Saturday, will play.

Coach Doc Rivers didn't seem overly concerned about Bass, suggesting that the soreness was likely the result of wear-and-tear during this game-heavy, condensed season. Chris Wilcox will see an uptick in time, while rookie JaJuan Johnson could be utilized as well. The Celtics could also go with smaller lineups to match up with a Memphis team that likes to do the same.

"I actually think it's just the accumulation of the games," Rivers said of Bass' injury. "He had some swelling in it, so we're just going to sit him."

Rivers did laugh when discussing how he's started to expect bad news before each game.

"It's the late notice on stuff," said Rivers. "If you had a heads up that someone was going to miss a game [it would be easier], but this year it just keeps happening -- with every team. You show up at the game and [team trainer] Eddie [Lacerte] walks in 10 minutes before and says, 'This is who is not playing.' That's the way it is."

O'Neal said he was playing while getting dressed at his locker stall, but asked about the MRI results, he simply smiled and said he'd address it later before ducking into the trainer's room.

Rivers thinks Rajon Rondo, who returned from an eight-game absence on Friday, will continue to find his rhythm with each game as he works his way back from a sprained right wrist.

"He came out of the first game -- besides his eye -- pretty well," said Rivers, noting the shiner Rondo incurred against the Knicks. "So I think today's game will be more normal than his first game, then the next game will get even closer. He still hasn't had a practice, [Saturday] was a walkthrough, so these are his practices -- in games."

For the Grizzlies, old friend Tony Allen was a late scratch from the starting lineup due to hip and knee soreness. He will dress, but is not expected to play (and that might help explain why he seemed a little down in the Grizzlies' locker room before the game while addressing his latest return to Boston).

February, 4, 2012
2/04/12
8:39
PM ET
Mark L. Baer/US PresswireCan Rajon Rondo and the Celtics race past the Grizzlies on Sunday?
If you're looking for a Super Bowl appetizer, the Boston Celtics (12-10, 8-6 home) host the Memphis Grizzlies (12-11, 5-8 away) in a Sunday matinee at TD Garden (noon, CSN). With the early start and -- let's face it, most of the attention on the Patriots vs. Giants -- we're playing a lightning-round version of 3-on-3 with ESPN Boston's Greg Payne and CelticsHub's Brian Robb to preview the matchup. But first, allow Celtics coach Doc Rivers to explain why this condensed schedule is so crazy:
"The league is just different [this year]," said Rivers. "Every night, it seems like you're facing a different type of opponent, it's not like the cookie-cutter NBA. You've got small teams, you have athletic teams, and you have power teams. It's a strange group of teams this year, for whatever reason. Memphis poses that problem, they are a great rebounding team; they force turnovers -- they are the best in the league; they want to get in transition, they want to open the game up and get into a 1-on-1 game. You can fall into that and you're going to lose to them. They are a difficult team to prepare for."
---
1. What is Boston's biggest concern facing Memphis?

Payne
: Athletic depth on the wing. The Grizzlies have a number of guys they can throw at Paul Pierce and Ray Allen, including Rudy Gay, O.J. Mayo, and Sam Young.
Robb
: Health combined with a competitive Western Conference. The talent is clearly there, but a solid playoff seed will be tough to manage with Zach Randolph sidelined a couple more weeks and so many teams playing well around them. Like we saw last year though, this will be a team to watch when they get healthy.
Forsberg
: Turnovers. The Grizzlies lead the league in steals (243) and opponent turnovers (416). Rajon Rondo is nursing that bad wrist and gave it away five times in his return on Friday. The Celtics must value the ball and make the most of possessions.