Boston Celtics:

2012Game25
February, 10, 2012
2/10/12
1:09
AM ET
By
Greg Payne
| ESPNBoston.com
Andrew D. Bernstein/NBAE/Getty ImagesTroy Murphy aided the Lakers' win Thursday vs. Boston.
BOSTON -- The Celtics could have used
that
Troy Murphy last season.
Murphy, who spent three unproductive months with the Celtics at the end of the 2010-11 campaign, was back in town Thursday night with the Los Angeles Lakers and, despite missing four of the five shots he put up, chipped in nine rebounds, two points, two steals, and a blocked shot over 24 minutes off the bench to aid the Lakers in a 88-87 overtime triumph at TD Garden.
The Celtics signed Murphy off the buyout scrapheap last March, but never lived up to the expectations bestowed upon him given his previous NBA resume. In 17 games with the Celtics, Murphy averaged just 2.6 points and 2.2 rebounds in 10.5 minutes per game, and shot a mere 10 percent from 3-point nation.
Murphy reflected on his brief stint in Boston prior to Thursday's game, including why he was unable to live up to the expectations that were set.
"I mean, I think just coming in here, I hadn't played in a long time," said Murphy, who had a falling out with the New Jersey Nets in the opening months of last season that kept him out of game action for an extended period. "And then coming in here, it was towards the end [of the season]. I didn't perform the way I feel like I could have and I think not being healthy and everything like that had a lot to do with it."
Murphy sprained his right ankle just three weeks into his tenure with Boston, which kept him out of six consecutive games and further derailed his entire acclimation process.
"I look back on it because I look at a team that I really wanted to [play well for] when I was there," said Murphy. "I wanted to really contribute, and physically, I wasn't right and I wasn't able to do it, and there wasn't enough time to kind of get there. It's like a missed opportunity. It's a great organization, and there's really nothing you can do about it. It is kind of what it is."
February, 9, 2012
2/09/12
10:47
PM ET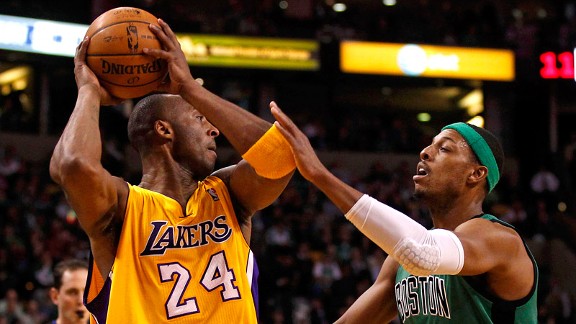 David Butler II/US Presswire
The first Celtics vs. Lakers battle of the season lived up to the hype.
BOSTON -- Rapid reaction after the
Los Angeles Lakers
defeated the
Boston Celtics
88-87 in overtime Thursday night at TD Garden:


HOW THE GAME WAS WON
Kobe Bryant
scored a game-high 27 points on 11-of-24 shooting, while
Pau Gasol
added 25 points on 12-of-20 shooting with 14 rebounds as the visiting Lakers escaped the Garden with another regular-season triumph. The game wasn't short on excitement, spilling into overtime, where
Paul Pierce
's step-back jumper in the final seconds was off the mark (and Gasol blocked
Ray Allen
's potential putback before the buzzer). Pierce had made consecutive jumpers, including a 3-pointer with 1:51 to go that put Boston out front by a point, but
Andrew Bynum
's tip-in (off his seventh offensive rebound of the night and 17th overall) proved to be the different with 89 seconds to go. Allen finished with a team-high 22 points, while Pierce chipped in 18 points, nine rebounds and seven assists.
FREE BASKETBALL!
Neither team could separate in the fourth quarter. It was a one-possession game the entire frame with the teams simply going back and forth at each other over the final five minutes.
Mickael Pietrus
made a 3-pointer to put Boston out front 77-75 with 4:33 to go and Kobe Bryant answered with a fadeaway at the other end to tie the game. Rondo produced a teardrop, but Andrew Bynum answered with a three-point play to put the Lakers back out front. Coming out of a timeout, Ray Allen drilled a 3-pointer to push Boston back ahead, but Gasol tipped in a Bryant miss with 9.8 seconds to go to tie the game at 82. The Celtics had one last gasp, but a final play for Allen fizzled when
Pierce couldn't pull the trigger on the pass
and Pietrus was forced to chuck a prayer from deep beyond the arc.
PATRIOTS-PALOOZA
New England Patriots
owner Robert Kraft sat next to Celtics owner Wyc Grousbeck, while players
Rob Gronkowski
,
Vince Wilfork
,
Patrick Chung
,
Julian Edelman
,
Brandon Spikes
,
Devin McCourty
,
Sterling Moore
, and
Tiquan Underwood
were in attendance as well. The crowd showered them with a standing ovation after a handful of players and Kraft were shown on the JumboTron with a congratulatory message for their Super Bowl appearance.
BRYANT STARTS SLOW, HEATS UP FAST
Bryant went the first nine minutes without a field goal (or even an attempt), but got going in a hurry late in the first quarter. He scored seven points over the final three minutes of the frame and was a quietly efficient 4-of-6 shooting for 11 points before the break. He put up 10 shots in the third quarter, while scoring 12 points to help the Lakers carry a three-point lead into the final period. Bryant hit a number of big shots down the stretch when his team needed them, particularly off fadeaway jumpers.
ROTATION WATCH
With
Avery Bradley
dressed, but unable to play, Doc Rivers leaned on
E'Twaun Moore
to spell Rondo, and the rookie second-round pick chipped in 8:36 of floor time, missing the only shot he took (and finishing minus-7 in plus/minus).
Marquis Daniels
, in his first game back from a mild right ankle sprain and pressed into action with
Sasha Pavlovic
suffering a setback with his injured left wrist, got a minute in the first half, but was quickly pulled and did not return.
WHAT IT MEANS
The Lakers snap the Celtics' season-high five-game winning streak. Boston had won nine of its previous 10 before this defeat. The Celtics have a tough turnaround coming off a rivalry game that spilled into overtime and will fly to Toronto for a matchup Friday night against the Raptors. Boston then returns home for a Sunday showdown against the
Chicago Bulls
. The Lakers looked like a team that needed it more on Thursday and the battle of the boards proved to be the difference again in this matchup (the Lakers finished with a 55-45 edge overall, and produced 24 second-chance points off 15 offensive boards).
February, 9, 2012
2/09/12
7:52
PM ET
BOSTON -- Just when it looked like the Celtics were inching closer to full health (or what passes for such in this condensed season), the team suffered a couple of minor setbacks with their bench this week.
Reserve swingman Sasha Pavlovic suffered a flare-up with a left wrist injury suffered in training camp (one that limited him early in the season) and he is out for Thursday's visit from the Los Angeles Lakers. The team will activate Marquis Daniels, who is still working his way back from a mild right ankle sprain, even though Rivers was uncertain if he'll be able to play.
"[It's Pavlovic's] wrist again; flared back up, so he's out," said Rivers. "We're going to activate Marquis and maybe have to play him. I don't know if he's ready yet or not, but we're going to have to play someone."
Rivers also hinted that another player might be out, but hesitated to name him. Celtics radio play-by-play man Sean Grande reported before the game that Avery Bradley would
dress, but not play
.
The Celtics remain without Keyon Dooling (right hip pointer, sore right knee) who has essentially been sidelined since mid-January due to his injuries (he appeared in one game on Jan. 26 before suffering the hip pointer in the first half against Orlando).
February, 9, 2012
2/09/12
9:15
AM ET
AP Photo/Charles KrupaIt's Celtics vs. Lakers for the first time during the 2011-12 season.
Basketball's finest rivalry takes center stage when the Los Angeles Lakers (14-11, 3-9 away) visit the Boston Celtics (14-10, 10-6 home) on Thursday night at TD Garden (8 p.m., TNT). To preview the matchup, we play a game of 3-on-3 with our good friends, the Kamenetzky brothers, Brian and Andy, who host the
Land O'Lakers blog
at ESPN Los Angeles.
---
1. What matchup are you looking most forward to seeing?

B.Kamenetzky
: Pau Gasol vs. Kevin Garnett. Pau's output against what will surely be an extra yappy, extra chest-puffy K.G. will get the attention, and Gasol needs to produce more efficiently (eight of last 12 games with FG% at 45 or below). If he doesn't, LAL will have to find alternative options against a top end defensive squad. Meanwhile, Garnett's scoring has picked up, but Gasol has held opposing PF's to a respectable PER (14). If one goes off at the expense of the other, a victory for his team is highly likely.
A.Kamenetzky
: Paul Pierce vs. Metta World Peace. There have been signs, albeit inconsistent, of MWP getting his defensive mojo back. Most recently in Denver, he did the lion's share of working limiting Danilo Gallinari to just six points. Of course, there are also games where his defense is as ineffective as his offense, which renders MWP a total non-factor. The Lakers need Paul Pierce kept in check, and much of that responsibility falls on MWP. We'll see if he's up for the task against a potential All-Star.
Forsberg
: Kobe Bryant vs. Mickael Pietrus: We sorta know how the starters match up, so I'm interested to see if Pietrus can be a Tony Allen-like Kobe stopper off the bench. Pietrus has been spectacular for Boston since being picked up on Christmas Eve after the Suns released him. And Pietrus supposedly said this summer that Bryant wanted him on the Lakers, so that adds a bit of intrigue. (Runner-up matchup: Troy Murphy vs. Anybody. Really, he's one of the Lakers' top reserves this season?!)